10 email marketing tips to boost B2B sales [Infographic]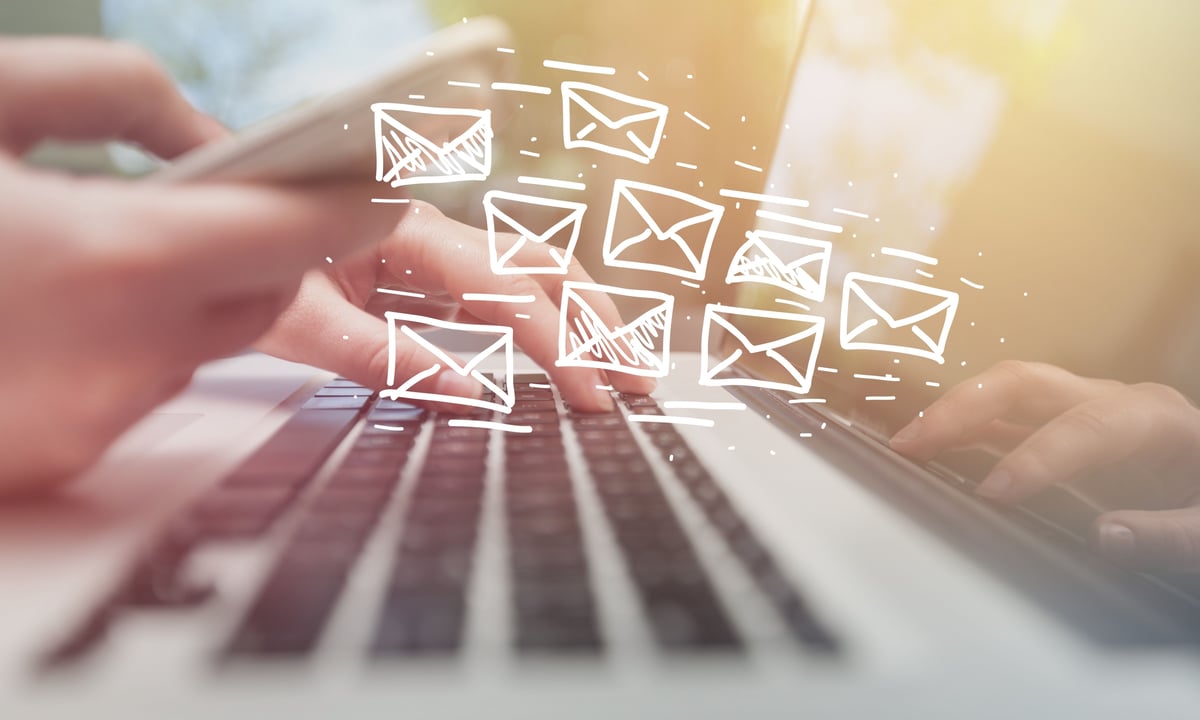 Email marketing is not dead — or dying. In fact, stats indicate that it's thriving.
According to the following infographic from Blue Mail Media, over 196 billion emails are sent every day, with 109 billion of those emails being business-oriented.
Assuming that at least 55% of email is spam, that leaves roughly 50 billion legitimate, business-oriented messages going out to list members each day.
That's a lot of "noise" in the inbox.
In order to be noticed, let alone opened, your email marketing has to be spot on.
The infographic below is meant to jumpstart how you think about your current email marketing practices, whether you're just getting started or have been in the game for years.
Here's a quick highlight reel of what I consider to be the top tips and why.
Tip #1: Improve your chances of being seen by segmenting
For effective email marketing, it's imperative that you target the list members with the messaging that's most likely to convince them to convert.
For most businesses, that means segmenting your email list.
When you break your collection of email addresses into sub-groups, you are able to better tailor your email content to a specific audience and have greater precision when directing them into the next step of the customer journey.
Proper list segmentation can increase open rates by 39%.
There are probably unlimited ways to segment a list and there's certainly no one-size-fits-all option, however, a few popular ways to segment that can be found across industries are:
Interest by service or product
Site engagement (form fills, pages visited, time last seen, etc.)
Purchase history (service/product purchased, date of last purchase, etc.)
No matter the platform you use — from HubSpot to Klaviyo to the myriad of other marketing tools that support email marketing — keeping your lists segmented and up-to-date will help with your deliverability and open rates.
Tip #3: Use stellar subject lines
Take a quick look at your inbox. Is anything calling your name? ...literally?
Personalized subject lines can help your email get noticed in the inbox, resulting in a 37% increase in unique opens.
There are many ways to make the subject line more personal to your recipient.
If you use a platform like HubSpot, you can use personalization tokens and smart rules to automatically populate data about your leads and customers. This allows for hyper-accurate personalization around a person's first name, last name, business name, and more.
While you want to be personal, you don't want to be so personal it's seen as an invasion of privacy so make sure you don't overdo it.
If you need help getting started, here are 16 examples of world-class subject lines to take inspiration from.
Tip #6: Keep it interactive
Making your email interactive doesn't have to be complicated. It's all about enticing the recipient to click.
An easy win when optimizing for interactivity in your email campaigns is to use video.
Videos in email boost click rates by 300%.
Before you throw in the towel because you don't have a video production team, keep in mind that there are quick and easy-to-use video creation tools right at your fingertips.
Our friends over at Vidyard make recording video pretty much frictionless, offering a free product and Chrome extension.
Once you're set up, and over your fear of being on camera, you're one click away from recording, and a few clicks away from having a shareable video to use in your email marketing.
Remember to use personalization in your videos where you can as well.
This will improve your chances of the recipient clicking to watch the video and will increase the impact the video has on the viewer because it will feel like it was made just for them.
If you're looking to create a more polished video to use in your sales and marketing emails, remember to follow the Video 6 and take a few minutes to review our Ultimate Guide to Video for Sales.
Tip #10: Use campaign-specific landing pages
Sending out a well-targeted email campaign means having a clear next step for users.
The nightmare for any email campaign is sending an email to a curated list of people, using a personalized subject line, including an engaging video in the email, and getting a ton of clicks to...your home page.
You have successfully funneled everyone right out of their personalized journey and into a generalist, made-for-everyone space. Right out of your carefully curated user flow.
A landing page that targets correctly can increase conversion rates by 300%.
But what does "correctly" mean?
This means ensuring that the visual journey that users are on stays consistent from the email in their inbox all the way through to the point of conversion.
Using the same imagery, fonts, colors for both the email and the landing page fosters a sense of familiarity as the user travels from their email client to your website and further through your sales or marketing funnel.
Similarly, make sure your messaging from the email is echoed and expanded upon on your landing page. Using the same tone and even the same copy when appropriate, will build and maintain trust with the reader as your guide them toward taking action.
Also, keep your conversion goal consistent throughout the user journey from email to website to conversion point.
Be careful not to bait and switch by sending an email about one offer or topic and sending traffic to a landing page that is not related.
That's a good way to be marked as spam, which can turn into a long and arduous process of redemption with email service providers if you get too many spam complaints at once.
If you're not quite sure where to start with your landing page (or if you want to make sure you're doing everything right), check out these 11 landing page best practices and this great list of 42 landing page examples to use as inspiration.
Putting it into practice
Check out the infographic below for the rest of the tips that Blue Mail Media has for improving your sales and marketing emails.
Remember, no one gets email marketing perfect the first time. This is a craft that takes strategy, experimentation, and patience! Start with the low-hanging fruit for your company and remember to A/B test as you go.
As always, reach out if you have questions and remember to check out IMPACT Elite to share your success stories as you improve your email marketing!

Free Assessment:
How does your sales & marketing measure up?
Take this free, 5-minute assessment and learn what you can start doing today to boost traffic, leads, and sales.