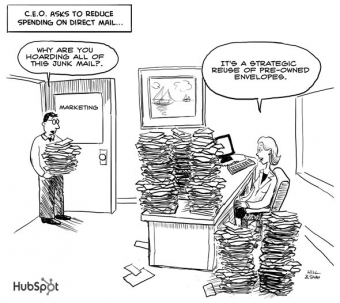 Are you optimizing your email marketing campaign? Today's email capabilities are far more robust than the start text versions. Now you have a greater opportunity to enhance your subscriber's experience. Here are some great tips on optimizing your email templates to engage your readers while still

Free Guide: The Ultimate Inbound Marketing Strategy Playbook 2022

remaining compliant.

Inspire Your Readers With Eye Catching But Simple Design
Take a note from Apple by creating a sleek content email marketing template. Don't distract your readers too much, otherwise they won't receive the intended message. Just think about it this way - do you want your readers to think "Oh that's pretty" or "Interesting, I want to see more." Study information design or perhaps take a look at some of the most successful businesses in your industry. It's also important for you to understand your demographic. Know your readers and tune in to their tastes.
Be Brand Centric
Don't forget to design around your logo and color schemes. You want people to know exactly what company sent the email when they see it.
Create a Well-Planned Content Stack
This might sound a bit complicated but really it's just a simple content stack. Think about a vertically oriented set of blocks stacked one on top of the other. Imagine each block is a piece of content ordered from most important to least important. Now design your email template around the stacked content. For example say you company decides to create a weekly blog update for subscribers. At the very top of the stack you put your most recent offer relevant to the subscriber segment. Beneath the offer include blog posts excerpts and "read more" call to actions. The idea is to prioritize content based on the most responsive material.
Integrate Social Media
You want your subscribers to connect with you via social media. But more importantly you want your subscriber's friends and followers to follow you as well. This is the viral aspect of social media marketing (So make sure your social media is where it should be). If your subscribers really enjoy the email content they will share it. So give them what they want by incorporating social media share and follow buttons into your email marketing template. Remember to keep the contact stack in mind. Remember you can design and email template to include multiple columns which is very efficient in terms of share buttons. You can also place social media follow buttons in your header for quick and immediate access.
Because Some People Just Want to Read
Remember to be versatile. While an HTML email template might do wonders to your email marketing campaign the bottom line is many subscribers might just want to read simple text. So we want to be versatile and include a text option with the HTML option. This way all subscribers will be able to access your content on any device. You can also be proactive and request your subscriber decide what type of email content they'd like to receive (e.g. text or HTML). The idea here is to increase accessibility across your subscriber base.
Remain Compliant Thru It All
The very first rule of business, "It may not be pretty but it's legal." That often makes people laugh but it is a humorous way of putting things in perspective. Don't be fooled by all those blackhat spam emails you've been receiving. It's really not acceptable to market without following the law. That being "blogged" here are a few important rules you should live by according to the CAN-SPAM Act of 2003:
Do not use deceptive subject lines (e.g. You Just Won $1,000,000)
Include a return email address
Include an opt-out option
Include a physical address (physical postal address allowed according to 2008 revisions)
Final Thoughts
So here's the quick list of must haves and must do's: include your logo and branding, be engaging but content focused, include social media share and follow buttons, create a content stack, and be compliant. If you have any questions, comments, or just want to leave a message please do because we'd love absolutely love to hear from you!
Need Help?
If creating a successful email marketing campaign is something that you are interested in but don't know how to get started, contact us today to schedule your free marketing analysis.