Wishpond vs SharpSpring vs Hatchbuck: A Massive Review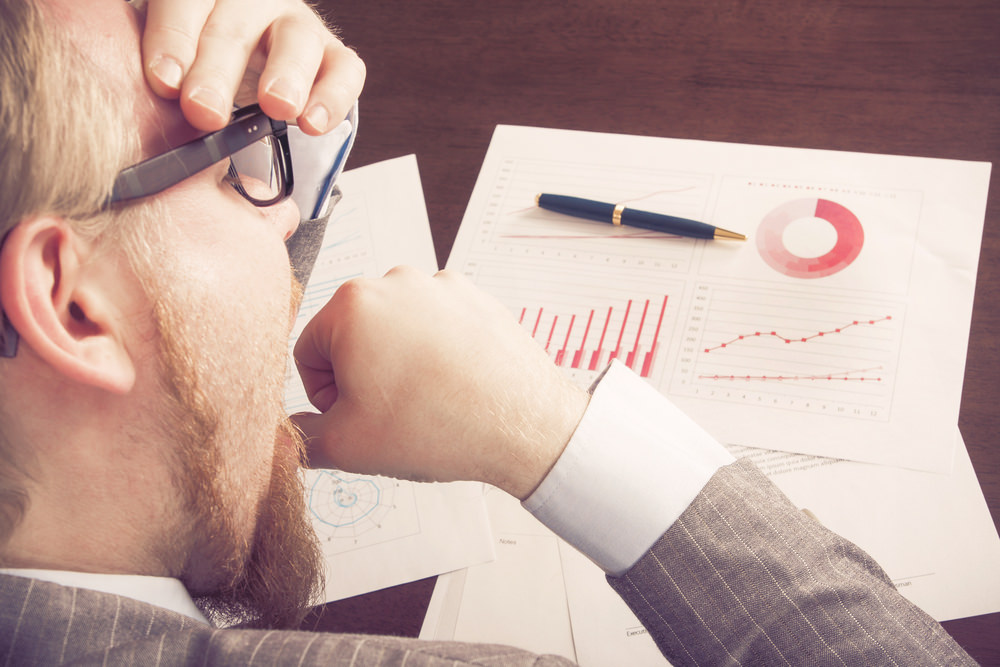 Here at IMPACT, we're constantly being asked by small to medium sized businesses about which platforms are the best when it comes to marketing automation.
And although we're HubSpot partners and most of our clients are on their platform, we also are quick to recognize HS isn't necessarily the best fit for everyone. In fact, there are absolutely times when a smaller, less robust and less expensive solution is the better option.
In these cases, we'll often suggest three main platforms: Wishpond, SharpSpring, and Hatchbuck-- all of which will be compared in detail in this review post.A Brief Background of Each Platform
Wishpond

"Wishpond is a self-serve lead generation and marketing automation platform. So, we have an all-in-one suite that includes tools for pop-ups, landing pages, forms, social contests as well as workflows, email drip campaigns, everything you know and love about marketing automation." - Nick Steeves, CEO

Wishpond was originally a social media contests platform. When they couldn't find an adequate automation solution for themselves, they created one.

"We looked at a lot of the marketing automation platforms that we wanted to use, and we didn't find any that really fit who we were." (Source: One Last Tool: Wishpond) Now they've rolled out a piece of software that's affordable, comprehensive, and focuses on success in lead management.
SharpSpring

"SharpSpring is a cloud-based marketing automation provider offering a next-generation marketing automation solution rivaling the industry's top platforms in terms of features,functionality and performance.

SharpSpring is one of the most flexible platforms on the market, offering native or 3rd party CRM integration, fully integrated call tracking, universal CMS compatibility, in addition to integration with hundreds of applications. With SharpSpring, see every lead that comes in, whether by phone or form, and compare all data side by side to get a full picture of end-to-end ROI. SharpSpring is usually less than 1/3 the cost of other competitors, yet powerful enough to be trusted by hundreds of agencies and thousands of businesses around the world." (Source: Sharpspring's LinkedIn Page)
Hatchbuck
Hatchbuck was started in 2012 by lifelong entrepreneurs and small business owners in a technology incubator in downtown St. Louis, Missouri. Like Wishpond, frustrations with current marketing automation software, including price and ease of use, were motivations for starting the company.
"Hatchbuck is a simple sales and marketing platform specifically designed for the needs of the small business owner." - Jonathan Herrick, Co-founder of Hatchbuck

Hatchbuck has designed its simple fleet of tools to allow business owners the ability to make simple capture forms and emails to bring their lead information directly into their CRM. Once in Hatchbuck, you can start to tag and segment prospects and leads, and send them personalized communication based on their online behavior.
Functionality of Platforms
As with many software companies, each of these contenders have their own unique features, as well as industry standard functionality. I did my best to compile all of the important features and personally reached out to the product experts to get explanations. I chose six areas to focus on that I believe have the biggest impact on users' marketing efforts.
Email Marketing
All three platforms have placed a particular emphasis on email marketing and measuring the results. Each has standard abilities such as drip campaigns, personalization tokens, and smart content (although some refer to it as 'Dynamic Content').
Wishpond has it's own full feature email marketing platform (with a drag-and-drop email builder and pre-built templates) that allows you to create email drip campaigns, behavioral emails based on actions and email newsletters. It also offers integrations with all the major email platforms including MailChimp and Constant Contact, among others.
SharpSpring's major selling point was their "After-the-click" behavior-based email tracking. It gathers helpful behavioral data and compiles it all in the lead record. As shown in the image below, after the user opens your email, you can begin to track their behaviors such as website visits and visited links.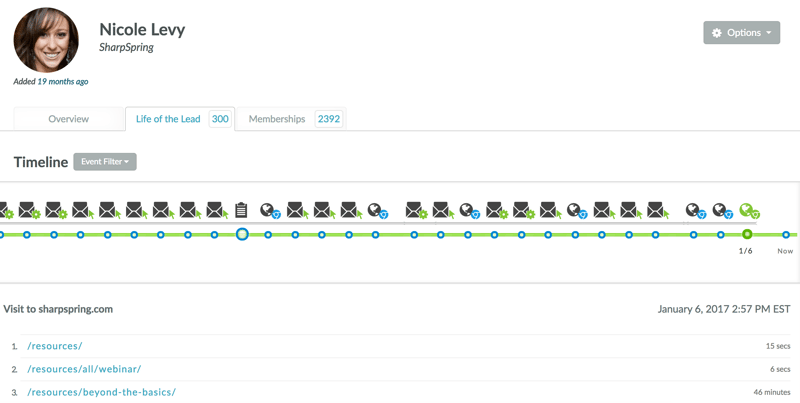 Hatchbuck has a beautiful drag and drop email builder as well as a selection of prebuilt email templates to take some of the time out of design. They give you the ability to do A/B testing and all email activity stays neatly within the Hatchbuck CRM.
Landing Pages
This seemed to be a point of differentiation amongst our contenders. Each has taken a different approach to landing pages and forms. If you have a particular need for specific functionality when it comes to creating gated content offers, pay attention.
Wishpond allows you to create some really beautiful, mobile responsive landing pages. Not the designer type? No problem. They have over 100 templates for any industry waiting for you, and you can easily start A/B and multivariate testing with them (with personalization).
SharpSpring has placed a particular emphasis on user behavior across the board, and landing pages are no exception. They've put together a number of "Landing Page Funnels" which all include mobile responsive templates. Landing pages can be edited in a point and click environment with a WYSIWYG editor.
Hatchbuck simply gives you the ability to generate a form with their form builder, and then place it where you need it. They give you options for embedding such as Plain HTML, HTML+CSS, and iFrame, as well as a direct integration with Wordpress. This does present flexibility with capturing lead information, but you'll have to build the landing page elsewhere.
Lead Management
I think a built-in CRM goes without saying in this area of software. All three have everything you should need but are not cluttered with too much functionality. A representative from SharpSpring mentioned that their customers appreciate the "less is more" approach. I'm sure this applies to all three companies.
Wishpond mentioned that they have a particular focus on lead management functions. The software furnishes you with a robust lead activity timeline with behavior tracking such as website activity, email activity, landing page analytics, video analytics, and even application activity for SaaS companies. Other features include lead scoring, list segmentation, anonymous visitor tracking, and also a Slack integration, which will let your team know when your leads are getting hot.
SharpSpring has a full CRM, but as I mentioned is very lean as compared to a CRM such as Salesforce. Their lead profiles include behavior tracking, social triggers and filters, lead scoring, and anonymous visitor tracking. The sales pipeline is a bird's eye view similar to that of a Trello board.
Hatchbuck in and of itself is mainly a CRM with included automation functions. Their tools are all designed to capture the best lead information and make it easily accessible and display it beautifully. It's truly a Smarketing CRM made for salesmen and marketers alike. Functions like custom deal stages, realtime activity tracking, and automated tasks will keep your sales team informed and on track. Other features include a lead activity timeline, lead scoring, and also purchase history if you're an e-commerce website.
CRM Integration
If you're comfortable with your current CRM, or need its current functionality to pair with some marketing automation, you'll be looking for integration capabilities.
Wishpond integrates with all your major CRM providers such as Salesforce, Highrise, Infusionsoft, among others.
SharpSpring also has many integration capabilities in their app marketplace which we will cover later, but CRM integrations include Salesforce, Zoho, and SugarCRM, among others.
This is a unique criteria to Hatchbuck because, like I mentioned above, they are a CRM and therefore will replace your current platform.
Social Media Marketing
If we're talking "full-on" marketing automation, we can't just skip over social media. In this criteria, I examined each platforms' ability to integrate with social channels.
Wishpond has a unique service offering in this category. They give you options for running several kinds of contests and promotions including videos, photo captions, coupons, and hashtag contests among others. You can run these promotions on all major platforms.
SharpSpring has the ability for integrations with Buffer and Hootsuite using their open API. This would however require the time of someone with web dev experience to set up. When I spoke to SharpSpring, they said this is a point of focus in the future.
Hatchbuck does not currently have social media marketing integrations.
Analytics and Reporting
What good is automating all your efforts if you can't analyze and report on them? I think all three of these platforms have done a great job in this area, providing quality data for both marketing and sales.
Wishpond gives you great metrics on your email performance, campaign tracking, and list health in real-time (as shown below).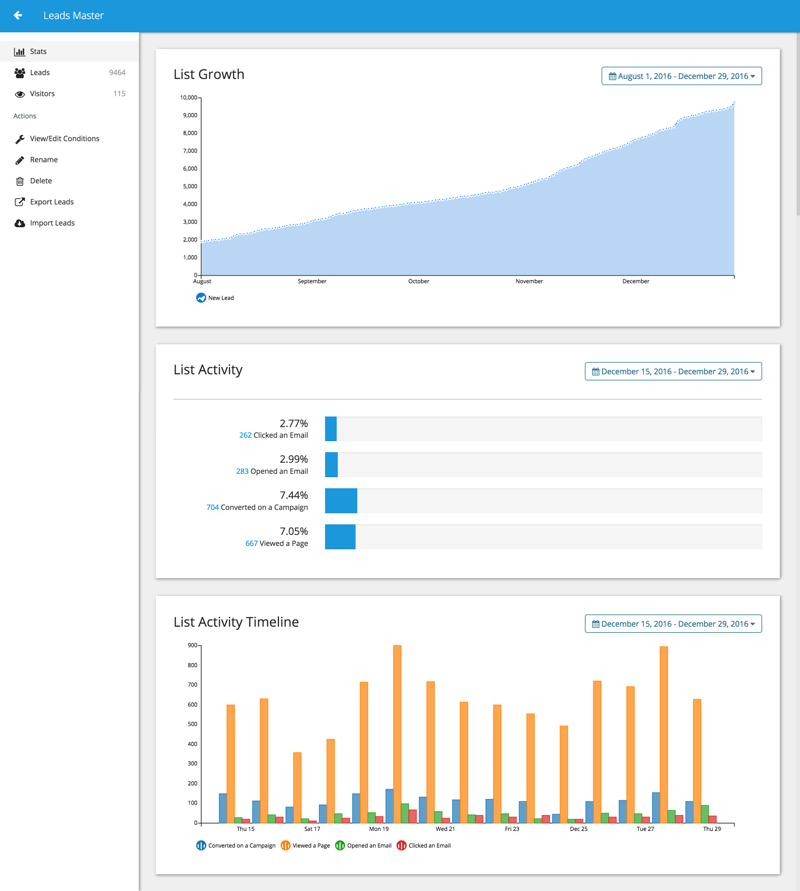 If you're looking to really examine the effectiveness of each of your marketing channels, Wishpond will display a full breakdown of the growth and activity of your lists over time.
SharpSpring with its "After-the-click" email tracking will offer some in-depth email marketing metrics. Other features include form insights, workflow analytics, and sales reports. There seems to be a lot of functionality on the sales reporting side with SharpSpring, with features analyzing conversions on sales, and projected value on deals.
Hatchbuck's hefty CRM provides you with all the metrics you should need from your email campaigns as well as in-depth analytics on the sales side of things. If you're looking to really drill down into the sales pipeline, this is a great option.[/vc_column_text][/vc_column][/vc_row][vc_row anchor="integrations"][vc_column][vc_column_text]
Integration Capabilities & The Application Marketplace
At the end of the day, marketing automation needs to take up some of the heavy lifting for us. When our many pieces of software learn to speak to one another, we save time and energy, allowing us to focus on what counts. All three platforms have an open API which you can use to make integrations yourself.
Wishpond integrates easily with all the most popular tools that you might be using already. They have a huge list of integrations including CRM, email marketing, help desk, and webinar tools, among others. A couple cool integrations beyond the norm are Twillio, for SMS messages and Thankster, for sending handwritten notes.
SharpSpring has an actual application marketplace which includes apps in three categories, native, plug-and-play, and syncing service. This allows you to directly integrate a tool like Salesforce or sync information from a service like Surveymonkey for example.
Hatchbuck doesn't have native integrations from within the software, but you can find a number of zaps on the trigger-based tool, Zapier, which allow you to add information to your contact records. These particular zaps include actions taken with Paypal, GoToWebinar, and Unbounce to name a few.
Onboarding Approach
Assuming you're already using a marketing automation tool or CRM, making the move to a new one is a big task. You'll then want to make sure you get everyone up to speed on using it, and getting the most out of it quickly and efficiently. I spoke with each company about what new customers can expect when moving to their solution.
Wishpond offers free implementation coaching in the form of a 30 minute phone call when you sign up for their "Growth" plan. Also, all of their yearly plans include a 14-day free trial to test things out. As a Wishpond customer you will have access to a massive video library for features and applications, as well as a customer support team available by phone, email, and chat.
SharpSpring's onboarding includes implementation consulting divided into two areas of focus: how to use the software and how to reach your goals. It does come with a $1,800 onboarding fee but includes 60 days of training and consulting. If you need assistance after those 60 days, there is an ongoing training service available to you.
Upon starting a plan with Hatchbuck, you'll receive a free "Quick Start Package" which includes 3 hours of marketing strategy and support from a dedicated Hatchbuck consultant. These three hours can be split up into smaller increments if necessary. After you get started, Hatchbuck support continues to be free!
Costs, Pricing, and Packages
As mentioned above, Wishpond's yearly plans come with a free 14-day trial, and there is no onboarding fee. They have three plans ranging from $45-$129 a month, which is billed annually. Using Wishpond for 5 users, up to 2,500 contacts, and with most of their features will cost about $936 a year.
SharpSpring's plans all include unlimited users, unlimited support, and the onboarding package. They have three plans ranging from $400-$800 a month, which is billed monthly. Using SharpSpring with unlimited users, and up to 1,500 contacts will cost about $4,800 a year. SharpSpring also offers a special pricing model for marketing agencies who provide marketing automation services to their clients.
Hatchbuck offers monthly and semi-annual plans which all include unlimited emails and their quick start package. They have four plans which range from $59-$299 a month, or save 10% with a semi annual plan. Also, they have a Price Lock-In Promise, so what you pay today will hold throughout your use of their software. Using Hatchbuck with 5 users, and up to 5,000 contacts will cost about $2,388 a year.[/vc_column_text][/vc_column][/vc_row][vc_row][vc_column][vc_column_text]
Review of Marketing Automation Platforms for small to medium sized businesses
In the past, we've written many articles comparing enterprise solutions for marketing automation and CRM. We've looked at functionality, cost, strength of partner channels, total cost of ownership, you name it. As a HubSpot partner, that's the world we operate in, but not everyone is in that weight class.
These are a few of the best options as far as cost, functionality and integration capabilities. My intention for writing this article was not to pick a good, better, and best option because it's not that simple. Look for an option that is a great value for what you need to get out of it.
Free Assessment:
How does your sales & marketing measure up?
Take this free, 5-minute assessment and learn what you can start doing today to boost traffic, leads, and sales.