The changing position of social media in 2020: What does it mean for marketers?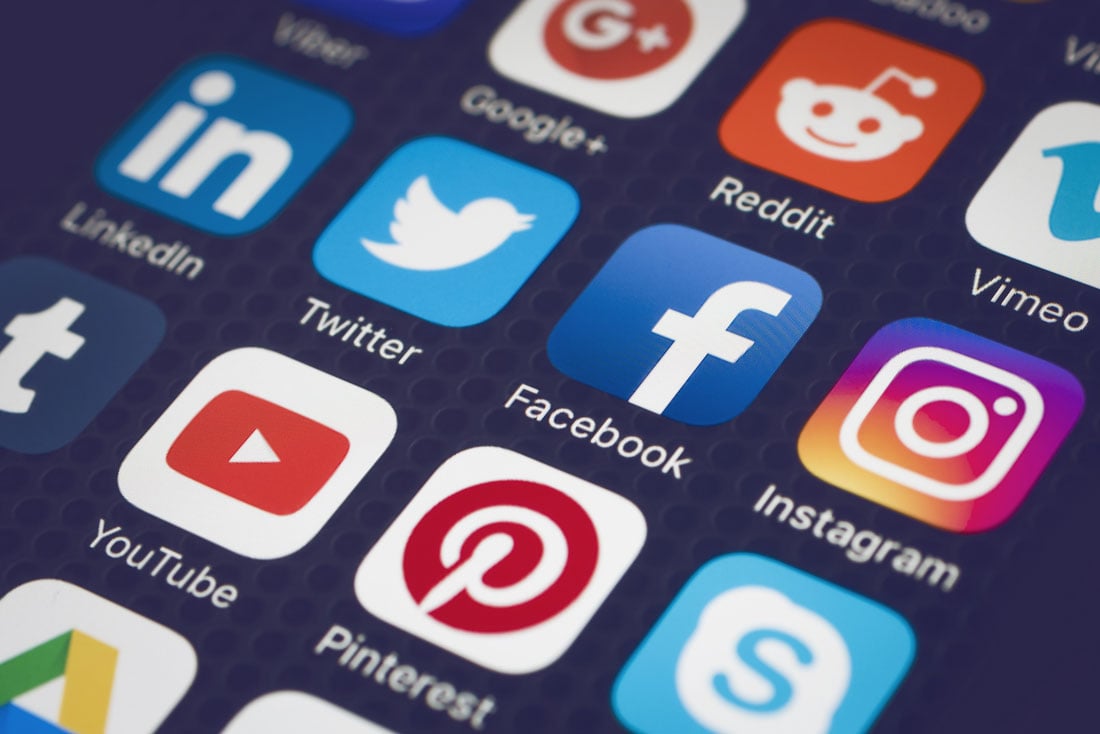 Marketers have been using social media platforms like Twitter, Instagram, and Facebook to promote their businesses for years now.
Social media marketing can work fantastically for some. Take the Pescetarian Kitchen blog, for example, which drove over 15,000 unique visitors from social media in just six months.
Sounds great, right? It is -- but those case studies are becoming increasingly harder to find.
These days, many marketers find their organic growth from social media is stagnant.
It's rare to see an influx of page likes from a single Facebook post, a boatload of website visitors from a tweet, or a ton of engagement on a recent photo you've posted to Instagram—unless you're willing to invest a lot of time, effort, and cash into the mix.
That's why, although 77% of marketers use at least one social media platform for marketing purposes, less than half (48%) say that they see ROI from this strategy.
Why is social media becoming harder to crack? How can marketers see results from their social media strategy? And should social media still form a huge chunk of a marketer's daily routine?
In this piece, I'm sharing the answers to all three.
Social media is changing — that's a fact
If you're one of the 48% of brands struggling to see ROI on your social media marketing investment, you won't be surprised when I say this: social media is changing – and it's not necessarily for the better, at least from a marketing perspective.
Some of the biggest platform changes we've seen in the past year have included:
Mark Zuckerberg announcing a change in Facebook's news feed
Earlier this year, Facebook CEO Mark Zuckerberg announced a huge shift in the way Facebook's News Feed would work:
"The first changes you'll see will be in News Feed, where you can expect to see more from your friends, family, and groups.
As we roll this out, you'll see less public content like posts from businesses, brands, and media. And the public content you see more will be held to the same standard – it should encourage meaningful interactions between people."
According to Facebook's research, their users want to see more content from their family and friends in their News Feeds, not content from brands.
So, expect your uphill struggle to boost the organic reach of your business' Facebook posts to continue.
If you're not handing over your cash to the advertising side of Facebook's platform, you won't be seen at all.
There have also been major issues over privacy regarding Facebook, but more on that later.
Twitter is deleting over a million accounts every day
Has the follower count on your Twitter page seen a drop recently?
With over 70 million suspicious and spammy accounts being deleted by the company over the past two months, don't be surprised if you see a significant dip in the number of people following your Twitter profile.
This move led to an 8% drop in shares of the company, and it's having a huge impact on the entire platform.
Granted, there will be less automated tweets, fake followers, and bot accounts taking over your feed, but it will likely still reflect upon your business if your follower count drops overnight.
Instagram's algorithm stops branded content from reaching its audience
Since making the switch to a non-chronological algorithm, small business owners haven't been shy about the negative impact the new Instagram algorithm update has had on their companies – some saying it's "crippling:"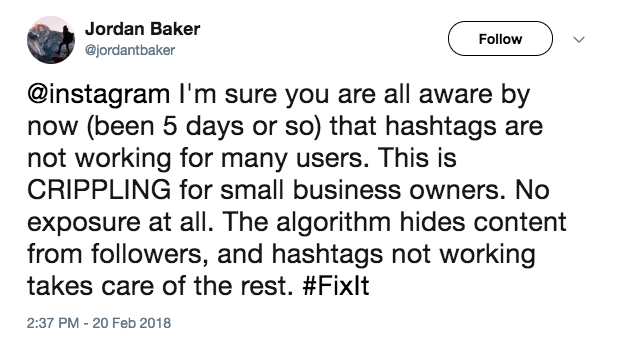 Similar to parent company Facebook, the main goal of Instagram's algorithm is to show more content from a user's friends and family, not from brands—but this change is really where people spoke out and criticized the impact their new algorithm is having on the organic reach of branded content.
But why is social media changing?
According to DailyMail, a third of millennials have permanently deleted their social media accounts, with Facebook and Twitter being among the first to go. (Unsurprisingly, they're not quite ready to let go of Snapchat or Instagram yet.)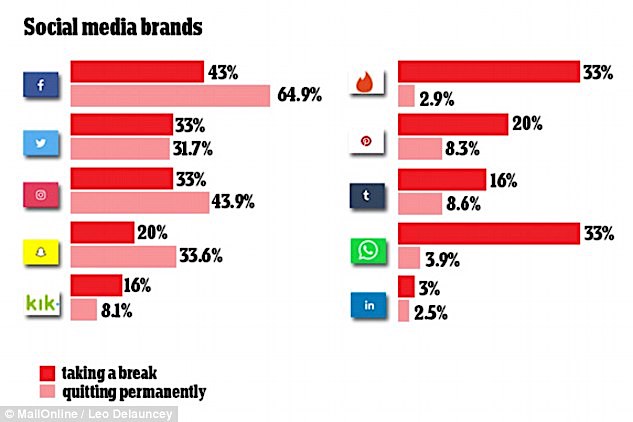 So, what's causing this global disinterest in social networks? And why are technology-savvy millennials suddenly quitting two of the biggest social media platforms in the world?
Privacy is a huge concern
We all remember Facebook's Cambridge Analytical scandal.
The social media giant has been plowing cash into video marketing to convince their users to trust the platform with their data, like this example:
But it's storing of data is no secret. In his testimony, Mark Zuckerberg himself said, Yes, we store data ... some of that content with people's permission."
Though that information is never directly sold to advertisers, many users are not happy about their private data and activity being used in such a manner.

In the 2018 Edelman Trust Barometer Special Report of Brands and Social Media, 71 % of consumers say that they want brands to push social platforms to better safeguard their personal data, and 49% say they are not willing to sacrifice some of their data privacy in return for a more personalized shopping experience.
In a world where private information(such as your browsing history, contact details, and IP addresses) is collected through social media usage, it's tricky (and worrying) to understand who's using the data you're consenting to give (or don't give at all)
Plus, with the new General Data Protection Regulation (GDPR) that took effect on May 25th of this year, people are more aware of their privacy rights than ever.
The GDPR is "intended to reshape the way that user data is gathered and processed…[and there are] strict rules of conduct for businesses who collect information from consumers."
Mental health concerns
Do you ever scroll through Instagram and feel like your life isn't on a par with everyone else's?
Photos from vacations, "perfect" dates or relationships, and luxury gifts are just a handful of things you'll see when scrolling through a typical feed – but falling into the "compare and despair" trap isn't doing any favors for our mental health.
In fact, studies show that younger generations have experienced 70% more depression and anxiety over the past 25 years and that social media use is heavily linked to these increases.
One previous Facebook user summed up the detrimental impact of social media on their mental health by saying:
"I concluded a few years back that I invested too much time checking up on what everyone else was up to, and that it wasn't good for my mental health. Quit cold turkey, and I'm in a far better place today because of it."
Commercialization
Because it's getting harder for marketers to drive results from social media, competition is rife.
Brands are fighting hard to make their voice heard, but it could be having the opposite effect on the people you're targeting.
In one study, 74% of millennials and Gen Z said they're annoyed by brand targeting in their social media feeds, and 56% have cut back or stopped using social media entirely due to this.
That's no surprise, especially with advertisers being able to show in-stream ads to the same user twice a day – which is probably why millennials make up 40% of people who use ad blockers.
What do these social media changes mean for marketers?
I know what you're thinking: with all these changes in social media usage and the platforms themselves, how can marketers still see strong ROI?
Along with a constant need to stay up-to-date with ever-changing algorithms and user behavior, marketers need to:
1. Focus on engagement
The goals for your social media marketing campaign might include increasing link clicks, on-site conversions, or follower counts, but you'll struggle to grow these metrics if you're not focusing on engagement.
Why? Because engagement is the first step to conversions. In other words, it's extremely rare for someone to purchase something if they aren't already engaged with the brand.
On Twitter, just 0.03% of a brand's audience is engaged, and Facebook's average isn't much better, with 0.07% of a brand's entire following regularly engaging with their content:
Just think about the last time you made a purchase online.
Can you remember the first interaction you had with the brand? Did you respond to a tweet, like their Instagram post, or follow their Facebook page? Did the brand engage back with you - maybe retweeting a pos
Marketers will need to prioritize this in order to keep up with social media changes, no matter which platform they're using. This can be done by:
Providing an incentive for people to engage – such as a giveaway or discount code

Hosting a contest

Prompting conversation using polls, questions, etc.
2. Team up with influencers
If you want to take your engagement strategy to the next level, work with influencers who've already nailed it.
One in three consumers trusts an influencer's words over what a brand says, so instead of promoting yourself on your own channels, let someone else share how awesome you are.
Bloggers, vloggers, and social media stars are classed as influencers because they have influence over their audiences (usually niche, but at least between 2K-10K). However, that's not possible if their audience isn't super engaged with the content they're sharing.
Depending on your budget, you can manually source influencers, using online databases like Cision, or influencer platforms like HelloSociety.
Keep in mind, influencers with 1M+ followers often have their own agents.
To ensure that you're partnering with the right influencer for your goals, identify their current engagement rate (follower counts can often be inflated) and, of course, whether their audience fits within your own buyer persona, which you should craft before you start sourcing.
There's not much point in having a fitness blogger endorse your SaaS, even if the blogger does have an incredible engagement rate on their Instagram page.
And don't ignore influencers with smaller, more niche audiences, or micro-influencers (follower count up to 10K).
While a Kardashian may reach millions, they can't engage with each follower the way micro-influencers often do; and because micro-influencers are associated with fewer brands, you can get a bigger promotional bang for your buck.
Also, make sure to align yourself with an influencer who takes an organic approach and limits partnerships with the brands they really do believe in and actually use their products or services. Some influencers seem to promote a product in every single post, which only decreases their credibility.
Once you've found the perfect fit, reach out and mention how you'd love to collaborate on a campaign. You could ask for:
A mention in an upcoming Instagram Live

An endorsement of your brand on Twitter

A shoutout from their Facebook page



Remember, though, you will likely need to offer an incentive for the influencer to get involved, especially if they have a huge following. Free products, cash bonuses, or age-based commissions might help to bring influencers on-board with your social media mission, so don't head into the influencer marketing business if you're not prepared to fork out something for their fees.
3. Pay attention to niche communities
Earlier, I mentioned how millennials are turning away from well-known social media platforms like Facebook and Twitter.
While this is true, they're not quitting the internet altogether. Many social media users are simply migrating to smaller social networks.
Forums, online communities, and start-up social platforms could be set to take the social media marketing world by storm, so consider establishing yourself early.
Since they're curated by people with a genuine interest in a specific topic, they're more engaged – and you could hit the jackpot by focusing on this new breed of social media before everyone over-saturates it.
To find these niche websites, try the following:
Search "[industry] + forum."

Find niche websites with a few thousand followers, but high engagement rates on each post.

Send an invitation to join the group (or create an account).

Contribute relevant knowledge, articles or advice to the community.
Let's take the marketing industry, for example.
The Growth Hackers forum has over 150,000 members and could be a goldmine for finding (and engaging) new fans. If you're contributing relevant content and being a genuinely nice person (rather than "the marketer"), you'll build relationships with people using the site and grow your brand.
Marketing pro, Benji Hyam of Grow and Convert used this tactic to grow his business from zero to almost 33,000 paying customers in just five months, so it's nothing to scoff at.
By focusing on smaller, niche websites with a strong sense of community, he was able to see great business growth, and you could too.
4. Sell stories, not products
As I mentioned, social media platforms are changing to focus on what they believe consumers want from them -- human connection.
Although that material tends to be from their family and friends, emulating this type of content through your brand could help you to conquer the new changes.
According to The 2018 Sprout Social Index, consumers do want discounts and new product announcements, but 59% still want posts that 'teach them something,' 56% want posts that entertain, and 49% want posts that inspire.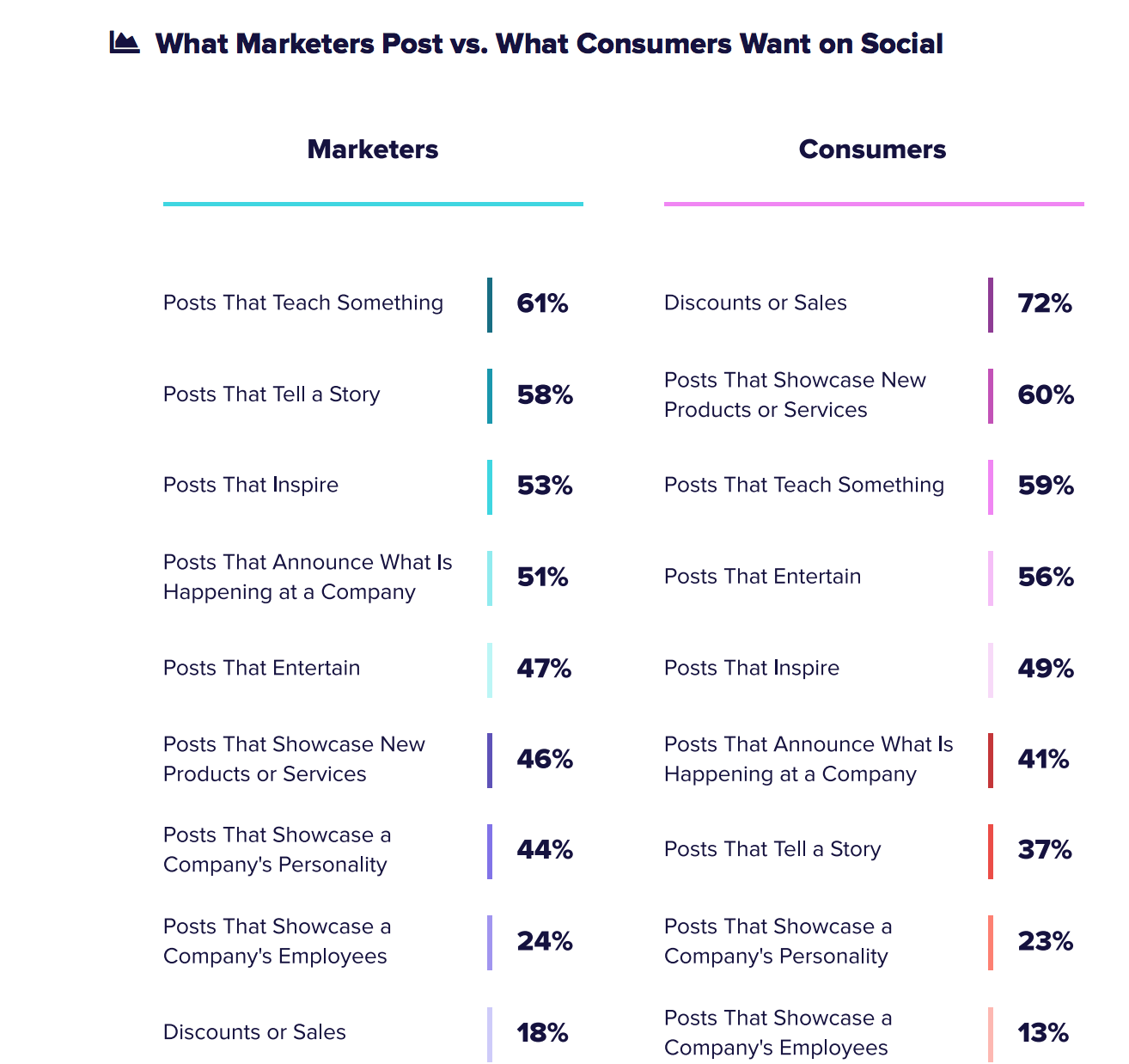 That's hard to do if you're constantly pitching the hard sell to your followers. So, what type of social media content can you create that combines both value and humor? Stories.
Stories humanize your brand.
By proving there's a real person on the other side of your social media account or product, relevant stories can make your audience feel like they're talking to a friend who really gets them.
People tend to make decisions based on emotions, and it's difficult to trigger an emotion with facts and stats.
Since the beginning of time, humans have responded to storytelling with empathy and feelings.
One of my favorite examples of brand storytelling on social media comes from Buffer.
The social media company has an entire Facebook album with photos from their company retreat, which gives their followers a behind-the-scenes glimpse of whom they're talking to when they contact their team: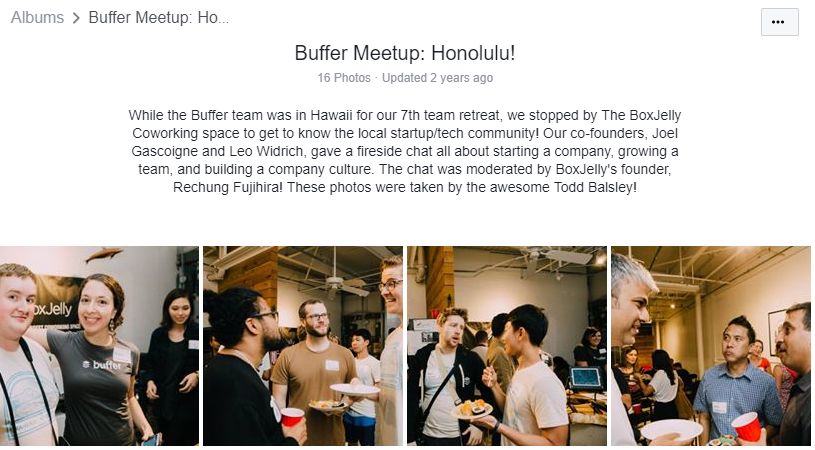 To get started with storytelling on social media, consider publicly answering these questions:
How did your brand start?

How did you, personally, start working at the company?

How did you help a previous customer solve a shared pain point of your future customer?

Why do you love the company you're working at?



Telling the stories of your customers also helps prospective buyers connect to your brand.
Why? Because the majority of purchasing decisions are emotional, not logical.
When people see the stories of customers like them, they can picture how working with or buying from you can affect them personally.
They can see and feel the effects your product/service/company truly has and, in turn, feel better understood and connected to your brand.
Not only do these stories count as fantastic testimonials, but they prove to people in a similar situation that you're not just there sell.
Remember: The best marketing doesn't feel like marketing.
5. Dip into the world of social media advertising
The majority of social media platforms are pushing brands towards their advertising packages if they want to make their social activity a success.
Facebook (and Instagram, in turn) is one of those you'll particularly struggle to have your content seene if you're not paying for it.
But don't see this as a negative.
While organic social media growth is preferred, you can start advertising on Facebook for as little as $1 a day. That's a small sum to pay for the rewards you could get in return.
In fact, one marketer used Facebook ads to generate $36,499 revenue from a $4,159 spend.
That equates to an ROI of 776% – which I'll bet is much better than the average ROI you're currently getting on an organic Facebook post.
So, is it time to ditch social media marketing?
That's a question on every marketer's lips.
Especially when other marketing channels such as email marketing or SEO sound more appealing, with the average ROI for those strategies at $40 and $22.24 respectively.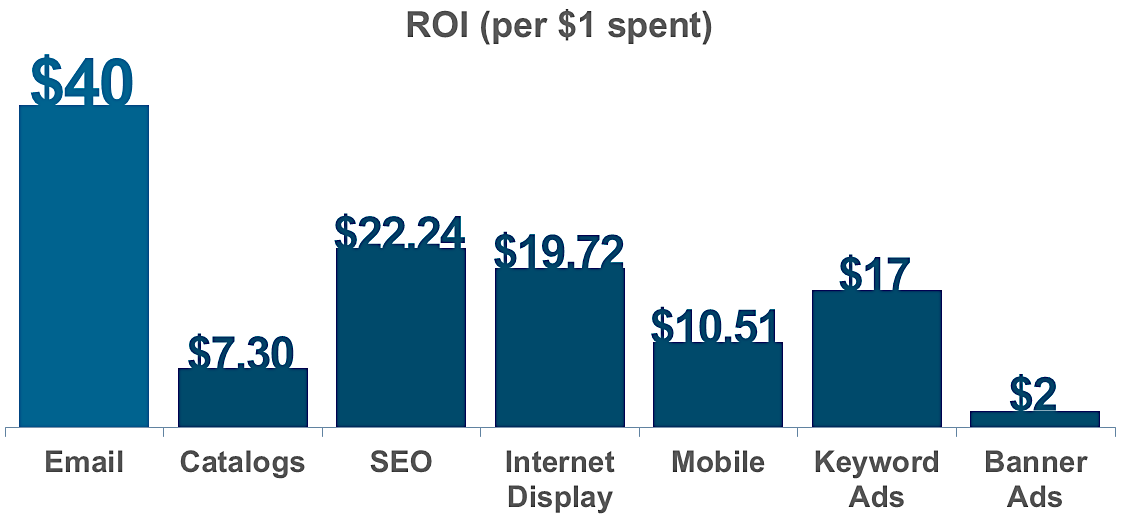 However, although social media is getting tougher to crack, you shouldn't end your strategy altogether.
Considering that as of 2017, there were still 2.46 billion active social media users ( expected to increase to 3.02 billion by 2021) and 77.6% of small- and medium-sized businesses (SMBs) use social media in their marketing strategy, you could be missing out if you're not making yourself visible to potential customers.
However, you need to enter into it strategically.
A multi-channel approach with a key focus on engagement is a great way to get started, but keep your eyes on your performance and be ready to change with your users and the platforms themselves.
Free Assessment:
How does your sales & marketing measure up?
Take this free, 5-minute assessment and learn what you can start doing today to boost traffic, leads, and sales.