Comparably Named IMPACT a Top SMB for Women & Culture - But it Wasn't Easy.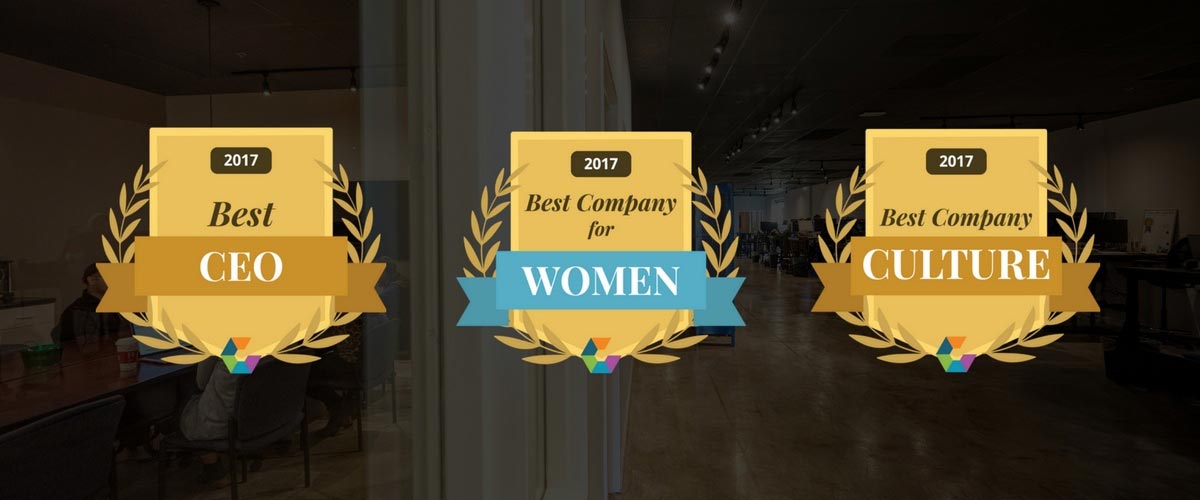 Working at IMPACT hasn't always been fun and rewarding.
Three years ago, it was the exact opposite actually. Not only were we losing employees left and right, but several clients as well.
At the end of all that, there was an estimated financial loss of over $2 million. Fortunately, that was IMPACT's turning point. In 2015, the biggest lesson we learned was that people need to see their future at IMPACT, and sadly that wasn't happening.
How it All Started
If you attended Bob's session at INBOUND 17, you've already heard this story, but without the courage of a few employees who spoke up about what was really happening at the company, we might not be where we are today.
After a number of layoffs and employee departures, we realized we needed to make major improvements to our culture, hiring process, how we worked with clients, and our leadership team.
That turning point allowed us to develop better processes and truly identify our mission, vision, and where we wanted to be in the next three years.
As part of our three-year vision, we wanted to be recognized as a great place to work.
In order to get there, we had a lot of work ahead of us and to this day, it's something we continue to work at every day as we grow our team.
As an organization and as individuals, we put in a lot of blood, sweat, and tears into becoming an agency that was named HubSpot's 2017 Partner of the Year and certified as a "Great Place to Work" earlier this year.
Today, I'm proud to say IMPACT has also been recognized as a top company for "Best Companies for Women", "Best CEO," and "Best Company Culture," by Comparably for small to mid-sized businesses.
Getting here hasn't been easy, and it definitely wasn't always fun.
As a member of IMPACT's Talent and Admin team, I often have an outside perspective in regards to everything happening throughout the agency, including the changes mentioned above.
Also, as one of our more tenured employees, I've truly seen how far we've come.
So, when I stumbled across an email from Comparably, I thought it would be a great idea to have team members from each team complete its survey. With this, we could gauge how our team felt about our executive team, environment, CEO, outlook, perks and benefits, professional development, and overall how happy they were.
Note: If you're not familiar with it, Comparably is a great company whose mission is to provide accurate and comprehensive compensation and culture data to help employers better understand employees' true value and needs to make work even better.
In the end, while there are always areas for improvement, we were proud to see our results ...
These results even earned us a place as a top company for "Best Companies for Women", "Best CEO," and "Best Company Culture," by Comparably for small to mid-sized businesses.
Here's a closer look at the changes we've made in regards to being a great company for women, our culture, and our leadership team.
Best Company for Women
Compared to most industries, our company's female to male ratio is about 2 to 1.
In terms of building our leadership and management teams, there is no shortage of opportunities for women at IMPACT. Females make up 50% of our company's leadership team, 50% of our executive level positions, and 67% of our management positions.
While the majority of the team was in their early twenties, at the time, we also wanted to make sure we had an equal maternity and paternity leave in place.
For those you wondering, our maternity/paternity leave plan consists of 8 weeks of paid time off for new mothers and fathers, giving them time to enjoy this time with their families.
After the 8 weeks of paid leave, new parents are encouraged to develop a work-from-home or other desired transition plan with their teams to make it easier to get back into their work routine.
We've also put an effort into sharing more female voices and experiences in our content. For instance, we recently launched a new podcast, MarketHer which is produced by our Brie Rangel, Director of Client Service, Angela Myrtetus, and Britt Schwartz, who are both Principle Strategists. Each of those women has a common desire for being a women-centered resource to can help other women in business grow.
The premise behind MarketHer is to discuss tough topics like women as the main breadwinner in the home, balancing life with children (or dogs!), and how to make more women CEOs.
Audiences have also been enjoying The Inbound Success Podcast, created and hosted by our VP of Marketing, Kathleen Booth.
Best CEO

It's hard to believe I've been working at IMPACT for about 6.5 years. It feels like I was just an intern when there were only 8 people on the team.
As I'm writing this, I'm surrounded by 4 other team members who have been here through the nitty gritty of the past 3 years as well, and it's exciting to see how far everyone has come and where their careers have taken them.
If you've watched episode 2 of Behind the Screens Joe, Vin, and myself talk about what kept us at IMPACT.
A lot of that had to do with IMPACT's culture (which we'll get into) and know that we'd always work towards being the best agency possible, but it also had a lot to do with Bob's growth and how he led IMPACT.
The early years were tough, we were just getting our feet wet with inbound and didn't have processes in place that would allow us to hire the best people, which in turn affected the work we did for our clients.
Bob has always recognized that there's room for improvement and not everyone is perfect and people will continue to grow and in 2015, that became his top priority.
For him that consisted of getting 360-degree feedback; where tough questions were asked of his colleagues, employees, friends, and family regarding his management style as well as who he was as a person.
He read books, looked for mentors, and stayed open to all constructive criticism.
Today, as the leader of IMPACT, he's taken on the mentality that everyone at IMPACT should think of themselves as an owner. He's enabled us to take ownership of what we do, how we do it, and urged us to solve problems from the bottom up.
Bob, as a leader, realizes that it's not about his personal success, but making sure the entire team has the tools and knowledge needs to be successful.
Best Company for Culture
Not only do we want to produce great work for our clients, but we want to create an environment where everyone on our team enjoys coming to work every day.
As we like to say, culture isn't just what happens when the boss isn't around. When a company has a great culture, the people have clear alignment on where the organization is going and always doing what's right in any situation.
Here's a look at just some of the perks and programs that help define our culture and make our company unique.
We've revamped our culture by implementing core values and using them in everything that we do.
At IMPACT our core values are helpfulness, passion, and dependability; and we look for those in every hire we make.
People who demonstrate passion love what they're doing and are driven to do their best. They also possess the desire to improve and are driven to advance in their career.
Those who demonstrate helpfulness care deeply about the success of their clients and peers. While striving to make everyone around them better.
Team members who demonstrate dependability take responsibility for solving problems and see it all the way through to completion. They also consistently do the right things as if they owned the organization.
We Created Autonomy (and Remote Opportunities)
Employees are able to adjust their work schedules as needed, so long as they are meeting their commitments to clients and teams. This is an important piece of our autonomy. We also provide unlimited time off as well as remote working opportunities to all of our employees.
To accommodate more remote team members, we had to improve the amount of video we utilized not only on calls with our clients but across the company.
During that transition, we switched video conferencing platforms and made major investments in technology and meeting processes.
It's all about making sure our remote employees don't feel excluded, which is why we've also implemented remote-friendly team activities such as digital greeting cards, online gift exchanges, and Friday video chats.
You can read more about the specifics of all of that here.
Learning & Professional Development
Remote or in-office, as leaders in a rapidly evolving industry, staying on top of industry news and trends is important. That's why another perk we have is both physical and digital libraries, making it easy for employees to find the resources they need. At any time, our employees are encouraged to request new books and we're happy to order them.
Some ways we make the office fun is by having quarterly get-togethers, as well as team activities and theme days.
With an increasing number of remote employees, we've put an emphasis on getting all of our team members together at least once per quarter. During those times, we cover the costs for all remote employees to come into the office, and we plan all-hands meetings, team lunches, and team activities.
We also try to have a fair balance between work and play. We often plan out-of-the-box activities and events for our employees to enjoy a break from the day-to-day and get to know each other better.
One of our most popular events is Dip Day; an annual cook-off where people make their best dip recipes and compete to win awards.
As a company with roughly 45% of the company being remote, we've put a lot of practices in place to ensure they feel like they're a part of the team and not hundreds or even thousands of miles away.
Visit IMPACT's profile on Comparably to learn more about our reviews and ratings.
I would like to say congratulations to Bob and the entire IMPACT team who all had a part in making this a top company to work for!
None of this would have been possible without everyone on the team who regularly provides honest feedback and consistently works to make IMPACT a better company.
Free Assessment:
How does your inbound marketing measure up?
Take this free, 5-minute assessment and learn what you can start doing today to boost traffic, leads, and sales.
Get Started
Free Assessment:
How does your inbound marketing measure up?
Take this free, 5-minute assessment and learn what you can start doing today to boost traffic, leads, and sales.
Published on December 8, 2017