Subscribe
Join 40,000+ sales and marketing pros who receive our weekly newsletter.
Get the most relevant, actionable digital sales and marketing insights you need to make smarter decisions faster... all in under five minutes.
Thanks, stay tuned for our upcoming edition.
My Employee Onboarding Was a 600-Person Ice Breaker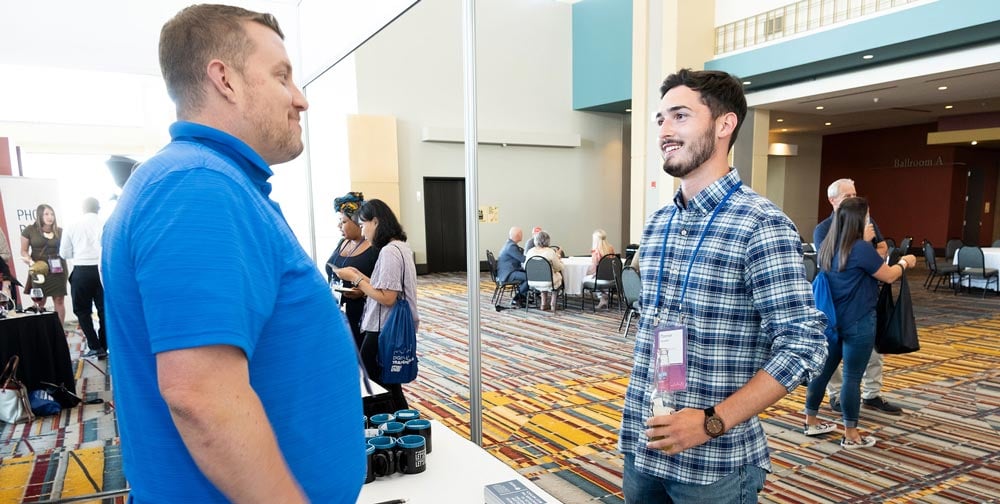 Every time you start a new job, it is important to set goals that you personally would like to achieve in your first few days.
For someone like me, 21 years old and just out of college, there are three questions that I look to answer early on:
What is my team like?
Who are our customers and what is my role?
How will I be successful in this role?
Asking these three questions allows me to not only find opportunities to go above and beyond, but also to spice up my onboarding.
Little did I know, however, my onboarding at IMPACT wouldn't need any spicing up.
What I expected
For the typical new hire, the onboarding process is nothing to write home about.
You find out where you sit, where the coffee machine is, and you start a day full of icebreakers with your new coworkers.
After the festivities settle, your boss hands you the first assignment and your new career begins.
Now, did I expect this "cookie-cutter" process when I accepted my job offer from IMPACT?
No, not exactly, but I truly didn't expect the experience I had in my first week of being an IMPACTer.
What actually happened
Rather than the usual activities, my onboarding journey began with waking up at 4:15am Monday morning to drive to the Hartford Convention Center, the site of IMPACT Live 2019.
This two-day event hosted by IMPACT each year was going to be bigger than ever before, with speakers such as HubSpot CEO Brian Halligan and DigitalMarketer CEO Ryan Deiss, as well as over 600 attendees from across the country coming to learn the magic of digital sales and marketing.
I was intimidated.
I honestly don't think I've had a commute that was more of a mental rollercoaster than I did that day.
The nervous excitement of starting a new job quickly turned into not knowing what I just got myself into.
I heard stories from the IMPACT team that starting during the week of IMPACT Live (becoming Digital Sales & Marketing World in 2020) was equivalent to "drinking from a fire hose."
I would argue it was more like having one of those massive water buckets from the waterpark dumped on your head: there is a lot happening at once, people all around you, and while the weight of it all will sting at first, you are going to have a ton of fun and will want to do it all over again.
Image courtesy of Noah's Ark Waterpark
To be fair, it was overwhelming at times, so I circled back to the three questions I wanted to answer and let those guide me.
Question 1: What is the team like?
This question is arguably the most important for me.
It clarifies not only how my coworkers approach their work, but also who I will want to eat lunch with.
Now, don't laugh.
I've learned that early on, it is extremely beneficial to answer this question as it helps build those personal and professional relationships that make you feel comfortable and welcomed at an organization.
However, there can be obstacles to effectively answering this question, as IMPACT showed me.
One of the things that makes IMPACT unique is that it has a strong remote working culture, with ∼60% not being in-office in Connecticut.
During the final part of my interview process, I had a "meet the team" video call where everyone I would potentially be working with called in via Zoom to see if I'd be a good fit. Turned out everyone on that call did not work in-office.
Well, that is worrisome, I thought.
How was I supposed to connect with a team I would rarely see in person?
That is where the magic of IMPACT Live truly shined.
IMPACT flew the entire team into Hartford, Connecticut to take part in the event, creating an environment where I could meet every IMPACT employee face to face.
I went from being concerned I wouldn't meet my team or get to know them to literally meeting everyone on the first day.
I got to see the personalities, work ethic, and energy of IMPACT all on display at once.
It is not common to see an entire organization focus everything they have on delivering a world-class product like IMPACT Live ever, let alone your first week.
And the best part?
I felt like part of the family, not just the new guy.
I felt accepted into the group right away, cracking jokes and getting to know everyone on a personal level.
There was even a race to guess my zodiac sign before the event ended, which the IMPACT blog queen herself, Ramona Sukhraj, was victorious in. For those interested, here is a hint: some characteristics for my sign include being observant, helpful, and dependable.
To bring it all back, I answered question one by saying IMPACT is an ambitious, passionate group that loves what they do and who they get to do it with.
The energy and enthusiasm of the team is contagious.
It doesn't matter if they are speaking with prospective clients or stuffing swag bags, everyone puts in 100% effort and knows that every contribution makes a difference.
Question 2: What will the role be like? Who are our customers?
This question had to be broken into two parts.
In certain roles there is a lack of direct customer interaction, however, as a content consultant, interacting with clients is a pretty big part of the job.
So, learning the expectations of my role as well as those of a client were equally important in my eyes.
The role I played at IMPACT Live was not going to be my everyday role, obviously.
Instead, the event gave me a deep dive into what I would be helping others to accomplish as a content consultant.
What I saw at IMPACT Live was a community of people coming together to share their stories and passion for digital sales and marketing.
Attendees from every industry you could imagine, from ethical hacking to metal roofing installations, were there to make their business more successful.
There was one specific moment I observed at the event that showed me the value of what my role would mean both for IMPACT and for others.
I walked out of the main stage area following a success story presentation.
As I sat down and checked my phone, I couldn't help but watch two gentlemen squeeze into the frame of a video call on their cell phone with another person at their company. One of them whispered rather loudly:
"I'm telling you, this stuff is amazing. We just watched one of their success stories speak and it was shocking. I have never felt more certain of this. We need to be producing content right now. This seems like a perfect fit for our company."
There is not one situation during a normal onboarding process where I could imagine this happening naturally.
You can watch videos about origin stories or success stories, but rarely do you see something like this taking place in real-time.
Looking back, I wish I had asked who they were and engaged with them more, but, at that moment, as I overheard the back and forth conversation filled with excitement, the bell went off in my mind.
What is my role all about?
It is all about creating success stories for our customers.
At the end of the day, I have the opportunity as a content consultant to help businesses succeed in ways they may not have imagined possible through content. In turn, these consumers are champions of IMPACT and what we do.
Question 3: How will I be successful in this role?
Question three sounds like a rather cliche thing to ask when you are starting a new job.
Nevertheless, as a recent college graduate just getting started in my professional career, I wanted to know what I needed to do to excel in my role.
Although it would be easy for me to ask my manager what I could do, IMPACT Live offered an intriguing alternative.
What better way to learn how to be successful than having the top industry and thought leaders in the business telling me in person exactly how to be successful, starting with Marcus Sheridan and They Ask, You Answer.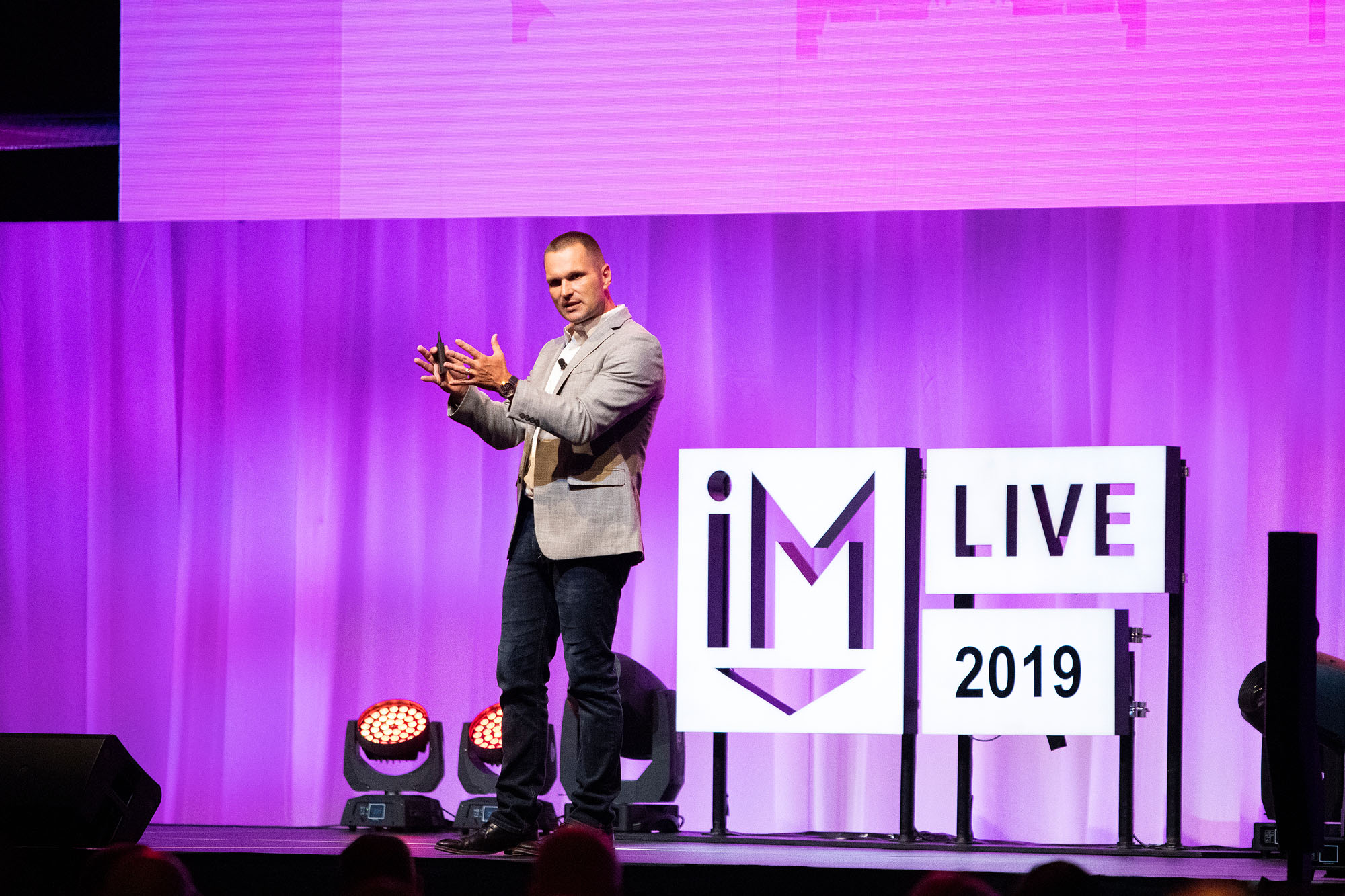 Image courtesy of © Connecticut Headshots

They Ask, You Answer plays a pivotal role here at IMPACT.
Marcus Sheridan, the author and father of the framework, demonstrated to me the difference between reading and actually experiencing They Ask, You Answer.
When I read the book for the first time, I thought I had a pretty good grasp of exactly how it all worked, but seeing and hearing Marcus speak about what he wrote and sharing the stage with some of IMPACT's greatest success stories showed me that this strategy was so much more.
It was going to act as a guiding principle for not only me to be successful, but for the clients I work with to be successful.
IMPACT Live also demonstrated the power of video content.
I got to see a number of different speakers discuss video, specifically IMPACT's Director of Inbound Training & Video Strategy, Zach Basner.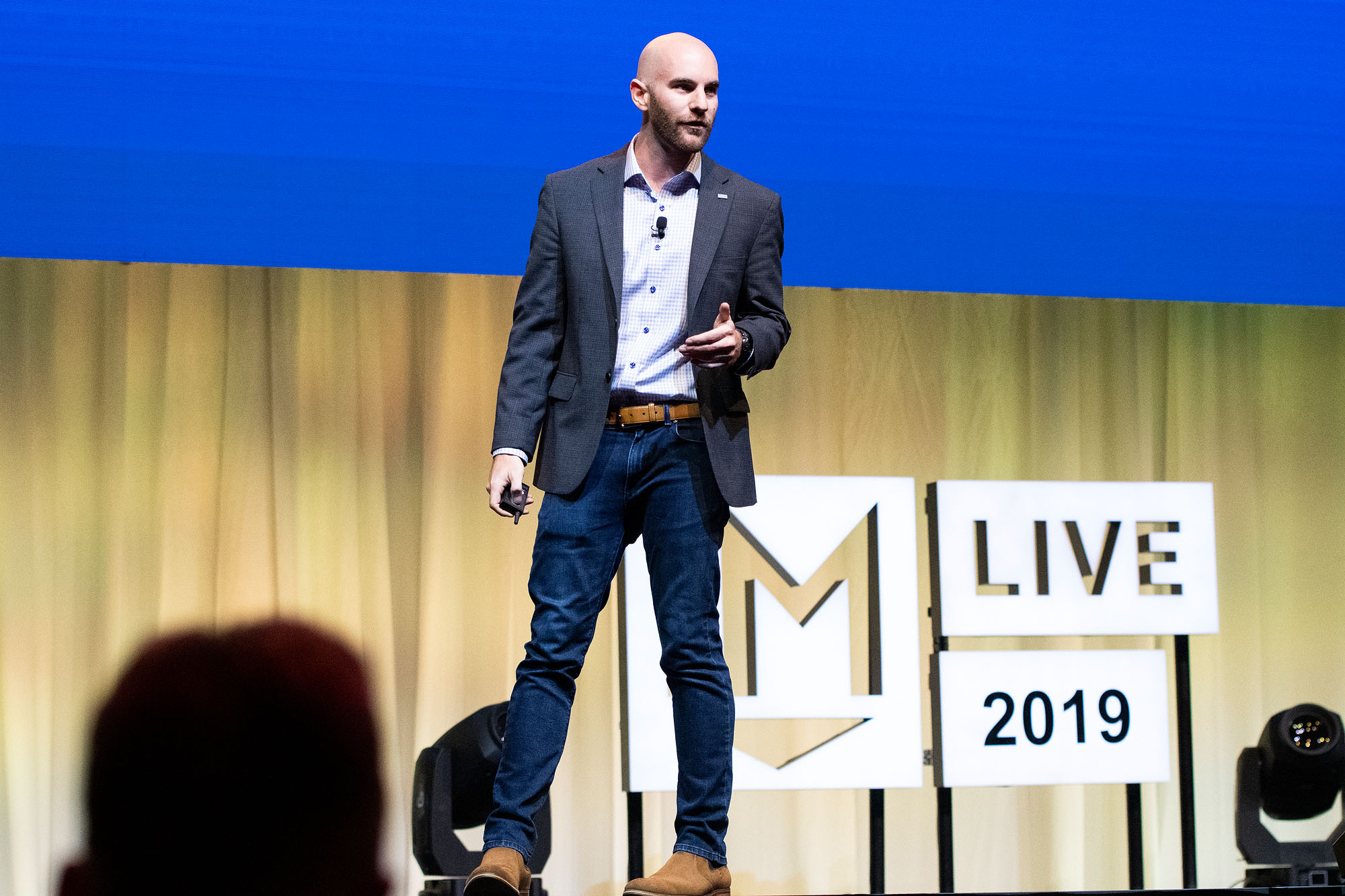 Image courtesy of © Connecticut Headshots
Zach introduced The Selling 7 of Video Content.
While this concept was new to me, I realized it was also a new piece of the They Ask, You Answer framework.
Not only did it show me the power of video content, it showed me the agility of inbound marketing, They Ask, You Answer, and IMPACT as a whole. There is never a final step to this process, just the next step. Video is that next frontier.
This, folks, brings me to the answer of my final question.
My answer was that the world of inbound marketing is constantly evolving, and for me to be successful I need to be adaptive and open-minded.
They Ask, You Answer is a guiding principle and yet, it is constantly evolving to incorporate the next big thing. If I don't follow suit, I will be left behind.
The ultimate onboarding experience
The value of the onboarding process cannot be stressed enough.
Going into my first full-time job, there is so much to learn and experience.
If I had done the normal onboarding journey, I'd be doing fine in the position I am in, but would I feel as confident, energized, and passionate as I do today?
Not a chance.
If I hadn't gotten the opportunity to start my career and time at IMPACT with IMPACT Live, I would've missed out on invaluable in-person training, getting to know the IMPACT community face-to-face, and most importantly, the late-night IMPACT Live karaoke parties. So much happened in one week, I can only imagine what the future holds. I can't wait for Digital Sales and Marketing World 2020! Hope to see you there.
Free Assessment:
How does your sales & marketing measure up?
Take this free, 5-minute assessment and learn what you can start doing today to boost traffic, leads, and sales.