4 Simple Tweaks to Convert More Subscribers On Your Blog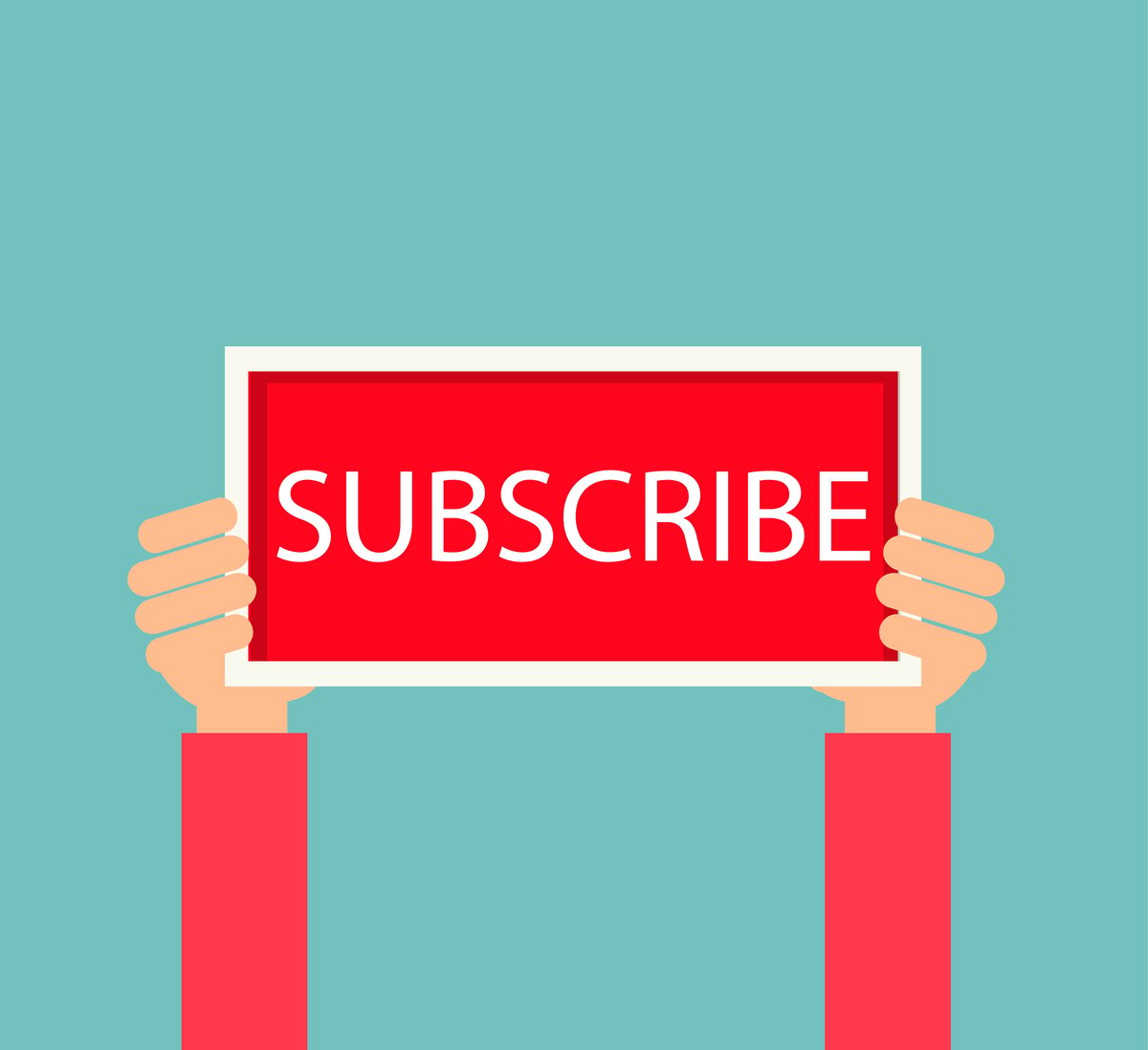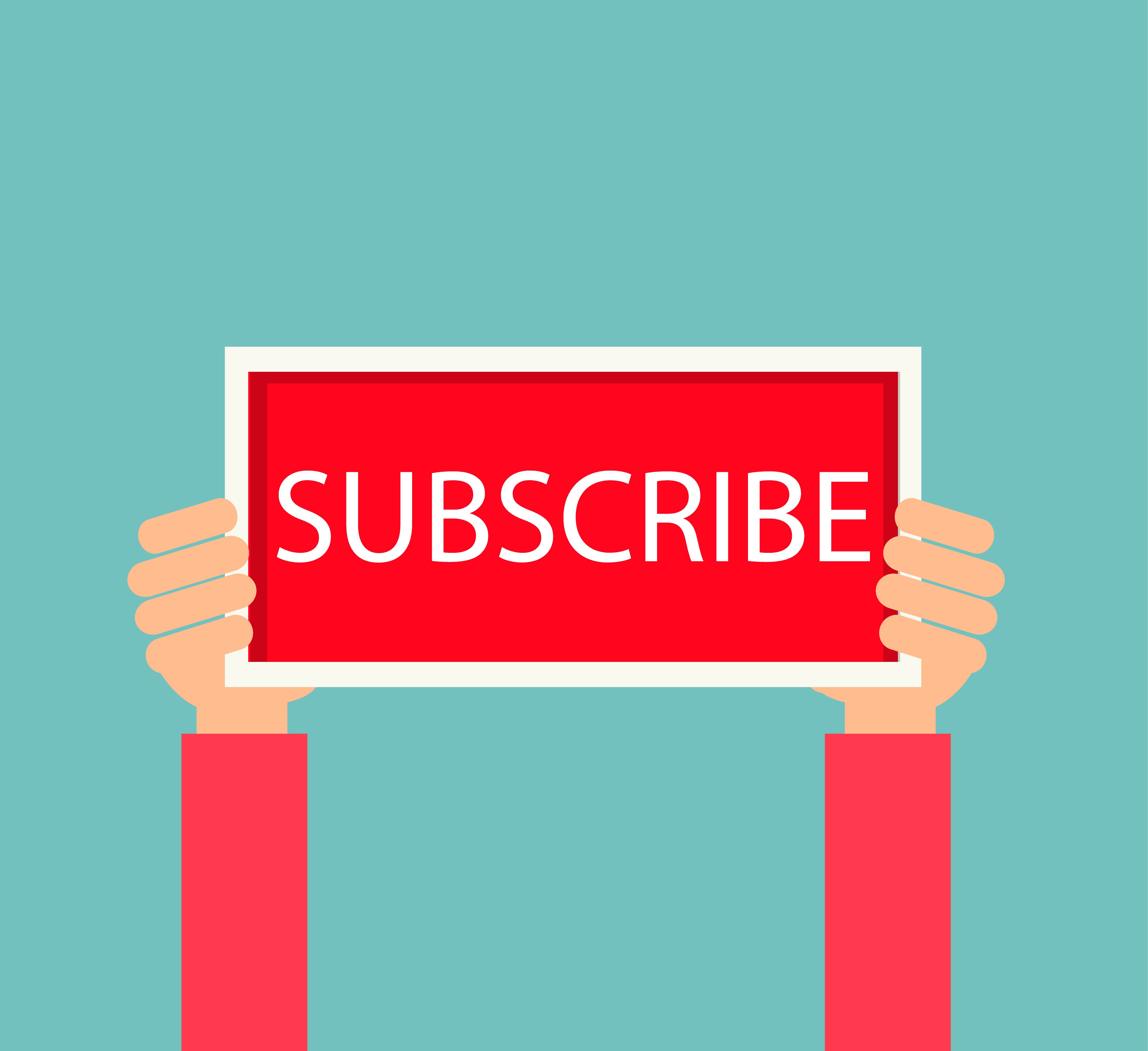 You're generating content like a pro, you've got SEO optimization coming out of your ears, and you have visitors flocking into your blog on the regular. You know that blog subscribers are a key part of any marketing campaign. They are at the top of your funnel, and as they see more of your stellar content, they'll move down the funnel.
But for some reason, your subscriber list isn't growing-- and you have no idea why.
Once you implement these four tactics onto your blog, your blog subscribers will grow faster than Ant-man.
1. Use a User-Friendly Layout
One of the core ways to increase your blog subscribers is to give them an optimized, intuitive, and user-friendly layout. After all, who wants to subscribe to content that's difficult to read? No one, that's who.
In the generation of "TLDR" (Too long, didn't read), you need to make it easy for users to understand what they'll be reading. You can do this by giving them subtitles or excerpts on your main page, teasing the content. A little bit of context like this can go a long way.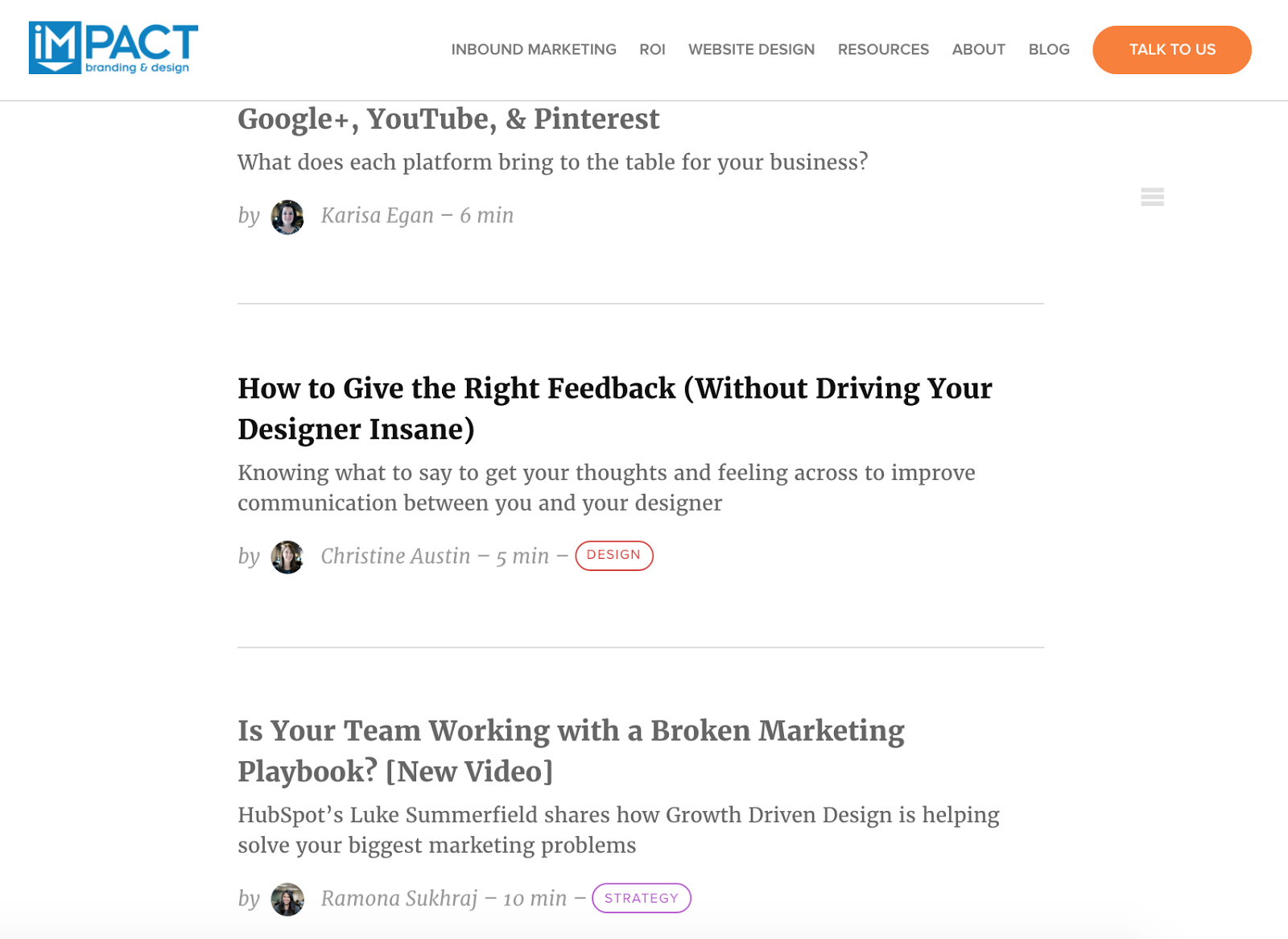 Including a featured image as well as areas in your actual post for images can help keep the reader scrolling and also breaks up large chunks of content.
Buzzsumo found that proper use of imagery can actually lead to an increase in shares. In the same study, the company found that using an image every 75-100 words can lead to 2x as many shares when compared to articles with less imagery.
Combining that boost with well-thought-out social sharing buttons and you've got a recipe for success.
It's critical that it's extremely easy for users to share your content. Users will typically share a post before or after reading it so make sure to have sharing buttons at the beginning and end of your post.
Implementing a scrolling share bar allows your users to share your content no matter where they are, which is especially useful for long-form content.
A user-friendly layout will also help to guide them to your conversion points. And if that doesn't help, there's always…
2. Use Exit Intent Pop-ups
What's an exit intent pop-up, you ask? It's the quick, pop-up reminder you give the user to subscribe to your awesome content, right before they're about to exit your page.

Example: IMPACT Client, The Closet Works
I know what you're thinking right about now: "That's not something MY users want!"
Are you sure about that?
Companies have seen amazing results from implementing exit intent pop-ups. Increases in subscribers of 1375% are nothing to scoff at.
By popping a quick offer box in front of the user and conveying the insane value your blog content provides, you've got a great chance of converting them into a subscriber.
One of our clients was able to increase subscribers by 32% in a single month after adding an exit intent pop-up, coupled with a very enticing offer.
Exit intent pop-ups, if done correctly, can be a huge asset for your blog and website. Make sure you implement a few a/b tests to find the perfect message and layout that resonates with your users.
3. Create a Lead Magnet
Haven't heard of lead magnets?

Digitalmarketer defines a lead magnet as "an irresistible bribe offering a specific chunk of value to a prospect in exchange for their contact information." In other words, a premium offer that people will want to fill out a form to get their hands on.
Example: IMPACT Client, Lexicon Relocation
The goal is to give the user a ton of value in the shape of an eBook, video, or similar offer, in exchange for their information. Not too shabby right?
But what if you add even more value? Combine your lead magnet off with your blog subscribe form to give users even more reason to convert. They'll get content regularly sent to their inbox, plus an amazing free offer to download right away.
There are plenty of offers that you can put together for a lead magnet (DigitalMarketer gives a few suggestions in their post), but the most important part of using a lead magnet, is how you use it.
4. Add In-Post Forms and CTAs
One of the best ways to increase conversions on your blog is to give the user more conversion points.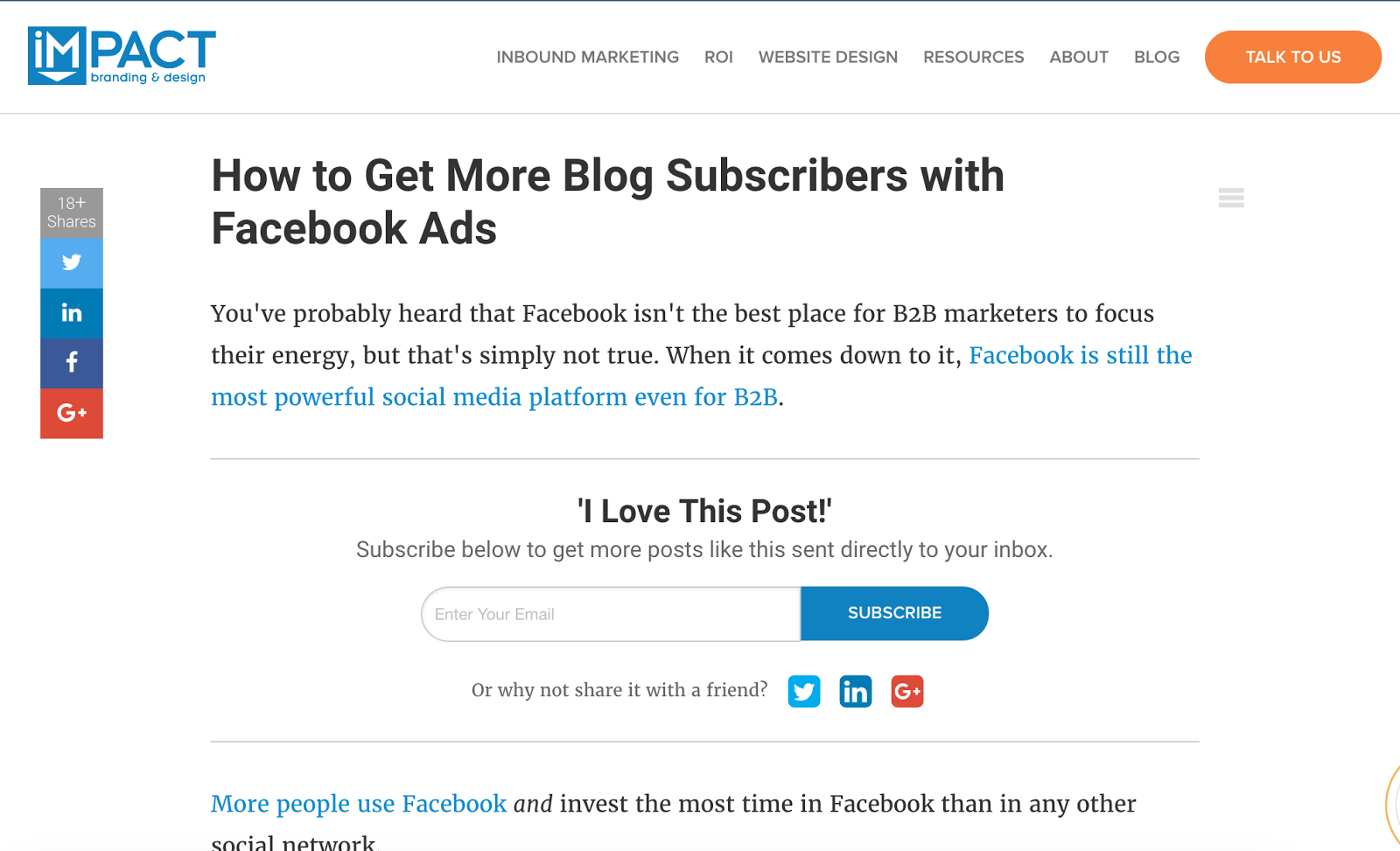 Research shows that most people don't make it the bottom of blog articles (aka where we conventionally place an offer call-to-action or form), so bring that up the page to when you still have their attention.
We found that adding an in-post CTA early on in our blog articles can dramatically increase conversions. In fact, our in-line CTAs tend to perform 6x better than CTAs placed at the end of the blog post. (But it's always a good plan to have conversion points in both places, just to be safe.)
Blog subscribers are one of the most important parts of your lead generation and nurturing strategies. They offer return traffic, are more likely to share your content, and have granted you access to their inbox (aka you can guide them down the sales funnel towards a purchase.)
Implement these four simple tweaks, and you'll be on the path to turning your blog into a lead converting machine.
For $799 IMPACT will take care of all of this for you.
Seriously, we will.
Our team has just created and launched an exclusive, fully-optimized HubSpot COS Blog template that will implement these four tactics for you as well as be entirely mobile responsive, cross-browser tested, and load quickly to bring the best experience possible to your readers.
Want it for your business website? Get it here right now!
Free Assessment:
How does your inbound marketing measure up?
Take this free, 5-minute assessment and learn what you can start doing today to boost traffic, leads, and sales.
Get Started
Free Assessment:
How does your inbound marketing measure up?
Take this free, 5-minute assessment and learn what you can start doing today to boost traffic, leads, and sales.
Published on June 7, 2016