New study: Nearly half of marketers struggle with siloed systems and data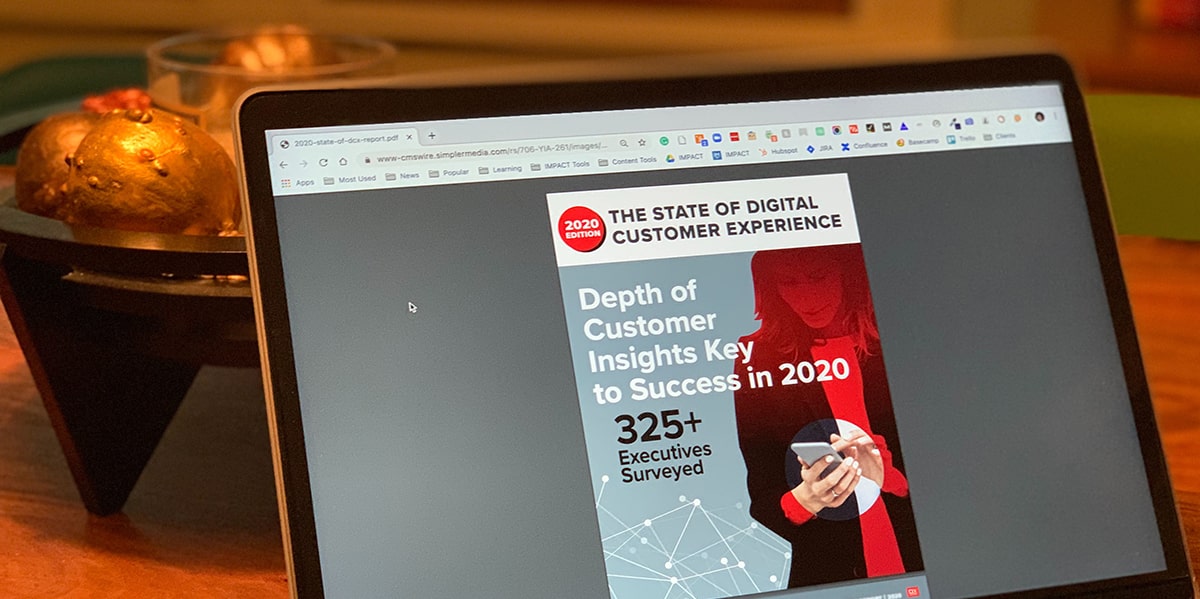 A survey of marketing executives shows that less than 10% of companies are fully leveraging personalization tools to improve the customer experience.
That's according to the State of Digital Customer Experience 2020 Report released by Simpler Media Group and CMSWire just last week.
The report shares insights from more than 325 digital customer experience (DCX) executives, who overwhelmingly (79%) reported that the digital experience is an extremely or very high organizational priority.
It's not surprising companies are flocking to the idea of employing digital to enhance the customer experience — after all, 61% of consumers have admitted to leaving a brand due to suboptimal experiences.
But the report does reveal that, as marketers, we have our work cut out for us. For all the great expectations we have for improving how we connect with customers in the digital space, there are some striking statistics that expose our shortcomings, especially in the areas of organizational alignment, technology adoption, and prioritization.
42% of respondents indicated internal departments weren't aligned
The top two DCX challenges listed by respondents were "siloed systems and fragmented customer data" (47%) and "limited cross-department alignment and collaboration" (42%).
Can't we all just get along?
Given the subject of the report, much of this internal strife could relate to digital shortcomings (more on that in the next section), where lack of integrations is keeping information siloed. But blaming computers only goes so far.
In the end, we're people dealing with people.
That goes for both how we deal with our customers (whether in face-to-face interactions or in cyberspace) and how we deal with our coworkers.
Successfully communicating with those outside the company starts with organizational alignment in strategy, tools, and communication.
In fact, according to the study, those organizations reporting the most mature and effective customer experiences have fewer silos and better cross-department alignment.
87% of companies are struggling with customer experience tools
Only one in ten respondents believe their digital platform and tools are working well.
Respondents also admit that the adoption and successful use of tools directly impact employee satisfaction. After all, if the tools aren't working, the resulting frustration creeps into daily interactions and keeps information from flowing freely.
Siloed information then effects how the tools perform, but that's not the only reason marketers might not be happy with their digital resources.
As the authors of the study explain:
Another contributing factor is likely the immaturity of the systems and tools in question and the inevitable time lag that happens before a new tool has a positive impact on customer behavior or before teams master their use properly.

Unrealistic expectations of new tools is a common phenomena and inevitably digital professionals will want to get more out of the tools at their disposal.
Only 9% of respondents believe they get ROI from personalization
Though the companies who participated in the survey say they are evaluating or experimenting with personalization, very few of them feel that their efforts are paying off.
While 70% feel that personalization is important enough to the digital customer experience to experiment with the tools, they aren't prioritizing it in terms of effort.
According to the study, many of the companies struggling with personalization had or were building personas. We often see this with personalization, where the daunting task of building personas stymies the strongest marketer.
When it comes to personalization, it's key to not sacrifice the good for the perfect. The truth is that the time you'll spend creating a stellar persona deck is better spent on developing a personalization strategy and then executing it.
Creating your best digital customer experience for 2020
As you create your customer experience strategy for the coming year, start with the basics: how can you better align your team and your company?
What information siloes could be broken down so that the departments and people you work with every day have the data they need to work better together?
From there, decide what tools will work best to keep that info flowing. Then commit to using them.
Fully aligning the people, the tools, and the people with the tools will keep your strategy going strong and make for the best customer experience possible.
Free Assessment:
How does your sales & marketing measure up?
Take this free, 5-minute assessment and learn what you can start doing today to boost traffic, leads, and sales.