Subscribe
Join 40,000+ sales and marketing pros who receive our weekly newsletter.
Get the most relevant, actionable digital sales and marketing insights you need to make smarter decisions faster... all in under five minutes.
Thanks, stay tuned for our upcoming edition.
21 digital marketing infographics for businesses and marketers just getting started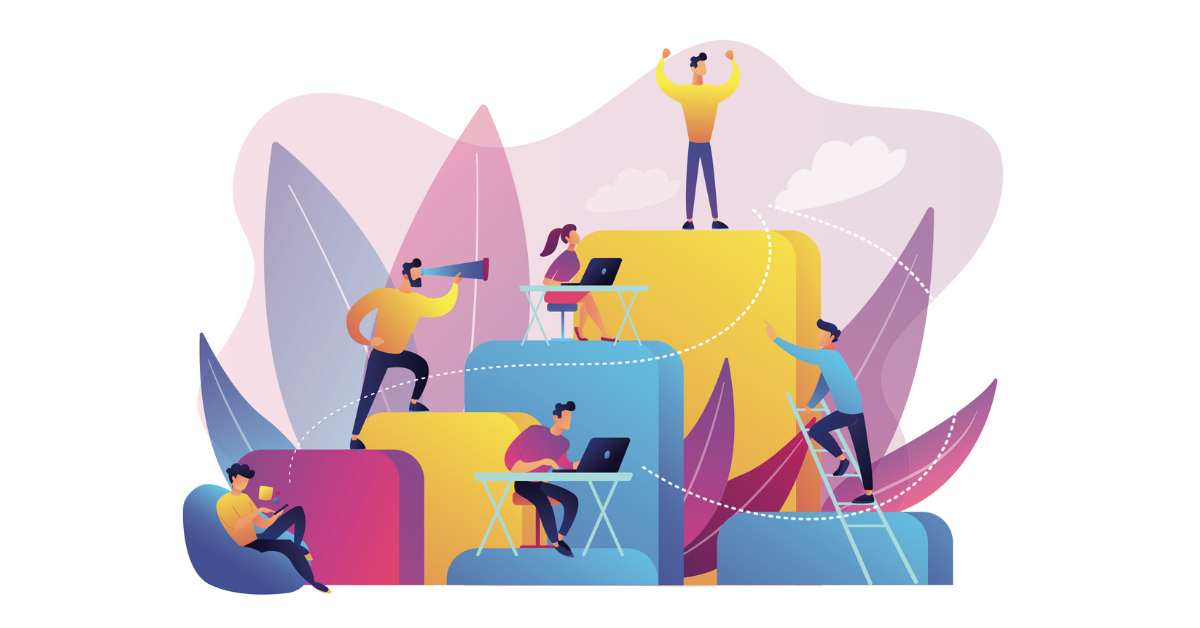 Traditional marketing methods are no longer working. A big reason is due to the shift in how consumers buy. Buyers are more educated than they've been in the past and in many cases have already made a buying decision prior to them even reaching out to your company.
This has all ultimately impacted the way we market and sell our products and services.
Through digital marketing we're able to meet our buyers where they're at. That starts by building trust and leveraging content to educate and power your sales process. You need to become the go-to resource for those in your industry.
So, what can you do? Where do you even start?
There are a lot of resources available on digital marketing that can help you accelerate the growth and development of your company as well as your career. To help you get started, we compiled a list of 21 infographics that cover everything from the digital marketing basics to implementing video, PPC, and even influencer marketing.
Digital marketing infographics
1. What is digital marketing?
There are a lot of moving parts and strategies that can encompass your digital marketing.
In the infographic below, Pixaal takes us through the tactics and strategies that can lead to these great results.
You'll learn about getting on the first page of Google, SEO, and creating content that will have your visitors returning time and time again.

2. Digital marketing basics
Whether you're coming from a traditional marketing background or you're new to the marketing space overall, you'll want to start with the basics and that's understanding what digital and inbound marketing are.
A quick synopsis, inbound marketing is a digital marketing strategy that organically captures the attention of their ideal buyers at the different stages of their purchasing journey rather than pushing their message on them.
Unlike traditional marketing, inbound marketing uses various tactics such as content marketing, social media, and search engine optimization to attract and educate prospective customers.
Here's an infographic on the basics of the inbound marketing methodology from InfoGraphic Design Team:

3. The idiot's guide to inbound marketing
Now that you're familiar with the basics of inbound marketing, SevonAtoms infographic, "The Idiot's Guide to Inbound Marketing" gets into how these strategies can be applied to your business.
Focusing on the stages of inbound marketing and how they align with the buyer's journey, you'll walk away with a better understanding of where each tactic falls, how you can effectively attract visitors by creating valuable content, building trust, and hopefully converting them into customers.

4. Digital marketing trends for 2021
Like every industry, digital marketing is always evolving.
Over the last year, as marketers and businesses, we've needed to shift and adapt our strategies to meet the ever-changing needs of our buyers. The pandemic changed how consumers purchased and it affected how we interacted, especially, businesses that relied heavily on one-to-one selling.
So, what should you be focusing on in 2021?
You won't be surprised that Liana Technologies' top picks included increase use of video in marketing and sales, increased focus on brand accountability and transparency, and having a data-driven approach.

Content marketing infographics
Content is a great tool to have in your digital marketing tool belt as it helps you answer your buyers' most important questions addressing their biggest worries, fears, and concerns.
This is extremely important as the buying process and behaviors continue to shift, and buyers want to educate themselves before they even think about making a purchase. In the infographics below, you'll find great information and examples that can help your content stand out.
5. The most important stages in the content marketing process
It starts by understanding who your target customers are and identifying the information they'll need as well as the questions they'll ask throughout their buying journey.
You want to use content to become an industry thought leader and someone that buyers trust. You want them to know you're an expert in what you're selling.
In Shane Barker's infographic, 5 of the most important stages in the content marketing process, he walks you through the content creation from research to after-publish analysis.

6. Becoming the thought leader in your industry
While the term thought leadership often gets thrown around and can feel like a buzzword, let's look at it in its simplest form.
A thought leader is a company or individual that prospects, clients, communities, and even competitors recognize as having deep, expert knowledge and authority in your space.
Thought leadership plays an important role in your content marketing strategy. It's what makes people want to read or listen to what you say, trust you, and ultimately want to buy from you. Content marketing can help you establish this.
SmallBiz.io put together a great resource on the benefits of driving the conversation and becoming a thought leader in your industry.

7. Content marketing trends
Now that you're on the path to creating engaging educational content, you also want to make sure you're keeping up with the latest trends.
While this infographic from Clayton NC Web Design is from 2020, the trends they highlighted are still relevant and won't be going anywhere anytime soon.
The trends you'll definitely want to keep a pulse on involve getting your subject matter experts involved in the content creation process, along with being authentic, using video, and creating the content your audience cares about.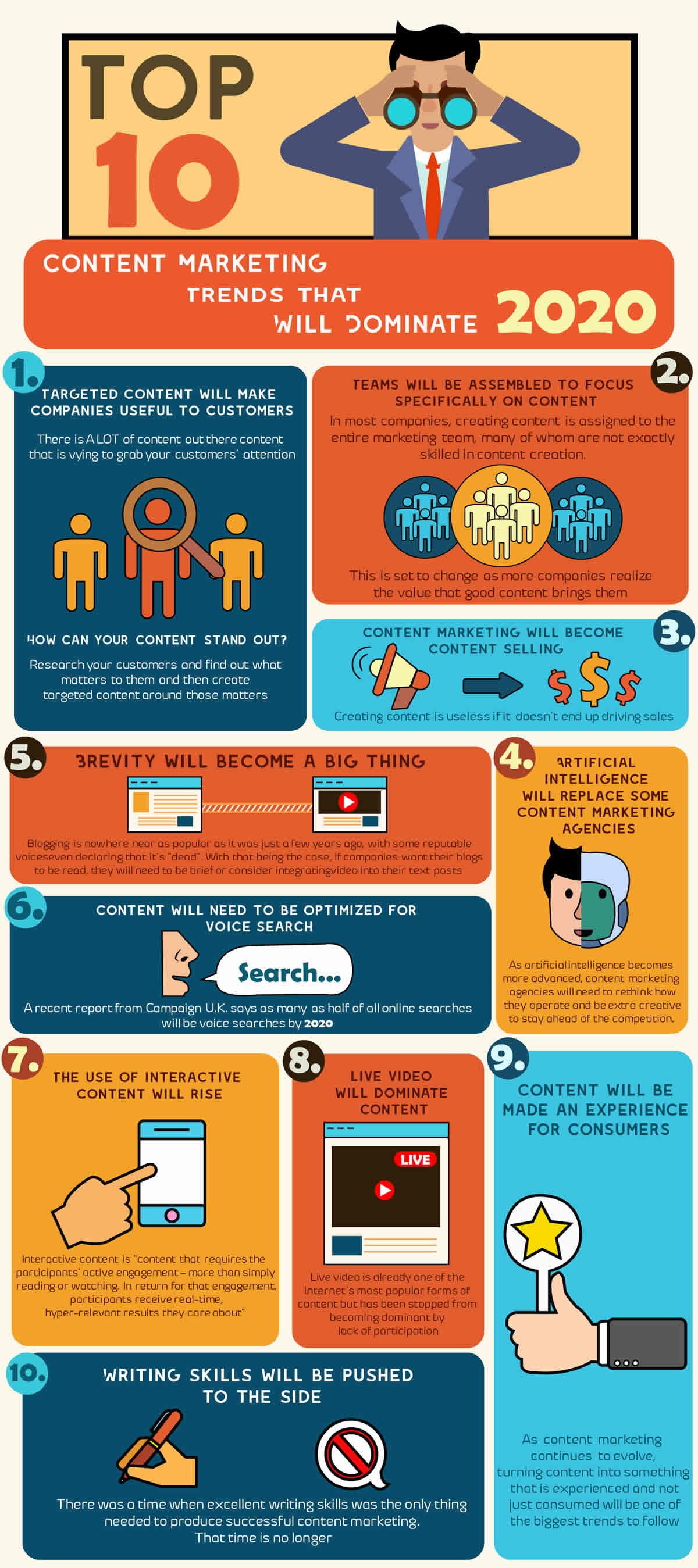 Video marketing infographics
Video is another great medium for you to tell your story and educate your audience. Thanks to the COVID-19 pandemic, almost everyone across the globe became more familiar and comfortable with video and this trend will likely only continue into 2021. Now people don't just have to use video, but many enjoy it.
In fact, 69% of people say they'd prefer to learn about a new product or service by watching a short video.
The infographics below, talk about the benefits of implementing video as well as how you can stand out through video (especially as more companies start implementing this tactic) in your digital marketing.
8. Why you need to use video marketing
In recent years, video has become more and more popular among marketers to effectively tell their stories and communicate their value.
Video is also a great tool for building trust, whether it's on your website or through one-to-one videos in assignment selling. With it, prospects get to see and hear you before they even have a meeting with you. This makes you more real to them and, in turn, builds trust. If you're a service provider this can change the way you interact with your leads.
In this infographic, you'll find useful insights and statistics on video and how it can affect your prospect's buying behaviors.

9. The future is video
Video is quickly becoming one of the top marketing tools used by companies. According to Omnicore, nearly 9 in 10 companies use video - whether it's in social media, across their website, or through email.
It's a great tool for garnering trust with your prospects and existing customers. It also doesn't hurt that posting videos on your website can help you increase the amount of time visitors spend on your website. This signals to Google that your content is relevant, which can have a positive effect on your search rankings.
Here are some additional statistics that reinforce the impact video can have on your marketing efforts.

10. Video marketing statistics to know as a creator
So, you want to start creating video content?
You definitely should, especially, since prospects want to see the brands and businesses they're interested in creating video content.
Podia shares tips and statistics on the current and future state of video marketing and how you can maximize your efforts specifically as a creator.

11. Video marketing trends to guide your digital marketing strategy in 2021
So what's hot in video right now? Oberlo made this infographic on the latest trends in video marketing for 2021.
You'll notice that short-form videos will continue to trend on social media platforms, but there continue to be a rise in online training and educational videos.
Influencer marketing infographics
Similar to the last couple of years, influencer marketing is likely going to continue to grow in 2021. It's definitely a trend that will keep gaining momentum.
Influencer marketing focuses on working with industry experts and/or individuals with social influence to help drive their brand's message and products to a larger audience. By simply sharing products, influencers can help attract new customers, increase repeat purchases, drive customer loyalty, and also maximize customer lifetime value.
In the infographics below, you'll learn how this can be applied to your digital marketing and increase your brand's awareness.
12. The rise of influencer marketing
Influencer marketing may seem trendy, but it has huge power. In this infographic, Influencer Marketing Hub gives some compelling facts that show that influencer marketing is here to stay.

Web design infographics
Your website should be your best salesperson. It's working for you around the clock, even while you're sleeping which is why you'll want to make sure it's performing well and letting customers find what they need easily.
In the infographics below, you'll learn what design trends you should keep in mind as well as the importance of having a responsive design.
13. Responsive web design
Having a responsive website is key as more people continue to use their mobile devices to research and buy products and services online.
Responsive design refers to web design that changes, adjusts, or "responds" to the screen size and specifications of the device it is being viewed on. It's not just about adjusting screen resolutions and images. It's also about identifying the most important information that might be top of mind for visitors on their mobile devices.
This is especially true for local or brick and mortar businesses where a visitor might be looking for your phone number, address, or even how to place an order for pickup.
In this infographic, Premiumcoding shares the benefits of optimizing the experience on your website based on the device your visitors are using.

14. Web design trends for 2021
The last thing you want is for your website to look and feel like it's stuck in the past.
To stay on top of the current web design trends for 2021, look no further than this infographic by Still Up Marketing.
While accessibility, speed, and mobile-first designs are constant from years past, this infographic touches upon the latest trends that will improve your user's experience across your site.

SEO infographic
With search engines almost always being the first stop when buyers are looking for a product, we want to make sure our website and content is showing up when they get there. In the infographic below, they'll walk you through what techniques you can use to optimize your pages.
15. On-page SEO techniques
With several companies creating content similar to yours, how can you make sure you're ranking on the first page of Google's search results?
You can do that by optimizing your on-page SEO.
Factors you'll want to consider, include:
Is it easy to read?
Are you effectively answering the question?
Are you linking to relevant content on your site? If so, are your visitors viewing more than one page or are they immediately leaving?
Are you utilizing

featured snippets

?
In this infographic from Blue Ocean Group, they share a checklist to help you identify the most crucial on-page SEO elements to help you rise in rank.

Social media infographic
For marketers, social media is a great tool for sharing your content and casting a wider net, but it can be a little intimidating.
In the infographic below, you'll find techniques and tips for building out a strong social media strategy.
16. How to create a social media plan
With the number of social media platforms out there, it can be intimidating to know where and how to get started.
In the infographic below, Buffer walks you through all the steps of building out your social media plan. It covers everything from choosing your social networks and finding your own voice to developing a posting strategy and engaging.

Pay per click (PPC) infographics
In case you're unfamiliar with PPC, it stands for pay per click, which is a form of online advertising where you pay a set bid or price per click on your ad.
PPC can be found across various platforms such as social media and on Google. Many companies consider implementing PPC to help boost brand awareness, expand their reach, and drive more revenue.
In the infographics below, you learn how PPC can be added to your digital marketing strategy as well as how to optimize your ads to generate more exposure.
17. PPC stats and trends
If you're considering PPC, Serpwatch created this extensive infographic outlining everything you'll need to be successful. You'll find the latest trends, common PPC mistakes to avoid, and what actually makes someone click your ads.

18. Optimizing your PPC ads
If you're using PPC but not seeing the conversions or sales you're looking for, there's still hope!
Whether this is your first campaign or you've been doing PPC for a while, experimenting and making changes to your ads and strategy can make good ads even better.
In the infographic from Visme and Campaign Monitor, they've outlined 10 strategies for optimizing your PPC ads that will help you boost sales.
Professional development
Understanding the basics of digital marketing and its tactics is just the beginning.
To be successful in your role, it's not just about your knowledge, it also takes mental and physical health. So, we decided to conclude this list with the best infographics for personal productivity and development.
19. What you need to be productive at work
How can we work smarter, not harder?
You might be surprised to know there are a number of external forces that could be holding you back from being as productive as you could be — and they're likely right in your own workspace.
This infographic by Davitt Corporate Psychology shares how many small adjustments to the environment you're working in can make you more productive.

20. Staying productive while working from home
Since the fall of the COVID-19 pandemic, many of us have been struggling to adapt to working from home. This is especially true if your company hadn't previously been operating remotely.
Whether you're fairly productive or seem to be easily distracted, Zenefits identified six tips you can implement today that will help boost your productivity while working remotely.

21. Which type of thought leader are you?
Not only should your company be seen as a thought leader but you and the subject matter experts (SMEs) at your company should be as well.
As a thought leader, you'll be seen as the go-to resource. Your audience will want to know what you have to say about particular topics and likely be more eager to work with you.
In this infographic by Hafiz Muhammad Ali, you'll learn about the seven types of thought leaders and their characteristics and challenges to better define what bucket you fall into.

Start moving the needle
Don't feel overwhelmed by all there is to know about digital marketing. My best advice is to focus on one strategy at a time and keep learning. Marketing is always evolving and the best way to master digital marketing is to understand and use best practices while routinely analyzing and staying on top of the latest trends.
If you're looking for more resources, check out IMPACT+!
Free Assessment:
How does your sales & marketing measure up?
Take this free, 5-minute assessment and learn what you can start doing today to boost traffic, leads, and sales.