Funnel Health Over Time Reports, Self-Selection Marketing, & Updates to HubSpot Campaigns [Hubcast 226]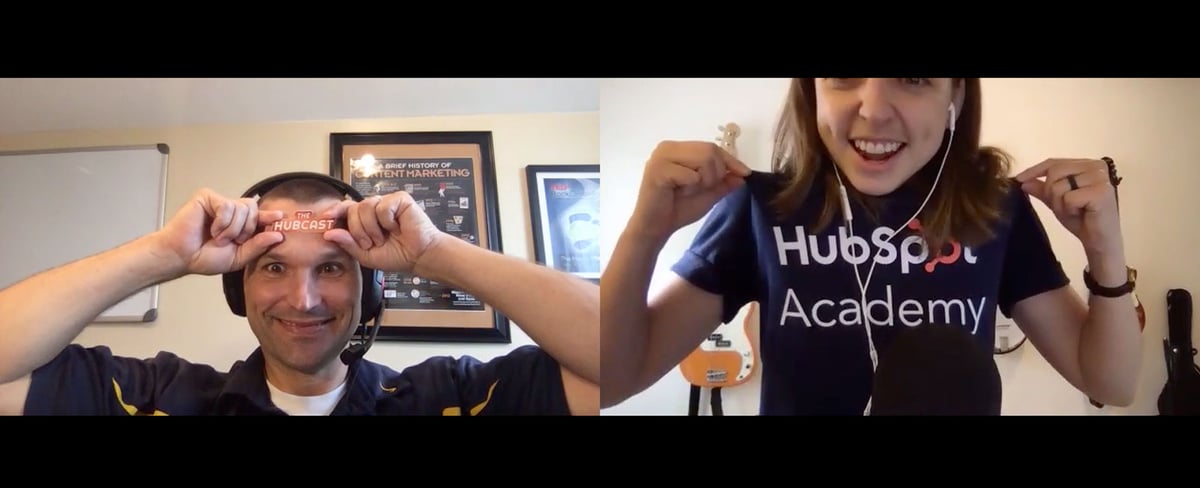 This episode of the Hubcast is brought to you by Scripted.com, and their new tool Cruise Control. Sit back, relax, and know that you're creating quality content every month. Learn more at scripted.com/hubcast.
#OrangeLife -- let's make it a thing!
If you tag Marcus and I (@thesaleslion and @carinagduffy) in a tweet with a picture of how you're living the #OrangeLife, we'll give you not only a Hubcast shoutout, but we'll send you Hubcast mug!
3 Growth Marketing Principles for Creating Your Unicorn - Larry Kim (Founder of WordStream, currently CEO of MobileMonkey)
Audience: startup founders / entrepreneurs, marketers
Why I'm excited: I wanna hear how he grew WordStream from nothing to $55 mill

Larry Kim is just a Grade A baller.
5 Authority Triggers… and How to Craft an Overnight "Micro-Brand" - Ryan Deiss (CEO of DigitalMarketer)
Audience: marketing execs, startup founders, writers, influencers, and agencies
Why I'm excited: Ryan's going to be sharing "the secrets to reverse-engineering authority" - he's an awesome, super intriguing speaker and I am just so interested to hear what he's going to say


Report on This
[Funnel Health Over Time] MQLs Over Time by Current Lifecycle Stage
I was recently working with a client who wanted to look at their current contact funnel health compared to previous periods (either week over week or month over month).
While you can select "Funnel report" when creating a custom report, which will show you your contact's conversion rate from one lifecycle stage to another over a period of time, there's no way to get a comparison view without creating a SECOND report and just showing a different time period.
If we create a regular ole single object report - we can create a report that shows us how many contacts were created in a certain lifecycle stage (let's take MQL as an example) and where those contacts are now.
Filters: create date is All Time; Became a Marketing Qualified Lead Date is Last 365 days (or whatever time period you want to see)
Selected Properties: Became a Marketing Qualified Lead Date, Lifecycle Stage, Count of Contacts
***You'll probably want to go to display options and check Stacked to make everything easier to see!***

Here's how you can build one yourself:
What's on Marcus' Mind
Culture of Inbound -- Do you have it? Get your score NOW at Impactplus.com/scorecard.
This is a pretty cool way to grade your Smarketing Efforts:https://t.co/9iOgCBT0fQ

HubSpot got an 86.

— Brian Halligan (@bhalligan) May 11, 2019
This Episode's Sponsor: Cruise Control by Scripted
Cruise Control shows you what topics you can realistically rank in Google for, how many people search for that topic, and exactly what type of content you need to publish in order to rank for that topic.
And the best part? They have the talented writers you need to create that content for you every month.
After your content is published, Cruise Control tracks your rankings and traffic for that content and will adjust your content strategy to continually improve your chances of ranking for your targeted keywords and drive more qualified traffic.
Learn more at scripted.com/hubcast.
HubSpot Wishlist: Disable Tracking for Emails Sent Within CRM
This one's a Duffy original! Added to HubSpot Ideas because of a client issue that came up recently.
I have a client who was running into issues with deliverability of their one-to-one emails in HubSpot, and wanted to turn off open and click tracking for emails they send from the CRM.
If you're familiar with the Gmail and Outlook extensions, you know that you have the option to turn off both logging and/or tracking for any given email. NOT SO for emails sent within the CRM!
It makes sense that you have to log it, for goodness sake you're sending it inside of the CRM, but it doesn't make sense to not be able to turn of the open and click tracking like you can in the extensions!
HubSpot Updates
Improvements to the Campaigns Tool
We've actually already talked about this in a previous episode, but it's worth going through piece by piece! (if you're on Pro or Enterprise, you may have already seen these, if not, these are now live in your portal!)
Updated Campaigns Dashboard Design
Updated Campaigns Details page

Closed deals and influenced revenue
Improved contact attribution (new and influenced contacts)
Campaign influence over time by contacts

Added Report Scan-ability

Expand and collapse different asset cards to see a high-level or more detailed view

Improved Tracking URL visibility and reporting

All tracking URLs are now on a "Traffic" card (used to just be PPC and Other campaigns, now it includes paid social, social and email)

Easily Add or Remove Assets in your Campaign

"Add assets" button gives you a breakdown of asset types and then a list of all of the assets (ie blog posts) you can tag
Until Next Time
If you're listening on iTunes - head on over and leave us a review! We love hearing your feedback, holler at me on Twitter (@carinagduffy), or shoot me an email at cduffy@impactplus.com!
Until next time. This is Carina Duffy & Marcus Sheridan saying to you, get out there and get after it!
Free Assessment:
How does your sales & marketing measure up?
Take this free, 5-minute assessment and learn what you can start doing today to boost traffic, leads, and sales.