Going Viral in Seconds: I Saw It Through the Twitter Vine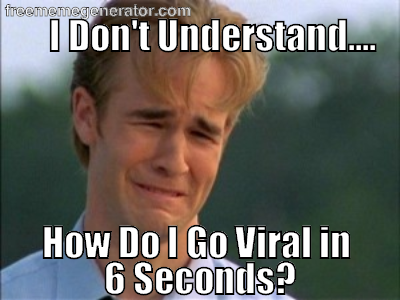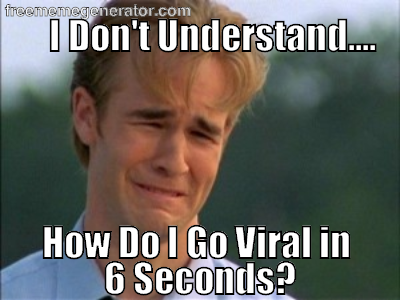 If Marvin Gaye were here today, Vine would certainly having him singing its praises through the majesty of one of his biggest hits.
Why?
Well...ever since this feature became available on January 24, marketers and business owners alike have been wrestling with how to go viral in six seconds. When done right – and creatively – it's like a beautiful song.
However, when it's simply thrown together and trying to focus on too much, too quickly, well...you'd have Marvin Gaye singin' a different tune: "What's Goin' On?"
If you've dabbled with it a bit, then you've likely discovered just how hard it is to come up with something that's even remotely worthwhile in 6 seconds or less. But don't forget, not too long ago we were all thinking the same thing in regards to Twitter's 140 character limit. "How can we possibly get a message across so quickly?"
Well...I think we can all agree that we've figured it out.
However, don't simply jump on Vine for the sake of being up on the newest trends. This will surely breed some terrible, confusing Vine videos. Coming up with something with "share-ability" involves a great deal of creativity. Take your time...and use the following as a guideline for mastering the art of Vine.
How to Stand Out on the Twitter Vine
Don't Squish a Long Video Into 6 Seconds
Very rarely will it work to you advantage if you plan on smushing some lengthy clip into a 6 second video. That's what YouTube's for, and it's still perfectly fine for you to post a tiny URL link to your 30 second long video rather than use Vine.
DO Tell People What the Purpose Is
If you make your viewers try to guess what the point of your video is, then it's not going to help you out in any way. Before you even begin video production, make sure that you know exactly what the message is that you're trying to get across (and it should only be one message). Keep in mind what you want viewers to walk away with once the video is over. You can tell people what the purpose is through a number of different ways, like:
Tell people what it's about in the body of your tweet
Create a clip in the video blatantly stating what it is (i.e. Introducing: A new 6-in-1 tool for carpenters)
Make use of sound and actually tell viewers what the video is for
(For more tips on how to make a create Tweet that'll entice people to click on your Twitter Vine vid, take a second and download our free ebook "The Ultimate Cheat Sheet For Facebook, Twitter and LinkedIn".)
Don't Use Vine to Provide a VIP Experience
A lot of businesses use videos to try and give private groups of individuals are more "special" or intimate experience with their business. Since Twitter Vine is public and open to everyone, it won't be the best way for you to go about doing this. Everyone can watch the video, which means everyone can also share the video. So really focus on using Vine to create share-worthy content that will help increase brand awareness.
DO Use It For Sneak Peeks
Releasing a new product? Introducing a new service? This is where Twitter Vine can quickly become your best friend. 6 seconds is just enough time to give your followers a bit of a teaser about an upcoming release of just about anything, like products, services, eBooks, or maybe even the introduction of a contest of a challenge of some sort.
The key here is to keep things incredibly simple. Don't overwhelm viewers with a ton of visuals in that short period of time. And if at all possible, try to create the video so that it creates an emotional response in the viewer. Making it sad, happy, or humorous are all good ways to make your little clip memorable.
Don't Do It "Just Because"
I'm going to get all 'parent of a teenager' on you right now: Just because everyone else is doing it doesn't mean that you should be too. Businesses often make the mistake of jumping in on the newest social media trend without properly planning how that trend can really benefit them.
Not sure if Twitter Vine is for you? Here are some things to consider:
Look at what other companies in similar industries or niches are doing. Do those videos work for them? Why or why not? Can you improve upon what they're doing?
Start experimenting with Vine. Create a goal, and shoot a quick clip that you think should help you reach that goal. Test it out a few times with different clips and different goals. That way you'll be able to see if Vine may be able to help you accomplish those goals.
Make sure that your videos jive with Vine "best practices" so you know that if the video isn't doing well, it's likely due to something other than the video itself.
If you get a good handle on how you can best use Twitter Vine, that's one more tool that could help you immensely, and we all know there are never enough ways to effectively get your message out. If you want to get your message out through the Twitter Vine, just make sure it's the right one and you'll probably find it as essential as Twitter is itself.
Free Assessment:
How does your inbound marketing measure up?
Take this free, 5-minute assessment and learn what you can start doing today to boost traffic, leads, and sales.
Get Started
Free Assessment:
How does your inbound marketing measure up?
Take this free, 5-minute assessment and learn what you can start doing today to boost traffic, leads, and sales.
Published on February 26, 2013