Google Ads to support lead forms in YouTube and Discovery campaigns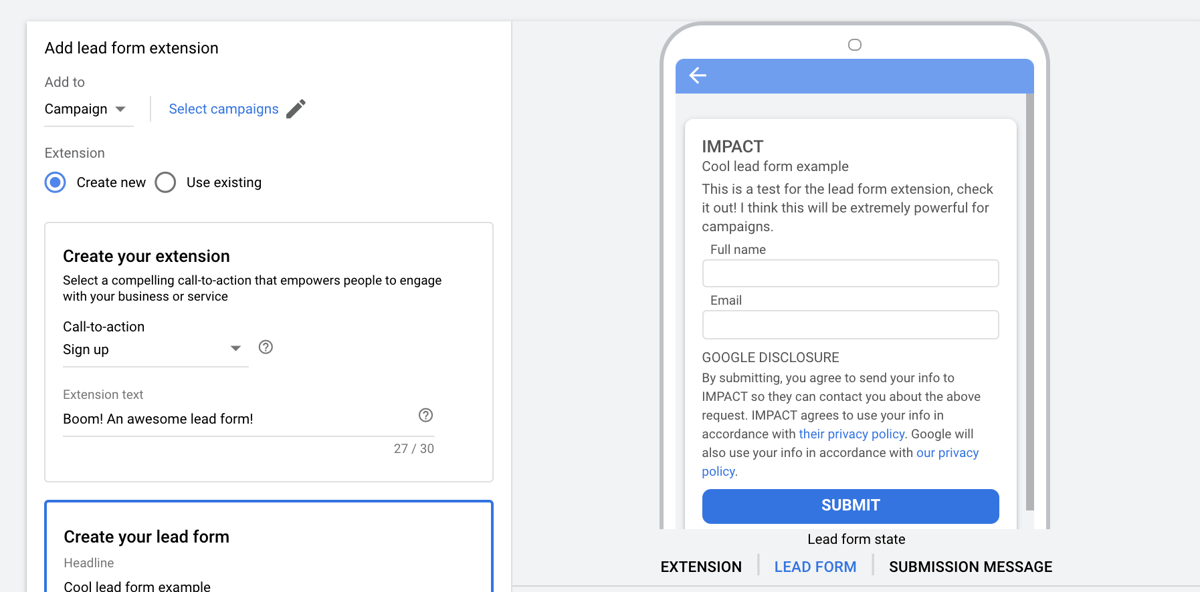 Google announced recently that lead form ad extensions will now be available in YouTube and Discovery campaigns.
Google has been testing lead form ad extensions since late last year, and has been rolling out more features to help support brands battling business loss due to the pandemic.
Google also released some additional features focused on driving better lead value.
What exactly is a lead form extension?
With the new lead form extension that is available in Google Ads, you'll be able to put a conversion point directly on an ad in Search, YouTube, and Discovery campaign types. Google noted that this will roll out to Display campaigns later this year.
This change will make it even easier to get information as folks search and find relevant content — regardless of how they're searching or how you're running ads.
In addition to pushing lead forms to these campaigns, Google has expanded the field options that you can use to collect information. You now have the ability to collect a contact's address information and work details such as company name, job title, work email, and phone.
The lead form extension also provides the ability to add pre-set questions to your form based on your vertical. For example, under Retail you could opt to add "What is the next product your plan to purchase?" to the form.
Google's goal is to help you get higher quality leads faster through this feature. This puts a bigger emphasis on creating compelling ad content, be it text or video, to help drive users to take immediate action through the lead form extension.
As always it will be important to test how your specific users react to the lead form extension, and manage your ad campaigns to the results you're seeing.
What it means for your ads
According to a Google and Ipsos survey, in June "32% of U.S. consumers shopped online with a brand they hadn't before COVID-19."
That's a big jump in online shoppers that may have never been served one of your ads — but could be the perfect fit for your product.
This new ad extension functionality can streamline the user journey by removing the need to click through to your landing page. However, it does put a bigger onus on creating powerful ad copy that can convert a user without getting more information.
You can see how Jeep used lead form extensions with its Korea branch below. According to Google and Jeep, using the extension increased completion ten fold and generated the most cost effective leads across all Jeep's ad platforms.
The example from Jeep illustrates how brands can use the new lead form extension to take a YouTube ad (as seen above) and immediately put a conversion point in front of the viewer, rather than having them click through to a landing page.
While this may seem like a small change, it could have a big effect on your user journey and help to bolster the conversions your ads generate
Better data, better reporting, better results
Google knows that your end goal isn't to create leads but ultimately drive sales and revenue. In an effort to optimize your ads for this, developers are also making strides to improve the ease of integrating your lead forms with your CRM.
To do just that, Google will be releasing the ability to import offline conversions by using the data people have provided in your lead forms — reducing the time to get the information into your CRM and sales teams' hands. This feature will roll out later this year.
Google is also looking at how to improve your nurturing campaigns by leveraging Customer Match, which lets you use online and offline data to target customers across any campaign type (Search, Shopping, Gmail, YouTube, or Display).
By using Customer Match, you can easily target customers and others with a similar profile — helping you to find more ideal customers who are more likely to buy from your brand. This is made even easier by automatically importing your offline conversions directly into Google Ads from your CRM with a Zapier integration.
This new feature is yet another release geared towards helping businesses survive during and post COVID-19. As consumers shift to more online purchases than ever before, it's important to keep your ad campaigns current, efficient, and optimized.
If you're struggling to get the return on ad spend that you're looking for, our team of paid media experts can help you optimize your campaigns across a variety of ad platforms.
Free: Assessment
Does your website build trust with buyers and bring in revenue?
Take this free 6 question assessment and learn how your website can start living up to its potential.