How Brands Are Using The "Storm Area 51" Meme as a Marketing Strategy
It's times like these when we're reminded what a strange, strange place the internet can be.
Currently, there are over 1.8 million people signed up to the Facebook event "Storm Area 51, They Can't Stop All Of Us" taking place on September 20th.
The group intends to storm the top-secret government facility with one simple mission: "Let's see them aliens."
For non-US based readers, Area 51 is a restricted government base in Nevada that is believed to be where the government conducts tests on aliens, UFOs, and other extraterrestrial secrets.
It's well-known that the United States permits the use of deadly force for those who attempt to access the facility unauthorized. The Facebook group operates on the idea that if enough people try to storm it at once, a few are bound to get in.
Of course, this was largely started as a joke, and spawned many memes in the process.
us: *arriving inside area 51*

aliens inside: pic.twitter.com/FXTjxpnxNh

— 𝐂𝐡𝐢𝐥𝐝! 𝐋𝐀𝐂𝐀 (@LacaTBH) July 12, 2019
Sleepovers after Area 51 raid: Jenna get ur tentacle off my side of the bed

— ً (@pixeIise) July 29, 2019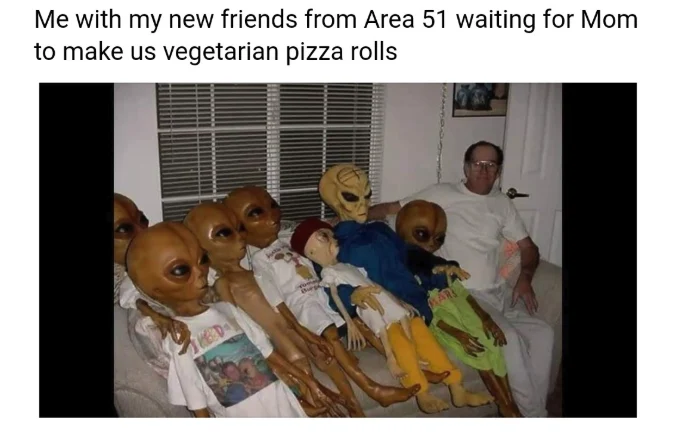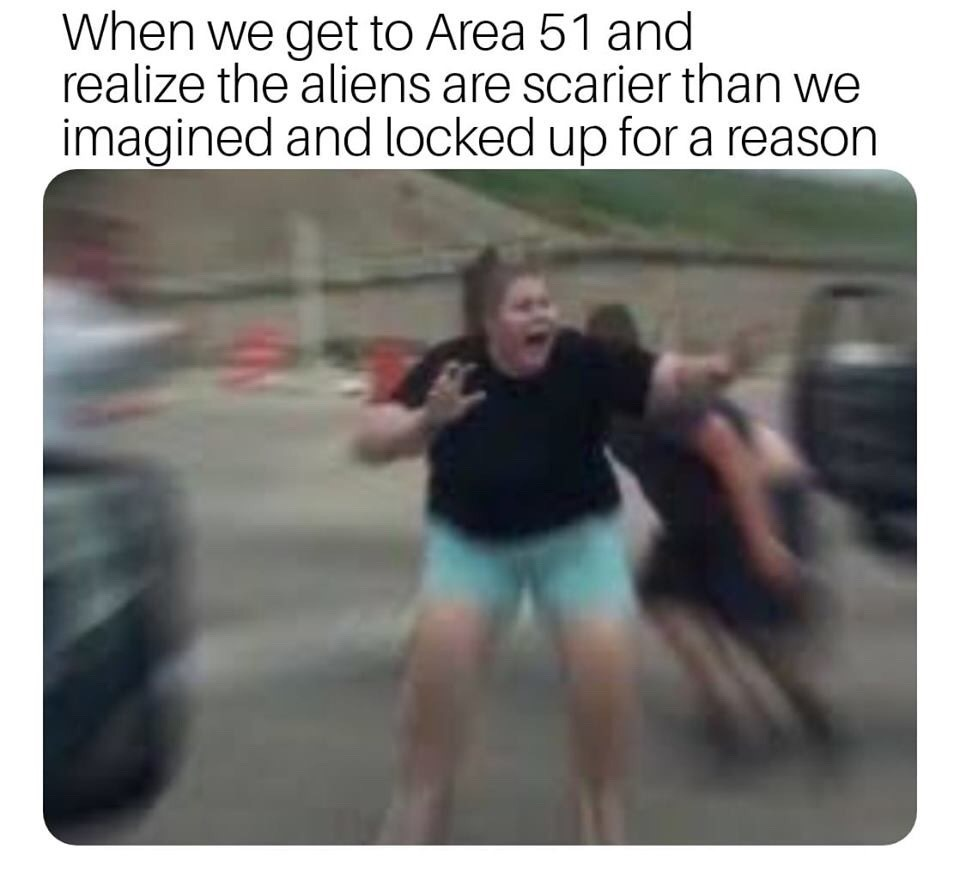 However, as the joke grew and grew, the United States Air Force eventually had to intervene, stating that "any attempt to illegally access the area is highly discouraged."
the Area 51 thing isnt particularly funny but it is sort of fun to think about how somewhere in the pentagon people probably had to have a meeting about this

— Turing Police (@turing_police) July 17, 2019
It's unlikely the nearly 2 million people signed up are actually planning to arrive in Nevada on September 20th, but hotels near Area 51's facility say they are getting an increased demand for bookings that the small rural area is "not equipped to handle."
The line between joke and reality is so blurred for this event, that brands decided to get in on the fun.
Below are five brands that have joined the mission of "seeing them aliens".
1. Arby's
Fast food restaurant Arby's announced that those who do show up to the Area 51 raid on September 20th will be well-fed.
The company announced plans to unofficially cater the event, bringing a food truck with a top-secret menu to Nevada the day of the planned raid.
We're going there.
No really, we're going there. #Area51. And we're bringing a special menu. 🛸 pic.twitter.com/Z7V3TgY8fe

— Arby's (@Arbys) July 25, 2019
Arby's Chief Marketing Officer even provided an official statement on Arby's plans to cater the raid for human attendees and any aliens that make it out, stating:
"We can't confirm if there are aliens at Area 51. But, if they do show up, they deserve the best meats on Earth. If not, Arby's will still be there serving the planet's best meats to everyone else attending this historic event."
2. Bud Light
Bud Light also plans to be present the day of the Area 51 raid.
The beer brand debuted an Area 51-themed special edition beer label, which they'll release for sale if their tweet gets over 51,000 retweets. (Currently at 61k, so find one at your local store soon?)
Area 51 Special Edition. 👽 pic.twitter.com/8wGbSLqY6r

— Bud Light (@budlight) July 17, 2019
Bud Light also stated while they are not sponsoring the raid of the restricted government facility, they'll be giving free beer to the aliens escaping.
My aliens after they make it out: pic.twitter.com/DHbwmHMpCL

— Bud Light (@budlight) July 19, 2019
Bud Light continues to post about the Area 51 raid — I'd highly recommend following them just for these jokes.
3. Lego
While Bud Light and Arby's really integrated themselves with Area 51 plans, Lego took a different approach.
The toy company posted a photo depicting aliens hanging out in a room made out of Lego bricks with the caption "Don't storm Area 51. We've checked, it's all good 😉"
Lego's approach is good for brands that want to join in on the hype, but don't want the US government knocking on their doors for encouraging citizens to storm a highly protected government facility.
This example shows that brands can still join relevant conversations without necessarily putting themselves in hot water.
4. Kool Aid
Kool Aid also joined the conversation in a very on-brand manner, sharing the tweet below.
Them: Wanna crash #Area51?

Me: OH YEAH!

┳ 【 𝐀𝐑𝐄𝐀 𝟓𝟏 】 ┳─┳─┳─┳─
┳┻┳┻┳┻┳┻┳┻┳┻┳┻┳┻
┳┻┳┻┳┻┳┻┳ 👽 👽 ┻
┳┻ ⌌ ⏠ ┻┳ 👽 👽 👽 ┻
┳┻ ᕕ( ❛,❛ )ᕗ ┻┳ 👽 👽 ┻
┳┻ / ⌣ \ ┳┻┳ 👽 👽 👽 ┻ https://t.co/dwoadXlqwj

— Kool-Aid (@koolaid) July 12, 2019
However, unlike Bud Light and Arby's, Kool-Aid is not suggesting that the Kool-Aid man will be present on September 20th to help attendees break Area 51's walls down. (I can't believe that's a real sentence I just wrote.)
5. OREO
The only peace offering accepted by aliens at Area 51. pic.twitter.com/oiMpBD4VHy

— OREO Cookie (@Oreo) July 16, 2019
Oreo often gets involved in any trending topics on the internet, and the Area 51 raid was no exception.
However, instead of creating an Area 51-specific design, they simply promoted their existing limited edition cookie celebrating the 50th anniversary of the moon landing.
The power of meme marketing
As an avid fan of any and all memes, I find brands utilizing popular memes as a marketing strategy fascinating.
The key to success in social media marketing is sending a message that both resonates with your audience and gets people talking. Using trending memes is a great way to do that.
This strategy is similar to how brands talk about current events (holidays, sporting events, or show premieres), but it also has the added benefit of feeling like an "inside joke" with your followers.
By nature, memes are something that are easily understood by certain communities, but may perplex others who are not as in the loop.
For example:
When your roommate eats all the Ruffles. pic.twitter.com/vyKnZKUmVW

— RUFFLES (@RUFFLES) July 29, 2016
If you don't get the joke, you can learn about the "Authur's Fist" meme here.
All in all, meme marketing helps brands stay relevant with their audience in a new way, almost saying that they're in on the joke with us.
And, since the Area 51 meme has gotten a tad out of control, brands like Arby's and Bud Light matched the ridiculousness. Both brands have certainly gotten a lot of press for their efforts, so you could say that the risk has paid off.
However, in some cases, it can backfire. The "Storm Area 51" event is unprecedented in meme culture — not only in its pure absurdity, but its potential to do real harm.
Honestly, I searched the internet for another instance where brands integrated themselves with meme culture too closely, and I couldn't find an example that matched this level. While it is true that Arby's and Bud Light have clearly gotten attention, it begs the question of how far are the brands willing to take the joke.
Will they actually show up in Nevada on September 20th? Will they be held responsible for any civilians who do attempt to storm Area 51?
I assume that as we get closer and closer to September, the meme will begin to die out and we'll become fixated on the next chapter of internet ridiculousness, and I assume these brands think the same — but it's a risky gamble to take.
While IMPACT does not condone storming Area 51 on September 20th, you can take this quiz here to see if you'd survive.
For those planning on going, best of luck seeing them aliens.
Free Assessment:
How does your sales & marketing measure up?
Take this free, 5-minute assessment and learn what you can start doing today to boost traffic, leads, and sales.