How Marketers Can Now Request Verification for an Instagram Account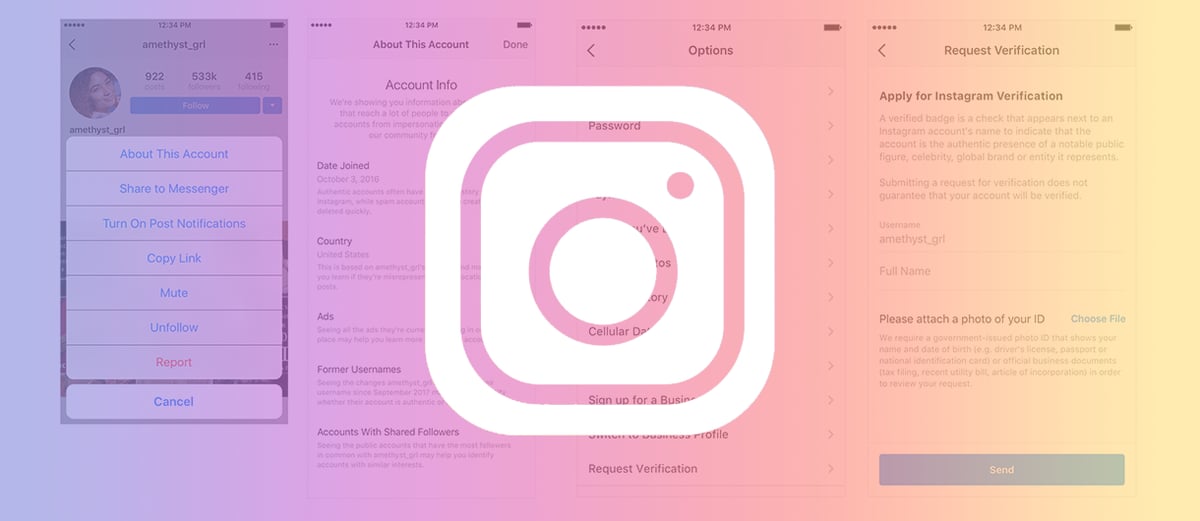 Yesterday, Instagram released three new features focused on keeping Instagram a safe network. They are:
Additional information for accounts with substantial reach

Support for third-party authentication

The process for and ability to request account verification
Arguably the most popular of these three features is requesting verification.
Until this point, the process by which you could get a verified check mark on your account has been a complete mystery. Even fairly large brands and relatively well-known public figures had accounts absent of a blue check.
Why all this fuss over a little check mark though?
"The blue verified badge is an important way for you to know that the account you are interacting with is the authentic presence of a notable public figure, celebrity, global brand or entity," Instagram said in their release.
How to Request Instagram Account Verification
You can now submit a request to get that coveted blue check mark by visiting your account settings and providing a copy of your legal or business identification. Yes, literally anyone can apply.
Of course submitting your request does not guarantee that you will have a verified account.
Instagram will review all requests for verification to confirm their authenticity as well as the uniqueness, completeness and notability of each account.
How do you know if your account meets the criteria? Instagram has laid out some guidelines:
Instagram's Requirements to Apply for a Verified Badge:
Authentic: Your account must represent a real person, registered business or entity.

Unique: Your account must be the unique presence of the person or business it represents. Only one account per person or business may be verified, with exceptions for language-specific accounts. We don't verify general interest accounts (example: @puppymemes).

Complete: Your account must be public and have a bio, profile photo and at least one post. Your profile can't contain "add me" links to other social media services.

Notable: Your account must represent a well-known, highly searched for person, brand or entity. We review accounts that are featured in multiple news sources, and we don't consider paid or promotional content as sources for review.
Naturally, verified accounts must also comply with Instagram's Terms of Service and Community Guidelines.
Instagram did note that verification will never cost money nor will they ask for confirmation of your identity once your account has been verified.
Why Does Instagram Account Verification Matter to Marketers?
Like the folks at Instagram said, having a verified account helps users know they are interacting with a real, authentic person or business.
Trust is hard to come by in social media, and anything we can do to build trust with our audiences is definitely a good idea.
What if Instagram Rejects My Application for Verification?
There are plenty of ways to build trust with your audience and show that you are a reputable and authentic account worth following. Plus, this may boost your chances of getting verified down the road.
Some things you can do to build trust and credibility now include:
Complete your profile. Having a recognizable profile image (such as your face or brand logo) as well as a clear bio will help users know they're in the right place.

Post consistently. This shows that your account is active and well-maintained.

Link and promote your Instagram account on your website and other social networks. This will help avoid confusion if there are accounts similar to yours that aren't really you.

Include your Instagram handle in other communications such as emails and on business cards. This will help people who already know and follow your brand to find you easily.

Continue to build your presence elsewhere. If you have followers of your brand on other linked accounts it will definitely show you're genuine.
So go forth and get verified (or ask to be at least)! If you don't get the blue check mark, continue to to build trust with your audience in other ways.
Free Assessment:
How does your sales & marketing measure up?
Take this free, 5-minute assessment and learn what you can start doing today to boost traffic, leads, and sales.