How Much Can You Really Do with HubSpot Sales Hub Free?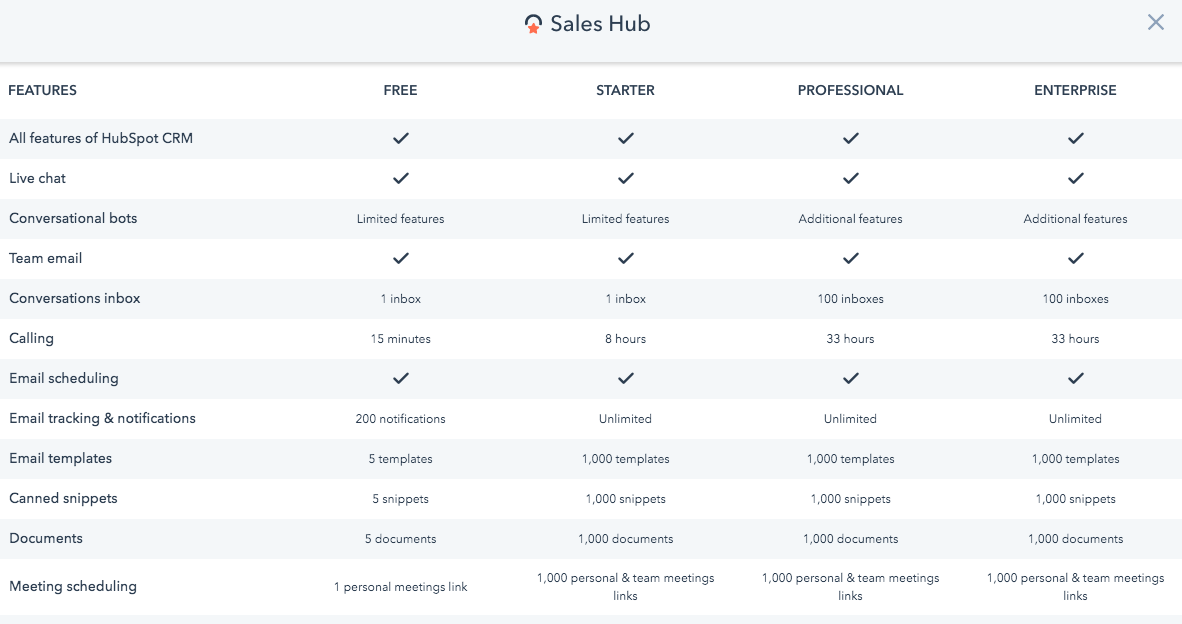 A main motivator for businesses to adopt HubSpot, in any capacity (marketing, sales, service, CRM), is the lack of a barrier to entry - it is completely free to get started.
This allows you to get into the platform, get a feel for what the tools are really like, and find out if it is a good fit for you, your team, and your business - without ever swiping a credit card.
And while having a free version of the tools to get started with is awesome, you'll quickly find that there are specific limitations that may hold you and your team back. Sales Hub free, in particular, comes to mind.
It's important to have clear expectations on what the free tools can and can't do, so you can know whether or not you'll likely want to upgrade at some point, and when.
So, below I've outlined some of the most common limitations and reason businesses choose to upgrade to paid versions of HubSpot's Sales Hub.
Before we unpack just how far the Sales Hub free will take you, it's important to note that all of the tools and limitations mentioned in this article pertain to individual Sales Hub seats unless otherwise noted.
What are Sales Hub seats? Glad you asked.
A Quick Primer On Sales Hub Seats
Sales Hub works on a per seat or individual user basis.
Unlike the Marketing Hub which charges a flat monthly or annual rate to grant the portal access to upgraded features, the Sales Hub allows you upgrade only those who need it.
These seats come in four tiers:
Free - Free for everyone, every month, forever
Starter - $50 per month per seat
Professional - $400 per month, includes five seats -- additional seats are $100 per month per seat
Enterprise - $1,200 per month, includes 10 seats -- additional seats are $120 per month per seat
When looking at the features and tools discussed below, reference this tier list to get a better understanding of your potential cost increases.
Email Tracking & Notification Limits
Sales Hub Free limit: 200 notifications
Once the HubSpot extension is added to your browser or Sidekick is added to Outlook, you're in business!
Every time you send an email it gets automatically logged in the CRM thanks to these tools and you will get notified when your recipients take any action in these emails.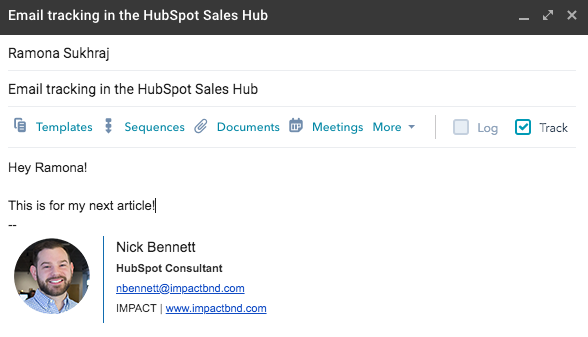 These actions can be anything from email opens, link clicks, documents viewed, and meetings booked.
With the free tools, you get 200 monthly notifications across all of these activities, and that may sound like a lot but when you send a single email to five people and they each open it 10 times, 200 notifications can run up pretty fast.
I had one contact open an email 84 times!
You may feel like this isn't such a big deal if you've gone this long without email notifications, however, the best salespeople are informed salespeople.
These notifications are the difference between sending a prospect the classic "did you have a chance to review the proposal?" email and having the intelligence to give them a call when they have your proposal open on their screen.
These notifications, when used properly, are like giving a SEAL team night vision goggles. Sure they can get the job done without them, but why would you want them to
An upgrade to HubSpot Sales Hub Starter or higher will get you unlimited email notifications.
Meeting Scheduling Limitations
Sales Hub Free limit: 1 meetings link
If your sales team has ever wasted time going back and forth trying to schedule a meeting with a prospect, Sales Hub will change your life.
The Meetings link is, in my opinion, one of the greatest sales tools ever created and is severely underutilized. It allows prospects or customers to book time on your rep's calendar without ever having to talk to anyone.
It integrates with either Google Calendar or Office 365 and automatically determines availability based on their set working hours and existing meetings booked and then uses this to present options to those who visit the link.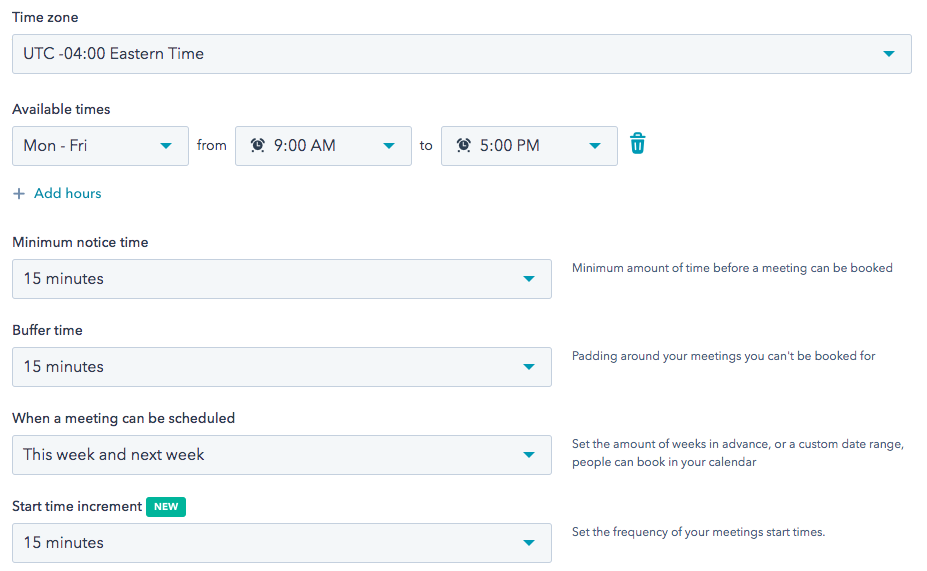 Sales Hub free gives each user in your HubSpot portal the ability to create one Meetings link with the option to book 15, 30, or 60 minutes on your calendar.
However, for high-octane salespeople, who find themselves involved in every stage of the sales process, with a variety of meetings throughout the day, multiple meeting links is a must.
Marc Amigone, Client Success Manager, here at IMPACT explains the need for extra meeting links well:
"If you're someone who wears multiple hats, serves multiple business units, or just has different types of meetings to conduct, you should customize each to the purpose of those unique meeting types… for example, if you had one meeting link for explore calls and one for close calls."
This enables you to control the amount of time that people book on your calendar for a particular type of meeting and avoids the risk of people booking the wrong amount of time because you've already set the parameters in that dedicated link.
A benefit of upgrading beyond Sales Hub Free besides getting more than one individual Meeting link is access to team links. This adds in group availability and round-robin availability.
Group availability could be used when you'd like to have multiple people from your organization to be in a meeting.
Round robin availability is used when you'd like a prospect or customer to have the widest range of meeting options from any available member of your team.
Upgrading to HubSpot Sales Hub Starter or higher will get you access to 1000 individual meeting links and team meeting links.
Pipeline Limitations
Sales Hub Free limit: One pipeline
Having any form of sales pipeline is better than nothing for a variety of reasons.
Using the Sales Hub free pipeline is a great way to narrow down the most important stages in your most active line of business. The pipeline is important because it sheds light on how many leads you are working so you can get a handle on forecasting and revenue planning.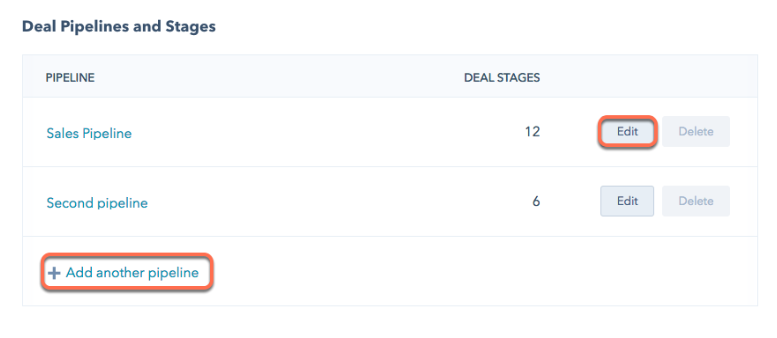 However, more often than not, a lot of businesses quickly outgrow the one pipeline because they have more than one main revenue stream and the Sales Hub free does not support additional pipelines.
A cluttered, inefficient, sales pipeline is typically the first sign that you're outgrowing the one pipeline process.
The most common instance of this can be seen in the need to split out the renewal /up-sell/cross-sell opportunities from new business.
Splitting into separate pipelines can help the business see its most active lines of business for any given time of year or if one is struggling.
An upgrade to HubSpot Sales Hub Professional or higher will get you 50 deal pipelines.
Snippet Limitations
Sales Hub Free limit: Five snippets
HubSpot describes Snippets as "short, reusable text blocks that can be used on contact, company, and deal records; in email templates; and in chat conversations."
In short, they are canned content blocks designed to simplify and speed up your sales communication.
You likely find yourself responding to leads with the same phrases with just minor adjustments frequently.
Snippets allow you to respond quickly without compromising the personalized approach or the quality of information.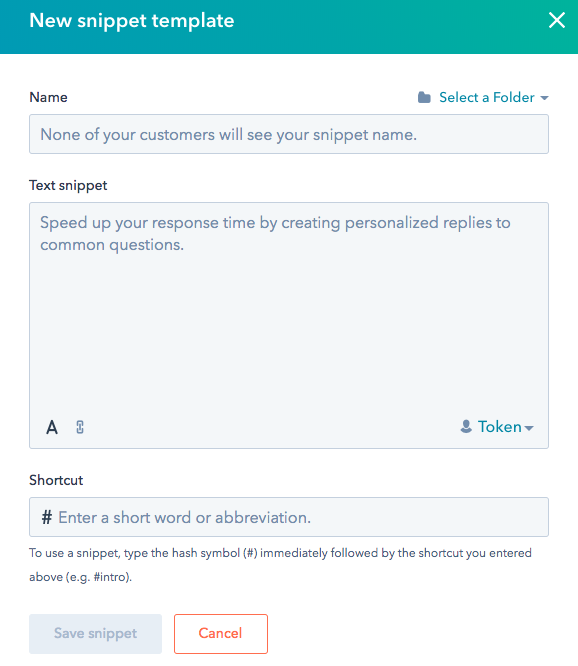 Now odds are you have more than five common phrases you use when interacting with prospects and customers. In fact, each salesperson will have their own way of communicating so the five snippet limit of Sales Hub free just won't cut it.
An upgrade to HubSpot Sales Hub Starter or higher will get you up to 1000 unique snippets.
Email Template Limitations
Sales Hub Free limit: Five templates
Solving for a similar pain point as Snippets, the email template is designed for you to spend more time selling and less time drafting the same emails over and over again.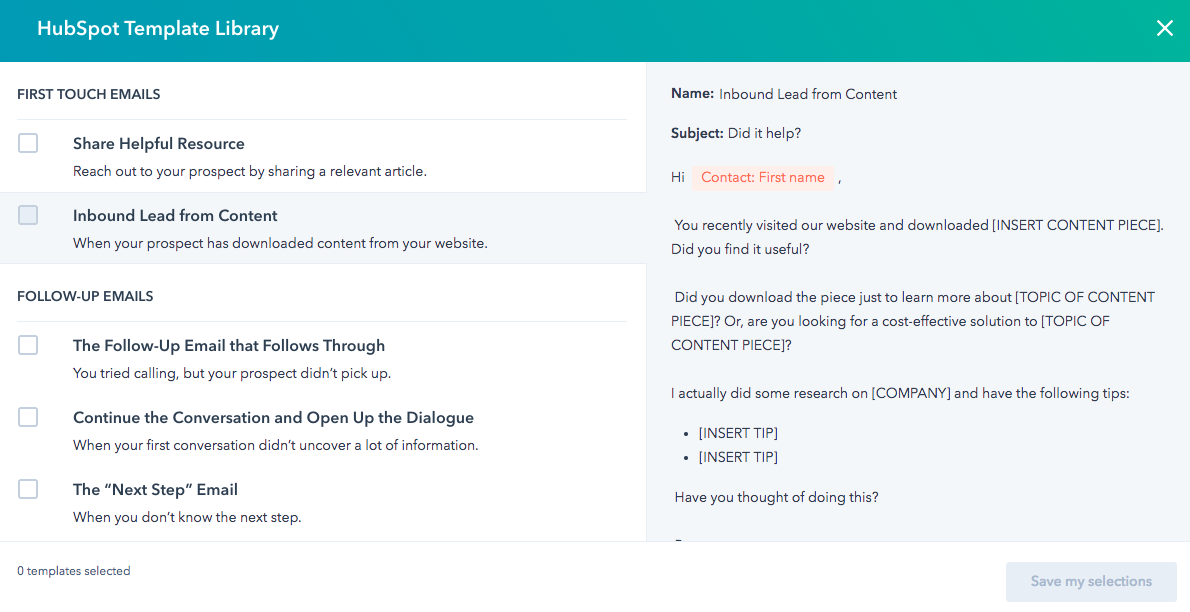 Like Snippets, the maximum for Sales Hub free is five, which isn't a lot for teams that don't have a hardened sales process or playbook.
However, five templates can go quickly considering how many unique situations your sales team run into on a daily basis, especially as you start to test which email templates are sent, opened, and engaged with the most to uncover your high-performing templates.
You want to know the best email to send for every situation.
Need more email templates? Upgrading to HubSpot Sales Hub Starter or higher will get you up to 1000 email templates.
Document Limitations
Sales Hub Free limit: Five documents
HubSpot's Documents viewer in conjunction with email notifications is an assignment seller's dream.
HubSpot Documents allow you to send documents to contacts in a simple document-viewer that is hosted on HubSpot.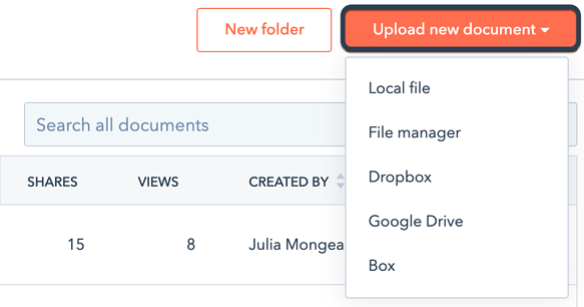 This allows the software to track who is viewing the document, what pages they're viewing, and for how long they're viewing them.
The Documents tool, in my opinion, is the unsung hero of the sales tools because you can quickly evaluate engagement.
Track document opens, forwards, view duration, and over time, you can determine your most effective and engaging sales content.
If you're just getting started with using content in the sales process, the five document limit may not be an issue but as you build out helpful content for every sales situation you will need to upgrade to increase this limit
An upgrade to HubSpot Sales Hub Starter or higher will get you up to 1000 documents.
Chatbot Limitations
Sales Hub Free limit: No if/then branching logic & user assignments
At first glance, chatbots don't feel like a sales tool but don't be fooled! They are one of the most powerful sales tools around right now.
With HubSpot Sales Hub free you can create bots that help you qualify leads, book meetings, provide answers to common customer support questions with a few limitations.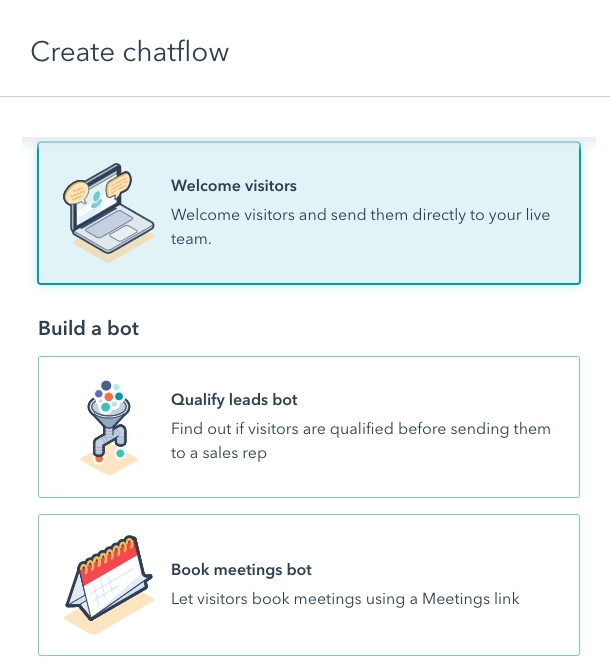 That's a whole lot of bot for free.
Typically, however, I see teams looking to upgrade their bots when they want more customization for the different pathways a user can take.
Sales Hub Free is missing the customization of if/then branching logic, giving users a "pick your own adventure" style interaction as their answers drill down to a specific, commonly asked question.
In a world where every website visitor expects a hyper-personalized experience and answers to their questions fast, chatbots have become the marketer's go-to tool. Their automation supports one-to-one conversations on a larger scale without you needing to manually monitor each one.
Other valuable features unlocked with an upgrade are user assignments and rotating leads.
When your visitors' questions are answered, and that same user uses the chatbot to book a meeting with a salesperson, the upgraded tools allow you to automatically assign and rotate leads among the team, automating a previously mundane task for a sales manager trying to keep all things fair.
In other words, your sales team gets direct access to the leads and cutting out the middleman means your prospects get responded to faster, creating a better customer experience.
Upgrading to HubSpot Sales Hub Professional or higher will unlock these primary features as well as a few others.
The Sales Hub Free Bottom Line
Can you really be an effective sales team on HubSpot Sales Hub free? The real answer is, it depends.
It depends on if the addition of these tools will create better experiences for your leads and prospects and be better equipped to drive more revenue for your business.
You will also need to be understanding of the limitations and decide for yourself when, and who, it is appropriate to upgrade to unlock the features you find value in.
At times like this, it is important to remind your self of the mission over at HubSpot: to help businesses Grow Better.
The philosophy is to grow into the tools. So when getting set up either on your own or with a HubSpot Consultant on Sales Hub, take it as far as you can and be sure you are upgrading for the right reasons at the right time.
Remember, there is always room to grow.
Free Assessment:
How does your inbound marketing measure up?
Take this free, 5-minute assessment and learn what you can start doing today to boost traffic, leads, and sales.
Get Started
Free Assessment:
How does your inbound marketing measure up?
Take this free, 5-minute assessment and learn what you can start doing today to boost traffic, leads, and sales.
Published on June 19, 2019