How to deal with fake negative reviews online [Infographic]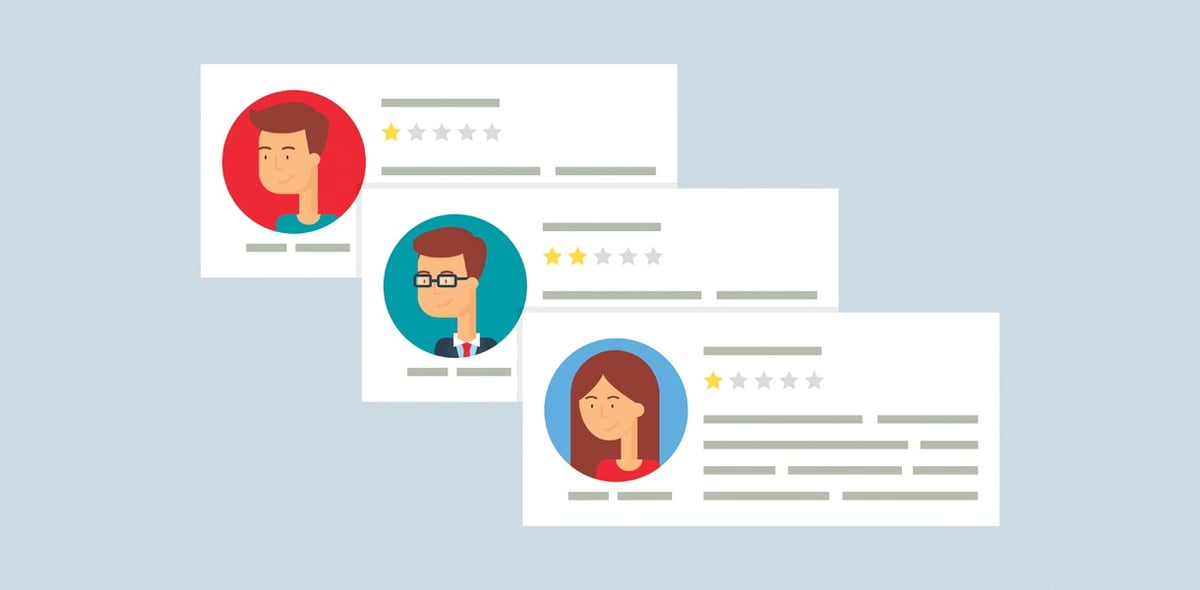 Whether you are the CEO of the company or just an employee, you work so hard to build up your business, its reputation, and to gain positive customer/client reviews.
It's frustrating when someone attempts to ruin that hard work by leaving a fake negative review online, and in the age of "fake news" and sponsored reviews on Amazon, this can be a big concern.
Word-of-mouth marketing (WOM) is a powerful asset in our line of work. It gets people talking and today, potential customers/clients are becoming more and more likely to trust an online review (good or bad) than the word of a brand.
Consumer studies have found that:
85% of consumers trust

online reviews as much as a personal recommendation

79% of consumers read

a fake review in the last year, but 84% can't always spot them

94% were convinced

by an online review to avoid the business
That's why its extremely important to take the time to weed out fake reviews before they can harm your business.
Dealing with fake online reviews
Now, you may be saying to yourself, "You're right, Melissa, but how do I get rid of these fake negative reviews?"
That's a great question!
First things first, you have to be able to differentiate between a fake review and a real review.
Here are a few things to watch for when carefully evaluating this:
Vicious review tone

. A genuine review, even a negative one, will usually use more moderate language.

General or non-specific criticisms

. Authentic reviews usually provide specific information about the writer's experience with a business.

Highly inflated positive reviews by the same person on the profile of one of your competitors

. This could be a tell-tale sign that the reviewer is connected to the competitor.

Multiple positive reviews over a very brief span of time

. This is a sure sign of a bogus reviewer looking to create promotional buzz.
After you have identified a fake review, it is time to report it.
This is an important step when dealing with the problem and getting it removed as quickly as possible.
The infographic below outlines how to report fake reviews on some of the most popular websites, such as Google, Yelp, Facebook, TripAdvisor, Yellow Pages, Angie's List.
But your job doesn't stop there.
Once you have reported it, it is time to respond to the fake review. But don't act right away.
It is very natural to feel angry and defensive about a review that isn't true, but responding while emotional can backfire.
Give yourself some time to calm down and formulate a professional reaction. Leaving a well-thought-out response to a negative review can help you earn respect and restore your reputation with current and future customers/clients. People are often more likely to look at your reply than the review itself, so it is important to respond.
Here's what to do when leaving a response:
Maintain a professional image

. Show professionalism and restraint in the tone and nature of your response.

Share the problem with your followers

. It's better to be transparent and get things out in the open.

Bounce Back.

After responding, minimize any potential damage by burying the fake review under a bunch of great ones.
The most important thing not to do is respond negatively.
You've responded... now what?
After you have responded, it is also important to continue monitoring your reviews.
Create a plan for how you are going to maintain and monitor these reviews on a more regular basis. Some websites, such as Yext, allow you to set up alerts that will keep you informed of your review activity.
Now hop to it, and good luck!
Check out the full infographic below to get a more step by step process on how to deal with fake negative reviews.

Infographic by Headway Capital.
Free: Assessment
Does your website build trust with buyers and bring in revenue?
Take this free 6 question assessment and learn how your website can start living up to its potential.