How to Get More App Store Reviews Through These 4 Crucial Questions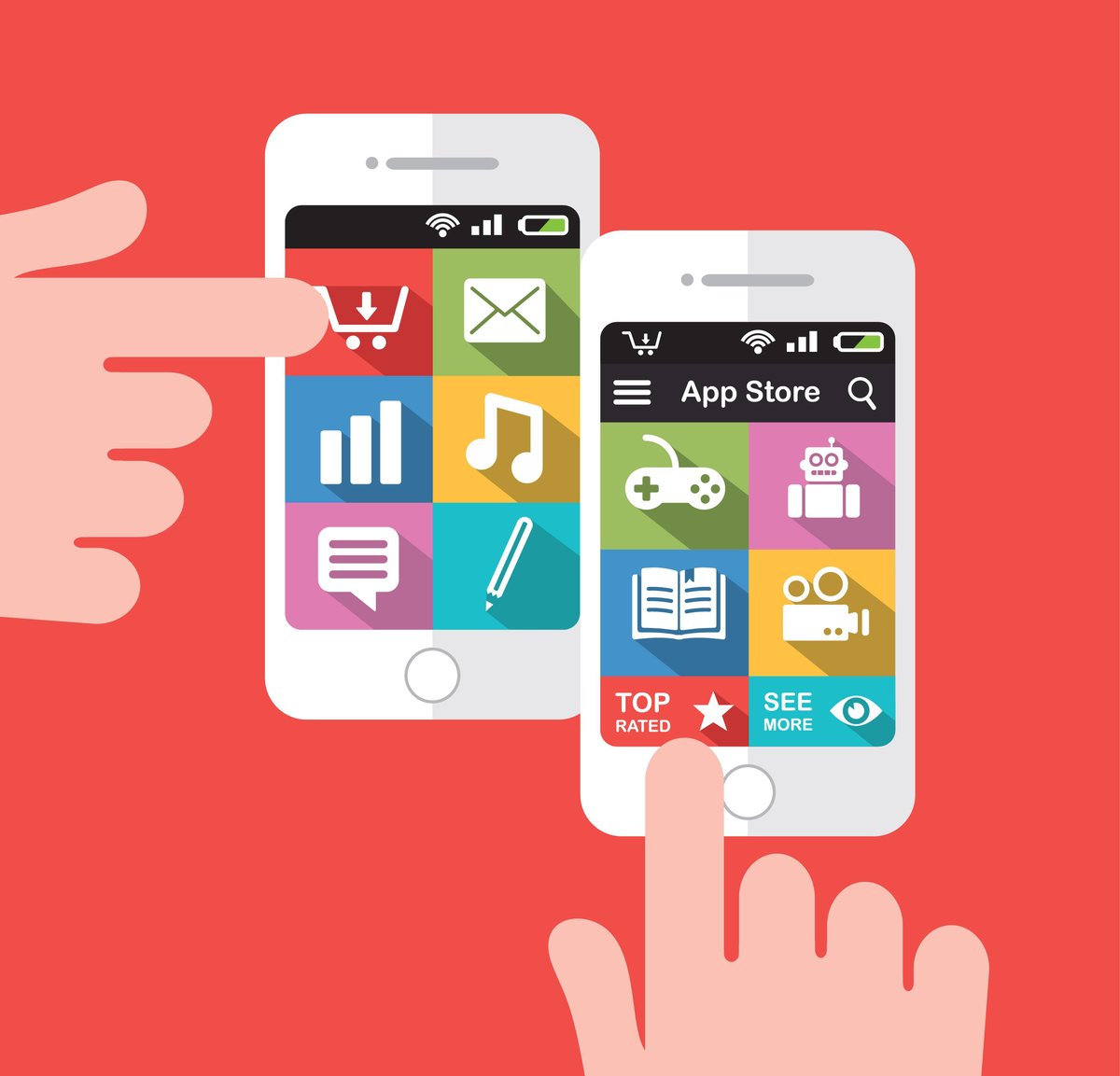 Remember when the iPhone first released and Apple raved, "There's an app for that"?
6 years and 8 incarnations of the iPhone later, chances are there are now about a dozen apps for any task you have in mind. With so many options on the market, you have to be able to optimize your app store listing in order to stand out from the crowd and get more users.
One of the most effective ways to do this is through App Store Reviews and Ratings.
While their impact on Apple's actually rank algorithm is unclear, 52% of consumers have reported trusting online reviews just as much as personal recommendations, so they are definitely worth investing time and effort into.
Ask yourself these four crucial questions to start getting more app store ratings for your organization.
1. Am I Disrupting the Native Experience?
We've all been there before. You're using an app, in the middle of playing a game or uploading a photo, and suddenly you're met with a pop-up asking you to rate it in the app store.
In-App or in real life, nothing is more frustrating than being interrupted and pulled from what you're doing, especially when it involves more work on your part.
This is not only annoying, it detracts from the overall app experience (and may result in even lower app ratings.)
When requesting ratings or reviews from your users, make the experience as pleasant and easy as possible. You want the prompt to feel like a natural part of the app so when your user comes across it, it doesn't feel like work or an advertisement, it feels like a friendly side-note.
What Can I Do? Create review calls-to-action that blend into the design and branding of the app.
Make sure to integrate the request naturally into the existing user journey (like Circa does below) so you're not breaking your user's train of thought and forcing interaction, but giving them control over whether or not they move forward with the rating process.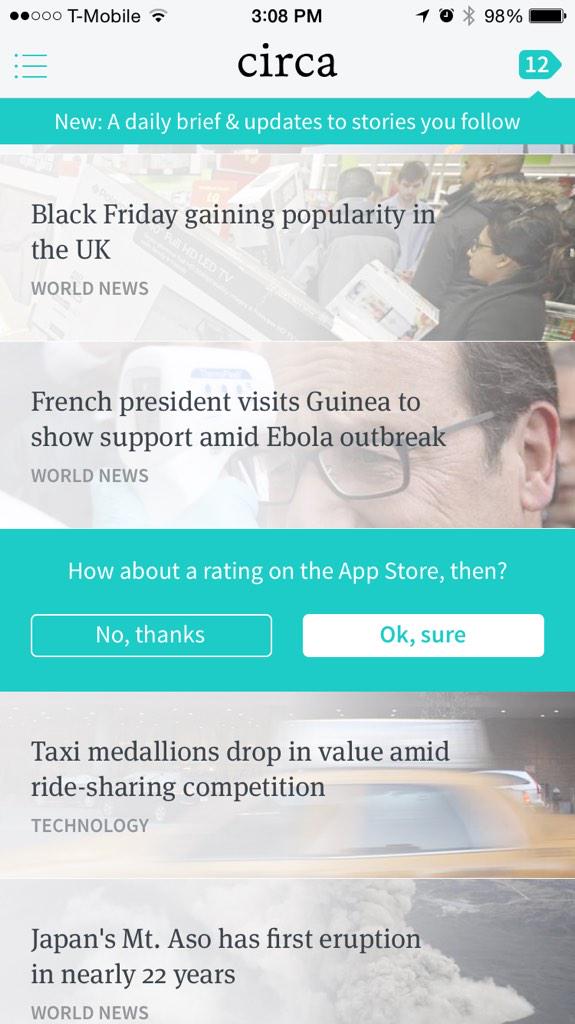 By providing your audience with a more pleasant, unobtrusive user experience, they will feel organically more inclined to not only leave you a review, but leave a better one.
2. When's the Right Time?
As with anything in marketing, time is of the essence.
When requesting an app rating or review, you want to hit your user in the right mindset and context to produce, if not a positive review, one with valuable, constructive feedback.
To achieve this, you must ensure that the user has enough experience with your application to provide an accurate and informed review when asked.
If someone downloaded your app a month ago, but only opened it today, their response will be of little value to you, even if it is a positive.
What Can I Do? Examine the behavior of your users to determine an appropriate or positive time to ask them for a review.
Depending on the nature of your business, this may vary anywhere from when they've been actively engaged for an extended period time to when they've completed landmark activities or accomplishments.
For example, if you are a travel app, you may consider requesting a review after your user has successfully booked their first trip. If you're a social platform, reach out after they've gained their 100th follower, or if you're a game, after they've advanced to a new level.
Overall, your goal is to approach your user when they're ready and willing to give you a review. After all, if you want someone to say something nice about you, nagging them won't help you get there.
3. What's In It For Them?
What's driving your user to review you? Why should they take the time to do something that benefits you? Yes, maybe you asked nicely, but that's not always enough for busy, mobile users.
An easy way to get more reviews in the app store and simultaneously "delight" your users is to offer an incentive for doing so.
By adding a reward to the action (like the apps below), you will help lower or even eliminate "friction" and the feelings of "work" attached to completing the review, and increase the perceived benefits.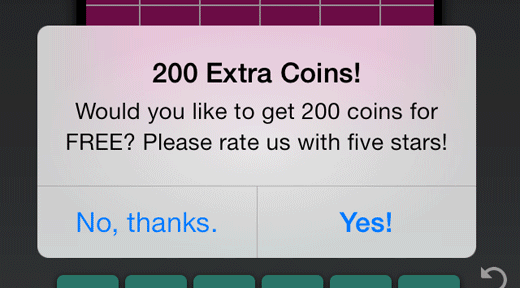 Depending on your organization, you can consider unlocking a new feature or capability within the app or even emailing them a coupon code for discount.
This gift will not only make the user more likely to follow through with submitting a review, but "delight" them in the process.
4. Am I Using the Right Messaging?
The way you position your review request can often have a huge impact on its overall effectiveness.
With this in mind, don't beg people for ratings. Bombarding your user with in-app pop-ups or emails pleading with them to leave you a review is likely to scare off more people than it will win over.
Instead appeal to their concerns as an active user by positioning your request as a constructive criticism. Ask for feedback that can be used to better their personal experience with your application.
What Can I Do? Follow Circa's lead and engage users by asking a question like:
Are you enjoying [Insert Name]?
How do you feel about [Insert Name]?
How are we doing?
As CEO and Co-founder, Matt Galligan, explains, doing this over a simple "rate or don't rate" option, leaves the conversation open to individuals who choose not to move forward and allows you to gather uncensored feedback that you may not otherwise have access to.
"By adding a question into the equation you can actually get valuable feedback from users that [say they] aren't enjoying the app. Tapping "not really" presents our readers with a different question, specifically requesting their feedback. "Yes" will separately lead them to an ask for a rating.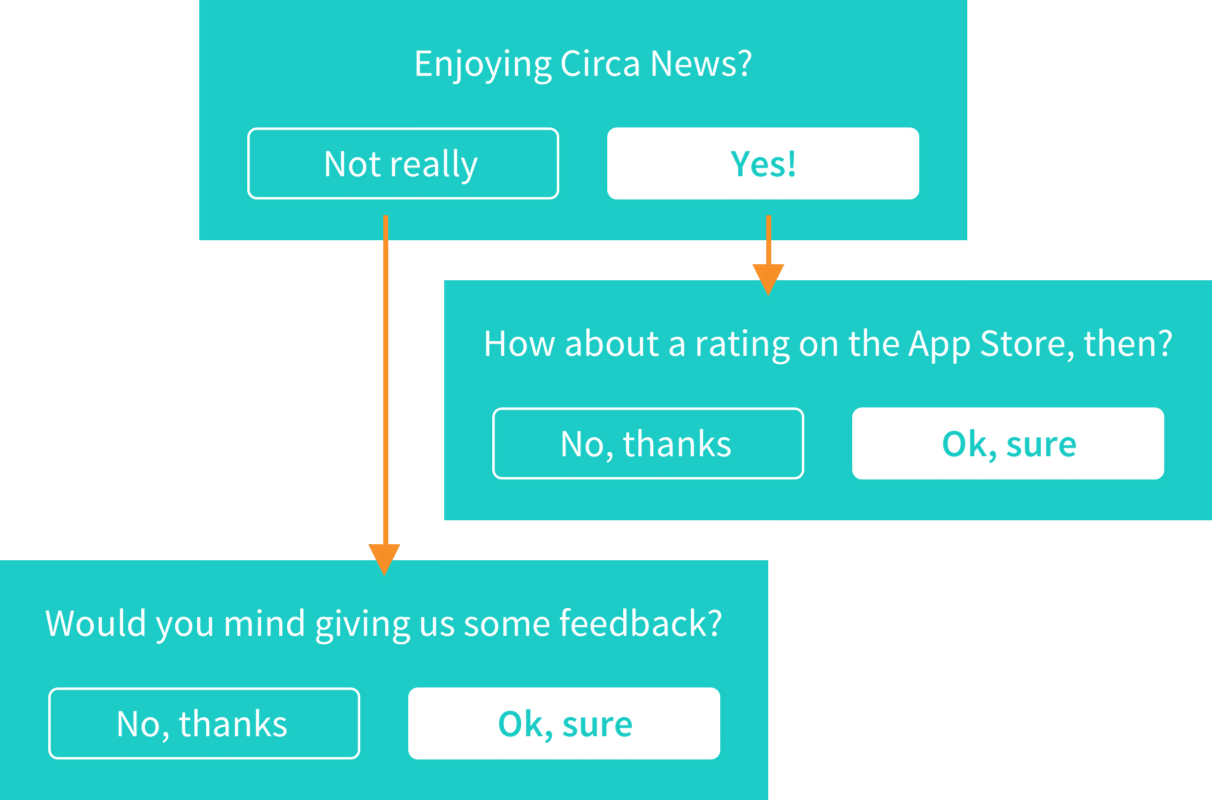 With this additional feedback, you can make improvements to your app and increase user satisfaction. The happier your user, the more willing they will be to spread the word through a positive review and rating.
Key Takeaway
Regardless of your strategy, quality ultimately triumphs all. If your application is flawed, your reviews will reflect this, but if it works well, delivers on all of its promises, and gives your audience the experience and functionality they need, they will be more than willing to show their support through a review when prompted.
Free Assessment:
How does your sales & marketing measure up?
Take this free, 5-minute assessment and learn what you can start doing today to boost traffic, leads, and sales.