How to Spice Up Your Social Media With HubSpot's Photo Editor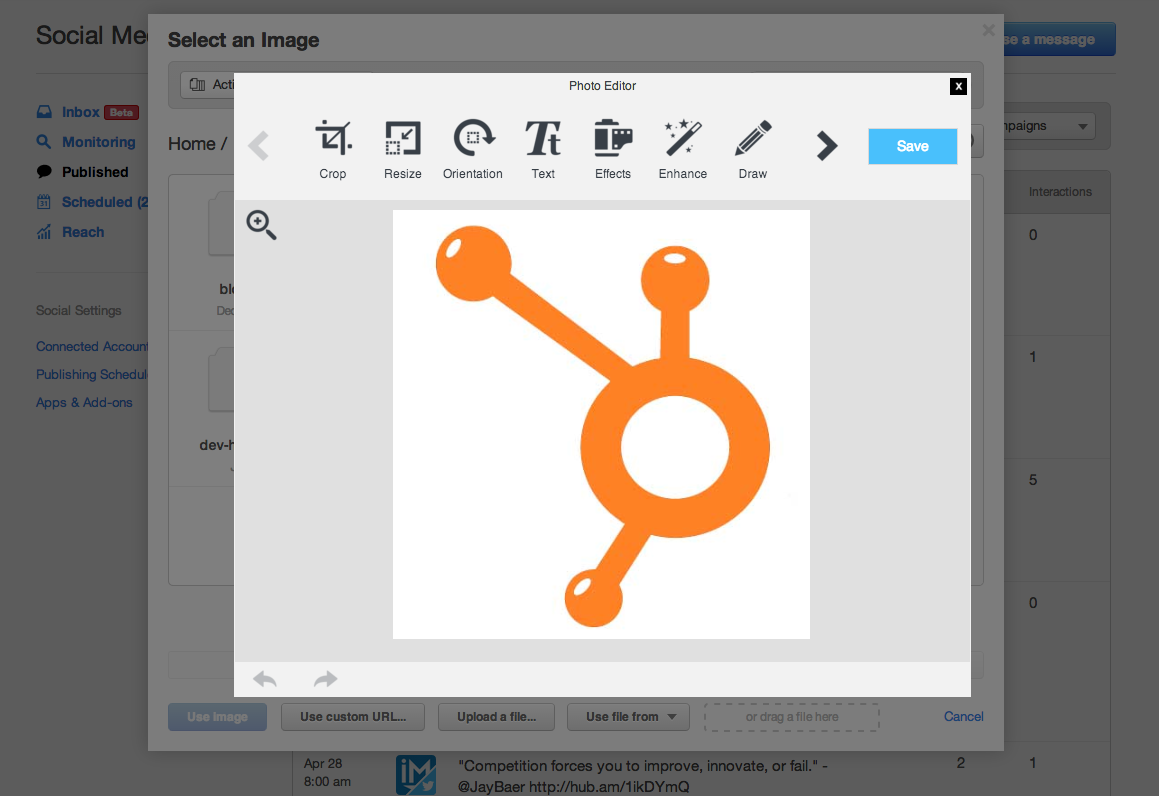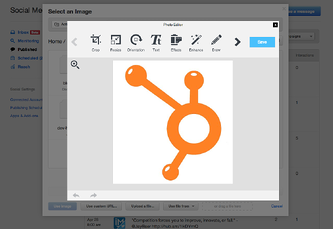 There's a common misconception that content marketing boils down to the written word.
However, any qualified content marketer would argue that content marketing encompasses so much more.
Sure there's writing involved, but it simply wouldn't be fair to ignore the possibility of imagery, infographics, videos, and slides, now would it?
Aware that images get retweeted like hot cakes on social media channels, HubSpot has made marketer's dreams come true with the new photo editor addition to the social publishing tool.
If you're not already familiar with it, this new inclusion remains true to their all-in-one approach by providing marketers with everything they need to distribute high quality images without leaving the social publishing tool.
Dimensions, effects, text, stickers, frames, redeye removal, I mean, they've really covered all the bases.
Having eliminated any excuse you may have had in the past to not use images in your social media posts, it's time to start taking advantage of this little gem. If you're in need of some instruction, or looking for creative ways to utilize the tool, we've outlined everything you need to know below.
The Basics
To access the tool, select the publishing option from the Social drop-down menu in your HubSpot navigation bar, and select 'Compose a Message' in the top right corner.
Once the publishing tool is open, you have the option to select which platform you want to publish to using the social tabs in the top left corner: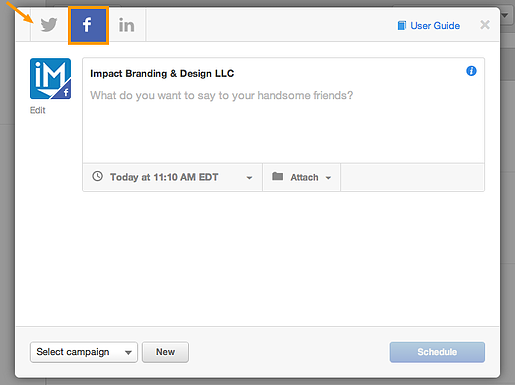 Once you've crafted a message and selected an image, you'll notice that there is now a 'Customize Image' option below the uploaded photo: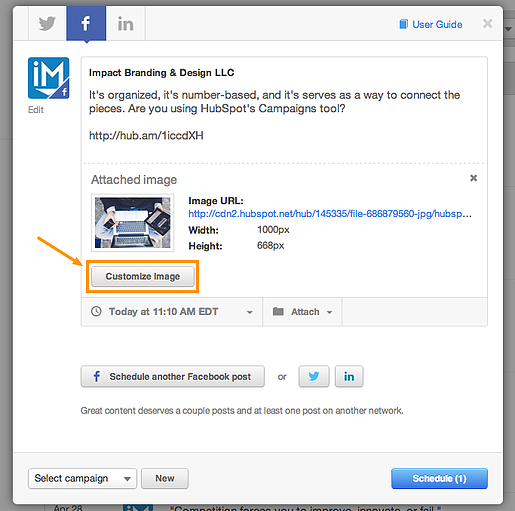 From here users will have access to an extensive photo editing tool belt to transform their images as they see fit: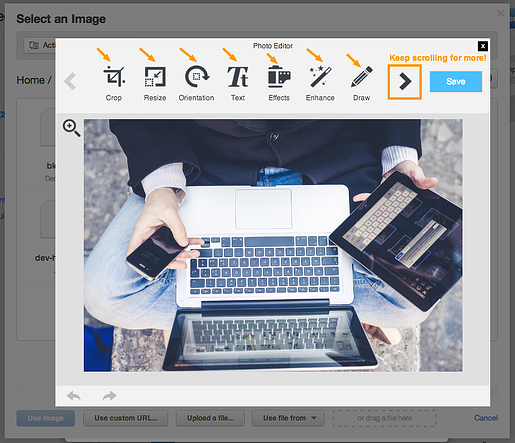 3 Creative Ways to Use the Editing Features
1 - Get Perfect Dimensions, Every Time
Tweets with images received 18% more clicks than those without.

Tweets with images received 89% more favorites.

Tweets with images received 150% more retweets.
In case you missed it, including images with your social media posts isn't just suggested anymore, it's expected.
However, keeping all of the unique dimensions for each platform straight isn't the easiest of tasks. Twitter wants one thing, Facebook calls for another, and as for Google+, they want something different too.
Rather than refer back to the constantly changing dimensions, resize and reupload, HubSpot's editor has a built in Cropping tool with social media templates that ensure proper sizing with the click of a button. Just select 'Crop' from the toolbar and adjust your image accordingly: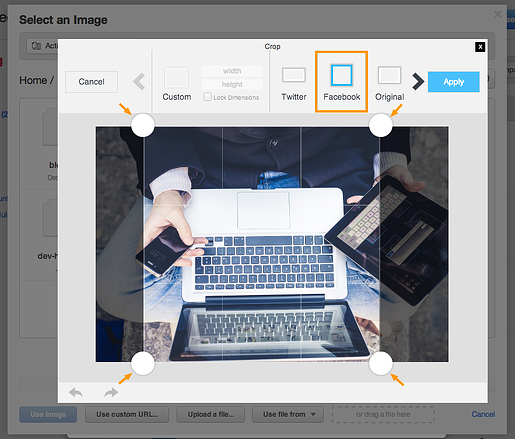 Thanks to this feature, you never have to worry about distorted images or unfit cropping issues again.
With the right sized images in the right places, it's easier than ever before for marketers to reep the benefits of increased social engagement.
2 - Experiment With Text
Having the ability to add text to your photo before publishing provides marketers with the tools they need to push their content that much further.
Let's say you've whipped up a tweet promoting your latest blog post. Before you set it free, why not use the 'Text' option to add the blog title of the post to the image for added interest: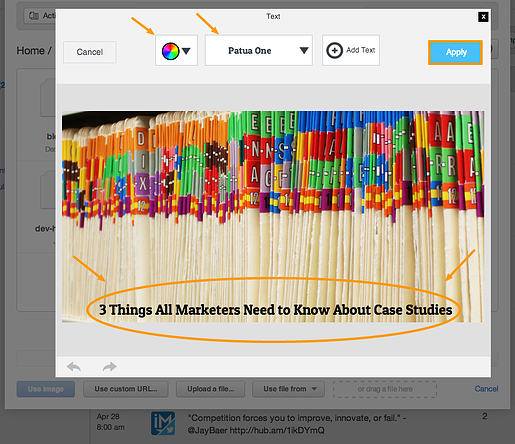 The feature allows you to adjust the font, color, size, and placement to ensure that your text stands out properly against the image.
Aside from titles, the text tool is like a meme lover's best friend.
Memes perform really well on social media channels because they fit into the landscape. Unlike a stale whitepaper pitch, people actually want to see and share them, and now it's a breeze to create them: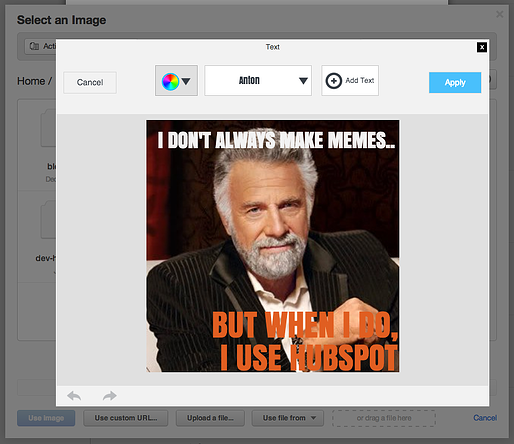 I don't know about you, but I'd RT that.
3 - Mix Things Up With Stickers
Perhaps my favorite feature that the photo editor offers is the 'Stickers' selection, because who doesn't love putting mustaches on stuff?
In all seriousness, adding stickers to your photos is a great way to help them break through the noise on social media, and add a human element. Like this photo of myself and a few IMPACTers hanging out with HubSpot royalty: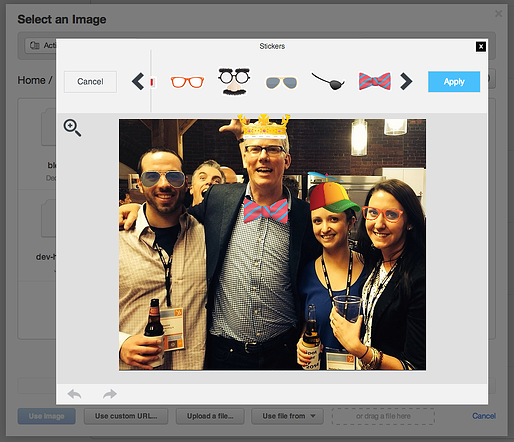 If you scroll past the clever disguises, there are a quite a few shapes and arrows that can be used to draw attention to a particular part of your image. Aware that you only have a couple seconds to capture someone's attention, take advantage of these add-ons to highlight what's important:
Happy editing!
Free Assessment:
How does your inbound marketing measure up?
Take this free, 5-minute assessment and learn what you can start doing today to boost traffic, leads, and sales.
Get Started
Free Assessment:
How does your inbound marketing measure up?
Take this free, 5-minute assessment and learn what you can start doing today to boost traffic, leads, and sales.
Published on May 12, 2014