Hubcast 130: Video Revenue, HubSpot Engagement Reporting & The Cap Show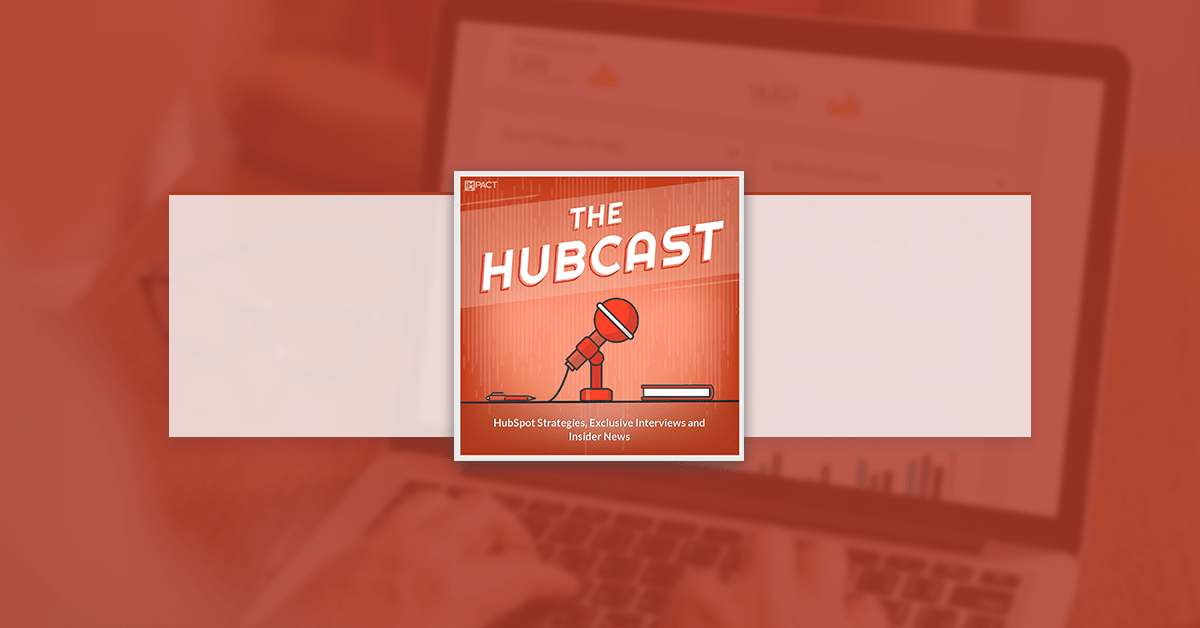 The Hubcast: HubSpot Tips, Tricks, Inbound & Content Marketing News & Sales Info every week.
Are you a HubSpotter looking to take your Inbound Marketing to the next level? Would you like to stay up to date on all the latest and greatest HubSpot tools, tips, and tricks? If so, you've come to the right place as George Thomas and Marcus Sheridan of The Sales Lion are ready to help you take your business to new heights of inbound marketing awesomeness! Friends, welcome to The Hubcast!
HubSpot Strategy
Video Tracking & Process
George,
I have been listening to the Hubcast and I want to let you know I think the show is great! To hear from experts like you and Marcus is reaffirming if not inspiring.
This is going to be too long of an email, I'm sorry for that. We sell tuning and performance parts for diesel pickup trucks.
For the last 4 years I have been a Sales rep but recently landed additional work in marketing with HubSpot.
So now I work full time as a Sr Sales Tech and then off hours I handle writing blogs, scheduling all marketing activity and provide a singular voice for our marketing. I love it!
We do have a "Media and Communications Manager" who has extensive experience with traditional news media, documentary, and general media production.
We are running into a challenge with producing a regular schedule for video production that converts.
For example, we produced a video about our "PRODUCT ABC". Currently, it is just shy of 1 million views on Facebook. It took around 6 weeks to finish. However, it has not sold a single product.
Where our troubleshooting video about a small boring part has 63K views on YouTube and has sold a LOT of product.
As I continue to step up the quantity of media production required we struggle with the time it takes to turn around videos. 3-6 weeks from outline to final video is the norm right now.
In March we have scheduled 6 campaigns that require social media activity for two brands every day. On our current pace, we cannot plan more than 2 videos a month. Which I feel is less than desired.
Any suggestions on how to help turn the corner?
HubCast Sponsor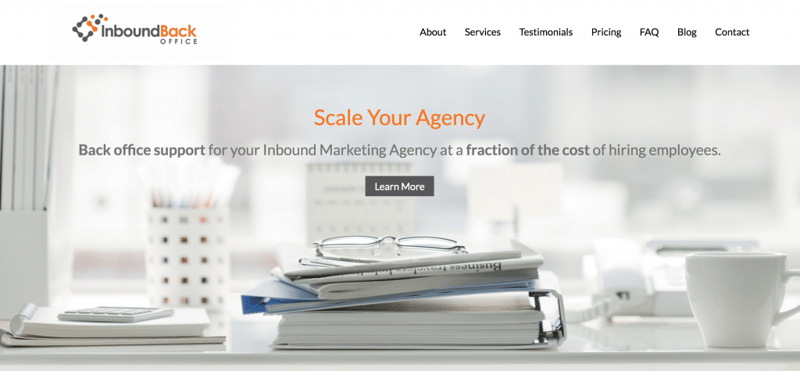 We believe getting administrative support shouldn't be complicated. And they really know HubSpot.
Their team includes marketing specialists that focus on things like:
*Scheduling and calendar management
Social media management and advertising
PPC management
Content development
Inbound sales support
Project management
Billing and collections
HubSpot setup and maintenance
WordPress support and maintenance
Graphic design
And more.
Wouldn't it be nice to have an on-demand team of inbound-certified VAs that you can call on when you need extra help?
Would it be even better if they knew HubSpot and the inbound methodology?
That's Inbound Back Office.
Augment your team, save money and expand your resources. Visit InboundBackOffice.com to schedule a free discovery call.
Mention The Hubcast during their discovery call to get a $100 credit toward our services
HubSpot Updates
[HubSpot Connect] Enthusem Integration
What's this integration partner do?
Enthusem is a direct mail solution, for digital marketers. They have an API and several integrations with CRMs/Automation platforms, that allow marketers to send personalized direct mail to contacts through workflows.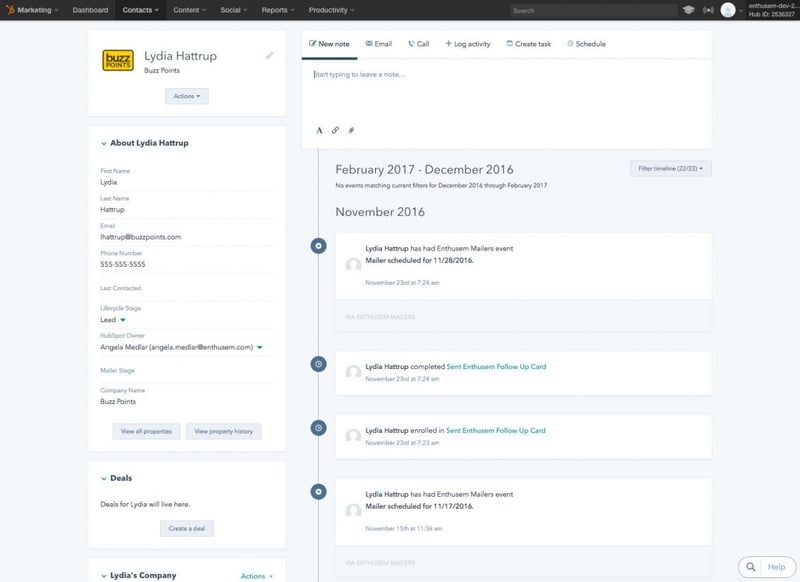 Click here to learn how Enthusem integrates with HubSpot.
New and Improved Engagement Reporting for HubSpot Sales
As a sales leader, the ability to zoom in on specific parts of your team's engagement process is vital. Which reps are making the most calls? Are they connecting or leaving voicemails? How many emails are your BDRs sending? How many meetings are your new reps booking?
The latest improvements bring more detailed engagement tracking and reporting to HubSpot CRM and Sales. These updates come in three distinct flavors.
All HubSpot Sales users can now set call dispositions. Track the outcome of every call made via HubSpot Sales.
All HubSpot Sales Professional users now have access to sales content report templates. Seven new canned reports for HubSpot dashboards that provide deep analytics on calls, meetings, and sequences.
Reporting Add-on users can now utilize engagement report filters when building custom reports. Run reports on how many calls, emails, meetings, and tasks your team is logging. Now, filter those reports by owner and type, to zoom in on the data you actually care about.
Today's updates enable you to get a clearer view of your reps' productivity. Implement a more consistent call-logging process with call dispositions, and zero-in on specific engagement data to identify the parts of your reps' process that need the most work using the new reporting functionality.
How it works
Call Dispositions
Make a call from any record in HubSpot CRM by using the communicator at the top of the screen. Once a call is completed, simply select the outcome of the call from the dropdown menu and select 'Save call'. A recording of that call, along with its outcome, will be saved to the contact's timeline.
Sales content report templates
Navigate to your Sales Dashboard (or any of your other dashboards, if you have the Reporting Add-on). Click "Add Report."
On the subsequent page, within the widget library, you'll see seven new canned reports available:
Total Calls. How many calls your team is making each month.
Calls Made by Reps. A stack ranking of your reps by # of calls made.
Average Call Duration. Find out who is spending the most time talking to their prospects.
Total Meetings Booked. Shows how many total meetings your team has booked in the selected timeframe.
Meetings Booked by Rep. Break down the meetings booked chart by rep.
Call Outcomes. Which reps actually connect with their prospects? Which are stuck leaving voicemails most often?
Sequence Performance. Hone in on which sequences are the most effective. This report shows enrollment, replies, and reply rate for your best-performing sequences.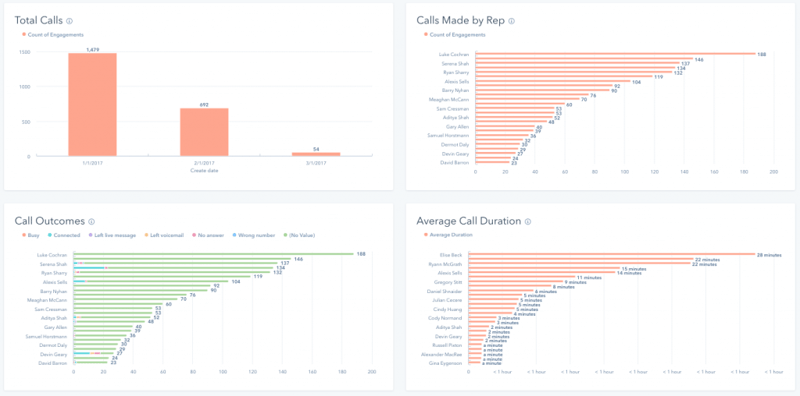 Engagement Report Filters
Build a custom report in the Reporting Add-on by navigating to any dashboard, clicking "Add Report," and clicking "Create Custom Widget."
Once in the custom builder, choose "Engagements" as your type. By default, you'll see every engagement logged by any of your reps. To filter your report, use the Engagement Type and Engagement Owners selectors in the left-hand sidebar. For example, if you only wanted to see the calls and meetings booked by Taylor Swift or Curious George, you'd set up your filters like this: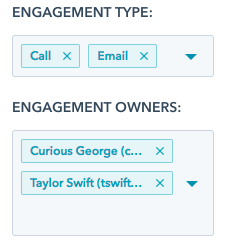 Example reports
Calls/Meetings/Tasks by a specific set of reps, aggregated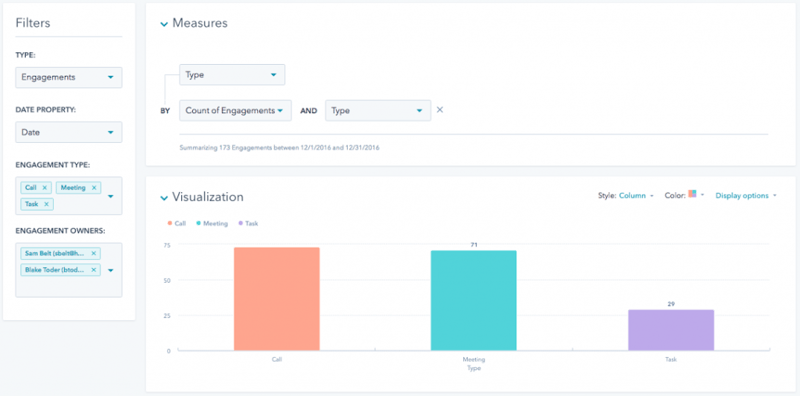 Calls/Meetings over time, by type (for a specific set of reps)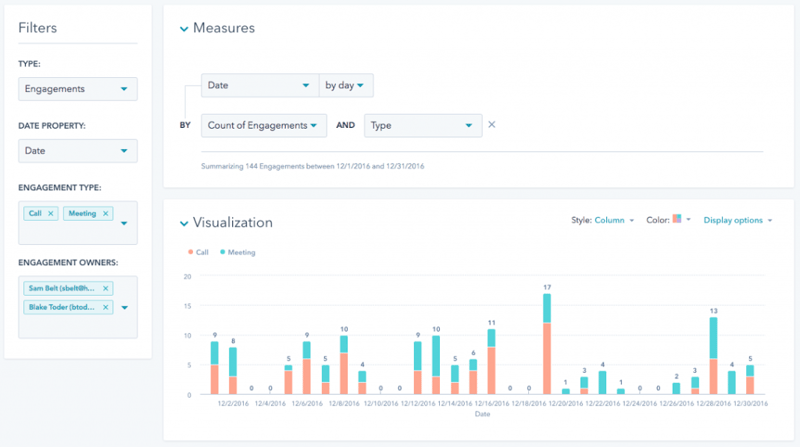 As your sales process grows, these products grow with you. The basics are available out of the box in HubSpot CRM and Sales --- the ability to record call dispositions is included in HubSpot Sales Free. The more advanced features (templates and custom engagement filters) come in Sales Professional and the Reporting Add-on, respectively.
Ready to get started with deeper engagement tracking and reporting? Head on over to your Sales Dashboard to give it a spin.
HubSpot Wish List
Enable A/B testing on Site Pages
Brought to us by: Adam
Don't just limit this to Landing Pages and/or emails. To get a test running on a Site Page, I need to integrate another service such as Optimizely.
Professionally Personal
Marcus: Speaks fluent Spanish. Lived in Chile for two years.
George: My nickname use to be Heavy D. This guy has moves. Hammer, Kid & Play.
Tips & Tricks
This week we dip back into the bag of tips & tricks to share how to:
How to Pin Notes in the HubSpot CRM
How to hide LeadIn/Lead Flows On Certain Pages
Tweet Of The Week
Where the magic is made #TheCapShow pic.twitter.com/2zdOAsicD8

— Alex Crumb (@Alex_Crumb) January 27, 2017
Question of The Week
How do I improve the SEO of my videos when I upload them to YouTube: https://www.socialmediatoday.com/marketing/2015-02-25/7-essential-video-seo-tips-rank-1-youtube#main-content
Free Assessment:
How does your sales & marketing measure up?
Take this free, 5-minute assessment and learn what you can start doing today to boost traffic, leads, and sales.