Hubcast 135: Impact Live, HubSpot Updates, & INBOUND Studio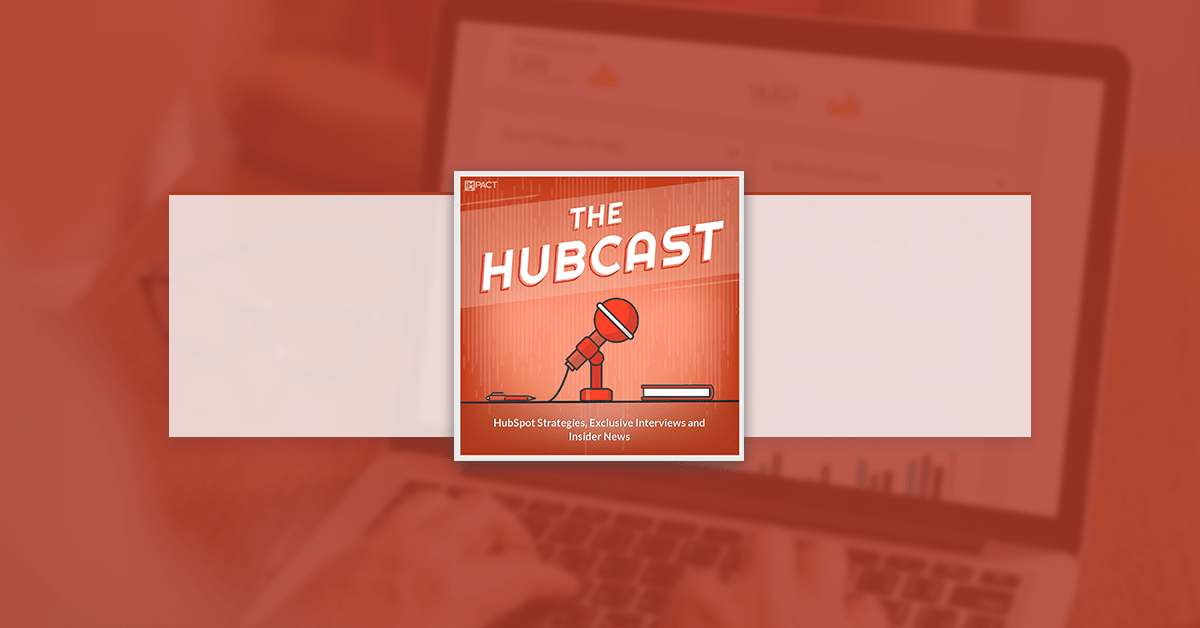 Welcome to The Hubcast, your source for all things Inbound Marketing and HubSpot.

Born out of the INBOUND 2016 event, The INBOUND Studio began as an experiment where keynote speakers followed up their main stage talks with more intimate conversations on Facebook Live. Now we're growing the Studio into a year-long video series on Facebook and YouTube.
INBOUND Studio brings together diverse viewpoints around specific topics that speak to what it means to be human. For each topic, we'll bring a mix of the usual suspects as well as new voices in the space to inspire you and share never-before-heard insights.
The first series of The INBOUND Studio dissects "The Power of Humor," featuring conversations with Trevor Noah, Tig Notaro, Andy Borowitz, Steve Cody, and Lakshmi Balachandra. Follow The INBOUND Studio Facebook page.
IMPACT LIVE
WHAT YOU'LL EXPERIENCE AT IMPACT LIVE
Exclusive Insight
Invite-only means we're hand-picking the best marketing and sales leaders so you're surrounded with like-minded attendees for an experience and content tailored to you.
Meaningful Connections
Picture the value of being in a room with people just like you. With over 150 attendees and approachable speakers, you're guaranteed to meet someone who will help you validate the work you're doing and gain a new perspective on marketing leadership.
A Darn Good Time.
Events get boring when you're just sitting in the same seat for hours on end. We break with tradition, stacking each day with speaker sessions, breakouts, activities, and happy hours to keep you engaged and entertained.
Event Date:
August 1st - August 2nd
(Workshops on July 31st)
Event Location:
The Society Room
31 Pratt Street, Hartford CT 06103
IN OTHER NEWS
Marcus chats up this article if you want to read more.
https://www.siliconrepublic.com/enterprise/dharmesh-shah-hubspot
HubSpot Strategy
Get Personal With Your Marketing
High Purity Systems created a custom property called Personal Information.
They store their leads & customer personal information in it.
Great lead and customer experiences happen when you focus on human marketing.
How do you get personal with your marketing, Hubcast listeners?
HubSpot Updates - 3 UPDATES THIS WEEK
Introducing CRM Extensions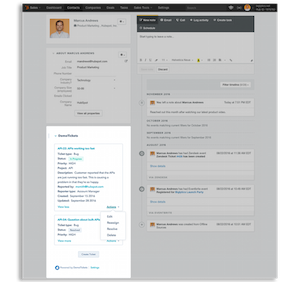 HubSpot is excited to introduce a new API, specific to their HubSpot CRM, called CRM Extensions. This API lets developers build integrations that bring their data and functionality inside the HubSpot CRM. The API is now live, and two HubSpot Connect integration partners, PandaDoc and Seventh Sense, have already built CRM integrations on the new API.
Curious about the API? You can read more about what it does here.
Click here to access the CRM Extensions - Technical Documentation
[New Video] Your Need-to-Know Product Updates from April
The best ten minutes of your month are back again: a brand new (April Fool's) edition of the HubSpot product spotlight video is below.
Use the chapters on the right-hand-side of the video to find the new features most relevant to your routine, and leave us your feedback using the feedback link.

[HubSpot Connect] - Olark Integration now live
Olark live chat software helps sales, marketing, and services manage and convert web traffic.
Teams who use Olark better understand who anonymous website visitors are and why they are at their site. Their chat app is simple to install, customizable, and integrates with a wide variety of tools including HubSpot.
Click here to connect Olark to HubSpot.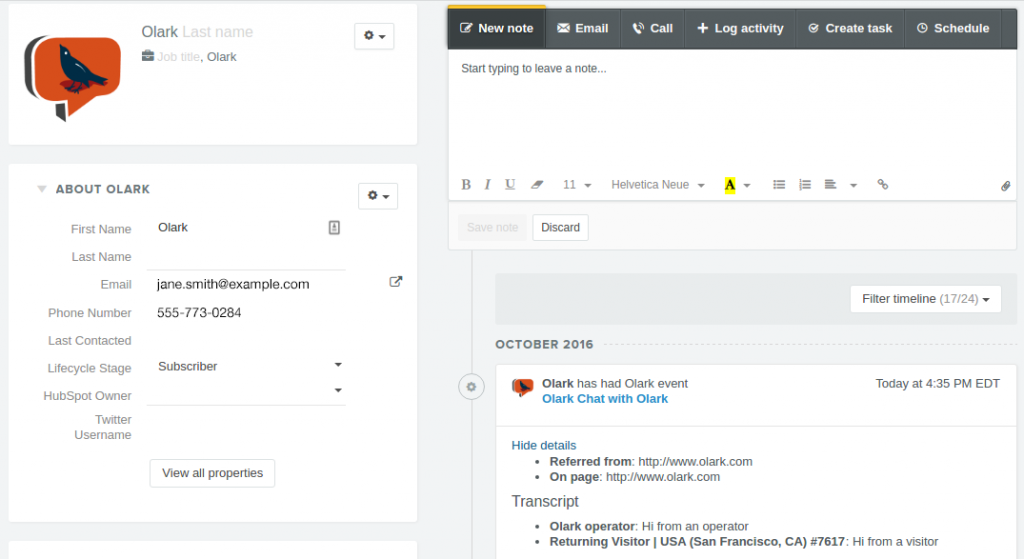 HubSpot Wish List
Submitted by brents2cents
Hi, I'm a Director of Business Development with a multi-media company and have used HubSpot across a couple different business industries now. As a paying customer, it would be incredibly useful in Sales to have a product list in HubSpot that associates with Deals. In the current set up, I cannot track where specifically our revenues are coming from. How often is a "Deal" just ONE product, service, or offering? Almost never.
Example 1: When I was in IT sales, a single deal/sale would have at least a dozen line items. Salesforce, unfortunately, took the cake with this because we could create custom fields.
Example 2: Now in media, a single Deal easily contains a few advertisements, events passes, and special program materials. There is no way to track which products we are selling in a B2B or even B2C sale. Plus only knowing the grand total is vaguely useful.
Lastly, take a look at PandaDoc, they have a great "click and drag" feature for multiple stored line items when creating proposals and contracts.
Would love to see something like this happen ASAP. I know it's been mentioned before, but that is the only thing holding us back from making a full transition to HubSpot and the biggest pain point for our company.
Thanks! HubSpot is by far my favorite CRM and sales tool, I would be so relieved and happy to see this feature come to life. :) Sales Reporting Productivity Tools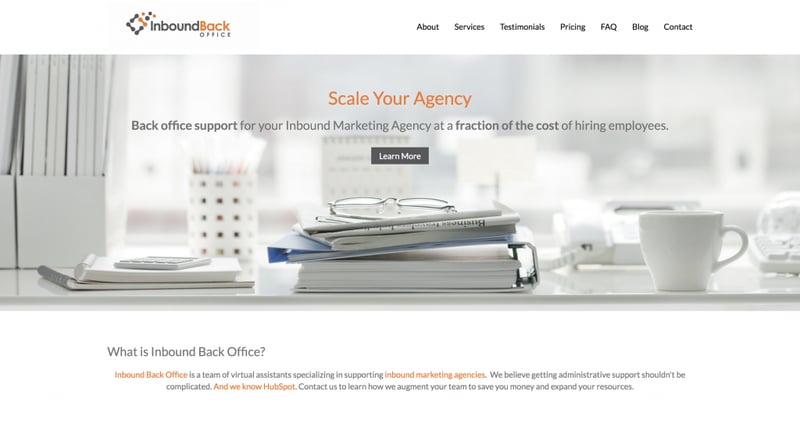 Inbound Back Office is a team of virtual assistants specializing in supporting inbound marketing agencies. We believe getting administrative support shouldn't be complicated. And we know HubSpot. Our team includes marketing specialists that focus on things like:
Scheduling and calendar management
Social media management and advertising
PPC management
Content development
Inbound sales support
Project management
Billing and collections
HubSpot setup and maintenance
WordPress support and maintenance
Graphic design
And more. Wouldn't it be nice to have an on-demand team of inbound-certified VAs that you can call on when you need extra help? Would it be even better if they knew HubSpot and the inbound methodology? That's Inbound Back Office. Augment your team, save money and expand your resources. Visit InboundBackOffice.com to schedule a free discovery call.
Mention The Hubcast during their discovery call to get a $100 credit toward our services
HubSpot Tips & Tricks
When you want to change the same property on multiple contacts, do you always head to the workflows tool?
Well now, you don't have to.
Tweets of The Week
Geeked to be included in @INBOUND list of great speakers! Can't wait to go back w/ my team in 178 days! Yes, I'm counting down. #INBOUND17 https://t.co/kxy98LTGz6

— Natalie S. Burke (@natalie4health) March 31, 2017
"It's not how much you make but the impact you make in life." Powerful stories @GeorgeBThomas. Watch: https://t.co/ov8AdWHYgR #Hubspotting
— Jenna Piche (@JLawfer) April 19, 2017
Question Of The Week
How do you create a community with video, that people will actually tune into?
Free Assessment:
How does your sales & marketing measure up?
Take this free, 5-minute assessment and learn what you can start doing today to boost traffic, leads, and sales.