Hubcast 185: Content Throwdown with HubSpot Academy's Jorie Munroe & Justin Champion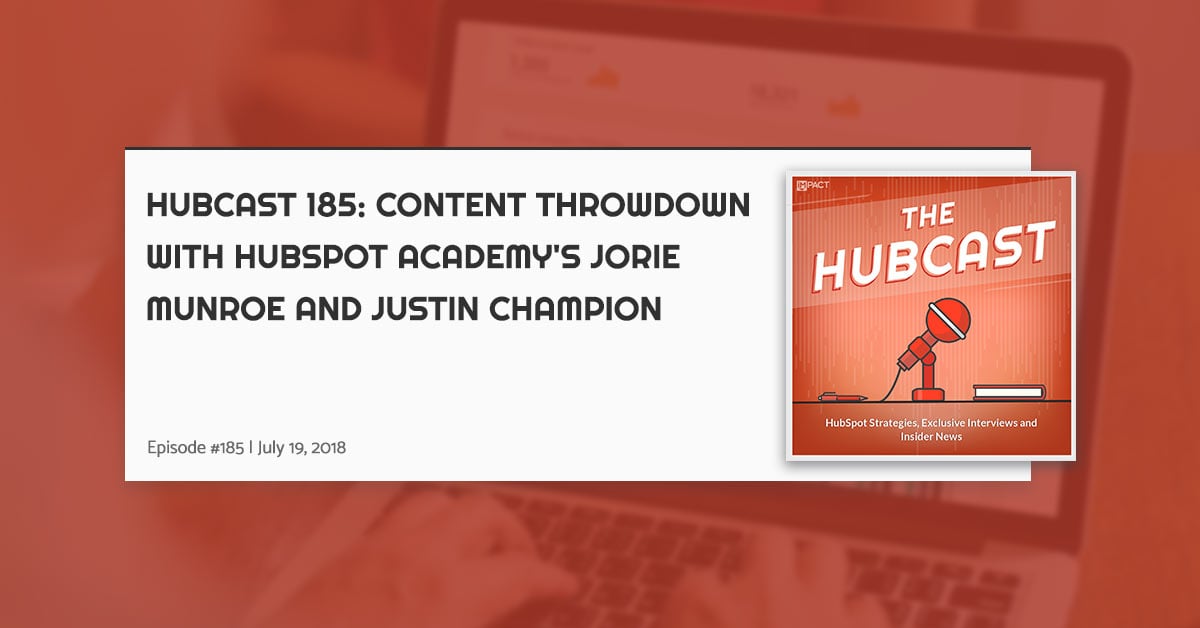 On this week's episode of the Hubcast, we flush the format to bring you a conversation with two HubSpot Academy Professors: Jorie Munroe (Conversion Rate Optimization and Reporting & Analytics) and Justin Champion (Content Marketing).
Check out the full episode audio below, OR watch the full video episode below that!
The Basics of Pillar Content & Topic Clusters: What Are They and What's the Difference?
With HubSpot's recent push for pillar content and topic clusters, some of the definitions of those terms have gotten wishy-washy.
Thankfully, Jorie recently published a post on the HubSpot User Blog outlining exactly that: what pillar pages are, and what their relationship is to landing pages. Read that here.
Here are two pillar page examples that Justin mentioned in this episode:
Gated vs. Ungated Content: Which is Better?
With the rise of pillar content and topic clusters, many companies (take Drift for example) have publicized how they've gone completely ungated with their content.
To a traditional inbound marketer, this seems completely ridiculous at face value.
How do you generate leads if you don't gate any of your content? How can I nurture leads if I'm not getting them into my CRM at the top of the funnel?
Well, the proof is in the pudding.
While the three of us don't think that gated content should necessarily go away completely, we all agree that everyone, in every industry, should be testing (the keyword here is testing!) progressively ungating their content.
We discuss many reasons why, in this episode, but one of the foundational reasons if for search engine optimization.
If we're hiding our best content behind a form, search engines won't be able to find it, and they won't know how great of an educational resource we are!
How Do Marketers Adjust?
Ultimately, marketers need to think critically about the content they produce and where it fits into their overall content strategy.
Is this educational content that will help show search engines that we are the authoritative resource on the topic? Build it into your topic clusters and keep it ungated.
Is this proprietary information or information that we don't want search engines to find? Keep it gated.
While not all instances are that black and white, when thinking critically about the purposes we want our content to serve, the decision to gate it or ungate it, to incorporate it into pillar content or use a landing page, becomes much clearer.
Until Next Time
If you enjoyed this episode, and want to hear more from Justin and Jorie, leave a comment below and let us know!
Until next time, happy HubSpotting!
Free Assessment:
How does your sales & marketing measure up?
Take this free, 5-minute assessment and learn what you can start doing today to boost traffic, leads, and sales.