Hubcast 191: All Things #INBOUND18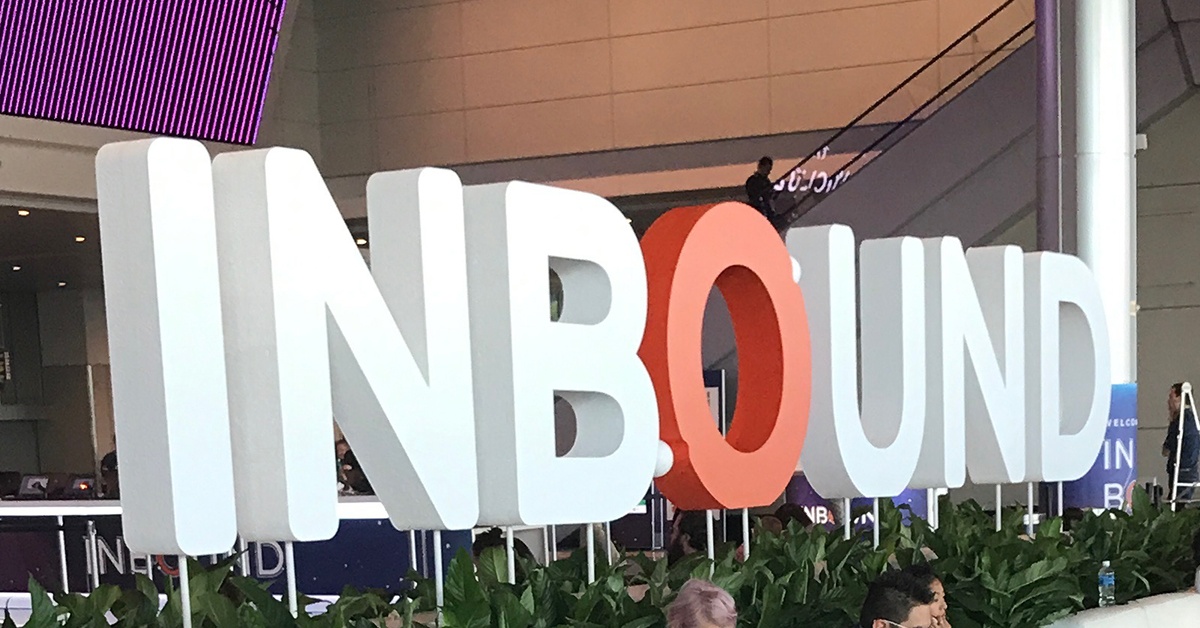 This episode of the Hubcast is brought to you by Belch.io.
A few things to get us going:
We're on the schedule for you to sign up for our INBOUND live recording! 10:30am on Thursday, people!
Marcus has an encore session WHAT?!?! Thursday at 4:45 pm

And he'll be signing books after the 2:15 session at the IMPACT booth at Club INBOUND
All Things #INBOUND18
Website and HubSpot Portal Throwdowns at the IMPACT Booth
We're doing them! Free consulting guys. Come on.
Schedule your Throwdown during INBOUND right now!
Video Lounge with Vidyard
HubSpot just announced the new INBOUND& program, a collection of independent events put on by members of the INBOUND community, and we're partnering with Vidyard to host the Video Lounge!
Both Zach Basner and Tom DiScipio will be presenting,
Here's a bit more about it:
"Vidyard and IMPACT are excited to bring you an exclusive video lounge during INBOUND. Our lounge is THE place to discuss all things video. There will be video experts onsite from HubSpot, Vidyard, and IMPACT to get your video inspiration flowing. You'll be able to discuss technical questions, sit in on 4 exclusive presentations (only happening at the lounge), explore how your team can benefit from video, AND enter to win a studio in a box.
Plus, Vidyard and IMPACT are offering exclusive 1:1 brainstorming sessions with key organizations. This is your chance to explore how top organizations are leveraging the power of video to drive successful campaigns and humanize their B2B marketing and sales strategies."
Thursday, Sep 06: 10:00 am - 4:30 pm
Westin - Adams - 425 Summer St
Here's some more information on what the Video Lounge will entail.
This Episode's Sponsor: Belch.io
Belch is the first truly visual HubSpot builder that allows marketers of all skillsets to build custom landing pages, website pages, and emails specifically for HubSpot without needing to know how to code.
The Belch.io builder makes every marketer a HubSpot developer and reduces HubSpot development time and costs by 90%.
These guys are going to be hanging out at the Developer Track at Partner Day - go say hi!
HubSpot Updates: INBOUND Edition
PR Newswire published a press release about HubSpot's INBOUND product launches, and boy are they big!
Here's the announcement on HubSpot's Company News.
HubSpot Video with Vidyard
HubSpot Video, powered by Vidyard (even more reason to come to our live recording!), will be available starting September 5.
Hosting and managing video will be available, as well as the ability to create, share and track personalized videos within the CRM, and personalized help videos in the Service Hub.
Much more to come on this!
Advanced Capabilities at the Enterprise Level
"HubSpot is announcing updates to better support the needs of large, sophisticated teams:
A major upgrade to HubSpot's Marketing Hub Enterprise will include improved analytics and custom bot building.
The new Sales Hub Enterprise will include features like Sales Playbooks, which will help users build a library of best practices and resources for their sales team. It will also include calling transcription, eSignature, and quota management tools.
The new Service Hub Enterprise will include tools to help teams track against SLAs and other metrics.
Across all three Enterprise Hubs, additional capabilities will include advanced team management; a native Slack integration; machine learning to power features like predictive lead scoring; and HubSpot's recently-released Conversations tool, which is available to all customers and unites email, chat, and social in one inbox.
The features described above will become available on September 5, with additional features, including hierarchical teams, health scoring, advanced content partitioning, and workflow extensions, expected to be released in the coming months."
Service Hub Starter
Tickets, the ability to create a help desk (knowledge base), and productivity tools. You'll also be able to build a library of email templates, snippets, and documents.
Along with ticketing functionality, Starter includes live chat and the Meetings tool, as well as call recording and logging within the CRM.
Growth Suite Software Bundles
"Customers who purchase any of the Growth Suite bundles will receive at 25% discount off of the standalone prices for each Hub." Woohoo!
HubSpot CMS
The CMS will be available as a standalone product! And you'll even be able to build your site on it without paying for it until your site goes live.
Sunsetting HubSpot Marketing Basic
With the new pricing and product structure, this comes as no surprise. After September 5 the Marketing Hub Basic product will no longer be on the pricing page.
Don't worry though, if you're a current Basic customer nothing will change for you as of now!
Until Next Time
Come see us at INBOUND!
If you're listening on iTunes - head on over and leave us a review! We love hearing your feedback, so feel free to leave some in the comments, or shoot me an email at cduffy[AT]impactplus.com!
Until next time. This is Carina Duffy & Marcus Sheridan saying to you, go out into the world and do some happy INBOUNDing!
Free Assessment:
How does your inbound marketing measure up?
Take this free, 5-minute assessment and learn what you can start doing today to boost traffic, leads, and sales.
Get Started
Free Assessment:
How does your inbound marketing measure up?
Take this free, 5-minute assessment and learn what you can start doing today to boost traffic, leads, and sales.
Published on August 30, 2018