Hubcast 192: For Those Not Attending #INBOUND18, This One's for You!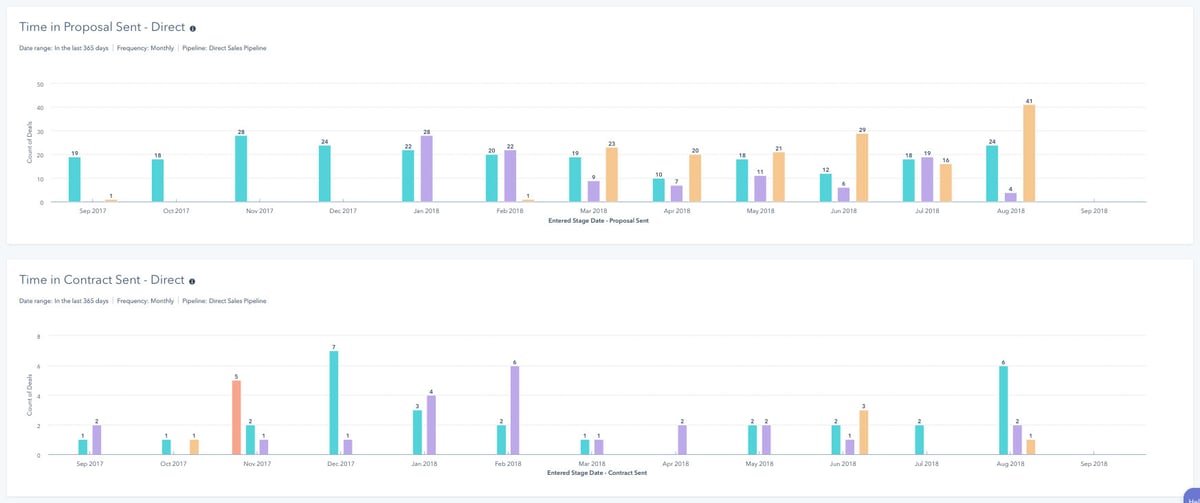 This episode of the Hubcast is brought to you by Belch.io.
For those of you who aren't at INBOUND… this ep's for you!
I (Carina) did a Sales/CRM workshop this week and it was, as they say, LIT -- and inspired most of the content for this week.
If you've got questions on the HubSpot Sales tools, let us know!
Property of the Week: Hidden Reporting Properties
Entered Stage Date
I learned something new this week.
I did a Sales/CRM workshop with a client and we built a whole bunch of custom reports for their sales team.
In the process, I discovered there are deal properties that are ONLY visible when building custom reports with the reporting add-on, and not in an actual deal record! What?!
They're categorized as "Deals Calculated Information."
There's even a property I found that's not even listed in the list linked above: Entered Stage Date.
HubSpot Wishlist: Report on Days Open for Deals
My client this week wanted to have a widget that showed how many deals have been open for 1-30 days, 30-60 days, 60-90 days, 90-180 days or 180+ days.
There currently is no way to report on this, or even just see how many days a deal has been open easily on the deal board.
This is an important thing for sales team members to be able to see!
Also, I hacked out a way to basically see this with the "hidden property" I found! If you want to hear the secret sauce, shoot me an email!
This Episode's Sponsor: Belch.io
Belch is the first truly visual builder that allows marketers of all skillsets to build custom landing pages, website pages, and emails specifically for HubSpot without needing to know how to code.
The Belch.io builder makes every marketer a HubSpot developer and reduces development time and costs by 90%.
I'm not just saying this - if any of this intrigues you, go on over to Belch.io and start creating templates for free right now!
HubSpot Updates
[Heads Up] We're Removing the Public Contact Record From Form Submission Notification Emails
"On September 17, form submission notification emails will no longer include a link to a public contact record. Recipients will now need to be a HubSpot user in order to view the contact record from these emails."
[Heads Up] Workflows Speed Improvements
"HubSpot has increased the throughput of contacts that can go through workflows by 10X.
In contact-based workflows, throughput has increased from 20 contacts per second to at least 100 contacts per second.
In some cases, you may experience a throughput as high as 1,000 contacts per second."
[Now Live] Unlimited Parent-Child Relationships
"Now live is the ability for a company in your HubSpot CRM to be associated with a child company and a parent company."
[Now Live] A Single Page for Notification Preferences
"With today's update, your notification preferences are more streamlined than ever.
Each notification type is listed on the Profile & Preferences page, with an "Advanced Preferences" dropdown under each notification type for more granular settings.
With this single page, you can quickly scan the list, configure your preferences as needed, and get on with your day."
Until Next Time
If you're listening on iTunes - head on over and leave us a review!
We love hearing your feedback, so feel free to leave some in the comments, or shoot me an email at cduffy@impactplus.com!
Until next time!
This is Carina Duffy & Marcus Sheridan saying to you, go out into the world and do some happy HubSpotting!
Free Assessment:
How does your sales & marketing measure up?
Take this free, 5-minute assessment and learn what you can start doing today to boost traffic, leads, and sales.