Hubcast 194: #INBOUND18 Reflections, Texting Contacts, and... #THEYKINDOFMADEITFREE!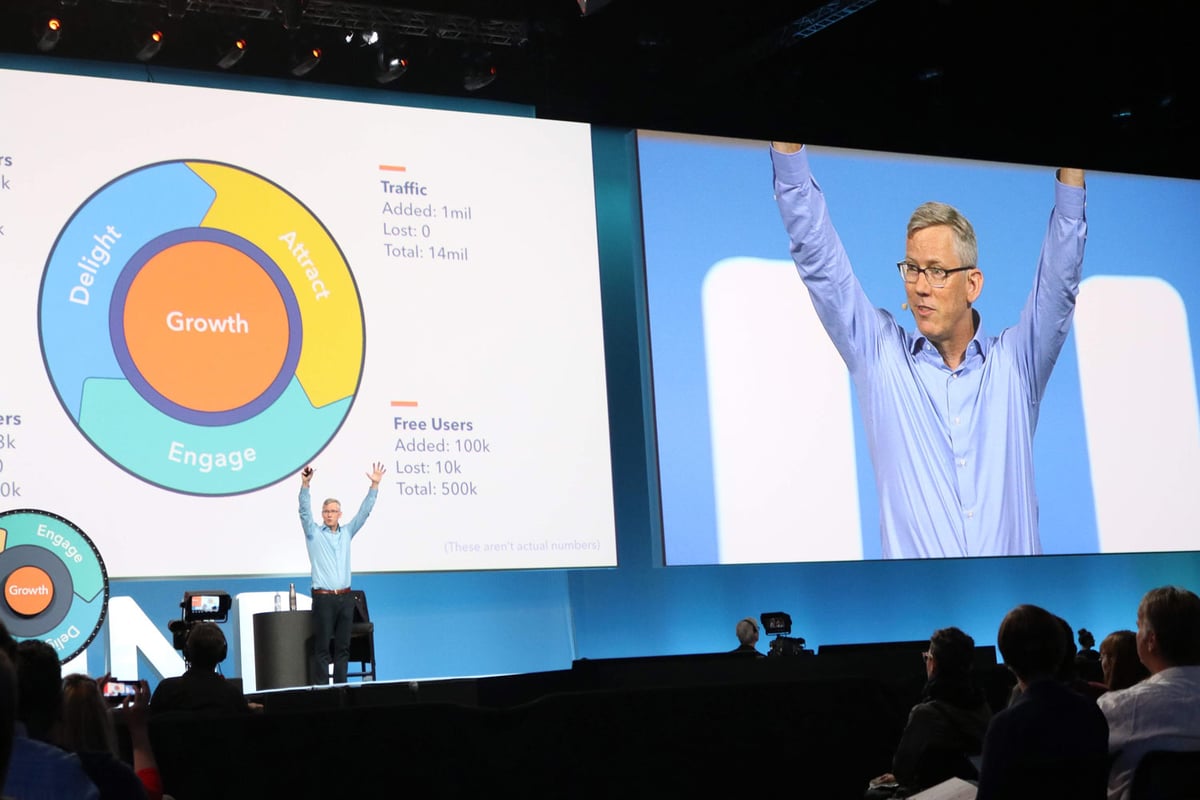 This episode of the Hubcast is brought to you by Needls.
INBOUND for the year is over, and while we'll miss it, it's time to move on to the next big thing.
To close out our thoughts on #INBOUND18, Marcus and I share the top things we liked and didn't like about the week.

Property of the Week: Hidden Reporting Properties Part 2
Deal Status
On episode 192, we introduced HubSpot's hidden reporting properties (Deals Calculated Information) that were only available with custom reporting.
Well, now, all Pro and Enterprise accounts have custom reporting WITHOUT the reporting add-on! #THEYKINDOFMADEITFREE!
"Deal status groups your deals into Won, Lost, or Open (includes all other stages) and can be used when building a custom report to show you a count of deals in each stage type."
Makes it super easy to run a report to see something like how many deals were created this month that are open vs. won vs. lost.
What's on Marcus' Mind
Brian spent most of his keynote at INBOUND talking about the "flywheel."
It's become a big topic of discussion in our circles (specifically this thread in IMPACT Elite).
Is the funnel really dead? Is the flywheel really the best analogy? Listen to the ep to find out what we think!
HubSpot Wishlist: SMS to Contacts
"Workflow seems to have internal SMS but there is no option for SMS to contacts. Thinking as a reminder of appointments it would be a great feature.
I understand there are legal issues around the use of SMS but be great if could figure a way to use it and manage that it is used within legal guidelines." - Jems212
This Episode's Sponsor: Needls
Needls. makes it easy for businesses to create, target, and optimize Facebook & Instagram Ads.
Special Offer for Hubcast Listeners: 40% off the platform for 3 months, which is $120 in savings.
The code is: NEEDLSxHUBCAST
HubSpot Updates
[Now Live] Service Hub, Feedback: Flexibility & Customization Updates
A number of feedback updates that make the product more flexible and customizable:
The ability to trigger surveys on deal, ticket, and company properties, not just contact properties.
Enhanced customization across surveys. You can now fully customize the from name, from address, subject line, and greeting across your surveys.
Ability to send one-off customer loyalty (NPS) surveys
[Now Live] Deal-based and Ticket-based Workflows
"Workflows that enroll deals and tickets, allowing you to set properties, create tasks, and send email based on those deals and tickets.
Deal workflows are available to all Sales Hub Professional users, and ticket workflows are available to all Service Hub Professional users."
WOOHOO!!
[Now Live] A New Way to Preview Your Emails
"Within the new email editor, you'll now see a "preview" button located in the sub-navigation at the top right-hand corner of the email editor.
The preview modal includes two tabs -- devices and clients. On the devices tab, you'll be able to preview your email on a desktop or mobile device. You'll also be able to preview the email as a specific contact.
The ability to preview an email within a specific email client, and the ability to generate a shareable preview link, are only available to Marketing Hub Professional and Enterprise users of the new email editor."
[Now Live] Bi-directional Sync for Salesforce Accounts and HubSpot Companies
"Recently, we released a beta of bi-directional account sync with HubSpot companies and Salesforce accounts. This feature is now available to all integrated portals. HubSpot will now create accounts in Salesforce and manage re-associations.
Now, if your Salesforce settings are set to create new contacts in Salesforce when a new contact is created within HubSpot, and that contact is associated to a company in HubSpot, we will automatically create a new account record in Salesforce for the associated company.
The new contact and account records will be associated in Salesforce just like they are in HubSpot."
Until Next Time
If you're listening on iTunes - head on over and leave us a review! We love hearing your feedback, so feel free to leave some in the comments, or shoot me an email at cduffy[AT]impactplus.com!
Until next time. This is Carina Duffy & Marcus Sheridan saying to you, go out into the world and do some happy HubSpotting!
Free Assessment:
How does your sales & marketing measure up?
Take this free, 5-minute assessment and learn what you can start doing today to boost traffic, leads, and sales.