The Hubcast is back! INBOUND 2020 hot takes (Hubcast 264)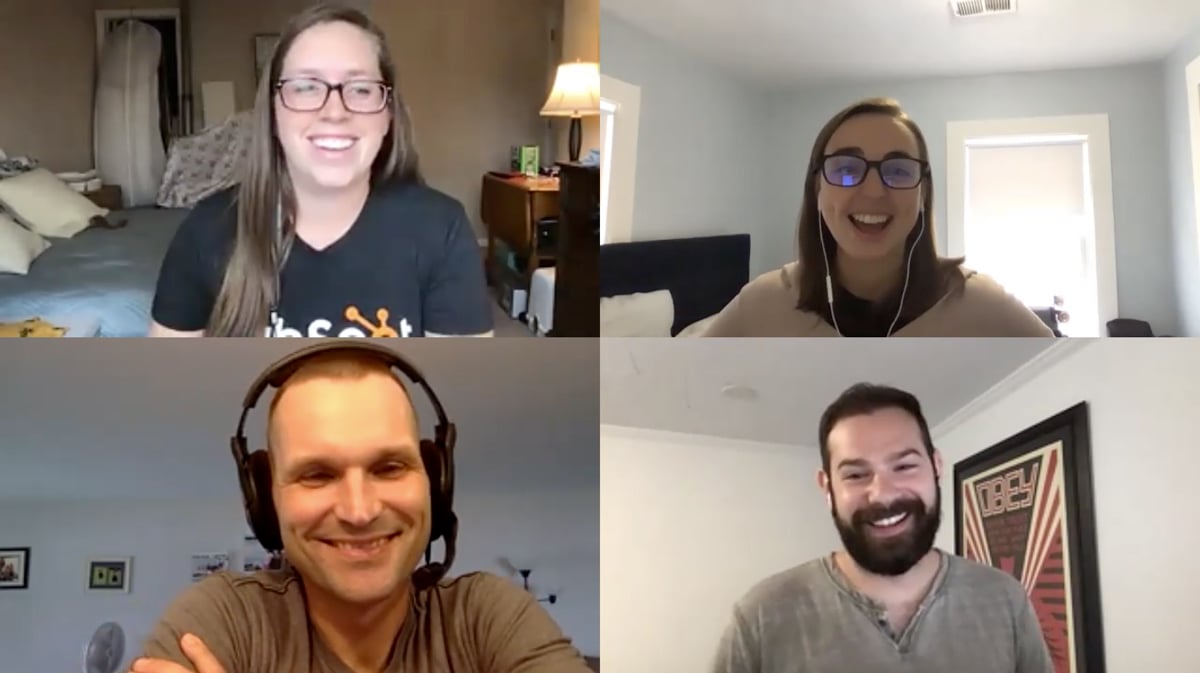 This episode of the Hubcast is brought to you by HubSpot Training Day, October 27th, from the comfort of your own laptop. Use the code HUBCAST to get your tickets for just $49! (Normally $99)
After a (slightly more than) brief hiatus, the Hubcast is back in full force with Carina Duffy, Marcus Sheridan, Stephanie Baiocchi and Nick Bennett back on the mic!
INBOUND Hot Takes
Virtual INBOUND has come and gone. Here are our thoughts:
Nick Bennett
Custom objects: "If your company's data can't be bucketed under categories like contacts, companies, or deals, this one's for you. With custom objects, you can easily organize more information you need to do your job, right inside your CRM. "
Fully baked into all automation, personalization, and reporting...
Big news for integrations! Using HubSpot's open API:
Subscriptions
Events
Shipment Information associated with Deals
Physical Assets or Properties associated with Contacts and Companies
Contracts or Licenses associated with Companies
App Usage Data associated with Companies
Nick's Reference: Salesforce vs. HubSpot is the CRM version of PC vs. Mac
Stephanie Baiocchi
Being on the advisory committee was an experience. I got to see much more of the behind-the-scenes planning than usual and all I can say is Kim Darling is a BOSS. The platform had bugs, sure, but what this team put together in such a short amount of time is nothing short of amazing.
My hot take though is the update regarding (coming soon) Marketing Contacts!
"Free storage for up to one million non-marketing contacts"
There are a million good reasons to have contacts in your CRM: bounces, unsubscribes, partners, sales contacts, one-off customer success tickets...the list goes on.
"But while the rest of your company grows your customer database, you shouldn't get stuck with the bill." - HubSpot
Carina Duffy
A few things I LOVED about virtual INBOUND:
Highlighting HubSpot Academy professors

I cherry-picked my schedule to be super product-focused, and I loved how easy it was for me to do that
The Academy professors are absolute professionals and true masters of their craft
Kyle Jepson, Anni Kim, Jorie Munroe, and Adriti Gulati's were a few I attended

I really like the UI for the session agenda
It felt a lot more like a user conference to me this year (because of the sessions I picked)
Kyle Jepsen's talk on custom objects was straight fire. If you're considering using custom objects, watching through his talk is an absolute must.
Here are the five key questions from his session to ask yourself when considering creating a custom object:
What is the "source of truth" for this data?
Should this data be dynamic or immutable?
How will this data relate to other data?
Will this data be used internally or externally?
Is this data a subcategory of other data?
Another session highlight for me was Will Spiro's talk about blurring the lines between websites and web apps with CMS Hub Enterprise — he got super technical (which I always love), did screenshare walkthrough demos and got me all kinds of fired up about CMS Hub Ent.
If you haven't kept up with recent workflow updates. Check out Anni Kim's session. Here are a few things I didn't even know were there:
Clone/move workflow actions (coming soon)
Workflow revisions history
See objects waiting in workflow delays
Sync timeline activity to workflow created deals and tickets
Export an image of a workflow!!
A few that we knew about but are worth mentioning because they're so awesome:
COMMENT ON WORKFLOW ACTIONS!!
DELAY UNTIL AN EVENT HAPPENS!!
The new Custom Report Builder beta - I'm super excited about it, BUT still wrapping my head around it. It looks like there's still some things they're building into it.
Marcus Sheridan
This says it all: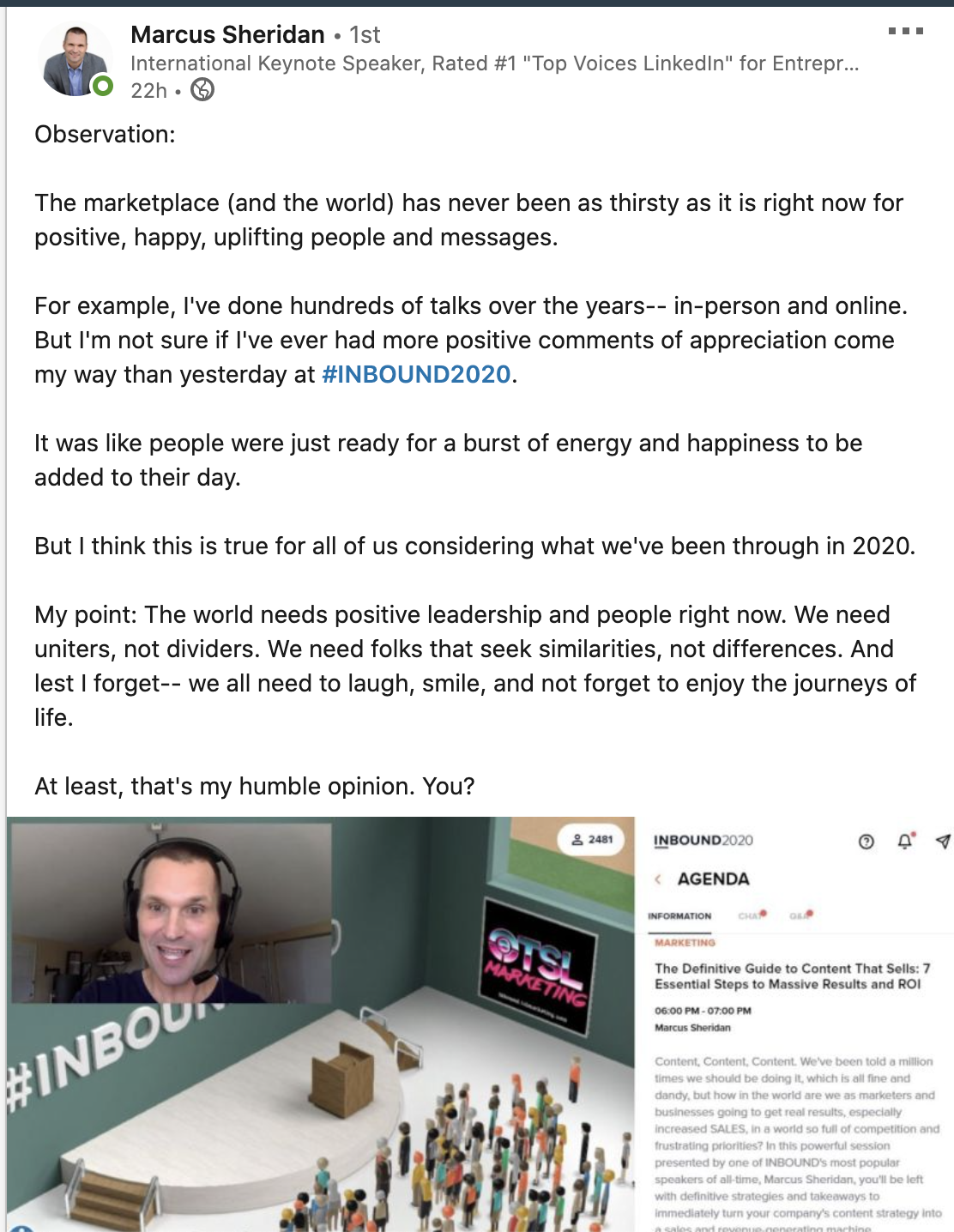 Product Announcement Recap
Thankfully, our trusty friend Lisa made an INBOUND 2020 HubSpot Updates in Less Time Than a Coffee Break video, because there are way too many updates to cover here!
Fair warning - you'll need a 20-minute coffee break to get through this one.
INBOUND's Over… What's Next?
October 27th, from the comfort of your own laptop. Use the code HUBCAST to get your tickets for just $49! (Normally $99)
Until next time
Join the HubSpot User Slack and hang out with us! It's a great place to connect with other HubSpot nerds, ask questions, and stay on top of everything going on in the platform.
Until next time, this is Carina Duffy, Marcus Sheridan, Stephanie Baiocchi, and Nick Bennett saying to you, get out there and get after it!
Free Assessment:
How does your sales & marketing measure up?
Take this free, 5-minute assessment and learn what you can start doing today to boost traffic, leads, and sales.