How You Can Take Advantage of HubSpot's New Sigstr Integration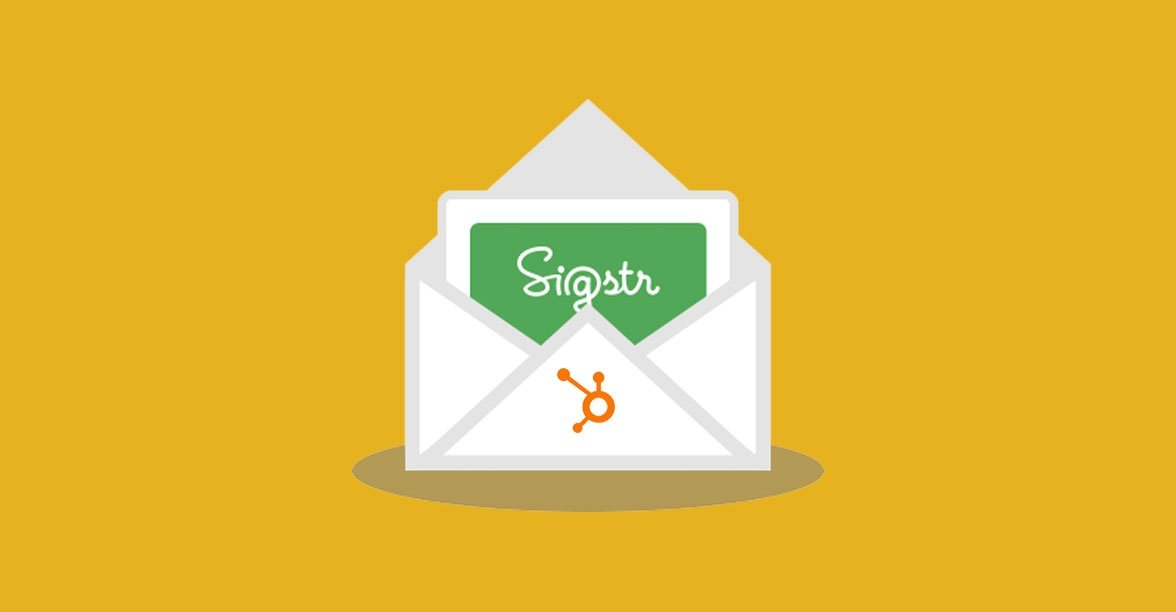 With so many digital marketing tools out on the market, sometimes it can be most effective to combine their powers to get the best results.
Luckily HubSpot has been stepping up their integration game, making more and more native integrations available in the past few months.
In 2017, HubSpot has added about 18 integrations so far including Databox, Olark, and Enthusem (both IMPACT clients). This means your marketing tools and HubSpot are even more powerful as they can share information and speak to each other.
The latest addition, email marketing tool, Sigstr is no different.
According to HubSpot, the Sigstr integration "helps personalize email marketing campaigns, sales' communications and drive leads.
By customizing email signatures with targeted CTAs you compliment and improve the results you get from inbound campaigns." Not to mention, you can make your emails look more finished and professional.
Here's what you need to know:
What is Sigstr?
Sigstr is a software that allows you to add calls-to-action directly into your team's email signatures.
"An average employee sends over 10,000 emails annually. Those emails reach a hand-selected audience of your key stakeholders. Those 10k impressions represent an untapped opportunity for brand awareness and Marketing ROI," Sigstr explains.
In fact, according to company's ROI calculator, a 500 person company could be missing out on missing out on 12,775 potential engagements.
Seeing the potential value yet?
Essentially, your marketing team will have the ability to align the entire organization and capitalize on their email reach by managing/providing promotional content that doesn't require any added work on either their parts.
You can drive traffic to a specific page (or blog, video, etc.), increase conversions by pointing readers to a landing page, or simply build awareness. Pretty much anything you'd do with a CTA on your website, can be done with a CTA in your email through Sigstr.
Many big brands are already taking advantage of Sigstr's capabilities including Roche, Angie's List, Salesloft. and Invoca.
"In 6 months, we had over 2M displays and drove more visits to the landing page than any other marketing activity," said Lesley Spellmeyer, Director of Marketing at Angie's List.
Enterprise businesses have a large opportunity to maximize their marketing efforts across all functions of the business with dynamic content, custom groups, and detailed analytics -- and now smaller HubSpot users can as well, thanks to the integration.
How to Set Up HubSpot's Sigstr Integration
Tutorial Video: Sigstr + HubSpot Integration from Sigstr on Vimeo.
Here's my blog-abridged version of how to get started. You can read the full version here or check out the video above.
Open your HubSpot Portal, click your profile photo in the upper right hand corner, and find integrations.

Search all integrations for Sigstr, click view, and connect your two accounts following the steps.

Once complete, log into Sigstr to set up a campaign.

While creating the campaign, you'll see 'connect to platform.' Click this.

Choose HubSpot in the options, then find the landing page you are promoting.
And the setup for your campaign is all set!
Once your campaign is running and sending visitors to the landing page you selected, under sources or within the tracking for each landing page, you'll find the source breakdown of traffic and leads.
Sigstr campaigns will be found under 'Email' in your sources report. You'll be able to see exactly how many, and who visited your landing page right in HubSpot!
Taking Advantage of the Sigstr Integration
Like any other marketing tool, you have to go into Sigstr with a goal.
For example, say you're marketing a meet-up in a city that you'd like prospects to attend. It would be great to target the sales team's email signatures for promotion, along with a few other tactics you're trying to drive traffic to a HubSpot RSVP landing page.
With this goal in mind, know your past performance with email campaigns, landing page conversion, team promotion etc. to gauge and measure your new traffic and engagement with Sigstr.
You'll also want to set dates/timelines to to know when to review data and potentially make adjustments for better performance.
Once you've found a good opportunity to use Sigstr, like the launch of a new product or premium offer, consider variations of the content and imagery that you could test after your first version.
When you're ready, dive in and test your strongest variation with your organization.
Here's where HubSpot comes in:
Use the information you gather from your Sigstr integration to make decisions on adjusting your landing page content and strategy.
There are two ways to think about this data:
If you're past your pre-set timeline on testing a variation for your campaign and the traffic is less than exciting, go back to the targeted employees or the content on your CTA. Either might need adjusting to maximize effectiveness.
If the traffic is pretty good, but leads aren't great, consider looking at the content on your CTA or the landing page copy. Perhaps the two aren't lining up with the person's initial expectations.
If the landing page is pretty strong and represents your campaign well, the CTA might need adjusting (but be careful though, because it was bringing in traffic!). If your landing page could be improved - try simplifying and matching the expectations you set on the CTA as a starting point.
The biggest takeaway here is that you need to set goals, measure effectiveness, and be ready to make adjustments. -- That goes for Sigstr or any campaign you may be running!
Sigstr is just one of the newest integrations with HubSpot, so keep these suggestions in mind if you see a new integration come through! If you're already using the Sigstr integration with HubSpot, let me know! We'd love to update this article with real-life examples from you. If you're not already using it, test it out!
Your team's email signatures may be an extremely valuable untapped source of traffic and leads.
Free Assessment:
How does your sales & marketing measure up?
Take this free, 5-minute assessment and learn what you can start doing today to boost traffic, leads, and sales.