My HubSpot Training Day agenda for content managers (on October 27)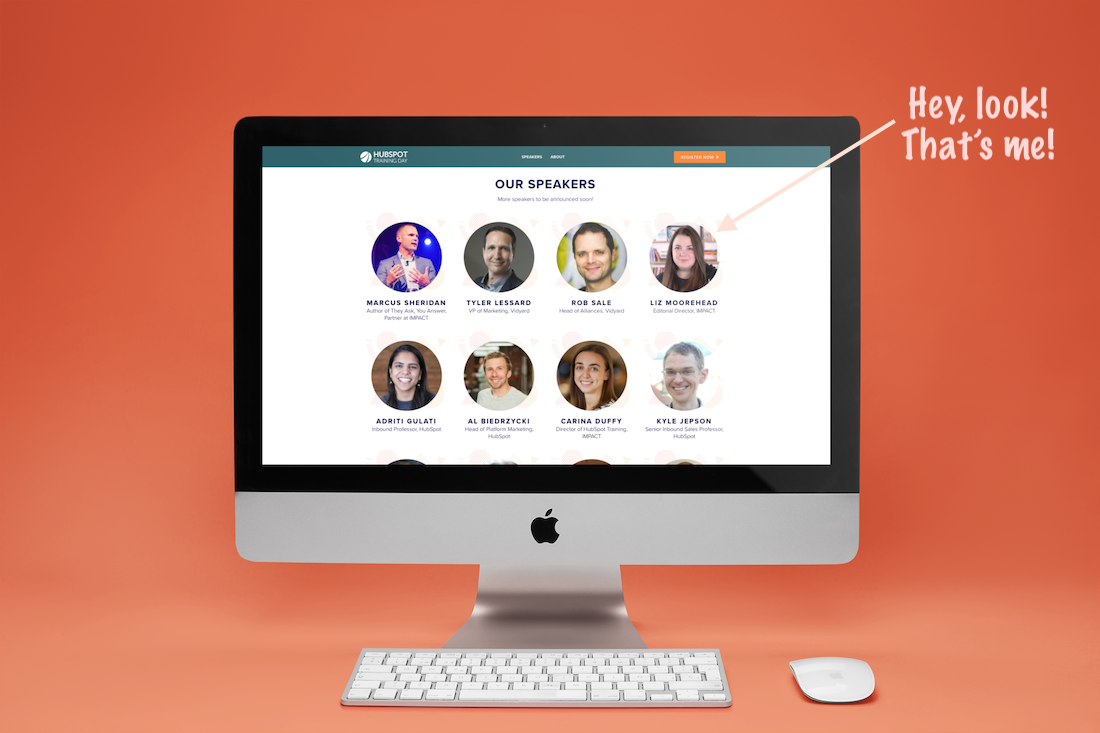 Remember, in the "before times" (as I'm choosing to call them), what it was like to go to live, in-person conferences? Sigh.
Oh, how I took for granted being trapped in convention centers for weeks at a time, fresh air a distant memory as I jockeyed to get a spot along the wall with an outlet, because my phone was already limping along at a meager 19% by the time 11:30 a.m. rolled around each day.
There is one thing I don't miss, though.
Going to marketing events and conferences that swear up and down they have plenty of "actionable, value-packed" sessions for content nerds like yours truly, only to be met with a bunch of "Have you heard about this thing called blogging?" nonsense, 101-level sessions.
Well, I have some good news for you, comma wranglers and storytelling bosses. Those days are behind you.
Not only is yours truly speaking at our upcoming virtual HubSpot Training Day event on October 27 — the day after my birthday, I might add 🎉 — there are definitely can't-miss sessions for content managers, content specialists, and content writers who work at companies leveraging HubSpot (or are considering it).
What are they? Well, I'm so glad you asked.
10 a.m. HubSpot 101: a Complete Overview If You're Just Getting Started
(must attend)
Session description
Whether you're just getting started with HubSpot or are still on the fence, this session will give you an overview of how to get the most out of your investment with HubSpot. Starting with quick wins, examining the key steps to a successful implementation at your organization, and how to set yourself up for long term success, this is a can't-miss session for all new or prospective HubSpot users.
Why must marketers attend? OK, I just made a big stink about hating 101-level content in the introduction, so me selecting this for you makes me sound like a big ol' hypocrite. But hear me out before you grab your pitchforks and torches.

The key to success with your content is your ability to leverage the CMS (content management system) you're using to its fullest potential. Even if you're a seasoned HubSpot pro, this is a great way to ease into the day with a session that will guarantee that you're absolutely maximizing HubSpot for your content.

Also, HubSpot is always tweaking and updating its platform, so the idea that you know exactly everything it has to offer simply isn't possible. And that's a great thing! (Heck, I'm going to be attending it, too.)
10:30 a.m. HubSpot Video Masterclass: Video Sharing and Reporting
(must attend)
Session description
Master the fundamentals of HubSpot Video for publishing video content online and sharing personalized videos with your customers. Dive into brand new features for advanced video analytics and reporting, and learn how to take your video strategy to the next level with premium offerings from Vidyard.
Why must marketers attend? I don't know about y'all, but half of the content strategy I govern for IMPACT is video. If you're unsure as to why this should be the case at your company, read this article. I'll wait.

Awesome, now that we are all on the same page about how important video is to helping you establish trust with your ideal buyers (and you know precisely what videos you should be creating), let's talk about this session.

One of my favorite parts of HubSpot as a content ninja is HubSpot Video, powered by our pals at Vidyard. For example, when you add upload and embed a video with HubSpot Video into a piece of content, you'll get tons of new data on the details page (usually reserved traffic and conversions) on how many people watched your video and (most of all) for how long.

In this session, the masterminds at Vidyard will give you even more insights and details on how to master the HubSpot Video tool, as well as how to do advanced reporting, so you can even better show the value of the video content you're producing and publishing, along with your written strategy.
12:15 p.m. Don't Worry, HubSpot Integrates with Everything
(should attend)
Session description
Discover and learn how to grow better by integrating HubSpot with over 100+ apps and web services you use every day.
Why should marketers attend? HubSpot has more than a hundred integration options with trusted parters like Wistia, Zapier, Facebook, Instagram, Slack, Uberflip, Writer Access, Beacon (blog post to e-book creator), Verblio, and scores of other platforms adored by content management nerds around the globe.

So, hang out with our HubSpot pal, Al Biedrzycki, to learn about all of the ways you can supercharge, streamline, or otherwise improve your content strategy processes. (For example, if you use outside platforms to create your content, many integrations are centered around automated migration to HubSpot, without copying and pasting.)
2:30 p.m. How to Show Your Content Makes Money with HubSpot Marketing and Sales Hubs, with your girl, Lizzle
(must attend)
Session description
Day in and day out, you're busting your little booty to get revenue-generating content produced and published. As the days, weeks, and months roll by, you see the numbers tick up. You see how content is being used throughout the sales process to close deals.
But you still struggle to get the rest of your company to see those wins and be excited about content. If this sounds familiar, this session is for you.
In this tactics-packed session from IMPACT Editorial Director Liz Moorehead, you'll get a behind-the-scenes look at her favorite hacks, tips, and tricks for using HubSpot Marketing and Sales Hubs to measure content marketing ROI.
You'll also learn her time-tested processes for reporting on those wins so that everyone in your company — including sales — catches the vision of how content makes money for your company.
Why must marketers attend? Even if you only have HubSpot Marketing Hub. Even if you're still only considering getting HubSpot, you absolutely must be at this session. And I'm not just saying that because it's my session; it really is that critical to your success.

See, if you can't prove your content makes money, you're going to have a serious problem justifying your strategy, your role, and everything it is that you do. And occasionally showing traffic and lead jumps isn't going to help.

On top of that, you'll learn how to run an amazing reporting strategy, even if one day you decide to stop running HubSpot. In fact, you'll be able to walk away from this session and immediately start implementing my recommendations without needing clearance from a higher-up, because my powerful reporting techniques are really that simple and powerful.
What else you need to know
In addition to these powerful sessions, there will also be opening and closing keynotes (details still under wraps!) that will help you set the tone for your day, inspire you to create growth with the rest of your team through the content you manage, and (in some cases) make you laugh.
There will also be a hilarious lunch time surprise. I wish I could tell you more about what it is, but I've been sworn to secrecy. You'll love it, though.
The other thing I'll say is this. Yes, I'm a little biased because I'm an IMPACTer, but this is our third virtual event. And, after participating in Digital Sales and Marketing Day and Virtual Selling Summit as a speaker and as an attendee, I can't begin to tell you how fun, engaging, and tactical they truly are.
So, get your ticket now before prices go up, word nerds. I expect to see you in some of the chat rooms for each session. And if you see my name pop up, say hi!
Free Assessment:
How does your sales & marketing measure up?
Take this free, 5-minute assessment and learn what you can start doing today to boost traffic, leads, and sales.