Subscribe
Join 40,000+ sales and marketing pros who receive our weekly newsletter.
Get the most relevant, actionable digital sales and marketing insights you need to make smarter decisions faster... all in under five minutes.
Thanks, stay tuned for our upcoming edition.
HubSpot's Mobile App: Access the Best of HubSpot Anytime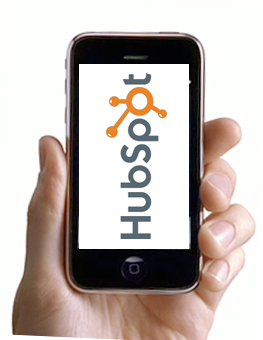 If you are an iPhone user who uses HubSpot's software to assist your marketing efforts and you do not yet have their mobile app, then you are missing out! HubSpot's mobile app allows you to have your favorite HubSpot tools within reach at all times. The app is completely free
to download, so there is no reason not to check it out.
The app itself is nothing new but, after their most recent update to include social media publishing, it is as good of a time as any to look at all of the great aspects of HubSpot's mobile app.
The HubSpot app gives you a great opportunity to access all of your HubSpot accounts even when you are separated from your computer. Under each account you will have access to five very familiar tools.
HubSpot's Mobile App Tools:
Dashboard
Everything on the mobile dashboard should seem very familiar, considering it looks exactly like the desktop version of the dashboard. Your mobile dashboard will present you with your visitor and lead information for the current month. From here you can easily compare your traffic and conversion numbers to previous months or the entire year. You can also check out the goals tab to see how you are progressing towards your current objectives.
Sources
The sources report tab on the HubSpot app will help you to quickly break down your visitors, leads, and customers by origin. The default screen presents you with all of your source information in an easily sortable graphical format. If you prefer looking at the hard numbers, HubSpot has you covered. Just select the sales funnel button in the bottom right corner to view the numerical breakdown for each source.
From the sources page you can easily compare how your various channels have been performing over time. By default you are presented with your monthly, quarterly, and yearly time frames, but you can easily customize your own time period by simply selecting the "..." button. Now you can determine which of your efforts are producing results and which efforts you may want to revamp before you even arrive at the office.
Grader
Want to see how your website is currently performing? How about your competitors? From the grader tab you can easily enter any URL of your choosing to see how that webpage and its linked social media outlets are performing.
In a matter of seconds you will be presented with a grade along with details of how your offers are performing and where they can improve. Both the Top of the Funnel and Middle of the Funnel buttons will provide you with a specific To Do list and a breakdown of how your blog, SEO, mobile, and social efforts are contributing to your success. Find something concerning? The grader page allows you to quickly share the information with your team, so they can get a jump on tackling any problems before you even arrive at the office.
Contacts
Your contacts page will present you with all of your prospects, beginning with the most recently acquired. You can search for a specific contact to easily update their information or reach out to them if they are a qualified lead.
Beyond the basic information, you will also receive access to information about the contact including:
Form submissions

-Shows all forms that your prospects have filled out
Offer types-Includes everything that your contacts have been viewing
Analytics-Details number of page visits, first visit, and most recent visit
Conversion information-Includes conversion count, first conversion, and most recent conversion
Social media-Documents all interaction with your company's social media activity
Salesforce-Provides information for linked Salesforce accounts
Opportunity details-Maps out every interaction that makes this contact an opportunity
The contacts page provides you with all of the information you need to determine who your quality leads are, and reach out to your qualified leads.
Social Media Publishing
Image courtesy of HubSpot Academy
HubSpot's newest addition to their mobile app is their social media publishing option. After this update, you can now post content to your Facebook, Twitter, or LinkedIn profiles at any time. This new feature even gives you options for how to post your content.
If you want to craft a social media post from scratch, all you have to do is click compose and type your message. You can then add a picture, schedule a release time, and choose which outlets you want your post to go out on. All of your schedule posts will then be neatly displayed on the main screen of the publishing tab where they can easily be edited on the fly.
So creating your own content seems pretty simple, but what about if you want to share a webpage? Believe it or not, HubSpot made that even easier than posting from scratch. HubSpot's media publisher links directly with your web browser so that you can easily share any webpage at any time. Just save whatever page you want to share to your clipboard, and open the HubSpot app. You should see an option to share the page pop up on the bottom of the screen. Just pick your preferences and wallah! It's as easy as that.
Takeaway
If you have been using HubSpot's app since its release, you are likely familiar with four of these features and have probably been experimenting with their newest publishing feature over the past few weeks. If you are not currently using HubSpot's mobile app, consider trying it out. It has a very easy to follow interface and will let you take the HubSpot tools that you love with you wherever you go.
Any Android users out there looking for the app? Be patient! HubSpot has an Android application in the works, so stay tuned.
Free Assessment:
How does your sales & marketing measure up?
Take this free, 5-minute assessment and learn what you can start doing today to boost traffic, leads, and sales.