#INBOUND19 Recap: Dharmesh Shah & Brian Halligan Keynotes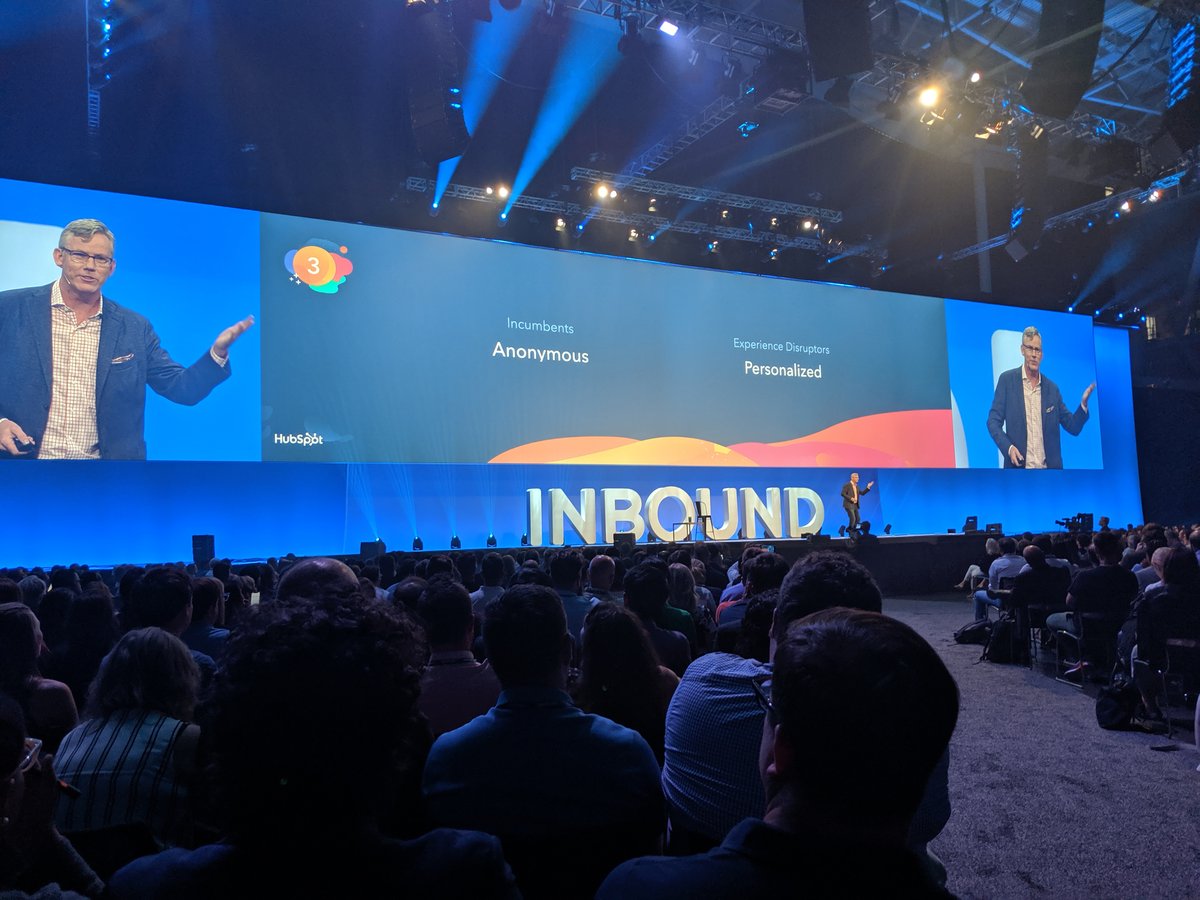 The HubSpot keynotes at INBOUND 2019 opened with a video about growing your business.
The video talks about how we're told to "grow at all costs" but how HubSpot knows the best path is to Grow Better.
The video challenges us all to Grow Better and welcomed HubSpot CEO and co-founder Brian Halligan to the stage.
You can watch the video here:
Brian Halligan: Disruptors
Brian opened his talk by showing everyone his evening routine. He and Romeo (his dog) go home, put some Grateful Dead on Spotify, open up Romeo's Chewy box, shave with Dollar Shave Club razors, order food from Grub Hub, and watch Netflix, and fall asleep on a Casper mattress.
Brian pointed out how all of these companies are disrupting the marketplace. Everything is changing in our consumer lives, and "incumbent" companies are getting left behind.
But what about the business world? What about B2B?
This time Brian shared his morning routine, which includes heading to WeWork, hopping on Slack to talk to Dharmesh, scarfing down a sandwich from EasyCater, hopping on Zoom and having a great conversation with AWS.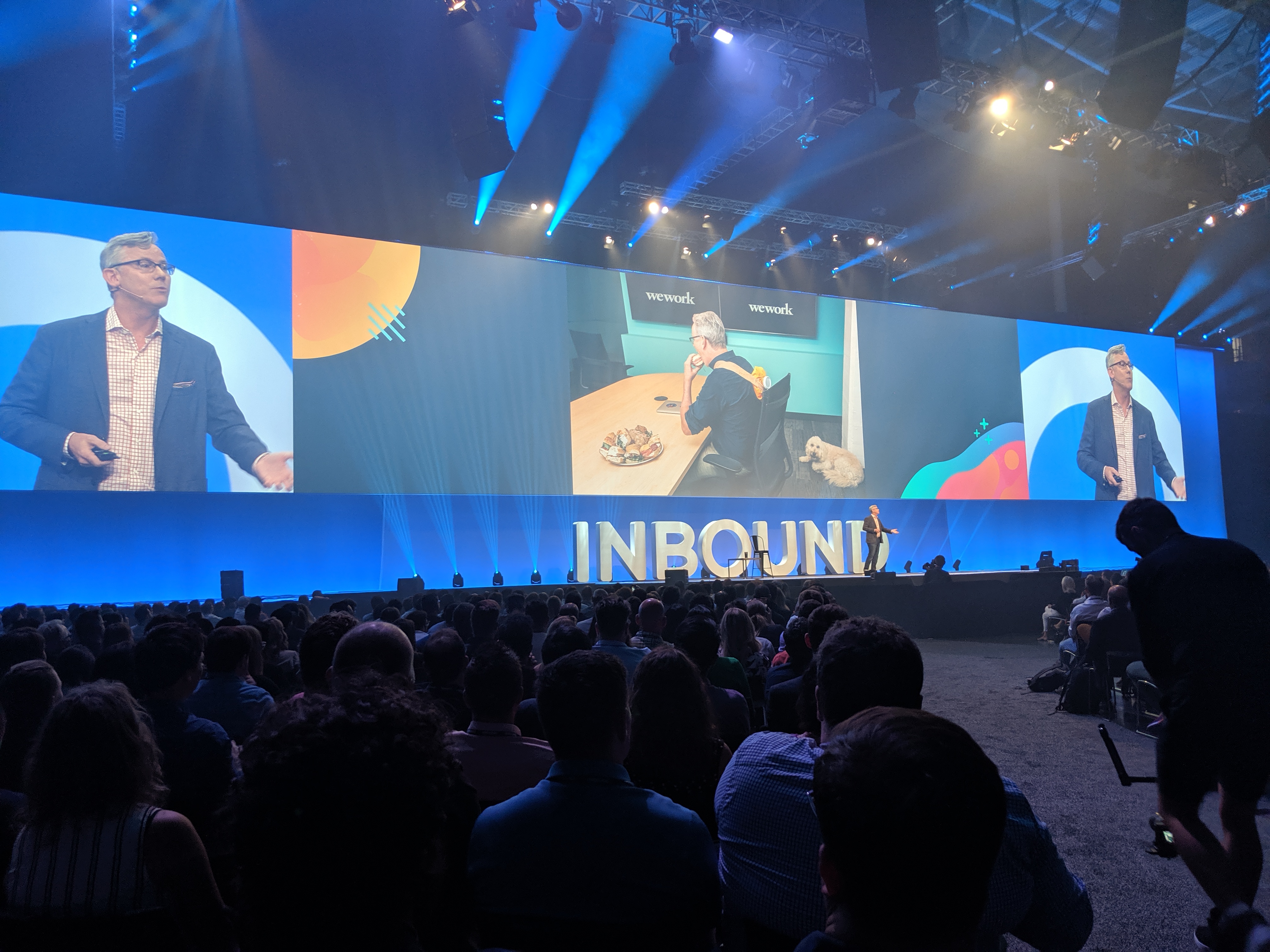 Brian shared how the word "disruption" is high on the list of words that are way over-used and way under-understood. When we hear "disruptors" we think about technology disruptors. But what we're really talking about with all of these amazing disruptors that are part of Brian's entire day is that they are "experience disruptors."
Experience disruptors
Experience disruptors have five genetic adaptations that make them successful. Brian showed how all of these prove that for experience disrupters, how they sell is why they win.
1. Incumbents think about product-market fit, experience disruptors think about experience-market fit. Carvana set out to create a whole new way to buy a car. They proved that great products matter but a great product with an even better experience will win every time.
2. Incumbents' flywheels are friction-filled, experience disruptors' flywheels are frictionless. The president of Atlassian said "software should be bought, not sold." The Atlassian marketing departments are using B2C tactics (even in the B2B world). Atlassian has no sales reps, and offers no discounts.
3. Incumbents give prospects an anonymous experience, experience disruptors give prospects a personalized experience. These companies are effectively ultra-modern hospitality companies. Netflix CEO Reed Hastings said "we avoid psychographics" (aka personas). They replace the persona with a segment.
There were other examples and in all of them, the brands used data to hyper-personalize your experience.
But be careful, you CAN over-personalize.
4. Incumbents are great at selling TO their customers, experience disruptors are great at selling THROUGH their customers. Glossier CEO Emily Weiss encourages their customers to create content about their products, specifically YouTube video reviews. This is how they sell through their customers.
5. Incumbents are business model followers, experience disruptors are business model busters. Brian shared a story about Romeo's favorite experience disruptor: Chewy. Brian ordered a shirt for Romeo that was too small. Customer service said give the small one to a friend, we'll send you a large one.
The founders of these companies have a healthy disdain for conventional wisdom. They focus on thinking about how to add value to their customers. How they sell is why they win!
Your superpowers
All of us have routines, and this Monday, we'll all have a choice on whether we go back to our routines, or whether we'll embrace these five new experience disruptor plays.
In summary:
Get Experience-Market Fit
Remove Friction
Personalize
Sell Through Your Customers
Attack Your Business Model
How you sell is why YOU'LL WIN.
Watch Brian Halligan's keynote recording here:
Dharmesh Shah: Facing Fears: Growing Better by Growing Bolder
Dharmesh opened his talk by sharing some of his biggest fears: both professionally and personally.
Dharmesh's biggest fears were the low battery warning, making eye contact, and water.
How we face our fears is what defines our destiny, and how we overcome them involves multiple things coming together.
Facing fears often involves the intersection of different but complementary things.
As a startup, at first you fight death, next you fight stagnation, then you fight complexity.
Five fears you'll need to face on the path to growing better
Not all fears are bad — some are worth fearing. You have to pick the right ones to pay attention to.
1. The fear of commitment
A hesitation to commit often stems from wanting to hedge your bets. The result is uninspired compromises (avoiding decisions altogether). When you commit to nothing, you compromise everything.
Dharmesh shared how, at first, HubSpot couldn't commit to exactly who their customer-base was going to be. They learned they needed a combination of a market that's big enough to grow, but small enough to delight.
When you narrow your focus, it's easier to grow and to delight your customers.
A lack of delighted customers isn't the quickest way to kill growth, but it is the most reliable.
We fear unwavering commitment, but we should really fear uninspired compromises.
2. The fear of differences
HubSpot initially had 6 male MBAs from MIT running the company. Dharmesh said that looking back, focusing so little on diversity was one of the biggest mistakes they made in the early years.
The best time to build with diversity is when you're just starting, the next best time is now. Being different is not just okay, it's BETTER.
There's a fine line between "this person is a culture fit" and "this person is a clone of me."
You need people who reflect who your customers are. How do you know if you're correctly hiring for culture or convenience? Your people should add to your culture.
Communicate your culture — clearly articulate what you value, who you value, and how you operate.
We fear discomfort of differences, we should fear surrendering to sameness.
3. The fear of change
For decades, the Business Roundtable defined a corporation by delivering shareholder value, until two weeks ago. Now the top two things are delivering value to customers and investing in employees (before shareholder value).
Dharmesh explained how the future of work is flexibility (geographic, schedule, method). Customers want to connect where, when, and how they want. Employees want to work where, when, and how they want. Respect remote employees. They help you, your team, and your company GROW.
We fear change, we should fear stagnation.
4. The fear of disappointing
Customers love having the freedom of choice, but we hate the complexity of choosing.
We fear disappointing a few, we should fear not delighting the many.
5. The fear of inferiority
Dharmesh shared how you have to built trust first. Make your business do things customers want, and not do things customers don't want.
Take the Oath of Experience: we will deliver the experience, the whole experience, and nothing but the experience.
We fear being inferior, but we should fear being untrustworthy.
Fears can be overcome in small steps. Listen to one piece of customer feedback. Make one person feel more included. Magic happens when you face your fears and combine different but complementary things.
You can watch Dharmesh's keynote recording here:
Free Assessment:
How does your inbound marketing measure up?
Take this free, 5-minute assessment and learn what you can start doing today to boost traffic, leads, and sales.
Get Started
Free Assessment:
How does your inbound marketing measure up?
Take this free, 5-minute assessment and learn what you can start doing today to boost traffic, leads, and sales.