Instagram tests AR ads to enhance shopping experience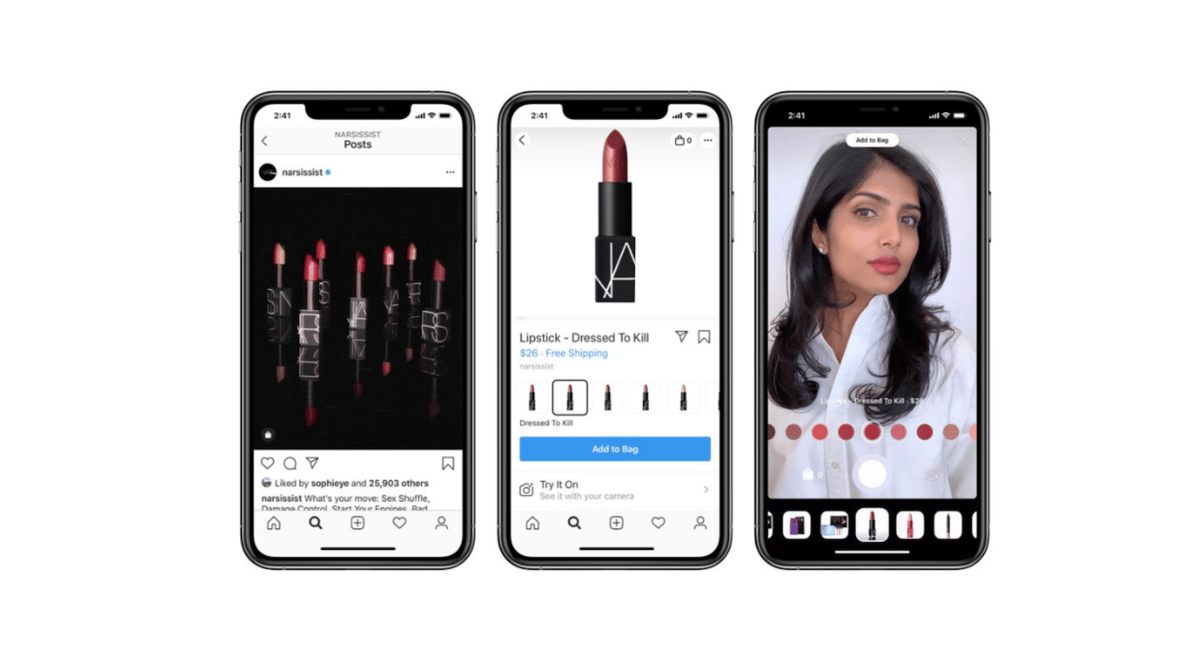 Instagram will begin taking advantage of augmented reality (AR) ads this year after assessing the technology's growth on Facebook.
Join the IMPACT coaches for a deep dive on a new topic every month in our free virtual event series.
Instagram enjoys a network of over a billion users, and AR is growing in popularity and sophistication — so the two together is certainly big news. Instagram's AR ads promise an integrated user experience that should help customers engage meaningfully with brands and products.
At this point, only a select handful of brands have access to the feature, but we can expect a broader rollout in the coming months.
AR "try-on" ads
Augmented reality ads combine a user image or video with a virtual object (using a "face tracker") or a virtual material (using a "face mesh"). The result is an approximation of the user "wearing" that object or material — that can then be shared via Instagram Stories.
These "try-on" ads allow customers to take pictures with a particular product or include that product on their photos. AR ads include features such as face distortion and face zoom to give users a thorough review of the product before making a purchase.
These ads are similar to those released on Facebook last year, which were quickly embraced by users.
Considering that the technology exists and is good enough, AR ads are a no-brainer for both the platform and brands. Not only is it a hot trend to jump on, but AR ads also allow customers to experience a product in a way they often can't online.
Who can run these ads?
At this point, Instagram is only offering this feature to select brands — all of which sell eyewear or beauty products. Think about it: there really is no way to tell if that one shade of lipstick will look great or not with your complexion.... except by trying it on.
"Beginning today, a handful of brands that sell their products directly on Instagram will be able to add a new augmented reality try-on feature to product pages. Initially, the new AR feature will be limited to cosmetics (Mac and Nars are early partners) and eyewear brands (Warby Parker and Ray-Ban), but Instagram plans to make it available for more products over time."
Are AR ads the future?
With Facebook, Instagram, and Google all testing or implementing AR ads, we can guess the technology is here to stay — and it is only going to become more sophisticated, seamless, and immersive in the future.
If you advertise on Instagram and your product or service would benefit from and AR ad, keep a close eye on the platform as it tests and rolls out this feature.
For a long time, a true impediment to online shopping has been the fact that shoppers can only try on merchandise in an actual store. Just as free shipping did a dozen years ago, AR ads promise the chance to knock down this big barrier to online shopping. With AR ads, online shopping is one step closer to offering a complete shopping experience.
(Image source: Mashable/Instagram)
Join the IMPACT coaches for a deep dive on a new topic every month in our free virtual event series.
Register Here
Join the IMPACT coaches for a deep dive on a new topic every month in our free virtual event series.
Published on October 9, 2019