New LinkedIn Messenger Tools Make Setting Up Meetings Easier Right In Chat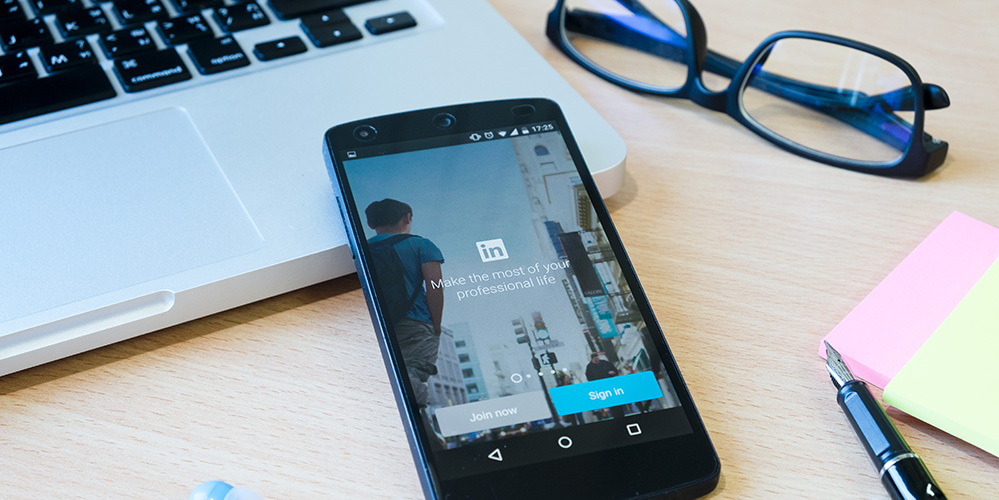 Last week, LinkedIn announced new features in LinkedIn Messenger on mobile to make scheduling meetings with other members as easy as possible.
After hearing from many members that they often coordinate meetings with those they chat with on its Messenger feature, LinkedIn set out to streamline the process.
Members can now share availability and allow the other person to choose a timeslot based on their own availability directly in their mobile chats.
Additionally, members can find and mention locations directly in Messenger, even sharing their current one-time location easily.
LinkedIn knows its members seek to nurture their own professional community, and the best way to do that is by staying in touch and setting up a time to chat.
The most important details are when and where, so LinkedIn has built these capabilities right into the product to save members time and frustration.
Share Your Availability to Schedule Meetings
Let's be honest, scheduling is a pain.
You often have to switch back and forth between apps, identify two to three different time slots, coordinate with the other person, schedule on the calendar, etc.
LinkedIn identified that this type of behavior is not only taxing, but the complexity of it all can actually prevent in-person meetings from happening, so they sought to change it.
Members can now share their availability directly within a conversation you're having in the LinkedIn app.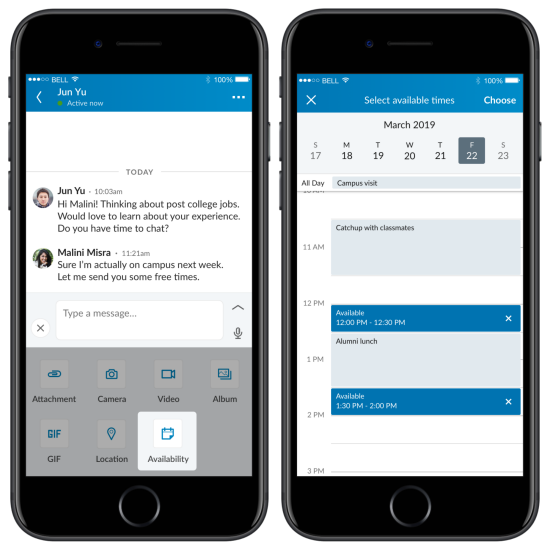 Members only need to tap the calendar icon to reference their default calendar on their phone, then select the available time slots to propose.
In the near future, members will also be able to see if a proposed time works and send a quick confirmation. All through LinkedIn Messenger!
This feature is currently available to all members on Android and will be rolling out to iOS soon.
Also, Quickly and Easily Find a Place to Meet
Staying in touch with a virtual network is commonplace in 2019, but face-to-face meetings are an untapped, valuable way to strengthen relationships.
LinkedIn has identified that 67% of people have met up with a professional contact outside of work and they're looking to help foster that type of relationship building.
To make it easier to find a location for an in-person meetup, you can use LinkedIn Messenger to send a location to a connection.
Members have two options. First, you can share your one-time location, which is exceptionally useful when you want to set up real-time meetings.
LinkedIn envisions users will use the one-time location feature while on business trips or at a conference when a member's locale is less familiar to them.
The second option is available by tapping on the map pin icon in the message compose box in either the LinkedIn Android or iOS app.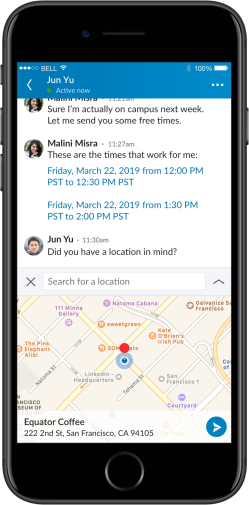 Simply search for a meeting place and tap send.
LinkedIn has absolutely crushed streamlining the process to help its members make meaningful connections much more efficiently.
What Does This Mean for Marketers?
LinkedIn is striving to help you foster more meaningful professional relationships.
Having a community of like-minded professionals to exchange ideas with, solicit advice, or just to chat about trends with, contributes to more productive and successful individuals.
Roughly 70% of professionals say their support system is one of their top factors contributing to success at work.
Having these tools available, in the proper context (right inside LinkedIn Messenger), makes these meet-ups more likely to occur, lifting the entire community up as a whole.
For your sales team, this can be an incredibly useful new tool as well.
The next time your sales team attends a conference, they can quickly and effectively identify meetup points with prospects who may be attending the same conference.
While both parties are in the same location, they can then take their conversation off-platform, furthering both their professional connections and the prospect through your sales funnel.
Even if they purely met and are prospecting someone on LinkedIn, this could help take the conversation to the next stage more efficiently.
What's Next?
LinkedIn is committed to building a product that makes it as efficient as possible to connect with our professional community.
This video explains the new features covered in this article today, as well as improvements currently on the horizon.
Images courtesy of LinkedIn.
Free Assessment:
How does your inbound marketing measure up?
Take this free, 5-minute assessment and learn what you can start doing today to boost traffic, leads, and sales.
Get Started
Free Assessment:
How does your inbound marketing measure up?
Take this free, 5-minute assessment and learn what you can start doing today to boost traffic, leads, and sales.
Published on March 29, 2019