3 major MarTech trends to know before 2020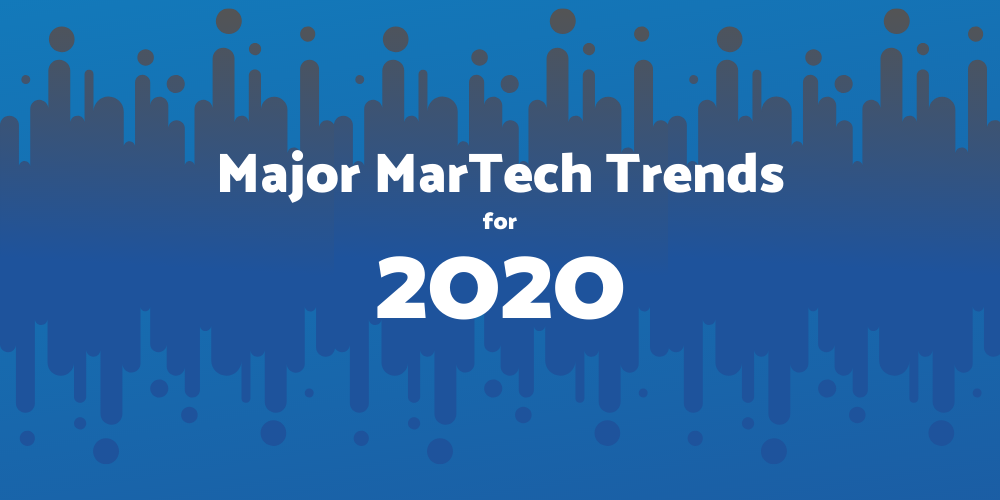 It's official.
I cannot keep up with how fast marketing and sales technology are growing.
New tools pop up daily.
Established tools are changing and updating so fast that as soon as you feel like you've mastered them, you're smacked right back into learning mode.
In all honesty, I think it's all a conspiracy to make my tool reviews go out-of-date as fast as possible.
I'm onto you, MarTech.
So instead of looking at a laundry list of individual software updates and launches, we're going to examine some of the major MarTech trends from 2019 that are going to continue into 2020.
The growing ecosystem of integrations and APIs and the battle to be your centralized hub
Unlocking your entire team's potential with "no-code" tools
Sales and marketing facing a privacy and ethically-focused world
If you are aware of these trends, you'll be in a good position for 2020.
And if you can get ahead of them, you'll be better prepared for the inevitable advancements that are going to come within each.
Let's dig in.
Editor's Note: The tools on this page and links therein may provide IMPACT with compensation for signups (we specify which links and offer non-affiliated alternatives). This in no way affects IMPACT's recommendation of the tools.
1. The growing ecosystem of integrations and APIs and the battle to be your centralized hub
How many tools do you use for your sales and marketing efforts?
If you can count them on one hand, you're either incredibly lucky or you're living under a rock.
Neither of which is bad, especially if it's working for you!
But for the rest of us, we will probably run out of fingers counting the tools we use before lunch.
Most tools know they are only a piece of your software jigsaw puzzle, so they are investing in their integration and API functionality. This makes them more useful regardless of the rest of your technology stack and gets you more invested in their software specifically.
If you're evaluating a new tool and you see it works with what is already entrenched in your organization, you're much more likely to adopt it (or at least not overlook it).
A perfect example of this is HubSpot.
With their full suite of tools (from empowering your sales team, to tracking your marketing campaigns, to supporting your support staff), they could be considered an "all-in-one" solution for your sales and marketing efforts.
Even so, they know that their users need to integrate with all kinds of separate best-in-class or organization-specific tools.
That's why HubSpot has been pushing their open platform integrations ecosystem for the last few years.
They know they can't do everything for your business well, but if they can be the hub that links everything together than you are far more likely to stick with them long term. (Note: They're now up to 350 app partners.)
This trend is mirrored across the industry.
Typically considered an email marketing tool, Mailchimp recently expanded into an all-in-one marketing solution this year.
Since they are typically focused on smaller businesses, this is a good move for them.
Smaller businesses tend to have fewer employees and less to spend on software, so offering more tools under one roof makes Mailchimp more appealing and cost-effective.
I can see the wheels turning for you. Surely they aren't focusing on many integrations after such a push to be an all-in-one tool, right?
Quite the opposite.
Mailchimp has 228 integration partners. And that number continues to grow.
Zapier is another example. They act as the glue between all kinds of software, enabling events in one tool to trigger an action in another.
At the end of 2013, they had a little over 250 integration partners. Today, they have over 1,500.
What does this mean for you in 2020?
First of all, if you're using software that doesn't integrate with anything then you may want to look for an alternative.
If you must use it for your particular industry, a company like Moneypath may be able to help you link it to your other systems. They help sync data records between all kinds of software, whether it's something off-the-shelf or completely custom, making sure your data is never isolated (and they can help with migrations between tools as well).
The more available your data is between systems, the more available it is to be used to best fit your organization.
If you are using a lot of tools but you don't have one acting as a "single source of truth," then consider finding one. This would generally be your CRM, but could be another data source.
At the very least, keep an eye out for new integrations and APIs for the tools you're already using.
There's a very good chance that many of them will get expanded support over the next year, and you may be able to connect your tools and data in new and novel ways.
2. Unlocking your entire team's potential with no-code tools
What percentage of your organization cannot code?
I'm going to go out on a limb and say it's probably the vast majority.
Well, you're in luck because the number of no-code tools on the market is growing dramatically.
Okay, what the heck is no-code?
No-code tools are visual-based software applications that allow non- or less-technical people to do things that previously had to be done by web developer (aka coder).
Why is that important?
Because these tools break down the barriers of creation. They enable you and your organization to do more and move faster than ever before without needing the help of a web developer.
One of the best examples of no-code tools is Webflow.
Webflow is a visual website building platform that does an excellent job of converting what used to take code into a visual editor format.
Build full-blown websites with customized CMS options, add e-commerce capabilities, convert AfterEffects Lottie animations into website event-triggered animations, and so much more.
They also do a great job of highlighting the importance of the no-code movement in this video:
I'm a developer, and this still gives me goosebumps every time.
If that wasn't enough proof, Webflow also recently hosted the first No Code Conf (you can watch the talks at that link).
The event sold out, bringing over 400 attendees together from around the world (plus those watching virtually) to learn about what's possible with no-code tools and what the future holds.
Speakers hailed from companies like Atlassian, Salesforce, Mozilla, Asana, and Invision.
Notice how even highly technical companies are embracing this movement to enable their teams?
Jumping on this wave will unlock all kinds of potential within your team.
There are even companies sprouting up to support your team's ability to use no-code tools.
Makerpad, for instance, is a platform and community that helps you learn how to build tools without code (use this Makerpad link to give IMPACT credit if you sign up).
Everything from two-way marketplaces and podcast support tools to recruiting platforms and mobile applications, they have some free tutorials, like creating a job board or a conference mobile app. Plus, their paid membership has tutorials like building an Uber clone or a subscription membership site like Patreon.
Whether you're an individual who wants to get an idea out into the world or part of a team that wants to automate processes or bring something new to market, Makerpad can enable you to do so.
Now, this doesn't mean no-code tools remove talent or creativity from the equation. They just remove the requirement of writing code that previously limited teams.
Websites still need a designer's touch to be uniquely branded and cohesive.
Products still need to be managed and iterated upon to continually deliver value and a good experience to customers.
Databases still need to be structured well to stay useful and not get unwieldy.
And sometimes, if you really want to get advanced or run into a hurdle, you will still need to bring in an experienced developer to help you surpass it… for now.
What does this mean for you in 2020?
This movement should open up a lot of doors for your organization.
Expose your team to these tools and the possibilities they can create, and you'll probably tap into some hidden potential.
You can test out new ideas by throwing up a landing page, creating some automations, or even delivering a full-blown tool all without code.
Also, keep an eye out for vendors that can help support you in this. Even some traditionally "coded" tools can be built in a way to support non-technical users.
If you're unable to update your website or make changes without a developer, then consider finding a company that enables your team to be flexible without code (or hire a developer internally to handle the edge cases!).
3. Sales and marketing facing a privacy and ethically-focused world
If there's one thing we as digital marketers love and love to lean on, it's data.
The more data we have, the better decisions we can make.
We can make customer journeys more unique and personalized, we can focus our efforts on the campaigns that are working the best, and if something doesn't work, we have data to go back and review reasons why.
So what do we do as the technology industry shifts toward being more private and reducing the amount of available data? Well in 2020 we'll have to find out.
Regardless of whether you consider this a marketing ploy or just good business, lines are being drawn. Companies like Apple and Mozilla, for example, are doubling down on privacy as a differentiating factor.
Aligned with their parent company's missions, the Firefox and Safari browsers have now baked in privacy defaults.
New Firefox users now have Enhanced Tracking Protection turned on by default, and they have tools like the Facebook Container easily available to their users.
Safari comes with Intelligent Tracking Protection, Fingerprinting Defense, and a slew of other privacy and protection-focused features by default.
All that being said, Safari and Firefox only have ~20% of browser market share — what about the other 80%?
Even outside of the privacy-focused browsers, ad blockers are more widespread.
About 47% of global internet users have an ad blocker installed. I can't tell you how many times I've thought something on a website was broken, only to find some script was blocked by my ad blocker so the page couldn't work properly.
All of this is to say that you can expect at least 25% of your audience to be blocking some kind of data that was previously easy to access and this has repercussions.
What does this mean for you in 2020?
We're coming to a crossroads where you have two main choices:
Embrace a privacy-focused future and plan your sales and marketing accordingly
Stay the course and hope people forget about privacy
Okay, so there's really only one choice.
Even Facebook is at least paying lip service to a privacy-focused future.
So what can you do to overcome this barrier?
Embrace a direct connection with your audience.
Reduce your reliance on third-party tools to target anyone.
Create content that is useful and helpful to your audience which helps them understand where they are and answers the questions they are already asking.
Give them a really good reason to share their email with you and accept that you may not even get that from them.
And that's okay.
Listen to the customers you have — especially the good ones. A collaborative relationship with your customers will give you the best insights that no third-party tool could replace.
On top of that, previously successful bets like PPC or social ad networks may lose some direction as privacy standards ramp up. They may be unable to target as they previously did and as more regulations pass, you may find some advertising channels completely dry up.
This mindset will help guide you towards default GDPR and CCPA compliance.
More data (especially improperly gathered or stored data) isn't the answer.
As IMPACT's Director of Community & Events Stephanie Baiocchi put it, "it's not about checking a legal box. It's about respecting the people who trust you with their personal data."
Implement tools that support privacy and intentional data gathering
You may want to consider placing some tools in your toolbox to stay ahead of this trend. You can tackle this from two angles: privacy-focused tools and intentional data gathering tools.
Fathom Analytics is a great privacy-focused alternative to Google Analytics.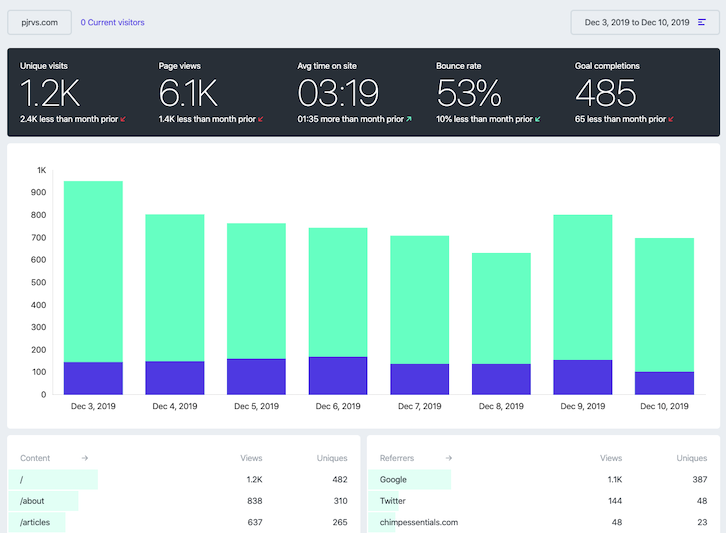 Example of the Fathom Analytics dashboard
It's a simple yet powerful website analytics platform that does not track or store your visitors' personal information. Because of this, they don't need to ask for cookies or show notices and they're GDPR compliant.
You can view a live demo of Fathom here.
Another great option is Metomic which I covered in the IMPACT Toolbox article from July.
Metomic is a beautiful application that enables you to still use all your third-party tools, but puts control over their tracking/storage access in your visitors' hands, letting them select what they allow from your website.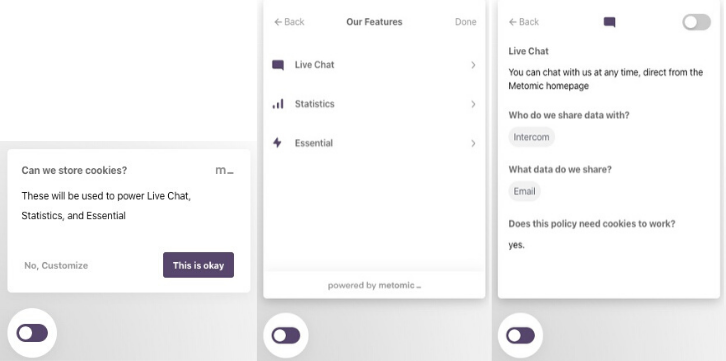 Metomic flow allowing users to finetune cookie preferences
Yes, that means that you would probably lose out on some data you could get otherwise, but the transparency and openness will go a long way to building trust with your audience which over 85% of consumers believe is important for doing business.
Now, I mentioned another tact: intentional data gathering. What does that mean exactly?
These are tools that clearly and openly request information from your audience (as opposed to tracking unknown information behind the scenes or buying data).
It's one thing to ask something personal and then mention it later in a relevant conversation, but another thing completely to overhear something personal and then act on it.
For this category, I recommend looking into something like RightMessage (use this RightMessage link to give IMPACT credit if you sign up).
RightMessage helps you segment and personalize your website for your audience by doing a simple thing: asking questions. They've made a lot of great updates in the last six months, and here's a deeper dive into the power of RightMessage.
You may be surprised by how much your audience will tell you if you just ask them good questions and give them an easy way to answer.
Brace yourselves for 2020
While I can't gaze into a crystal ball and guarantee the future, I can tell you that these trends are going to stay relevant. Probably for years to come.
The MarTech landscape is growing more complicated with new tools popping up all the time, and those tools will need to communicate with one another to be useful and win over users. APIs and integrations are the lifeblood that makes all that happen.
Also, as technology gets more advanced, the boundaries between what can be built with and without code are blurring. The majority of the population that can't code are gaining superpowers with the no-code movement.
But there's a dark side to technology.
We, both as individuals and as companies, need to be vigilant about the role privacy plays in our lives and how we can affect it and with no surefire solution in sight, privacy will remain a hot topic and key differentiator in the years to come
How are you planning to embrace or stay ahead of MarTech trends in 2020? Let me know @morganandrewv on Twitter. I'd love to hear what's working for you and what you're concerned about!
Free Assessment:
How does your sales & marketing measure up?
Take this free, 5-minute assessment and learn what you can start doing today to boost traffic, leads, and sales.