Research: The best times to post on social media in 2020 (by platform)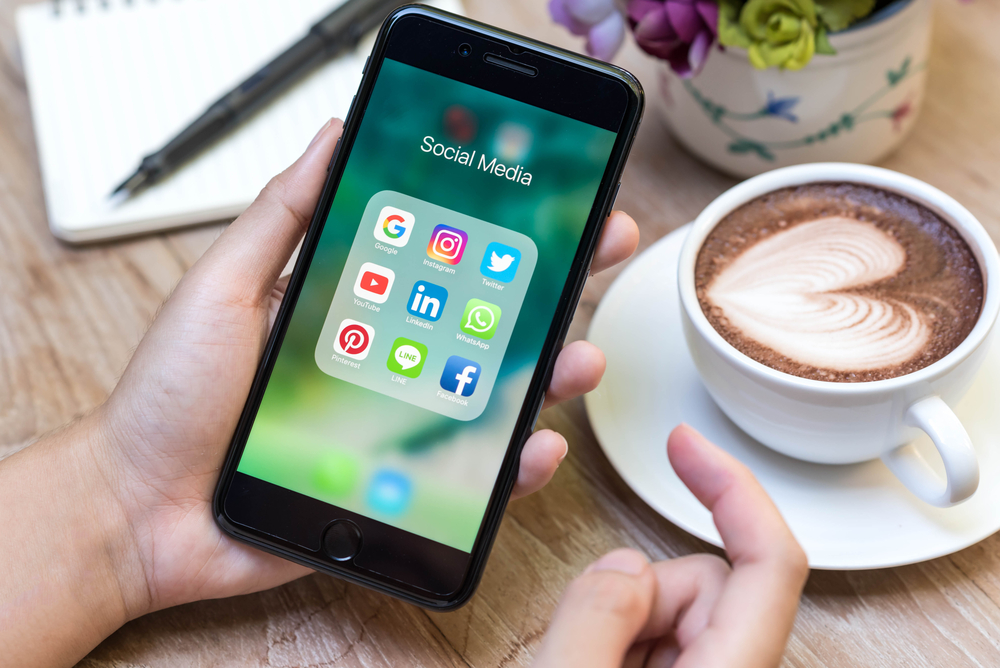 Ever since social media became a must-have asset in your marketing strategy, brands have been trying to identify the secret "sweet spot" for the best time to post content to social media platforms.
The desire for this information is clear: If you're putting time and effort into crafting the perfect post for your audience, you want it to be seen by as many people as possible — and in turn, have it get the most engagement, shares, and traction.
However, the answer isn't as clear as some may think. Most social media platforms have different rules for their algorithms that will determine what's shown to users, regardless of when the content is posted.
Additionally, every brand's audience is different. Depending on your industry, product or service, how much you actively post, and a variety of other factors, the ideal posting time can vary significantly.
Still, while you can't definitively say exactly when your target audience will see your organic posts, there is data out there tracking peak engagement times.
This is not to say that everyone in your demographic will be online during these peak hours, but it does provide a better opportunity to boost post engagement potential.
To help marketers better understand this, the team at Sprout Social has come out with an updated list of peak engagement times for the four major social media platforms (Facebook, Instagram, Twitter, LinkedIn).
While this is far from the "secret recipe" to social media success, these insights can help marketers establish a more informed baseline for scheduling posts, which they can then alter based on their unique audience's interactions with the content.
What's the best time to post on social media?
Sprout Social's report uses data from over 20,000 customer interactions in its social media software and compiles the findings into generic breakdowns by platform.
Additionally, the report also considers how different industries will perform on each platform. As such, each platform's data offers a more detailed analysis by vertical. The verticals covered in this report include consumer goods, media, education, nonprofit, tech, and healthcare.
You can read the full report from Sprout Social here. Below is an overview of the most interesting findings by platform.
Peak engagement times on Facebook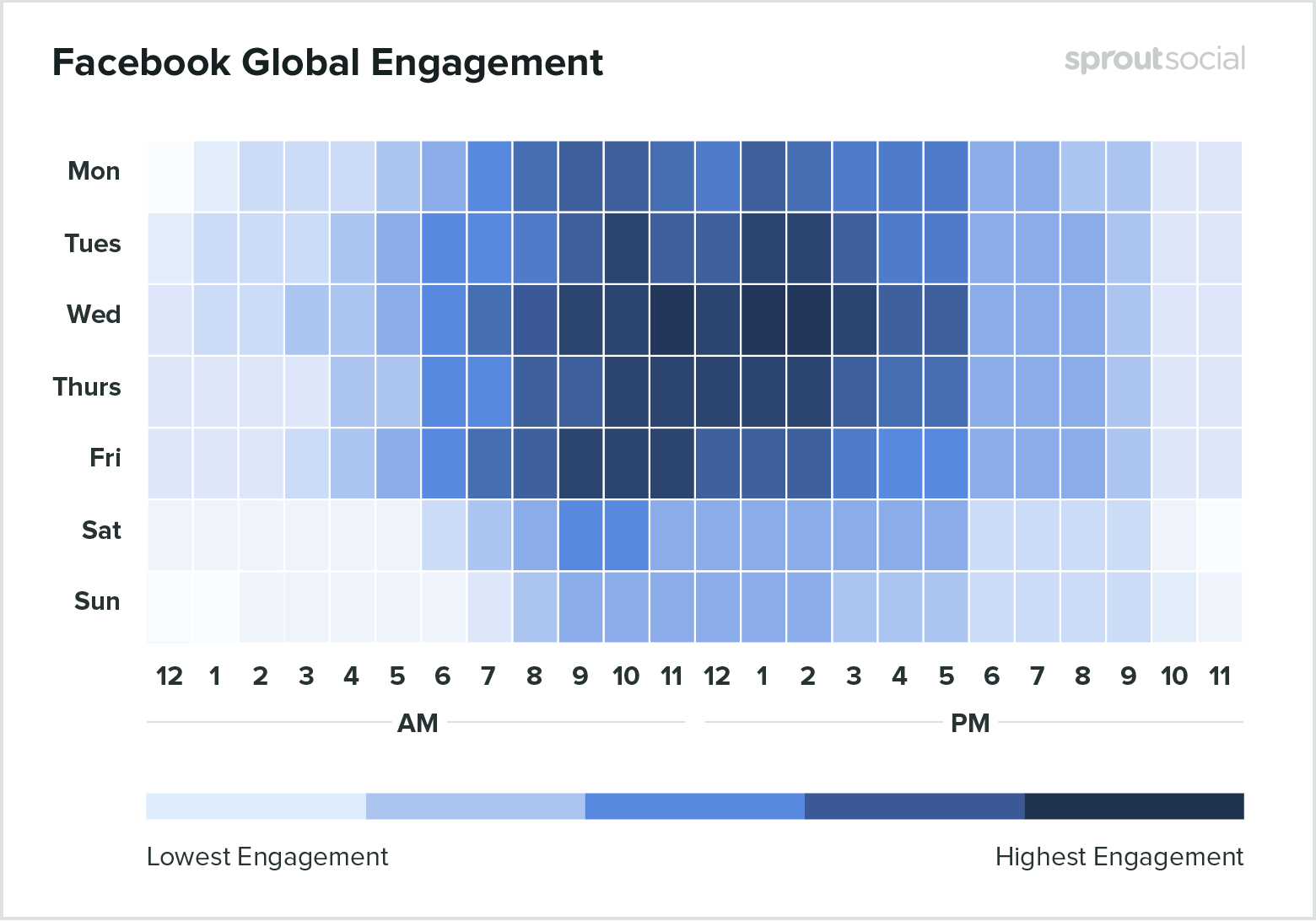 Facebook's large user base of over 2 billion active users puts the platform in a great spot for brands. With such a wide variety of users, you have a great chance of reaching your audience with your organic posts.
However, Sprout notes that Facebook's algorithm can make it difficult for brands to reach audiences in the newsfeed — difficult, but not impossible.
Facebook's recent algorithm update puts emphasis on posts from friends and family. So, you have a better chance of reaching more people if your post drives genuine engagement.
Algorithms aside, there are time slots where Sprout's team found users were most active on the platform:
The best times to post to Facebook are Wednesday at 11 a.m. and 1 - 2 p.m.
Wednesday is the best day to post on Facebook.
The safest times to post are weekdays from 9 a.m.–3 p.m.
Sunday has the least amount of engagement for Facebook during the week.
Early mornings and evenings, before 7 a.m. and after 5 p.m. have the least amount of engagement per day.
Essentially, brands have the best opportunity to reach active users mid-week, specifically in the morning and mid-afternoon.
Interestingly, weekends had lower engagement times — suggesting that users tend to check Facebook periodically during the workday or during their lunch break, but don't spend as much time on weekends or during leisure time.
Peak engagement times on Instagram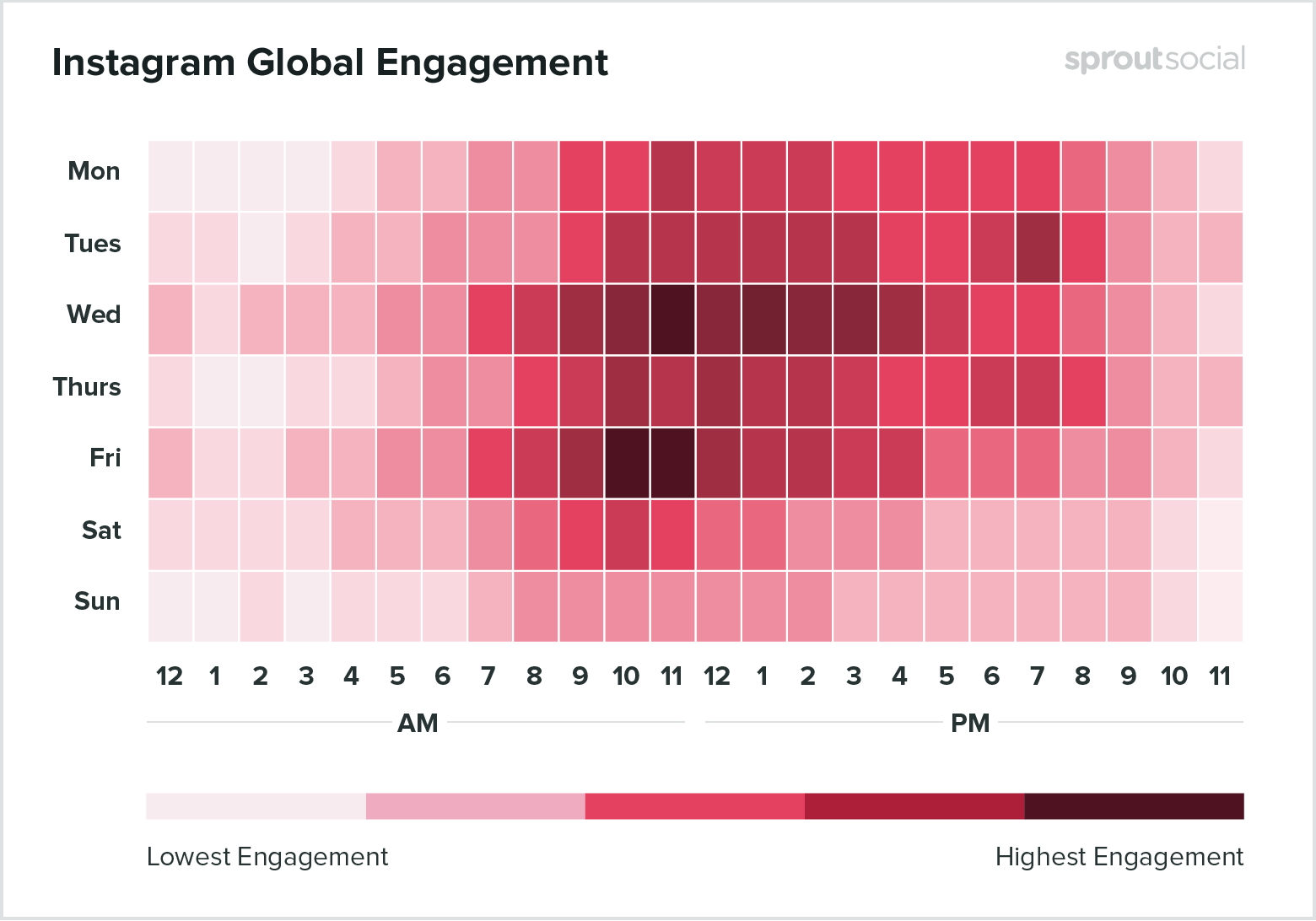 While many brands still neglect posting to Instagram, the photo platform's rapid growth is something that shouldn't be ignored.
Sprout's report noted that Instagram's recent milestone of 1 billion active monthly users (and its average engagement rate of 1.6% per post) puts the platform on the fast track to becoming a big leader in the social space.
However, its algorithm can be tricky.
Instagram infamously got rid of its reverse chronological newsfeed in favor of a more complex algorithm that determines when posts are shown.
Still, outside of standard posts, the platform offers other features for brands to take advantage of: Stories, live video, and longer-form videos on IGTV.
So, when's the best time to post? Sprout found Instagram's peak engagement times are as follows:
The best times to post on Instagram are Wednesday at 11 a.m. and Friday at 10–11 a.m.
Wednesday is the overall best day to post to Instagram
The safest times to post are Tuesday through Friday, 10 a.m–3 p.m.
Sunday receives the least amount of engagement on Instagram
The least amount of engagement occurs during late night and early morning from 11 p.m.–3 a.m.
These trends follow a pattern similar to Facebook, Instagram's parent company, suggesting that users check the two platforms in a similar manner.
Like Facebook, mid-week is the best time to post on the platform. However, Instagram does see an increase in activity on Fridays and Saturdays that isn't present on Facebook.
So, brands may have a window to capture people heading into the weekend.
Like Facebook, the lowest engagement times were on Sundays —and during the late night and early morning.
Peak engagement times on Twitter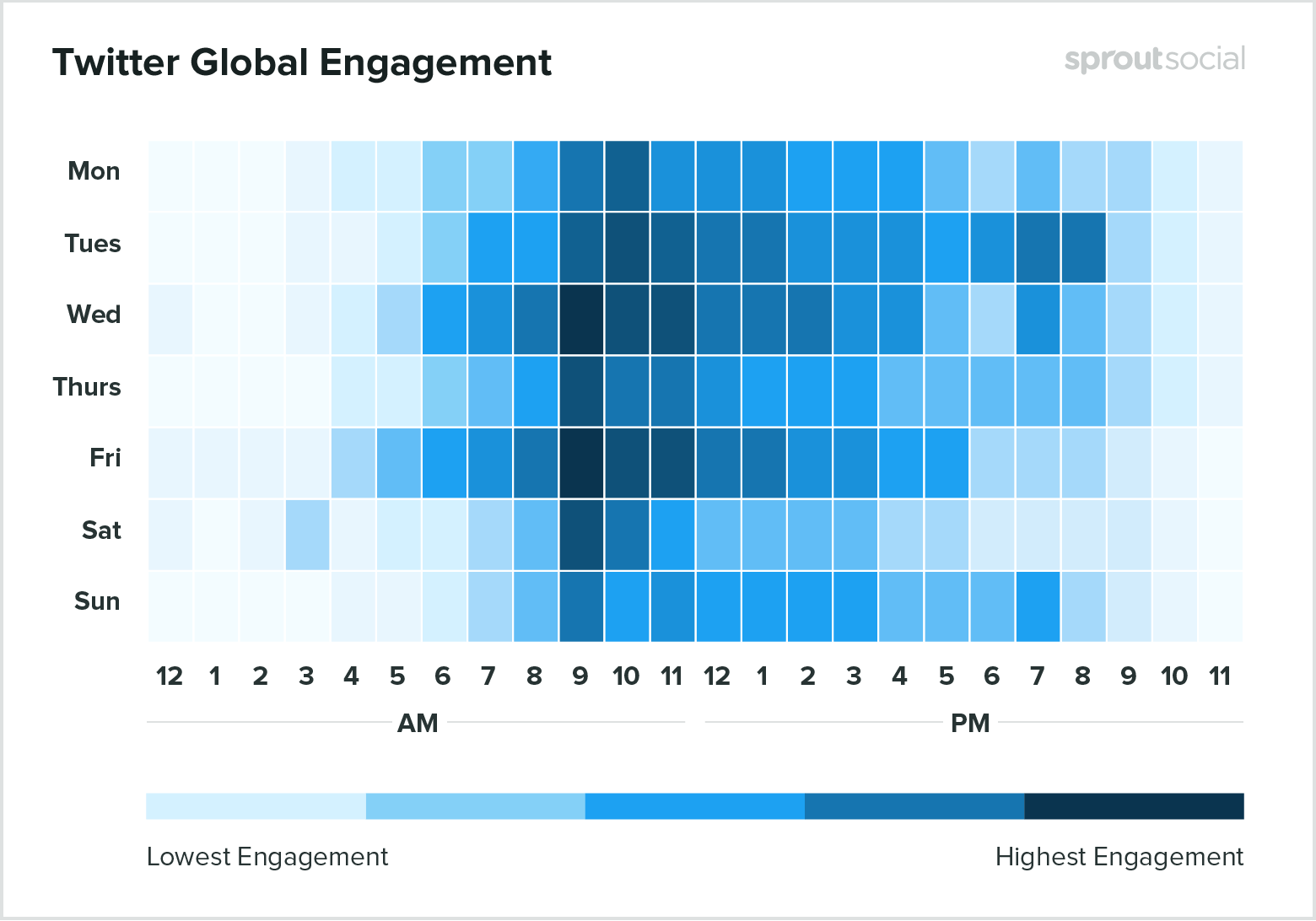 Twitter is unique in the sense that it's one of the few platforms that has kept a chronological timeline.
With the exception of select posts Twitter decides to highlight out of chronological order (based on user interests), timeliness is vital to not having your posts get lost in the mix.
Posting at peak times not only increases the chance of your followers seeing your posts, but also other people in your target audience (even if they don't follow your brand) if someone they follow likes, comments, or retweets the post.
For example, I don't follow Wendy's on Twitter, but I definitely saw that breakfast is a big thing right now — due to the large amount of engagement it received from people I follow.
So, with context in mind, posting at the right time can not only boost your social media metrics, but can also help expand your reach with others who may be interested in your brand.
According to Sprout, here are the timeframes you'd want to target.
The best times to post on Twitter are Wednesday at 9 a.m. and Friday at 9 a.m.
Tuesday and Wednesday are the best days to post on Twitter.
The safest times to post are Monday through Friday from 8 a.m.–4 p.m.
Saturday gets the least engagement.
Times to avoid that get the lowest engagement are every day from 10 p.m–4 a.m.
Mid-week is still the leading time for engagement, but Twitter does have some notable differences.
For one, it heats up earlier in the day compared to Facebook or Instagram. As someone who checks Twitter like it's the morning paper, I can confirm that its easily-digestible format makes it more ideal for early-morning engagement compared to other platforms.
Additionally, you see more opportunities for peak engagement times. Both Tuesday and Wednesday are seen as the best days to post on the platform, and it offers a bigger window of ideal posting times.
However, as the week goes on, you see a drop-off in general engagement. As such, it may be better to keep posts in the earlier part of the week to capture the most attention from your audience.
Peak engagement times on LinkedIn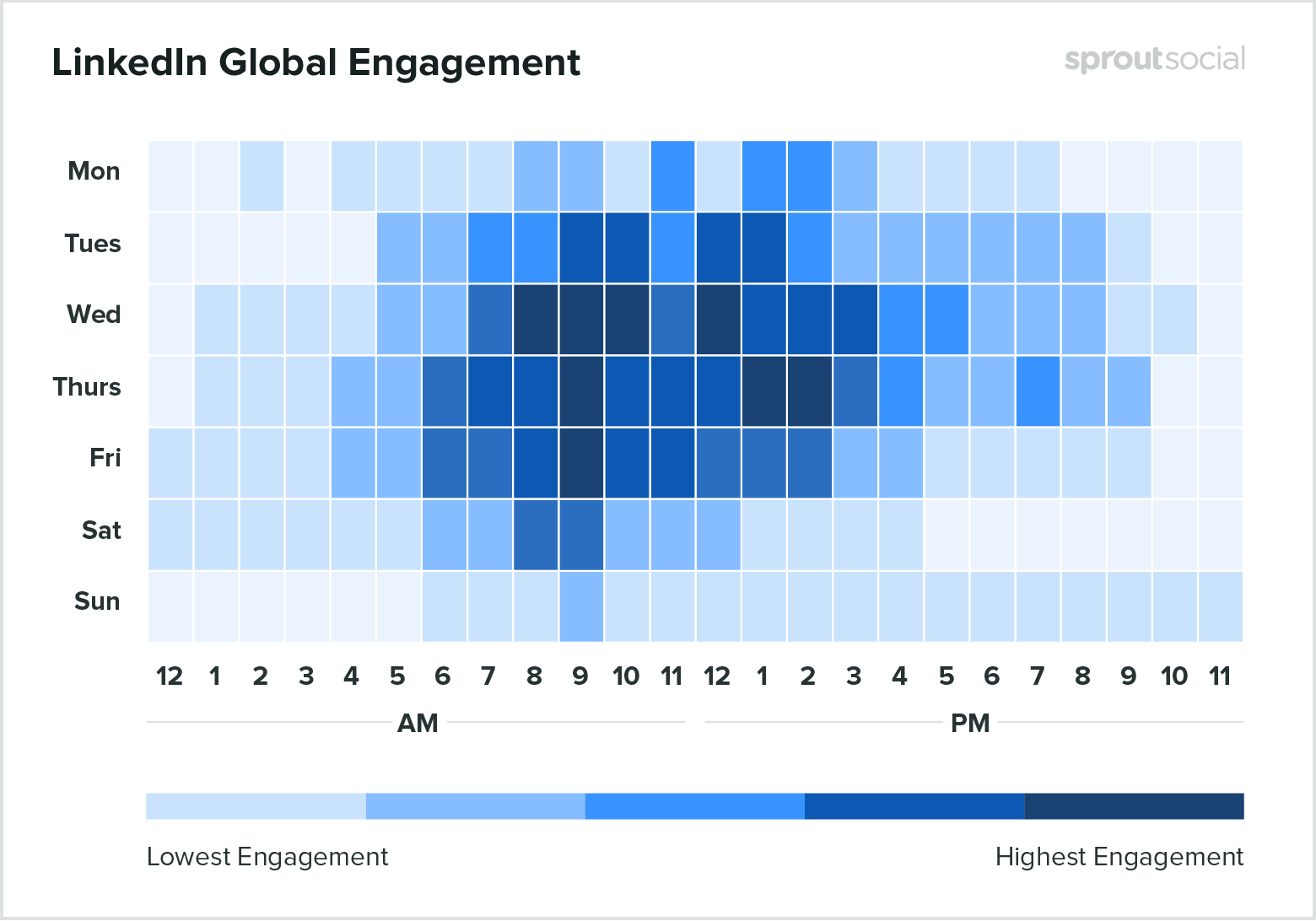 LinkedIn's platform differs from the others on this list because it attracts such a niche audience.
Mainly, LinkedIn is made up of professionals looking to network with others in their industry or gain insights for professional development.
However, while the overall audience is smaller, its unique focus can actually attract more sales-ready leads via organic posting.
For this reason, your posts can hold more value, especially for B2B companies — so getting your posts seen is important.
The best times to post to LinkedIn are Wednesday from 8–10 a.m. and noon, Thursday at 9 a.m. and 1–2 p.m., and Friday at 9 a.m.
The best days to post on LinkedIn are Wednesday and Thursday.
The safest times to post are Tuesday through Friday from 8 a.m.–2 p.m.
The least engagement per day occurs on Sunday and the least popular times to post are every day from 9 p.m. to 3 a.m.
Wednesday remains a consistent time for peak engagement, but there are some differentiating factors for this platform.
For one, we see an earlier window where people are checking — which makes sense because people likely check the platform during the workday.
As such, there is a notable drop off later in the day, and limited engagement on the weekends.
What does this mean for marketers?
Again, Sprout's data is not the magic solution for social media success.
However, these insights are valuable for marketers to understand how people use these platforms on average.
For example, there is a consistent trend with people being more active mid-week, specifically on Wednesdays. Additionally, there is more activity in the morning and afternoon, with a notable drop off during evenings and weekends.
Brands can test out these peak engagement times and see what works for your unique audience — and adjust accordingly.
Of course, timing is important, but it's not all you need to have success on social media.
Most algorithms reward engagement with increased exposure and reach. In turn, your users will reward you as well with likes, follows, and shares.
Free Assessment:
How does your sales & marketing measure up?
Take this free, 5-minute assessment and learn what you can start doing today to boost traffic, leads, and sales.