Hiring a custom logo designer? Here are 8 questions you need to ask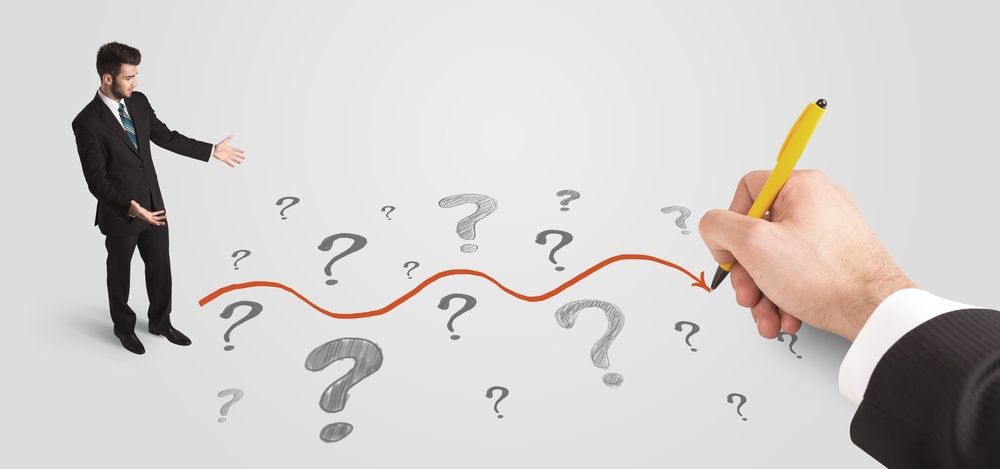 Starting a new project with outsourced agencies or freelancers can be a lot like hiring a new employee.
Making that commitment to research and seek out the right resource for your company means knowing that you'll be spending a lot of time on the web and on the phone, and maybe not doing those day-to-day things that feel so productive.
But you know that it's for the best, and will be worth it in the end if you put in the work now, during your discovery process. All of your effort is focused on one idea: "How can I get the best work at the best price?"
And if you know you want a new logo – and maybe even a nice brand style guide, too – you need to hire the right people that you can trust with your brand's visual identity.
But what do you need to ask a potential logo designer to see if they're the right fit for your branding design project?
"Can you provide work samples?"
Asking to see a portfolio is like asking for a resume. It's a quick way to gauge whether the designer has experience creating logos for businesses like your own, and whether they will be a good fit.
A portfolio will also show whether the logos that the designer creates are along the lines of what you are looking for.
Some designers have a wide variety of logo samples that they can provide you with – all a unique fit to each company.
Other portfolios showcase one distinct art style that provides some unity to everything the designer has created.
What you look for will depend on your needs, as well as your own style and the direction you're hoping to take your new brand in.
"Do you have any testimonials?"
Testimonials are less visual but just as powerful as a portfolio. If you want to hear straight from a designer's past clients, ask for a few testimonials.
You will be able to see if other clients were happy with the customer service and project management they experienced as they were taken through the design process, and you'll also get to see how they felt once they had the final product in their hands.
"What do you need to know about me?"
While you have questions for your potential designer, they will definitely have questions for you, as well. Be prepared by checking out our list of questions a designer should ask you at the start of a branding project.
Your designer will need to get to know you and your business, and really come to understand what you do and who your audience is. Their process should include diving deep and learning as much about you as they need to in order to create a logo and brand guide that fit your company.
Find out if these sort of questions are included in their branding process or kick-off.
"How much?"
I doubt I need to tell you to check the price tag, but it's still a necessary question. Make sure that you will be getting your money's worth, but don't get caught up in looking for the cheapest resource.
A good design project is more than simply "X dollars per hour."

You aren't just paying for the final product. You're paying for time, experience, craft and creativity. More than likely, you're also receiving the input of a whole team of experienced designers and professionals, and not just the creative professional crafting your visuals. (Great designers don't work in bubbles.)
And when you just aren't sure if the cost is worth it, the questions in this post should be able to justify the price that your designer quotes. If not, move right along to the next proposal.
"What's included?"
Even if you're only looking for a new logo, you'll still need all of the many different logo files in the end, as well as a some rules and standards in regards to how your logos, colors and typography should be used.
Once you've determined what will be included in the list of final deliverables, you may have more to pay for than just a logo and brand style guide.
If you are having new business cards created, you will need to have money set aside to have them printed as well. The same goes for any other promotional items you may need to order and imprint your new logo onto. Depending on who handles these designs and orders (in-house or outsourced), these costs might be added to the designer's original quote.
Make sure that both your own team and the design team are clear on whether additional costs will be included in the quote or added on later.
"What's the timeline?"
Every project is different, but try to learn how long the design process will take, and the key milestones that are included.
Knowing when your final logo and brand guides will be available can help you to plan accordingly. If your business has been established for a while, you'll want to have time to prepare your employees and note how the change will take place across your organization.
"What's the process?"
Ask your designer what their process looks like from start to finish. How many logo options will they present to you? How many rounds of revisions will you get? When will you start to see color incorporated, and really get to see your new logo spring to life?
It's also helpful to find out more about the process that you might not see so clearly. Are there internal reviews where the designer can get feedback from their own team, and push their creativity?
"Who is the project manager and point of contact?"
No doubt you'll start your hunt for a logo designer by talking to the sales reps at agencies and firms – unless you're looking to work with freelancers. But aside from the salespeople you'll get to know at the beginning of a project, who are the actual designers who will be in charge of building your new brand and who will be in regular contact with you?
Do you know how to get in touch with them, and are they responsive and easy to get ahold of? It's a big red flag to have poor communication before a project even starts.
Get the answers you need
There's no need to go into a design project wondering about any of the above questions.
Your relationship with the design team will be even stronger when you can find out what you need to know, right at the beginning.
From there, then, you can trust that the designers you've chosen to work with are more than capable of handling your project and creating a logo to fit your business perfectly.
And really, any design project, for a logo or not, can benefit when you start off by asking these few questions – only be open and willing to ask.
Free: Assessment
Does your website build trust with buyers and bring in revenue?
Take this free 6 question assessment and learn how your website can start living up to its potential.