Facebook Messenger will soon allow you to toggle between business and personal accounts (finally!)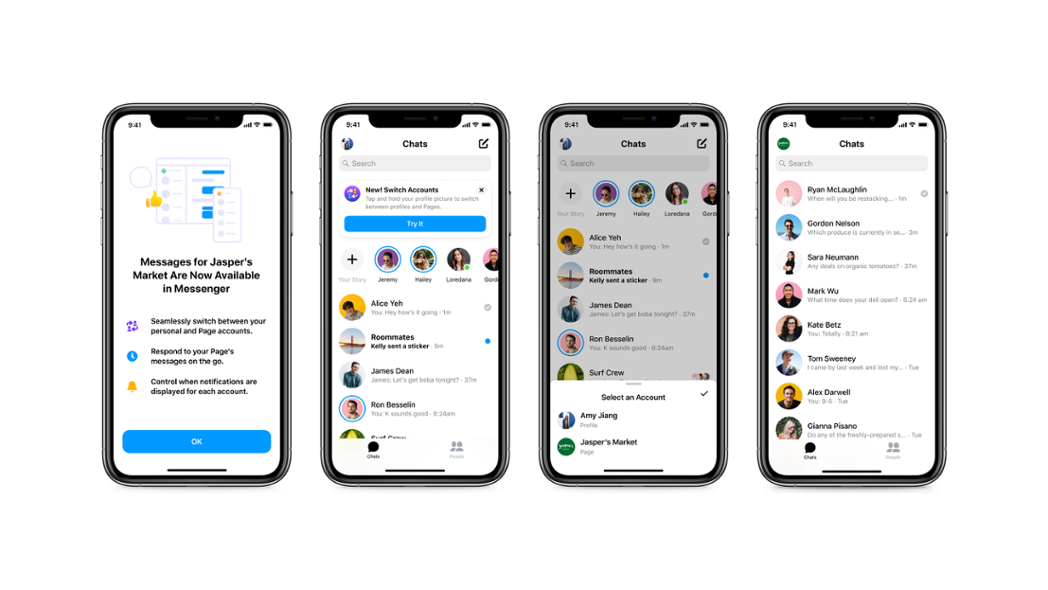 Earlier this week, Facebook finally made a change I've been waiting years for. And I'm not the only one.
See, in addition to managing IMPACT's Facebook group, IMPACT Elite, through which I get many direct messages to my personal Facebook profile, I also manage three Facebook pages, two other Facebook groups, and am the owner of multiple events.
For years I've had to switch to the dreaded Page Manager app to reply to messages as one of the pages I manage. It was so cumbersome I eventually just uninstalled it from my phone and decided to bust out my laptop for messages to my pages because that was actually somehow easier.
But, not anymore!
At long last, Facebook has heard the cries of its users and is adding the ability to toggle between personal and business accounts right within its Messenger app.
This a sorely needed feature and a long-overdue update.
In an update posted by Facebook, Mike Weingert, product manager, stated "according to our research, over 90% of Facebook business admins already use Messenger to chat with friends and family, and we hear from many that they don't want to download and manage multiple apps."
I can confirm, we don't want that. It's a pain.
Facebook's update even referred to one of my favorite HubSpot studies which states "90% of customers rate an immediate response [from a business] as important or very important when they have a marketing or sales question."
Exactly. We need to be able to respond quickly and easily.
Now, that's a couple of "90%" stats in a row, I know. But it just shows how vital this change is.
What does this update offer to admins of business pages?
With this update, not only can managers of business pages can quickly and easily toggle between replying to personal messages and messages to their business accounts — they can even receive notifications via the Messenger app for messages to their business pages.
This simple addition to the Messenger app is going to make many social media managers' lives much easier and, in turn, provide the ability for customers messaging business pages to get answers much faster.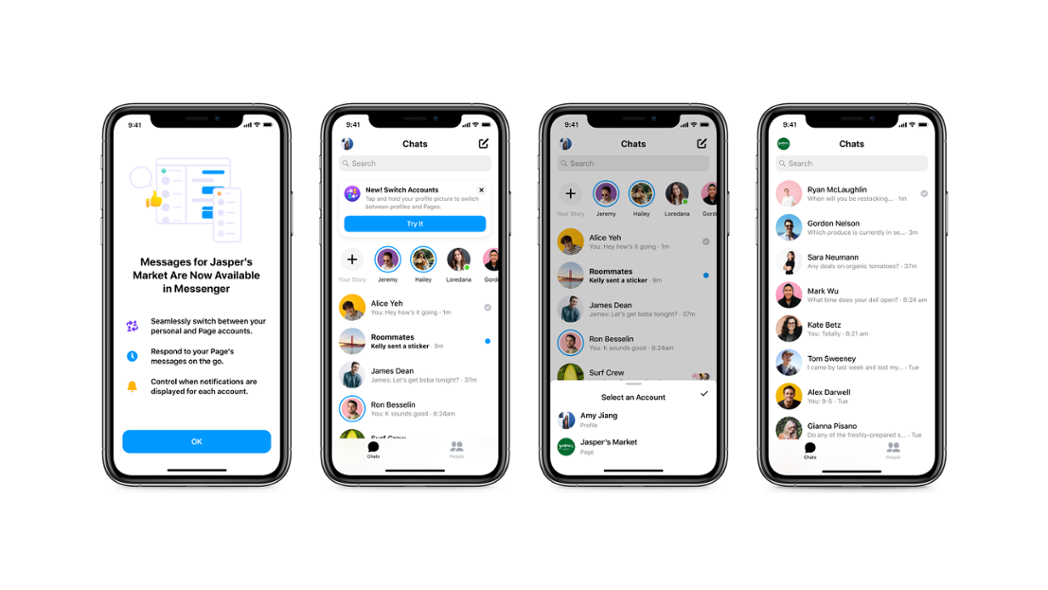 Image via Facebook
How are businesses using Messenger right now?
Businesses use Facebook Messenger to interact with prospects and customers by answering questions, completing transactions, sharing deals and specials, sending purchase confirmation and tracking information, and more.
In the wake of COVID-19, many businesses are fielding more questions than ever from followers.
I know I've messaged businesses to see if they're open or are offering delivery. Others have used the Messenger tool to follow up on cancelled appointments due to the quarantine.
All of these additional questions and conversations mean many social media managers are working overtime to keep up with the influx of questions via Messenger — one more reason this update is so exciting.
What does this mean for you and your business?
You can finally uninstall Page Manager! No, no, I'm kidding.
Of course, this new inbox feature will arrive on iOS first and be rolled out to Android in the coming weeks.
This means you can prepare to receive messages to business pages right in your Messenger app, which may mean you'll want to update your push notifications settings ahead of time.
Whether that means turning them on so you never miss a message, or turning them off because you get a ton of messages and it's best to address them at set intervals, either way you may want to take a peek at your notification settings.
Granted, we don't know for sure what kind of granular or account-specific notifications will be available via this toggle feature, but I am optimistic that it will be somewhat similar to how Instagram account toggling works.
This would mean you could have push notifications on for some accounts and off for others. Fingers crossed!
Free Assessment:
How does your sales & marketing measure up?
Take this free, 5-minute assessment and learn what you can start doing today to boost traffic, leads, and sales.