Videography during coronavirus: Content over production quality [Interview]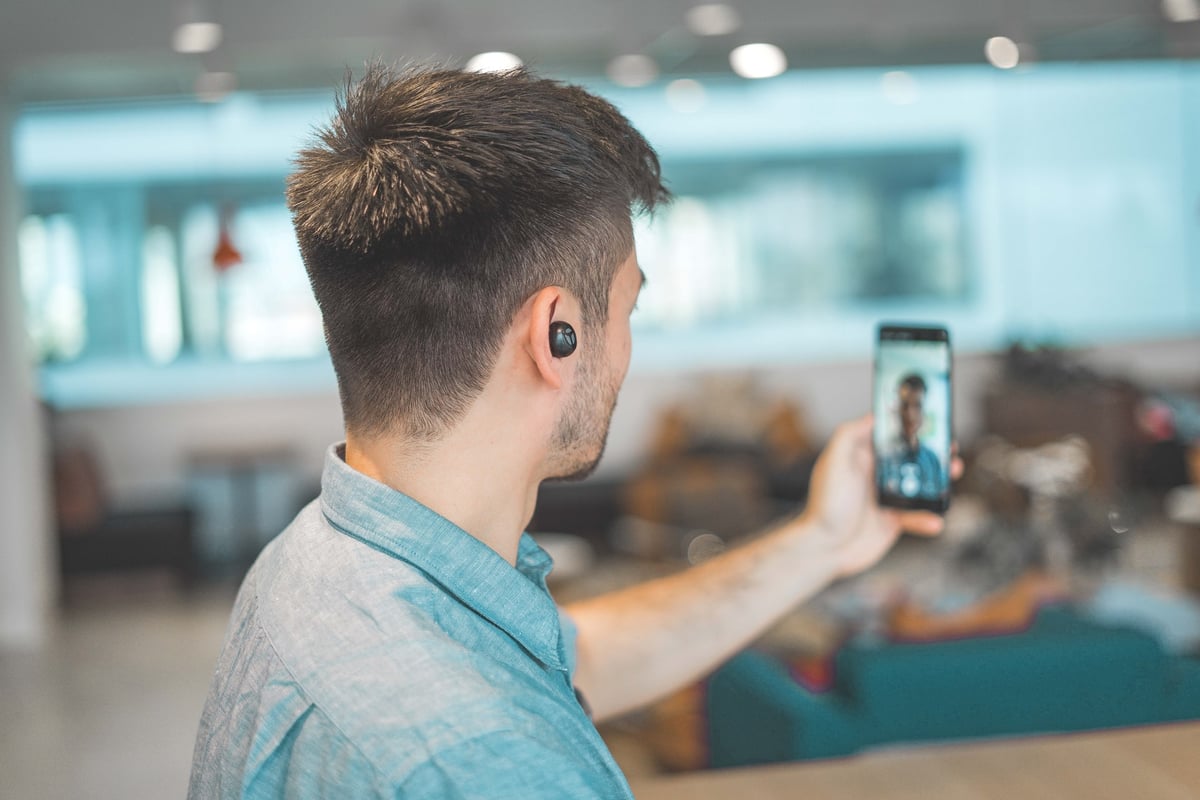 Since the coronavirus (COVID-19) pandemic and quarantine began, we've continued to stress the importance of video. After all, in a remote world, video allows us to meet, to market, to sell, and to service.
Truly, video is more important than ever.
But even if we agree with the philosophy, what does this look like in practice? How can you produce video content during a quarantine?
Alex Winter, IMPACT's head of video, sat with me (virtually) to weigh in on the subject.
The mood of the economy
John: Talk to me about how you think businesses are feeling right now.
Alex: I think I have a really skewed perspective about how businesses are doing right now because of the industry that we're in.
We're digital sales and marketing experts, so, we're lucky; people need us right now. They need to use digital to their advantage because they can't meet in person, so for the time being, we're really well positioned.
But a lot of companies are not in that position.
I think businesses are scared and doing anything and everything they can to figure out how to stay afloat and how to survive these times.
I think it really stresses the importance of being agile as a company and being open and willing to pivot.
I think some companies that aren't positioned to do those things are unfortunately not going to make it.
That's the new world that we're living in.
You have to be adaptable. You have to be agile, you have to be ready to pivot. And if you can't do that, you're not going to last long.
John: There's the old saying, "you fix your roof when it's sunny, not when it's raining." I think for companies who did nothing to prepare for a move towards digital in the past decade, they're finding that abrupt pivot especially hard.
Alex: If you have done nothing, you're so much farther behind. What was so tricky about the pandemic is that it was just so abrupt.
Most of the time there's a curve and you can try to ramp up or get some type of a grip on what's happening and then act accordingly, but this happened so quickly that a lot of people, to your point, weren't ready.
But I always say, for digital and for video, it's better late than never.
We work with some companies that are very old school — handshakes and trade shows — and there are facets of that business model that I adore.
There's really nothing better than a handshake and being in person with somebody, but you have to also leverage these other tools.
Even though that's how you ran your business for the last 50 years, you also have to grow with the times.
Video production during coronavirus
John: How has coronavirus affected video production?
Alex: Overall, I think for videographers and for production companies, COVID-19 has created a real problem.
Most productions require video teams to go on location to capture content where you have to physically be with people in order to capture them on camera, but when you have to be respectful of social distancing and other mandates from the government, you can't do that.
So what can you do?
I think it forces videographers and production companies to be more creative and think outside the box to find new ways to continue to create compelling content that engages with their audiences.
I think we can all agree that it's an emotionally stressful time right now. I think we can also agree that video is one of the best ways to connect with people on an emotional level.
To me, that's an opportunity for businesses to showcase how much they truly care about their clients and community. It's an opportunity to showcase their commitment to them on multiple levels.
There's also a major lesson in all of this that directly relates to the teachings in They Ask, You Answer. Specifically, about the importance of why owning your content is crucial into today's digital/COVID world.
For example, if you already have a dedicated video specialist creating content on your team, I can almost guarantee you have a competitive advantage over competitors that do not.
I know video isn't cheap and takes time to implement correctly in your organization, but that doesn't means your company can't create compelling video content on a budget.
This is why owning your content, being proactive, and getting a specialist on your team is absolutely crucial to the success of your business.
Getting back to videographers in general, myself included, I'm trying to think of how to be agile, how to pivot.
How can we think of ways to continue to create content, given the limited resources that we have? How do we use this laptop, the Zoom meeting that we're on right now to create content? How can we use our cell phones or whatever gadgets we have to our advantage?
I know the quality isn't the same, but everyone's in the same boat.
This is a world-wide pandemic. People are going to be much more forgiving and understanding when it comes to the quality of what you're putting out because everyone's at home.
Look at the late night show hosts like Jimmy Fallon or Kimmel. They're all doing their shows from home.
Everyone knows that they're in their living rooms and their kids are running around in the background, and there's something incredibly endearing about it.
Something very relatable that makes us feel like we're not alone.
So remember, it's okay if your videos aren't the highest level of quality possible right now. People will understand!
You should still be working towards creating content, engaging with people, having those conversations so that people don't feel alone in a time where it can be really easy to feel secluded and stranded.
Show your human side
John: We talk so often about how video allows people to see your humanity and to connect with you and to trust you.
The Jimmy Fallon example is such a great one because we do see his humanity because we see kids in the background and we see lower production values, but that doesn't make it less engaging.
Alex: It's true. It just continues to solidify the fact that content and the story that you tell is king — not what type of camera you're shooting on and whether it's 8K or 4K.
Obviously we want to produce high quality work, but at the end of the day, it's really about the content, the story, being creative, and showcasing your personality.
Story for me has always, and will always be, number one.
The way that these guys have done at home late night shows has inspired me. That's the type of creativity and content I'm trying to apply to my clients.
And I think all companies across the board are in a similar spot: How do we create genuine content that's going to be engaging and is going to get people excited, knowing that you don't have to have all this production value.
Obviously if you can, it's great, but it's not a necessity. It's more about the emotional connection you can authentically create for your audiences.
Will the world ever go back to normal?
John: There are people who are sitting back and thinking, "I'm just going to wait for this to pass and everything will go back to normal."
And the longer this goes on, the less it seems like things are going to go back to the way they were before.
Alex: Yeah. I couldn't agree with you more. I don't think things will reset back to the way they were before this storm.
I definitely think there is some serious change that's already happened and will continue to happen. I believe it's going to shift how we all do business. I think it will even affect how we interact personally.
It all goes back to the mentality of people and change.
Some people embrace change and love it while other people run away from change like it's a plague. I think they get used to their routines and they get comfortable with things working a certain way. Especially if they're working well.
Change usually means being uncomfortable. I think that can be scary for people, making it extremely difficult for them to see the potential to evolve and make themselves even better.
COVID is forcing that change to happen whether you want to or not.
Working through a fear of change
John: I think a fear of change is often a fear of a loss of competence. You have some technique or practice that's always worked — and then you have to change it.
Alex: I think that's completely understandable. It happens to us all in some way.
For me, most of the time when I'm afraid of changing something or doing something that's outside my comfort zone — I force myself to rip that bandaid right off!! It can be scary and even painful.
But once you get to the other side of whatever "it" is, well, it's an amazing feeling! Usually, it's never as bad as you build it up in your head to be.
Now, are you going to make some mistakes along the way? Yes, and that's okay! You have to make mistakes in order to learn, grow, and evolve.
The more you practice anything, the more it becomes second nature. And before you know it, you don't even remember what you were afraid of.
Advice to all businesses out there
John: So, what's your advice to businesses out there in terms of video production?
Alex: I think the best advice I can give is that you can't take your foot off the gas pedal (even when your gut is telling you to hit the brakes).
If you already have a dedicated videographer on your team, you're ahead of the curve! Keep pushing to find creative ways to continue to make compelling content. It's okay if it's not at the same quality level as what you usually produce.
If you don't have a videographer on staff, it doesn't mean you're out of options. It's never too late to start your video journey. I would highly recommend using technology to your advantage to start creating content.
The new iPhone and most smartphones shoot high quality 4K video. Leverage that technology and some research online to figure out how to do it yourself. (You can also tap into IMPACT+ or the consulting team here at IMPACT.)
Regardless of your in house video status, one thing remains constant: Creating content that tells a story to connect with your audiences on an emotional level is the number one priority over anything else.
Remember to be mindful of the type of content you create. Be sympathetic to what's happening in the world. Give people information that they can use to their advantage and that's good for their business.
At the same time, acknowledge the fact that we're not alone, that we're all in this together, and that together, we have a forum to help each other and motivate each other.
Free Assessment:
How does your sales & marketing measure up?
Take this free, 5-minute assessment and learn what you can start doing today to boost traffic, leads, and sales.