5 Psychological Hacks Your Competitors Don't Want You to Know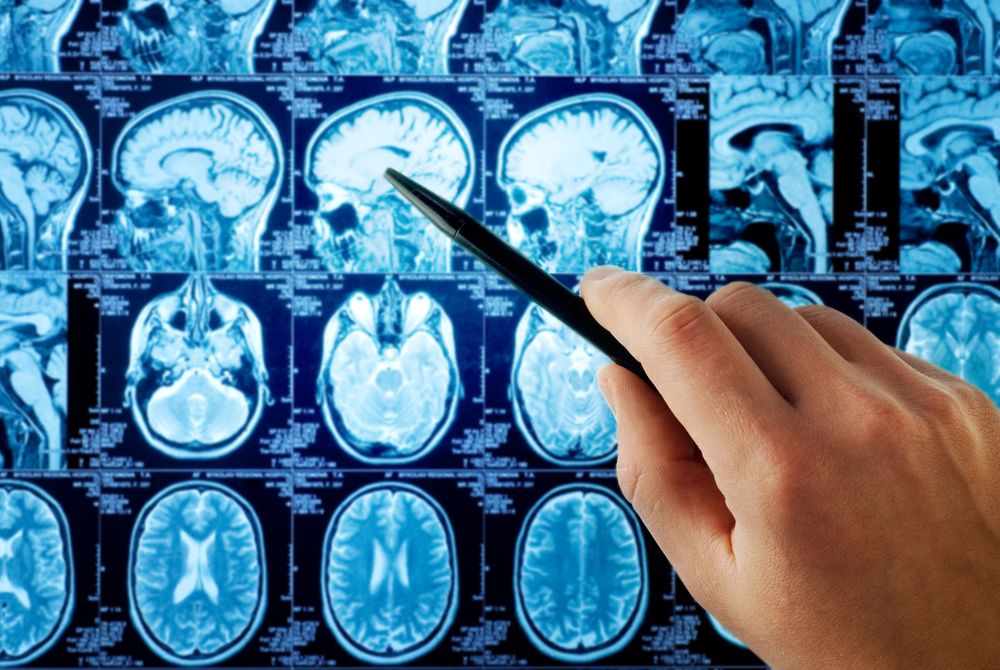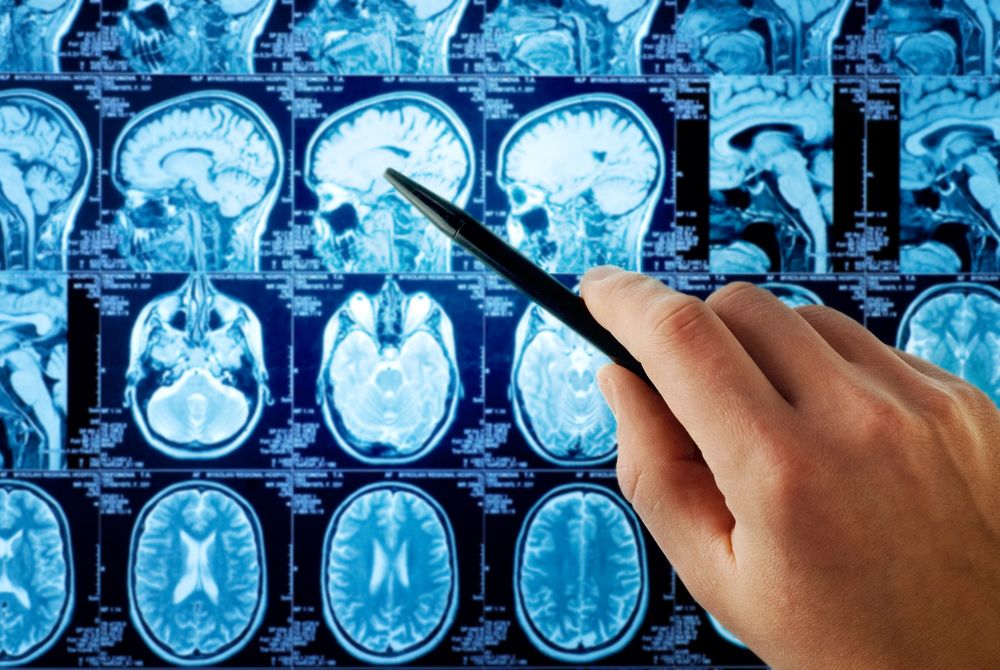 As a marketer, it's easy to get lost in a whirlwind of traffic numbers and conversion rates.
But at the end of the day, the forces behind those numbers are human.
They matter.
The way they are conditioned to think, consume information, and behave powerfully shapes the way in which they interact (or don't interact) with your content.
The way they respond. What they click on. The actions they avoid. It's fascinating.
While it's likely that you've seen at least a handful or articles detailing consumer psychology, very few go the extra mile in terms of how to apply this information to your marketing initiatives.
We went there.
Starting to regret sleeping through your 8 AM Psychology class back in college? (Guilty)
No worries. We've covered it all below.
Reciprocity
The psychology lesson:
In 1974, Phillip Kunz conducted an experiment to test the theory of reciprocity. In doing so, Kunz mailed out handwritten Christmas cards to 600 randomly selected strangers. The cards contained a simple note, as well as a photo of Kunz and his family.
The response?
A total of 200 replies.
Why?
Reciprocity.
Essentially reciprocity refers to the obligation we feel to return a favor after someone has done something for you.
(Source: NPR)
The marketing application:
Last week, our marketing director wrote an awesome blog article about software called CrazyEgg. He detailed how we used the software to measure how much of our blog posts people were actually seeing, in an effort to engineer an experience that would encourage more conversions.
He passed the post along to CrazyEgg's co-founder, Neil Patel, along with a friendly note about how well received the article had been with our audience.
As a result, Neil tweeted out the article from his personal account, as well as the CrazyEgg account. (That's almost 200,000 new eyeballs on our content.)
In addition, a marketing associate from CrazyEgg reached out to John via email to thank him for the highlight and offer IMPACT a special discount (60 days free on CrazyEgg) for our readers.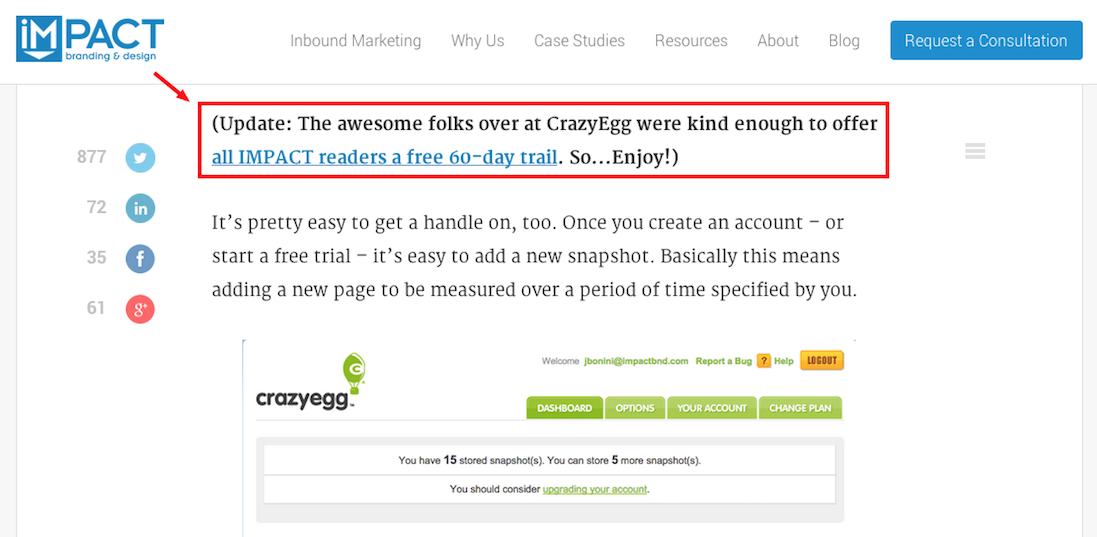 Point being, it pays to do good. By featuring their software in our post, the CrazyEgg team responded by reciprocating value in more ways than one.
If you want to experiment with reciprocity, try reaching out to an industry influencer to get a quote for an article. Often times they'll be more than willing to share the post once it's published to thank you for thinking of them.
Other ways to leverage reciprocity:
Give away an ungated resource

Show support for other local businesses

Provide a referral
Offer discounts
Authority
The psychology lesson:
In 1974, Stanely Milgram conducted an experiment where he asked regular people to play the role of "teachers" and "students."
Milgram recruited 40 men through a newspaper ad, and offered them $4.50 for their participation in the experiment.
Participants who played the roll of the "teacher" were instructed by "those in charge" to issue an electric shock to "students" when they were asked questions to which they answered incorrectly.
Even after the "students" expressed their discomfort (they weren't being shocked, but rather they were asked to act as if they were), the "teachers" continued to obey the demands of those "in charge."
The results of the experiment concluded that 65% of participants delivered the maximum shocks as instructed, despite the fact that the "students" were in obvious pain.
(Source: SimplyPsychology)
The marketing application:
According to Robert Cialdini, "information from a recognized authority can provide us a valuable shortcut for deciding how to act in a situation."
To use authority in marketing, connect with influential people in your industry to collaborate or gain support for a campaign.
If there's one business that understands this, it's HubSpot.

HubSpot has hosted countless webinars with high authority figures and companies like Noah Kagan, Guy Kawasaki, Rand Fishkin and team members from Facebook, Twitter, and LinkedIn.
Teaming up with said industry influencers helps to position your business as an authority, and will help to increase the perceived value of your product or service.
Need help reaching out to influencers? This post should do the trick.
Other ways to build brand authority:
Guest post on a popular industry blog
Host an industry event
Conduct and report on research
Answer industry-related questions on social
Scarcity
The psychology lesson:
In 1975, Stephen Worchel, Jerry Lee, and Akanbi Adewole polled 200 female undergraduates on the attractiveness of cookies that were in both abundant and scarce supply.
While the cookies used were all exactly the same, they filled one jar with 10 and the other with just 2.
The scarce cookies were said to be either constantly scarce or abundant then decreased. The decrease in cookies was a reflection of either an accident or a high demand.
The abundant cookies were said to be either constantly abundant or scarce then abundant. The increase in cookies was a reflection of either an accident or a lack of demand.
Here's how it panned out:
Cookies in

scarce

supply received higher ratings in terms of attractiveness than the abundant supply.
Cookies that changed from abundant to

scarce

were received higher ratings than the consistently

scarce

bunch.
Cookies that were scarce as a result of high demand received higher ratings than the cookies that were scarce by accident.
(Source: NeuroscienceMarketing / PsycNET)
The marketing application:
Marketing with scarcity works incredibly well because it forces people out of the "grey area." If they truly want what you're offering, they have to make a decision here and now.
Essentially, it forces people into action.
Death Waltz, a boutique soundtrack label in located in the UK, uses scarcity on its product pages to encourage visitors to act fast.
By including the note "low on stock" under each product description, Death Waltz is able to effectively increase a potential customers perception of its scarcity.
The less there is of something, the more people want it.
The more valuable it is.
Other ways to leverage scarcity include:
Limited time offers

Seasonal products/services

Urgent landing page copy (ex: "only 3 seats left!)
Social Proof
The psychology lesson:
In 1968, Stanley Milgram set out to explore the way in which reinforcement from multiple people influenced an individual's behavior.
In his experiments, commonly referred to as the "sidewalk experiments", Milgram asked one person to stand on a street corner and look up at the sky. During this time, he would record the reactions of those who passed by.
He gradually increased the size of the group of people looking up until it consisted of 18 people looking up at once.
Milgram found that:
When one person was looking up, 1 in 25 people who walked by looked up
When five people were looking up, 1 in 5

people who walked by looked up

When eighteen people were looking up, 1 in 2 people who walked by looked up
(Source: Paid, Owned, Earned: Maximizing Marketing Returns in a Socially Connected World)
The marketing application:
As Milgram's experiments aim to prove, people tend to observe those around them when they are unsure what action to take.
Aware that the behavior of others often guides the decisions and actions of their potential customers, Rent the Runway ( a membership-based website that allows users to rent designer apparel) has turned to social proof to ease purchasing decisions.
When viewing an item of their site, users are presented with the opportunity to check out customer-submitted photos of that item.
In addition to these images, customers are invited to review their experience with the product and include their age, body type, weight, usual size, height, bust, size worn, overall fit, event worn to, and rating.
This type of social proof ultimately helps to eliminate the risk that accompanies a clothing purchase.
Other ways to display social proof include:
Social sharing buttons that display the share count
Testimonials
Case studies
Evidence of a high number of subscribers, page views, etc.
Awards
Pithiness
The psychology lesson:
The law of Prägnanz is one of the principles underlying Gestalt psychology, which is a school of thought that looks at the human mind and behavior as a whole.
'Prägnanz' is German word for pithiness. According to good, old Merriam Webster, pithy is best defined as so:
Quite simply, the law of Prägnanz theorizes that the human brain tends to recognize things that are both clear and simple, as opposed to complex.
It stresses that simple and familiar shapes are often seen first. For example, if a viewer is shown several shapes overlapping one another, they'll process it as separate, recognizable shapes rather than a complex new shape.
(Source: ChangingMinds)
The marketing application:
Aware that the human brain is conditioned to perceive a visual display in the most straightforward, concise way, consider the benefit of simplifying the design of your homepage, landing pages, blog, etc.
Code Academy's website is about as minimalist as they come.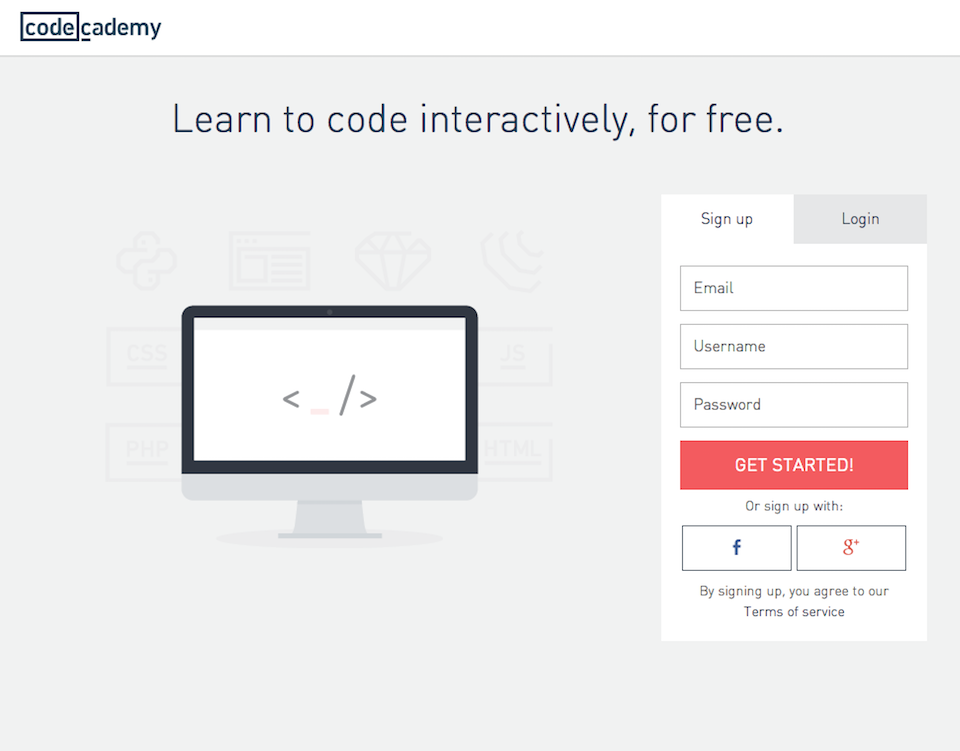 There are no unnecessary elements. No intricate visuals. Essentially, it's distraction free.
As a result, it's easy to navigate. It loads quickly. And it's easily scanable.
Not to mention, simple websites are much easier to code, update, and debug if something breaks.
Other ways to simplify your content:
Free Assessment:
How does your sales & marketing measure up?
Take this free, 5-minute assessment and learn what you can start doing today to boost traffic, leads, and sales.