It's Not Just About Numbers! The Unexpected Benefits of Event Sponsorship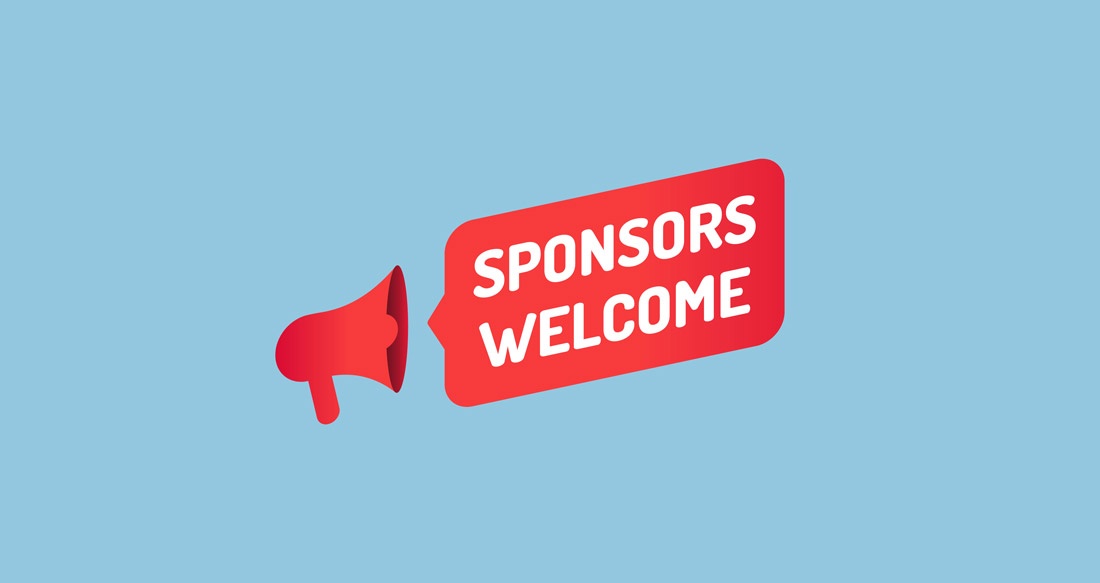 If you're reading this, I'm assuming you have been to a professional conference or event or two in your day.
There's something exciting about a group of like-minded individuals coming together to gain new knowledge, network, and find that one little tip that can help the marketing or sales team hit their goals.
But what if I told you the conference may be that tip, all by itself?
I get it, sponsorships can be scary - especially for those on a budget or who have never done it before. Let's be honest, that's probably you reading this right now :)
I was in your exact place a few years ago before IMPACT sponsored HubSpot's INBOUND conference for the first time, but for the upfront cost, the amount of return we saw was extreme -- both monetarily and beyond.
IMPACT Dives Into Sponsorships
We've been attending HubSpot's INBOUND conference for a while, but two years ago, we decided to do more than attend and became a sponsor.
It's something we had never considered doing before, but at that point and time, the potential benefits and ROI outweighed the risks.
Frankly, we didn't really even know what to expect.
One thing we did know, however, was it had to be remarkable.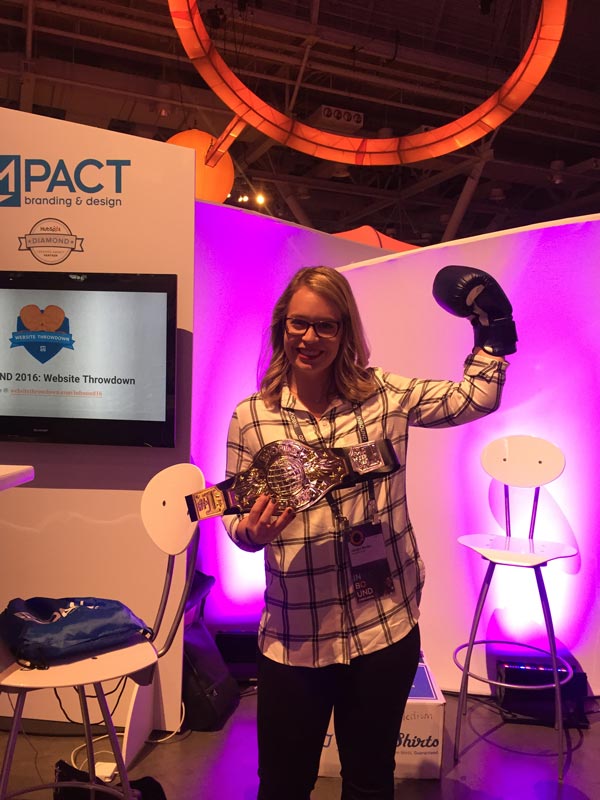 One of the Website Throwdown participants at INBOUND 2016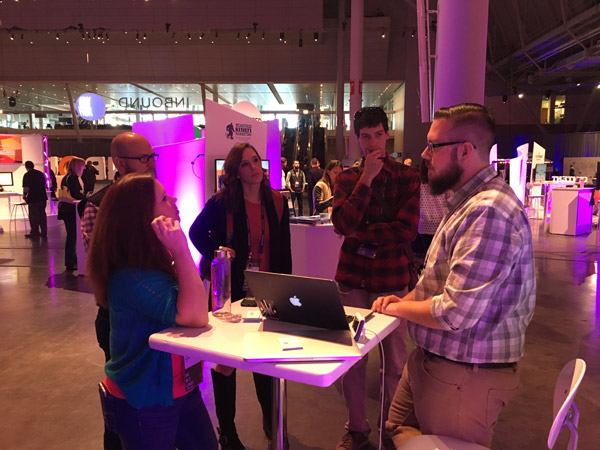 Chatting with booth visitors
I'll preface this article with this, there's no silver bullet to event sponsorships.
According to consumers surveyed at EventMarketer's EventTrack, 65% said live events gave them a better understanding of a product or service, more so than digital efforts and other methods.
As an attendee, in-person professional events are great because they give you an opportunity to connect with people face-to-face. Sure you can meet and chat online, but there's a lot to be said about being in the room when it happens. Similar things can be said about being an event sponsor.
Event sponsorships can help your users really connect with you on a human level.
For our INBOUND debut, our team put its heads together and decided a great way to register leads, and create some buzz, was to take our monthly webinar, Website Throwdown to Club INBOUND.
We were confident that, in 10-15 minutes, we could provide real tangible value to the show-goers, give people the opportunity to meet us, chat, and ultimately create real potential for ROI.
And let me tell you, it definitely paid off.
The Measurable Benefits of Event Sponsorships
Of course, the driving forces behind any initiative are the measurable benefits you can expect. That's ultimately what will help you get early buy-in from the higher-ups and make everything "worth it," right?
For event and conference sponsorships, there are a bunch of measurable results you may see, but I'm going to focus on two typical results companies want to get as a result of a sponsorship.
1. Lead Generation
Being at an event means tons of new eyes and ultimately new leads generated.
Which is why you've got that awesome, outside-of-the-box strategy for your booth, right?
Having a great offer, giveaway, or incentive for attendees (i.e. our free website critiques) to give you their information is for is super important. Once you have their information, you can send extremely targeted follow up campaigns to guide them through your funnel.
Some vendors will even share the attendee list with you, usually based on the level of involvement, which is a huge added value for you.
2. ROI
When planning your strategy for an event sponsorship, it's critical to determine how you'll track the ROI, both in the short term and long term.
When we first sponsored INBOUND we tracked very closely the leads we generated, knew what turned into customers, and could easily track the return from the event.
Our gut assumption was that out of the ~120 leads we could register, roughly 5-8 would turn into customers.
Then, we assumed that the value of each closed customer would be a minimum of $30,000 over 6 months, which made the investment in the sponsorship worthwhile. Closing 5 customers could potentially net us $150,000 revenue for the year, equating to a 9.3% potential ROI!
How could we lose?
If you have a product that you're showcasing at an event, how many individual sales do you need to make for the sponsorship to be a success? Is that amount even realistic with the number of attendees?
Understanding the results you'll need to generate before going into your sponsorship is the only way to really ensure a solid ROI.
The Immeasurable Benefits of Event Sponsorships
Sure, we were seeing leads from the event, some of which turned into retainer clients that are still working with us, but there were many intangible benefits.
While they may not be as "sexy" as the measurable benefits, the qualitative perks of event sponsorship can be just as valuable. They focus more around expanding your reach, emotional connections, and getting a bit of a leg up on the competition long term.
1
.
Vendor Relationships
While the way you approach a sponsorship is critical, knowing your vendor and their audience is just as important. Starting this partnership on the right foot can really help you long term, as the event may just be the launching point for larger initiatives and activities.
So, make sure to research the company and event to ensure the demographics and audience are exactly who you need to be in front of.
I mean, it doesn't make sense to pay to be at an event when only 25% of people are a good fit for your solution.
Pay attention to how they present themselves in their marketing. The tone of a company's voice usually directly relates to how their event or conference will be run.
Are they helpful and friendly in their marketing, or very "we" focused? The latter may be a sign that the relationship may not be as valuable as you initially thought.
You'll also want to look for a good main point of contact. They'll be the one ensuring you have a stellar experience and set you up to get the most out of your event sponsorship experience.
Working with someone who's attentive, answers all of your questions, and makes sure you're set up for success is crucial and helps you get the value you're looking for.
For us, INBOUND was a no-brainer. We knew without a doubt that it was the right audience for us and as a Partner Agency, we were happy to have another opportunity to grow our relationship with HubSpot.
In terms of point of contact, we worked with Doug Stone, who made sure all of our questions were answered and anything we needed for our booth was secured quickly.
Relationships like that make sponsoring a little less stressful and easier to manage.
2. Block the Competition
One of the biggest intangible benefits, in my opinion, is the potential to "block" the competition. If your competitors haven't started doing sponsoring events where your audience is, there's a huge opportunity to be first in the space and get new eyes on your company that may have found their way to a competitor.
The last thing you want is to hold out on an event opportunity, have a competitor take your place, and miss out on a great chance to establish your presence there.
3. Emotional Connection
Don't let the value of real human connections go under appreciated.
The ability to shake hands, share experiences and stories, and ultimately give the prospect an emotional connection to your brand in person can be a game changer.
Being able to look someone in the eye and tailor your messaging and value to their specific problem is an opportunity that normally doesn't come from other marketing initiatives.
That's how you turn people into raving evangelists; Affect them emotionally.
The real, human-to-human interactions you have is a major benefit that can yield results for months after your event.
We've heard many times in the sales process that the conversations people had at our booth at INBOUND were some of the most valuable ones they had at the entire conference.
That lasting impression that your brand is human, friendly, and willing to help is almost impossible to achieve through other mediums or marketing tactics.
4. Brand Awareness
Probably the biggest benefit of event sponsorship is brand awareness.
At INBOUND, we learned that doing something a little different at a sponsor booth, even if it seems crazy at the time, can have a huge impact on your success at an event.
Creating an experience is always better than the same old boring demo-swag setup everyone has learned to ignore -- just like they do with ads on websites.
As I mentioned earlier, we went into our first INBOUND with roughly 80 of our 120-130 Throwdown spots registered and needed to fill the rest to make sure it was a success.
After we got started, handed out some swag and started having a little bit of a crowd at the booth for our personalized throwdowns, the remaining spots quickly began filling up with people who were curious as to what we were doing and had never heard of IMPACT.
By the end of the second day, we had all of our throwdowns spoken for and even had to do overflow after the event.
Interesting offerings (or even swag) will bring attendees over to your booth and hopefully keep them there for some conversations.
Another perfect example of a great booth experience with great swag was Slope at WistiaFest last year. When I attended, I was drawn to their booth for one reason - foosball!
The Slope team had a table set up, and if you could beat them in a game, you got a better piece of swag than if you just had a quick conversation with them.
That strategy did a few things for their team.
It allows them to get deeper conversations with people over the foosball game, but it also created a lasting impression of the company.
Sad to say I got my butt kicked, but I left with a really nice bottle opener (which is on my fridge to this day), and it constantly reminds me of Slope and the awesome value they bring to creative teams looking for project management tools.
Even if attendees don't physically stop by your booth, having your logo associated with an amazing event can help position you to be the first logo that pops back into their head when the need arises.
For example, a few months after INBOUND, we were contacted by a prospect who mentioned that he didn't have time to stop by the booth at INBOUND, but had wanted to, and remembered our logo and the experience we're giving attendees - so he reached out to us.
Imagine that - simply by being at the event and having a unique booth experience brought us a lead that never even stopped at the booth.
That's what I call an invaluable benefit :).
Take a Chance!
There are plenty of potential benefits, both measurable and not, to be gained through event sponsorships. Creating a unique experience, fully showing the value you present the user, and ultimately making great connections can yield amazing results. What ideas do you have for your next sponsorship?
Free Assessment:
How does your sales & marketing measure up?
Take this free, 5-minute assessment and learn what you can start doing today to boost traffic, leads, and sales.