Is Your Data Source Healthy? Introducing the Data Transparency Label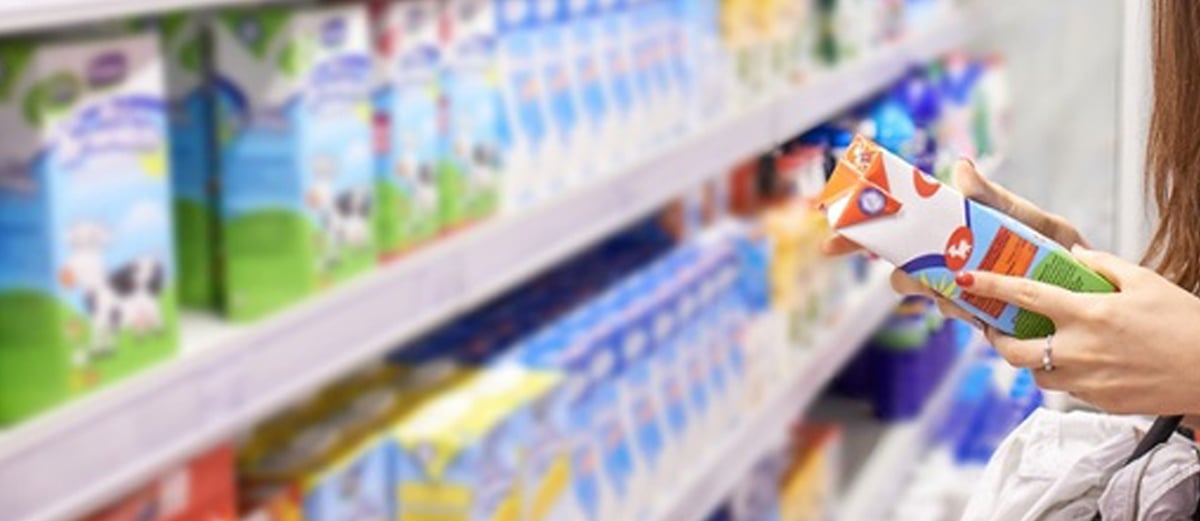 We've probably all picked up a package of food and turned it around to look at the Nutrition Facts label.
Maybe you've even looked at the calories, added sugar, or searched for a specific ingredient. They can be handy and super helpful in making decisions.
So, what if this experience came to other industries... say digital marketing or tech?
Before coming to IMPACT, I worked at a company called Label Insight where we worked closely with consumer packaged goods (CPG) manufacturers to help consumers better understand the ingredients in items, based on the information provided on the nutrition facts label.
That's why I was thrilled to wake up this morning and find out there's a new label in town: one for contact data transparency!
At Advertising Week 2018 this week, a beta version of the Data Transparency Label was introduced.
That's right, soon marketers will be able to look at the health of data set in an easy to digest (yeah, I said it) label.
Introducing the Data Transparency Label
The Data Transparency Label is designed to be a new industry standard for displaying information about audience data sets.
This label is the result of a year-long collaboration between the ANA's Council for Data Integrity and the IAB Tech Lab's Data Transparency Standards Working Group, according to their newly launched website: datalabel.org.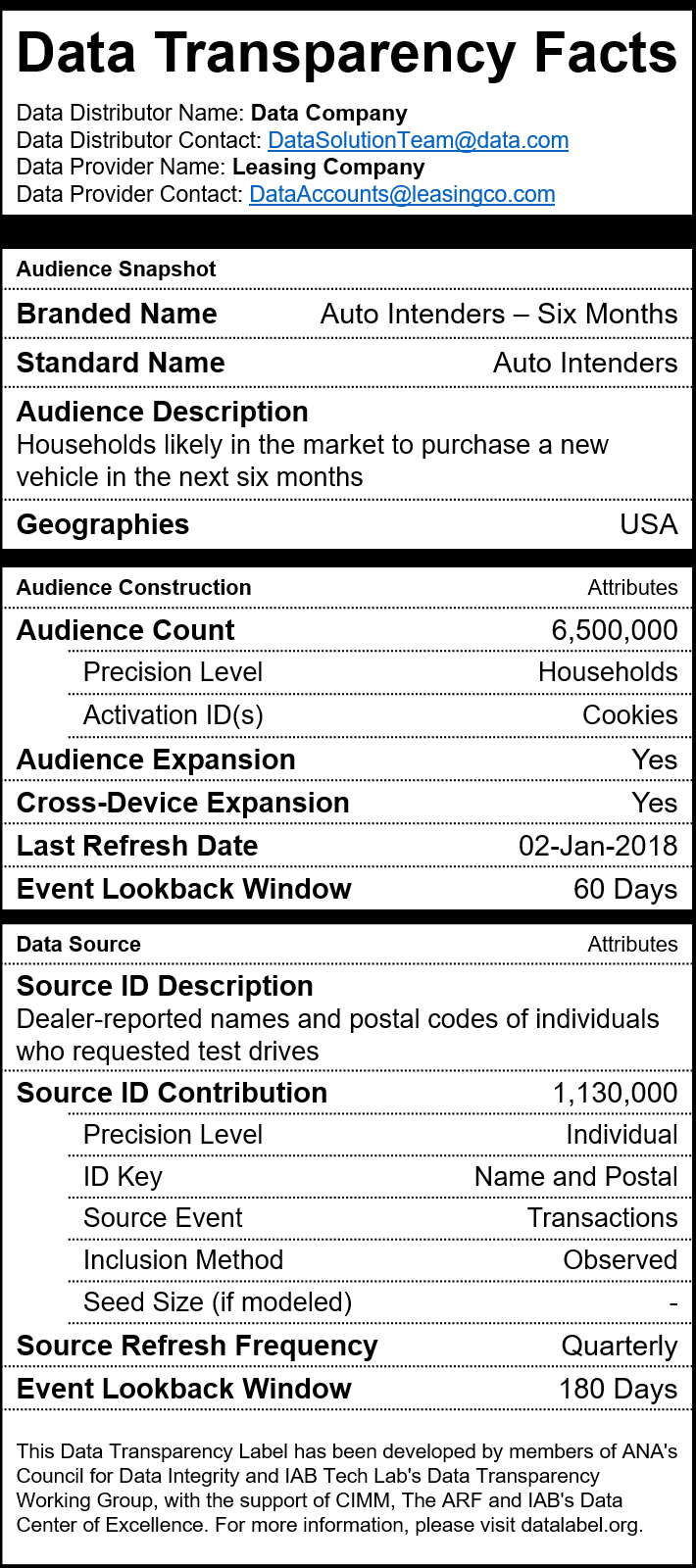 Image via datalabel.org
The data transparency "nutrition label" is divided into four sections to help data buyers easily understand the data set's "ingredients." The four sections are:
Data Solution Provider and Distributor Information

– Who provided the data segment, inclusive of contact information, for both data solution distributor and, where applicable, original data provider;

Audience Construction

– How the segment was constructed, inclusive of details such as audience count, any applicable modeling or cross-device ID expansion that may have been applied, audience refresh rates, and event look-back window for inclusion;

Audience Snapshot

– What audience segment the label describes, including both the provider's branded audience segment name as well as the most relevant segment name from a new standardized taxonomy, a top-line audience description and applicable geographic coverage;

Source Information

– Where the original data components were sourced. Required for each significant data source, this component includes details on data provenance, data collection techniques, refresh frequency, and event look-back window.
According to datalabel.org, the purpose of the label is to "give every marketer, agency, data provider and publisher a clear view of the syndicated audience segments they use."
A centralized database to house the label information (and a compliance group to oversee and validate this information) is also on the roadmap.
Audience Data Set Transparency For Marketers
As a marketer who is outright paranoid (I even wrote an article about deleting your Facebook account) about the accuracy, health, and sourcing of audience data sets, this is incredibly exciting.
Between data privacy scandals such as the one with Cambridge Analytica and Facebook's recent confirmation that they are indeed using your two-factor authentication phone number for ad retargeting, it's not surprising marketers are highly concerned about where consumer data comes from and how it was sourced.
It's understandable and even good to be cautious about whether consumer data you plan to use was gathered with the proper permission and will not cause you to wind up with negative legal consequences.
Data privacy laws will continue to intensify since the implementation of the GDPR and marketers are certainly being watched closely.
Fortunately, this label seeks to add transparency to audience data sets with a standardized method for assessing the data quality and integrity.
This is a big step toward marketers being able to source audience data with confidence and effectively segment and personalize content without worrying about how the data was gathered.
Where Can You Find the Data Transparency Label?
Unlike food packages, which are tangible, data is a little harder to physically pick up and examine. So, where will we look to find these data transparency facts?
According to the October 1st press release, this is the beginning of a "six-month public comment period, during which time, participants can test-drive the label with up to fifty common syndicated audience segments provided by globally-recognized data solution providers such as Oracle Data Cloud, LiveRamp, Neustar, Lotame, Acxiom, Experian, TruSignal, Fluent and FullContact."
The idea is that consumers will eventually be able to compare labels on select data sets within different data management platforms. Marketers will also be able to find these labels directly on datalabel.org.
Much like a nutrition facts label, the Data Transparency label will help marketers make important decisions about data segments. According to Dennis Buchheim, Senior Vice President and General Manager at IAB Tech Lab, the label will enable "more effective and responsible use of data in marketing and helps improve consumer ad experiences."
If you want to provide feedback or participate in developing the proof of concept for the Data Transparency Label you can email participate@datalabel.org through March of 2019.
Free Assessment:
How does your sales & marketing measure up?
Take this free, 5-minute assessment and learn what you can start doing today to boost traffic, leads, and sales.