New year's resolutions: 8 digital marketing must-try tips for 2021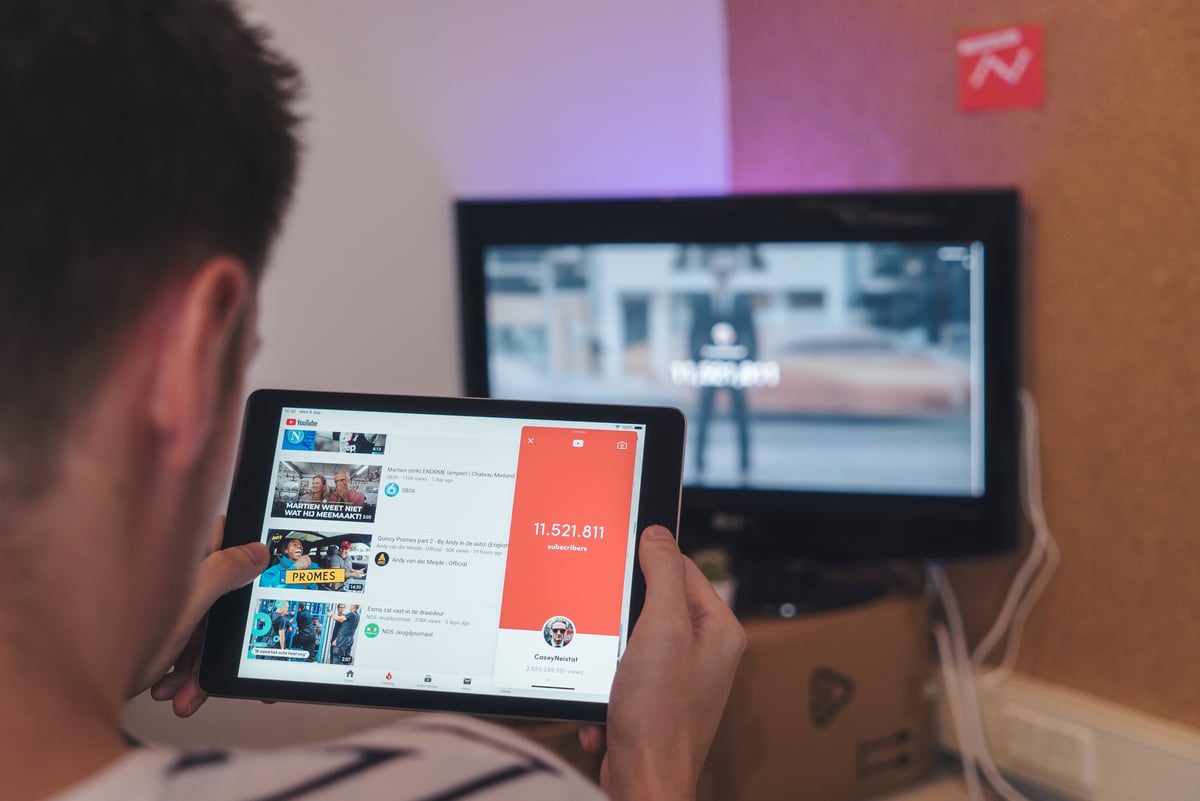 Digital Marketing Tips 2021
Incorporate interactive content into your strategy
Create a "choose your own adventure" video
Go live!
Use social media to get in your buyer's head.
Optimize your conversational marketing
Optimize for voice search
Start a purpose-driven campaign
Invest in diverse and inclusive marketing
Ahh 2020, how I don't miss thee.
I don't know about you, but last year threw all of my digital marketing plans for a loop!
While I can say our team did a fantastic job at pivoting and being agile when needed, we simply weren't able to do the type of experimenting and innovating that I would have liked. Like most, 2020 was a year of survival for us.
As we're getting into the rhythm of 2021, I'm challenging myself and my team to not let uncertainty in the world hold us back. I want to use this time to optimize, try new things, and stay ahead of the game, not just keep our heads above water.
With that in mind, I started diving into some of the biggest trends for this year and have come up with a list of must-try tips that are both easy to implement and can yield BIG results!
Whether you find inspiration here or note a few areas you can optimize in your digital marketing plans, I challenge you to try at least one of these must-try digital marketing tips in Q1 and let me know how it goes! From content and video to messaging and purpose drive campaigns, there's a lot to choose from!
1. Incorporate interactive content into your strategy
Let's face it; As consumers, we are inundated with content. Just think about how many hours we've all spent in lockdown mindlessly scrolling through endless articles, videos, and posts just to fill the time.
Interactive content, or content that gives your customers a way to participate in what you're putting in front of them rather than just reading or watching with glazed-over eyes, can help you stand out from the crowd.
According to HubSpot "51% of B2B buyers say interactive content is helpful when tackling business challenges." It also gets 2x more engagement than static content!
It's also a smart way for you to start collecting valuable customer data.
Tools like calculators are a favorite of automotive brands, mortgage lenders, and B2B businesses. Calculators allow your customers to get right to what they want to know most when buying from you —how much will it cost them.
Take a look at HubSpot's ads ROI calculator. In a few simple steps, you can calculate how much return you can expect from your ads based on factors like your budget and target conversion rate.
While giving your customers information like a full-breakdown of cost and return is an incredible value, you can also give them a little fun with something that feels gamified.
Another great example is this interactive infographic from DuelingData, An Analysis of The Beatles.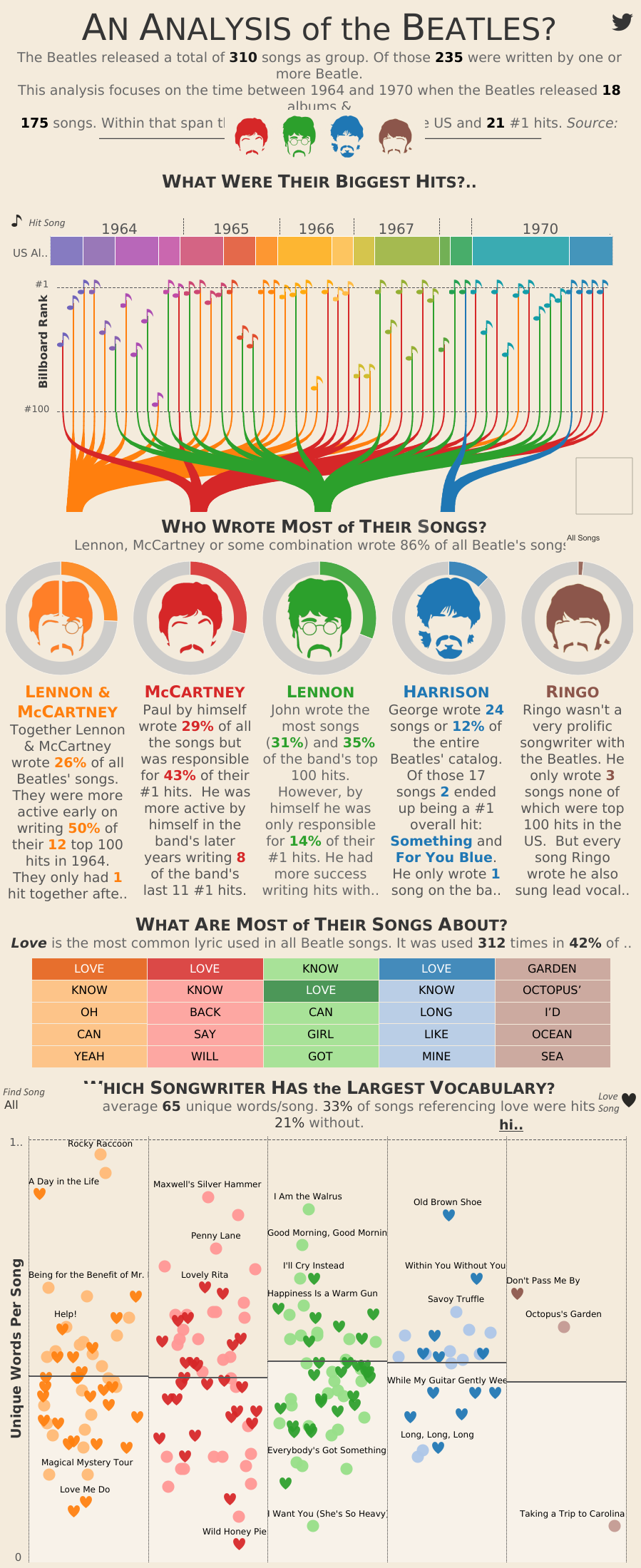 This interactive infographic allows fans to hover and click through the different members of The Beatles, learn stats like who wrote the most songs, and even gets into details like which band member has the highest vocabulary based on what they've written.
How can you get started?
Interactive content doesn't have to be complicated to create.
In fact, it can be as simple as an online poll, quiz, game, or survey.
These things are relatively simple and fast to create (with tools like Playbuzz, Google Forms, or Qzzr), as well as easy and fun for your customer to participate in. You can get your audience's opinions on relevant topics, discover what they are passionate about, and test their level of knowledge on your products or services.
There are many tools out there to help you create interactive infographics as well. Here are a few tips to help you get started.
But don't bite off more than you can chew! While interactive infographics can be highly engaging, they can also take a lot of time to build. If that's not realistic either within your budget or your team resources this year, think about something more simple.
Think about what you really want to know from your buyers and go from there.
2. Create a "choose your own adventure" video
Keeping on the interactive content train, let's talk about video!
Remember the classic Tom Hanks hit movie Big?
Toward the end of the movie, Tom Hanks' character pitches an idea for a digital, "choose your own adventure" comic book, where kids could interact by choosing where they want the story to go next. The concept was well ahead of its time, but it still holds a lot of value into today's marketing world.
We all know video is a key component to both your sales and marketing strategy, but interactive video, in particular, brings this idea to life.
Check out this very simple example from Callebaut chocolates.
While very basic, this video is a perfect example of how easy choose your own adventure videos can be.
In it, the viewer gets to decide which cookie they want to see made by clicking on it. They are able to make very simple selections including flavor, filling, and what type of base cookie to start with.
Not only is it fun and engaging, but it lets the user see some of the options available to them as well as some of the work that goes into the "Chookie." Then at the end of the video, you're even given options to download recipes for the items used in the video.
Now, stop thinking about cookies for a second and start thinking about your brand. What journey do you want to help your customers take? What are the possible paths they could go down to get there? Map this out and there's your choose your own adventure video!
How can you get started?
Start by thinking about what stories your brand can tell and how different segments of your audience might "branch" out from there. Also keep in mind if there's a specific outcome you want them to reach (i.e. to be shown a specific product or service, etc.).
From here, there are some easy-to-use tools on the market that make it easy to create this type of video without hitting your budget too hard.
3. Go live!
Have you noticed a theme yet?
It's all about interaction! Think about it, we've all been cooped up for close to a year; I'm sure we could all use a little more human interaction. So, next up is live video.
Did you know that 82% of people prefer live video from a brand over standard social posts?
Live video is nothing new, but in a time where face-to-face interaction is limited, going live with your video strategy on social media or with events allows you to keep up your engagement with your customers.
It's also simple, if not free, to do.
How can you get started?
You can try something as simple as running a live Q&A on IGTV or YouTube once a week. Or, host a live workshop on Zoom, where your participants can get hands-on and interact with your team.
One of the best things about live video is that all it requires is a smartphone or a good webcam. You don't need high-production-value for it to be engaging.
If you're looking to experiment in Q1, this is a great place to start!
4. Use social media to get in your buyer's head
I recently read a quote by Rand Fishkin which I found particularly interesting as I was thinking about how to tackle our digital marketing in 2021: "The best advice I can give for marketers is to reinvest in getting to know your audiences. Their habits are going to change in 2021, probably substantially."
Think about it, human behavior was forced to shift substantially in 2020 and brands had to shift right along with it.
While we had all hoped the clock would strike midnight on New Year's Eve and the world would be back to normal, that's simply wasn't the case.It's likely going to be some months (if not longer) before we really get a sense what "normal" will be in a post-COVID world.
What does this have to do with your digital marketing? Well, everything.
You have the opportunity, right now, to reconnect with your audience, start conversations, and start getting a sense of where they are headed as the year progresses.
How can you get started?
Get on social media and start conversations! It sounds simple, but the results can be powerful.
You know where your audience lives online today. Head there and start digging to find out if that's where they will be as the world shifts again in 2021.
Search for hashtags relevant to your audience and read through the comments on the top posts and jump in where appropriate. You should also regularly monitor these tags to see how online conversations are shifting with your audience.
Are you a member of a Facebook group like IMPACT Elite? If so, these are the perfect forums to suss out where your audiences' heads are and to simply ask them questions.
Set aside 30 mins a day or even every other day to do this and you should start to see some good trends that will help you continue to engage with your audience this year.
5. Optimize your conversational marketing
Leveraging tools like chatbots on your website is far from new in 2021.
However, with so much more purchasing occurring online, how you leverage them can have major impact on your sales this year.
Chatbots are your "always-on" marketing channel and if positioned right, they can be both highly effective customer service and marketing tool. Why, you ask?
According to Forbes, it is "Because in every response, there are breadcrumbs of information that help these brands to enhance their current offerings as well as evolve their customer experience."
In other words, in every chat, you have the opportunity to continually educate or nurture your buyers through thoughtful, human conversation.
Buyers today want immediate answers to their questions and conversational marketing allows you to give them a channel to do this. For you as a brand, it allows you to collect valuable information, in a way that feels natural for your buyer.
In fact, by simply adding a chatbot to their website, HubSpot was able to increase their lead generation by 20%.
How can you get started?
Start simple.
Complete an audit of your current conversational marketing tactics.
Where are people engaging? What questions are they asking? Have you tried infusing offers or breadcrumbs into these conversations? If yes, what does your data show?
If you start to see that certain conversation tracks are leading customers to the next phase in the buying journey faster, take those tactics and start applying them across the board.
Keep evaluating your data on a monthly basis. Just like anything else in your marketing, throw out what's not working and double down on what is!
If conversational marketing is new for you, tools like HubSpot Live Chat, Drift, and Olark can all help you get started.
6. Optimize for voice search
Did you know that shopping via voice search is set to reach $40 billion by 2022, up from $2 million today?
According to the Digital Marketing Institute:
"Adopting a voice search strategy isn't just about remaining relevant – it's also about creating a unique and optimized customer experience that will foster relationships and build brand loyalty."
Whether it's through Siri, Google Home, or Alexa, people are turning more and more to smart speaker devices to give them answers or perform tasks in real-time. Do you want your brand to be part of that $40 billion by 2022? Or do you want to be left behind?
As customers continue to embrace smart devices at home, brands who invest in voice search will have a leg up on the competition. There's no ifs, ands, or buts about it.
How can you get started?
Just like you'd optimize for a regular search engine, create content that's relevant to what your customers are searching for, for focus on what they'd want to know from you on-the-go. What short, quick answers might they need and ask for while standing in their living room or office?
The way people speak is going to be different from the way we might type a question.
(Source)
In short, it's all about long-tail keywords and not short phrases.
Start doing some digging on what your customers are actually asking. You can use SEO tools like SEMRush to get a sense of what the larger market looks like. But you should also be talking to your sales team and evaluating what questions you get asked through chatbots, social media, etc.
There are a few ways you can build content to answer these questions, according to Search Engine Journal.

Create FAQ pages built around the most common questions and long-tail keywords you receive.
Create persona-based content. This would include blogs or articles that go in-depth into the questions your specific buyer personas are asking.

Make your headline the question itself and immediately after the headline

, provide a concise answer to the question before going into your detailed article.
Use schema markup. This may take a little investing if you don't have someone on your team that can handle this type of technical SEO. However, adding a schema markup (an HTML add-on) allows search engines to better understand the context of your site and what it's all about.
7. Start a purpose-driven campaign
Buyers today, especially Gen Z, put more trust in brands that align with their own values. In fact, 89% of US consumers are more likely to have a positive image of brands who lead with purpose, 86% put more trust in those brands, and 83% say they would be more loyal to them.
A purpose-driven campaign allows you to connect with your audience based on a shared interest, more specifically a cause or belief. With everything that's happened in the world the last year, showing empathy and a human side of your marketing is something consumers can certainly use.
How can you get started?
Think about your brand's mission, what you stand for, and what social causes truly align with those. You want your purpose to be come from a place of genuine care and authenticity.
Here's a good example.
Back when the #MeToo movement began taking shape, razor brand Gilette put out a campaign. The brand's famous tagline "a best a man can get," might not seem like it aligns with the #MeToo cause, however, what Gilette did was call upon their male customer base to rise up, question, and change the behaviors that have fed the issue.
If you're going to align your brand with a social cause for a purpose-driven campaign, make sure it is thoughtful and makes sense for you to be speaking about it. If you do, you'll be able to start real conversations with your audience, build a stronger bond with them, and most importantly build trust with them.
8. Invest in diverse and inclusive marketing
Similar to purpose-driven campaigns, inclusive marketing will continue to take center stage this year.
"Right now, Gen-Z is 25% of the U.S. population and 48% diverse. Generation Alpha, the generation coming after Gen-Z is shaping up to be even more diverse. The average size of a woman in the U.S. is now between 16 and 18. And upwards of 40% of women are now the sole or primary breadwinners in their households."
What does this mean? Well, consumers will continue to have greater expectations to see themselves represented by brands. One-size-fits-all marketing simply won't cut it anymore.
So, if you haven't already thought about how to integrate inclusion into your marketing, now is the time!
How can you get started?
Similarly to purpose-driven marketing, you must be authentic.
For example, if you're going to promote the diversity of your team on social media make sure diversity is truly part of your hiring process and that you aren't just showcasing a few "token" employees.
For clothing or lifestyle brands, really take a look at the people buying your products. Are they all one size? Likely not. If you're showing "real" people using your products in your marketing, they need to represent the whole of your audience, not just what might be considered "ideal" or "typical.".
When your customers see themselves in your brand, you're again creating a bond that is hard to replicate. Here are a few quick changes you can make to kickstart your inclusive marketing this year.
Let this year be your time to try something new!
Whether you try these tips or something else, let's all make a commitment to making 2021 the year we break out of our comfort zones with digital marketing and try something new!
Sure, we can all play it safe and hope this year doesn't give us the twists and turns we experienced over the last 12 months, but, let's be honest, that's not likely to happen. Don't be afraid to take chances, experiment, and really push the boundaries with your digital marketing.
Free Assessment:
How does your sales & marketing measure up?
Take this free, 5-minute assessment and learn what you can start doing today to boost traffic, leads, and sales.