Subscribe
Join 40,000+ sales and marketing pros who receive our weekly newsletter.
Get the most relevant, actionable digital sales and marketing insights you need to make smarter decisions faster... all in under five minutes.
Thanks, stay tuned for our upcoming edition.
Facebook and Instagram will allow users to 'turn off' political ads ahead of 2020 election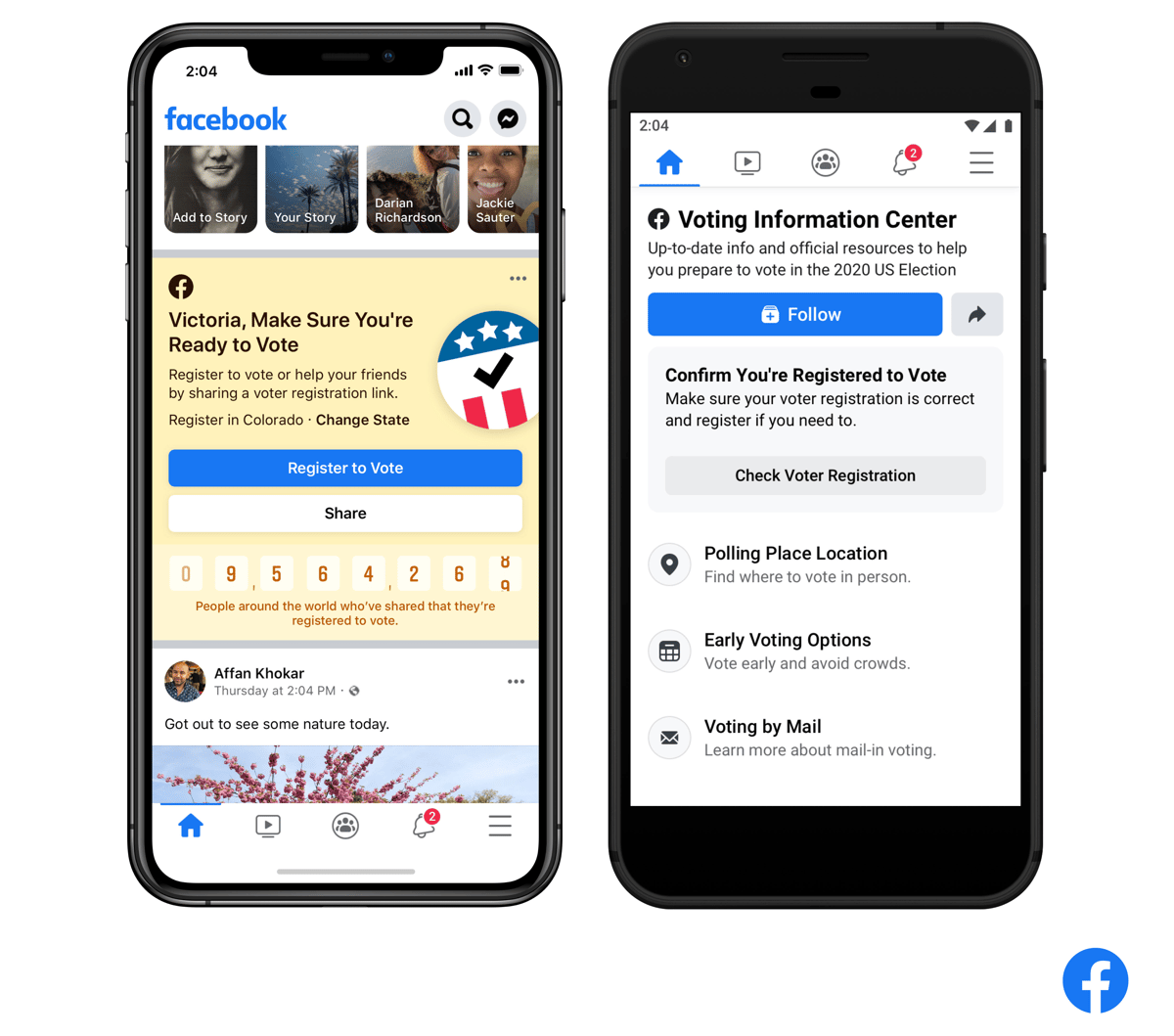 On June 16, Facebook formally announced a new voting information campaign in advance of the impending 2020 U.S. presidential election.
This will include the development and launch of a Voting Information Center, as well as new feature settings that offer users greater control over, and transparency into, sponsored content they see in both the Facebook and Instagram platforms.
Below, we offer a breakdown of what is currently being rolled out to U.S. Facebook users, some background context on why this is a company priority for the social media giant, and the potential ramifications these changes will have on users and advertisers.
How Facebook and Instagram will support voters in the 2020 US election
This week, Facebook launched a campaign that includes two critical resources or updates for users. According to the official company announcement:
"We're building a new Voting Information Center that will give millions of people accurate information about voting, while also giving them the tools they need to register and make their voices heard at the ballot box.

"Our goal is to help register 4 million voters this year using Facebook, Instagram and Messenger, and help them get to the polls so they can hold our leaders accountable."
The Voting Information Center will function as a hub of accurate information for U.S. voters to access, including:
How to register to vote
How to request an absentee ballot or mail-in ballot (depending on rules in your state)
Local election alerts regarding announcements and changes to the voting process
How to vote on election day
Check out the full announcement for more information on Facebook's Voting Information Center.
User control of political content
While the new voter hub sounds great, the seemingly bigger news that carries larger societal, marketing, and advertising implications is the rollout of user-control over political and social issue-related ads.
Company spokespersons have mentioned that users frequently ask to have more control over limiting political ads they see on Facebook and Instagram. Well, to all of you anxiously awaiting that option, the day has finally come!
Earlier this year, Facebook addressed ad transparency and control settings as part of a larger announcement in January, but didn't specify the exact release date of when users would gain control over reducing the number of political and social issue-related ads they would see.
As of last week, the settings update was made available to some users and will continue to roll out to additional users over the next few weeks.
What does this new setting update entail? Here's an explanation directly from Facebook:
"People will be able to turn off all social issue, electoral or political ads from candidates, Super PACs or other organizations that have the 'Paid for by' political disclaimer on them.

"You can do this on Facebook or Instagram directly from any political or social issue ad or through each platform's ad settings. However, we know our system isn't perfect.

"So if you've selected this preference and still see an ad that you think is political, please click the upper right corner of the ad and report it to us."
Facebook noted that this option is being rolled out in the U.S. first, and will expand to other countries where Facebook has "enforcement on ads about social issues, elections, and politics later this fall."
Two other updates worth noting
Facebook is also increasing transparency on political and issue ads by updating how they appear when shared by other users.
Starting now, when someone shares an ad to their profile or posts it to a page, the 'Paid for by' disclaimer will carry over so other users know who is behind the content and who paid for it. This was not the case previously, which created confusion for users as to whether the content being shared was an ad or not.
Finally, new insights will be offered via the platform's Ad Library that will track ad spend for U.S. House and Senate races, as well as presidential candidates.
There will also be a custom tracker that will allow users to compare the spending of advertisers running political or issue ads. Long story short — users now have visibility into ad dollars spent by campaigns to capture their vote.
Putting Facebook's political pivot in context
Facebook asserts that this initiative is a company priority intended to help drive voter registration, disseminate accurate voting information, and increase voter turnout.
Ever since the 2018 Cambridge Analytica data breach, Facebook has been scrutinized for its role in allowing false news and/or politically persuasive information to spread like wildfire to its users. This day of reckoning and public cry for accountability has pushed CEO Mark Zuckerberg into the spotlight of political and social issue discussions.
The company has been legally reprimanded and has faced increasing social pressure to hold itself accountable for the incredible influence it has over user-generated and sponsored content, and the ramifications it can have on societal perceptions and decision making.
As a result, the company is taking a new approach in 2020 to combat previous criticism.
Is it enough? And will it fix the problem?
The new 'turn off' setting put the onus and control of seeing political ads back into the hands of Facebook and Instagram users. Now, you must determine and take action on what you want and don't want to see.
As such, these changes don't put the responsibility on Facebook to censor ads making false-claims from hitting the platform to spread political misinformation.
Critics of the company's policies, including Facebook employees and the presumptive Democratic presidential nominee Joe Biden, argue that this structure still allows those paying for ads to disseminate false information that could harm the public.
Adding to the intrigue — Facebook's current position is quite different from the no-tolerance stance Twitter and CEO Jack Dorsey are taking on the same issue.
Dorsey recently declared Twitter would ban political ads on its platform worldwide. Granted, Twitter admittedly doesn't have it all figured out and the company is currently working on new policies and a plan that will bring this promise to life.
What does Facebook's move mean for social media users, advertisers, and marketers?
Regardless of your political leaning, you can't argue with the fact that these recent updates will impact how consumers and marketers approach social media in 2020 and beyond.
Political ads have become a standard for media consumers, where the expectation has been that candidates can pay to be heard on a platform. Starting with TV and radio, and then expanding to social media, the ability to pay for placement and impressions have given candidates with greater media budgets an arguable competitive edge.
To date, purchasing political ads on social platforms has given campaigns the ability to reach the masses where their target constituents most likely consume (and share) content and information. But that may soon be a thing of the past.
In the wake of Cambridge Analytica, increasing political polarization, and mounting social unrest, American-based companies like Facebook and Twitter are taking a good hard look at what has been done to date — and are now implementing changes.
New company policies and varying levels of tolerance to politically-driven content stand to drastically change the landscape of social media advertising, and thus the content we see as consumers.
Regardless, I'm curious to see how this plays out.
Will these new updates stand the test of time? Or will they be the first of many iterations made by social networks to enable users to silence or filter advertising on the platforms?
Perhaps we will see social media follow suit with streaming services, offering users the ability to pay to skip ads.
Only time will tell.
(image source: Facebook)
Free Assessment:
How does your sales & marketing measure up?
Take this free, 5-minute assessment and learn what you can start doing today to boost traffic, leads, and sales.