Google December 2020 core algorithm update winners and losers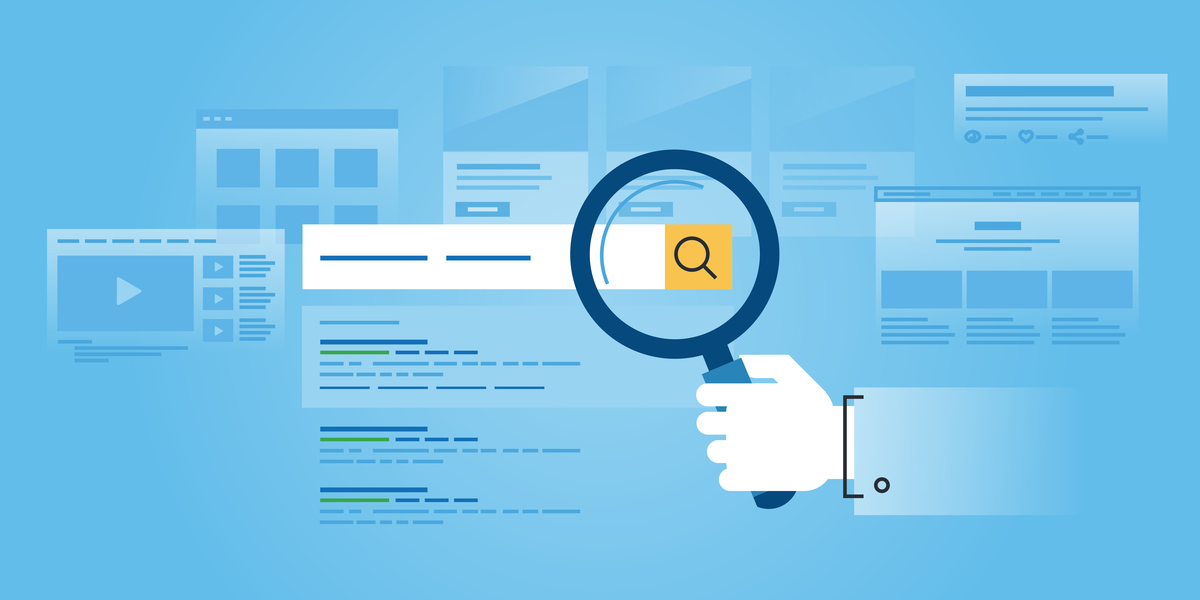 If you were like me, you were mentally cheering when you reached December of last year. You. Made. It.
By far, 2020 was the toughest and wildest year to navigate your business. And, even though you knew there wouldn't be a magical wand to wave to make it all go back to "normal" come January 1, you were proud of the efforts you put in to survive and maybe even grow your business.
🔎 Related: Key pandemic leadership lessons to keep in mind in 2021
Downtime was coming in just a short few weeks so you could breathe, recharge, and lock in your 2021 goals. Of course, we're not allowed to have nice things, right? So, Google decided to be a Grinch and throw one final curveball at the end of 2020, when it rolled out a core algorithm update on December 3.
These updates are frustrating because there is often a notable impact on your page rankings without any true context as to why.
With that in mind, I'm going to walk you through what we know about the December algorithm update so far and the specific actions you should take to fix any drops that occurred and position yourself for gains in the future.
What is a Google core algorithm update?
Google releases a "broad core update" every few months to tweak its main algorithm. These updates aren't specific to region, language or category of websites.
As Google puts it, core algorithm updates are:
"...designed to ensure that overall, we're delivering on our mission to present relevant and authoritative content to searchers… We confirm broad core updates because they typically produce some widely notable effects. Some sites may note drops or gains during them."
What trends or patterns do we see from December's core algorithm update?
Many people are quick to weigh in on the impact algorithm updates have, but one thing we've learned with core algorithms updates is that it truly takes time to tell. The December update was no different, which is why we're talking about it only now. One thing we do know is that most changes to content rankings seem to have occurred on the day of the update.
While experts have started to identify patterns, it still is never confirmed exactly what the algorithm update impacted.
Below are the three main trends or patterns that we've been seeing so far:
1. Changes in how alternative medicine topics are assessed
Previously, Google's E-A-T Search Quality Guideline heavily impacted the performance of alternative medicine content.
E-A-T stands for "expertise, authoritativeness and trustworthiness." Google uses that simple acronym to provide a guideline for the type of content sites should aim to produce if they want to see their content rank well in Google's search results.
Alternative medicine topics struggled to rank in recent years, often because the quality of the content was in question — Google struggled to see publishers have the authority and expertise needed to allow it to rank for any type of medical query.
Now, we're seeing Google recognize some alternative medical sites as having the potential to help people rather than hurt them.
2. More attention to headings and content structure
Search Engine Land reviewed page-specific data to see what kind of positive or negative changes occurred for keyword-specific rankings.
Their findings noted that pages that had headers and content with more specificity to the search query saw improvements whereas pages that were more broad or didn't include the search term in the headers decreased in rank. The example they shared was an article about cleansing your liver by Dr. Axe.
🔎 Related: Visitors will see your forms aren't secure with new Google update
In it, the headings — both the title and subheaders throughout the article — use the term "liver cleanse." When analyzing the search results for "liver cleanse," they saw an increase in Dr. Axe's article ranking — going from the #10 spot to the #4 spot, from before to after the core algorithm update — and a decrease in rank from pages on UW Medicine and Advanced Health.
The biggest difference between Dr. Axe's article and the other articles was that Dr. Axe's used the exact term in it's article headings.
3. Search-query relevant content continues to improve
Similar to the point above about headings, we're seeing that the more relevant content is to a search query, the more likely it is to surface in the search results.
While many assumed this core update directly had to do with Google's BERT algorithm, Google's own Danny Sullivan refuted the claims.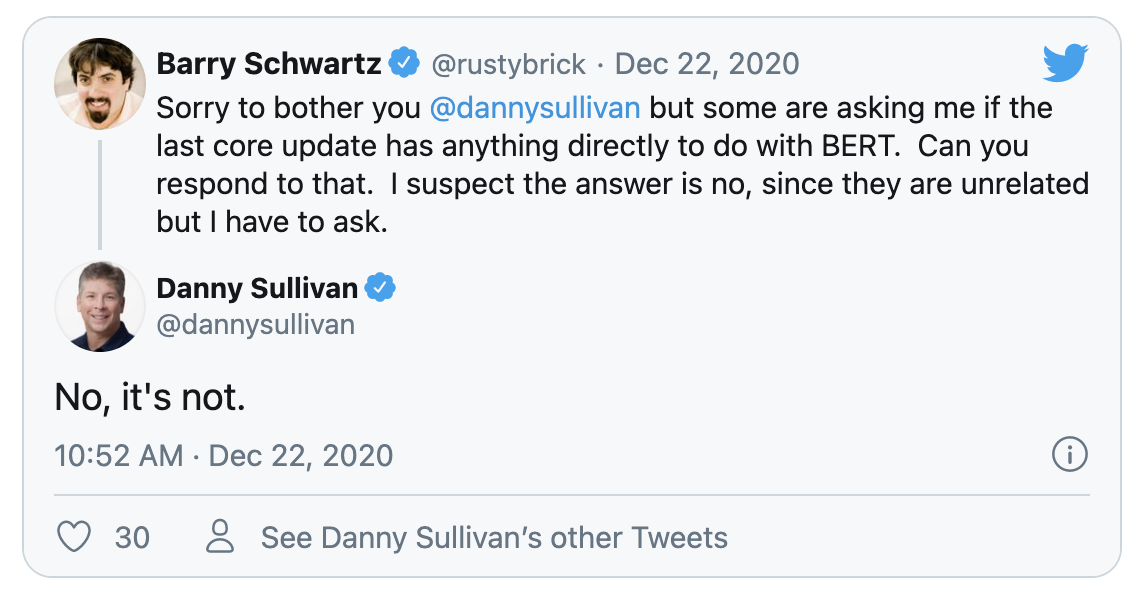 That said though, the higher the quality of content is on a site page, the higher we've been seeing it rank in every algorithm update since BERT rolled out in 2019. And if you're looking for a refresher on what constitutes quality content, check out this resource that Google provides.
What actions do you need to take?
OK, so we've touched on what happened in the December core algorithm update but what now? What specific actions do you need to take? Ultimately, you want to ensure your content is answering a user's search query as best as possible.
Franco Valentino, technical SEO expert and founder of Narrative SEO, weighed in on the recent changes and supports this assessment saying:
"Google's search algorithm continues to evolve its capability of understanding and extracting meaning from text. BERT was a clear improvement over the now antiquated 'word matching' routines, but its limited ability to crawl sentences restricted how well it could extract the meaning of a page.

SMITH — Google's next iteration of BERT — was given more RAM so to speak. SMITH can read and understand passages vs sentences, which gives Google an advantage over search engines in its quest of providing the most relevant and precise answer to your question."
So, how can you fix any affected content to ensure it is the most relevant answer?
First, run a report using SEMRush or a similar tool to see which of your pages have lost rank on or around December 3, 2020. Then, analyze those pages to see what critical search queries you were previously ranking for but have since dropped.
Use the questions below as a guideline to determine where your content may be falling short in terms of quality.
Does the content provide original information, reporting, research or analysis?
Does the content provide a substantial, complete or comprehensive description of the topic?
Does the content provide insightful analysis or interesting information that is beyond obvious?
If the content draws on other sources, does it avoid simply copying or rewriting those sources and instead provide substantial additional value and originality?
Does the headline and/or page title provide a descriptive, helpful summary of the content?
Does the headline and/or page title avoid being exaggerated or shocking in nature?
Is this the sort of page you'd want to bookmark, share with a friend, or recommend?
Would you expect to see this content in or referenced by a printed magazine, encyclopedia or book?
Does the content present information in a way that makes you want to trust it, such as clear sourcing, evidence of the expertise involved, background about the author or the site that publishes it, such as through links to an author page or a site's About page?
If you researched the site producing the content, would you come away with an impression that it is well-trusted or widely-recognized as an authority on its topic?
Is this content written by an expert or enthusiast who demonstrably knows the topic well?
Is the content free from easily-verified factual errors?
Would you feel comfortable trusting this content for issues relating to your money or your life?
Is the content free from spelling or stylistic issues?
Was the content produced well, or does it appear sloppy or hastily produced?
Is the content mass-produced by or outsourced to a large number of creators, or spread across a large network of sites, so that individual pages or sites don't get as much attention or care?
Does the content have an excessive amount of ads that distract from or interfere with the main content?
Does content display well for mobile devices when viewed on them?
Does the content provide substantial value when compared to other pages in search results?
Does the content seem to be serving the genuine interests of visitors to the site or does it seem to exist solely by someone attempting to guess what might rank well in search engines?
Then, update your impacted content to improve its chance of ranking well again for the specific terms you're targeting.
And last but not certainly not least, keep those questions in mind when you're creating any new content. Core updates will continue to happen and the stronger your content is, the more you'll benefit from the algorithm tweaks.
Free: Assessment
Does your website build trust with buyers and bring in revenue?
Take this free 6 question assessment and learn how your website can start living up to its potential.