Google to reassess desktop search updates after social media backlash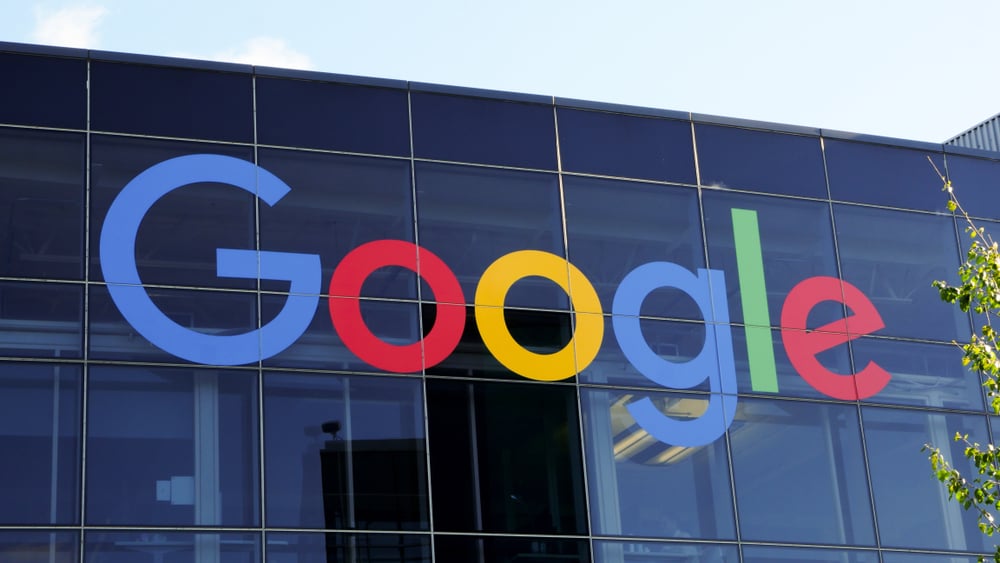 A couple of weeks ago, Google fully rolled out its updated look to ads and organic search on desktop searches.
Join the IMPACT coaches for a deep dive on a new topic every month in our free virtual event series.
Google's stated purpose with this change was to make the search experience better for its users, and to bring desktop search more in line with the updated mobile search display, which had already launched.
These updates built upon a change that came at the beginning of 2019, when Google announced a redesign to add favicons to the mobile search results. The goal with this change was to bring each website's branding front and center and make it easier for users to see where information was coming from.
If you didn't notice, what had changed on the mobile results was favicons were more prominent and URLs were added next to each result. This change affected both ad and organic search listing results.
Mobile search before (L) and after (R) March 2019 update: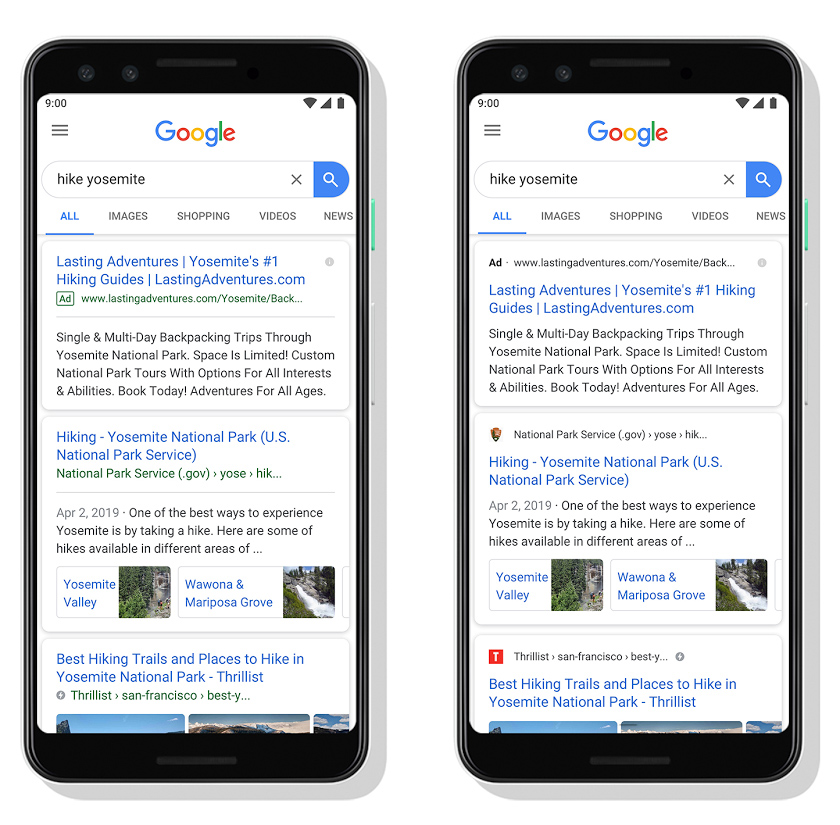 Then, around January 13th, 2020, Google rolled out a very similar change to desktop.
Desktop before (L) and after (R) January 13, 2020 update: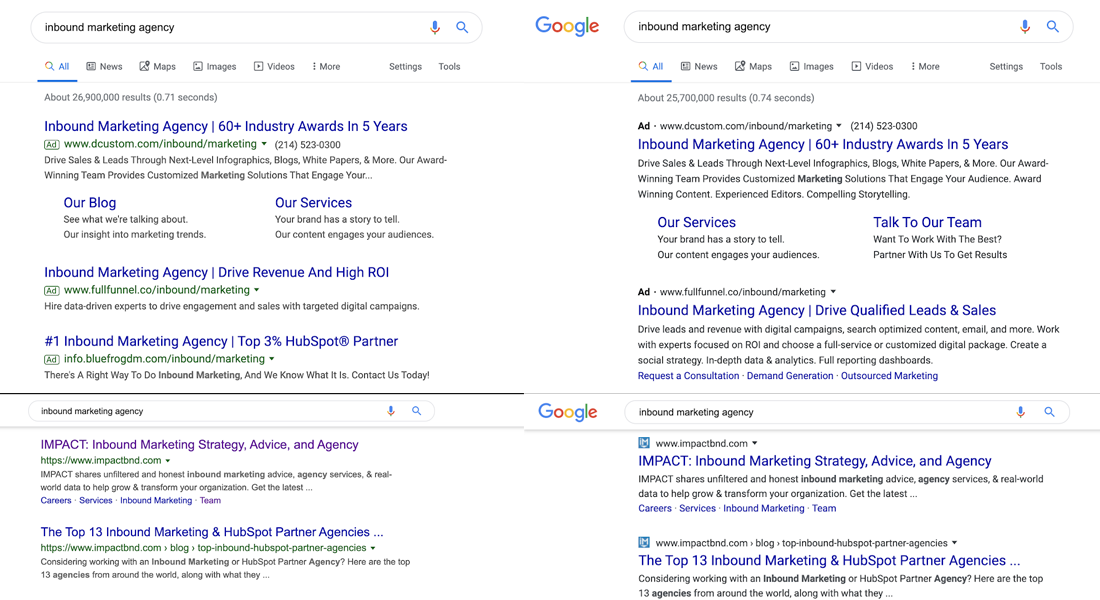 Now that the change for mobile has fully rolled out on desktop, Google has received a good deal of feedback.
While some reactions have been positive, many people are saying that it is now harder for users to distinguish between an ad and an organic search result.
Here are some of the complaints you may have seen on Twitter.
Now, Google's made a change in the opposite direction: rather than removing the ad labels, it's updated its *non*-ad results to also feature a small tag in the upper left and then a line of text along the top, above the title. Compare and contrast: pic.twitter.com/tmtxnOytGA

— hern (@alexhern) January 23, 2020
google search results have been taken over by ads, which are increasingly indistinguishable from actual results thanks to addition of favicons

all of these additions have been a wreck for readability and it's hard not to believe that's the point https://t.co/jmpZJ9SLap

— Jake Kastrenakes (@jake_k) January 23, 2020
There's something strange about the recent design change to google search results, favicons and extra header text: they all look like ads, which is perhaps the point? pic.twitter.com/TlIvegRct1

— Craig Mod (@craigmod) January 21, 2020
The power of social media
Perhaps like no other platform, Twitter allows users to gain the ear of major corporations. Google is an industry behemoth, to be sure, owning over 93% of the search engine market. However,Google is listening to its user base.
On Friday, Google announced via Twitter that it will review its updated format.
Last week we updated the look of Search on desktop to mirror what's been on mobile for months. We've heard your feedback about the update. We always want to make Search better, so we're going to experiment with new placements for favicons….

— Google SearchLiaison (@searchliaison) January 24, 2020
Google will continue to experiment with the placement of the favicons, as it looks to bring a more modern look to the desktop search listings. The favicons have been removed already from the search results for certain people to help bring back the difference between what is an ad and what isn't.
Some of you may still see the favicons in your search results.
What does this mean for me?
Any change to any Google product or service seems to send ripples through the entire digital economy — that's how significant the company's footprint is.
While Google continues to experiment and change the way search results are displayed, you could see an impact on your click-through-rate on your Google Ads and organic listings.
Digiday reported that various ad providers have seen an increase in desktop ad click-through rates since the rollout of the desktop changes. The increase in CTRs has ranged from 4% to 10.5%, likely because people didn't know whether or not they were clicking on an ad or organic result.
Additionally, seeing that Google is listening to its users, don't be afraid to speak up with your feedback. As you can see, Google listened and is now experimenting with alternative solutions to make the user experience better for everyone.
The big lesson here is the power of feedback. Despite Google's size and market share, it still listened to user feedback and adapted accordingly. When customers speak, businesses should make sure to listen.
Join the IMPACT coaches for a deep dive on a new topic every month in our free virtual event series.
Published on January 31, 2020