Google's Upcoming Redesign Adds Favicons To Mobile Search Results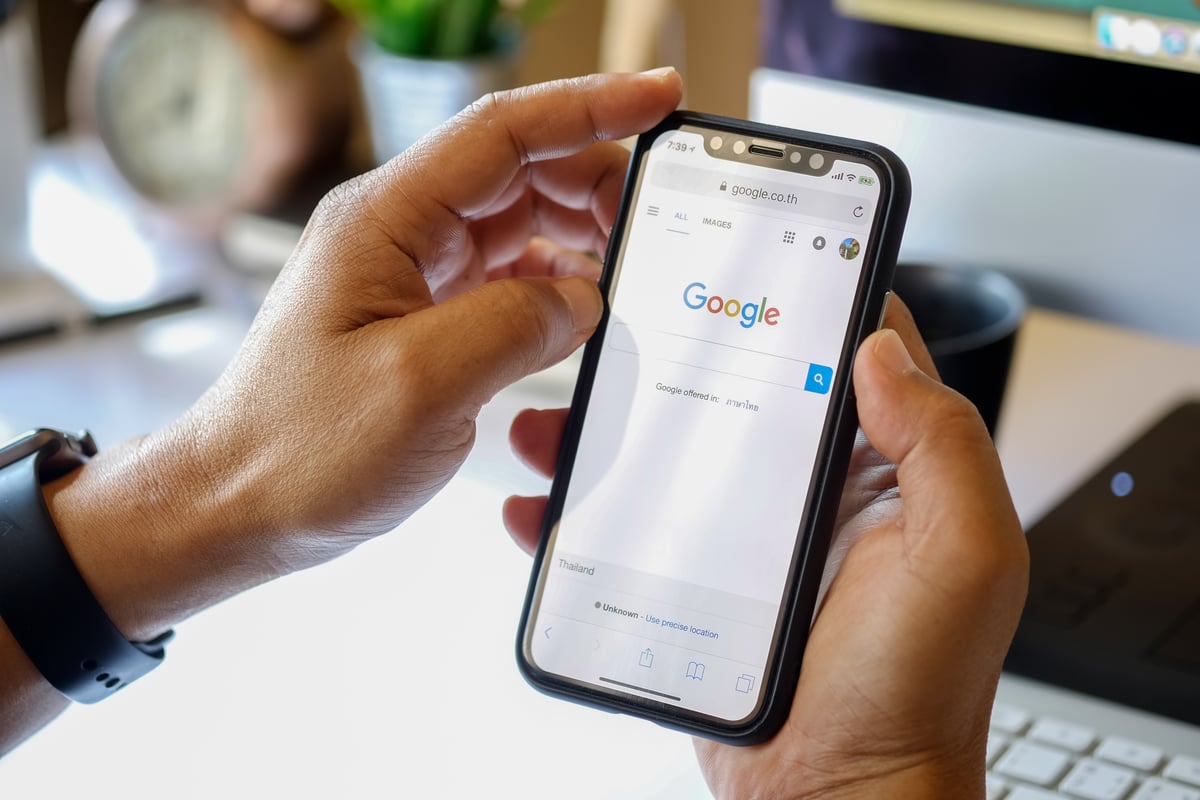 Look around at any sporting event, highway, or virtually anywhere else, and you'll likely see it littered with brand logos.
Join the IMPACT coaches for a deep dive on a new topic every month in our free virtual event series.
We live in such a logo-centric world that there are even smartphone games dedicated to identifying these ever-present corporate logos.
From a marketing perspective, there's a good reason for this constant exposure — after all, your brand's logo represents so much more than a simple design.
Logos offer an immediate, impressionable reminder of your brand, its ideals, and products that can make an impact on consumers even if all you get is a glance.
So, if we have such a heavy logo presence in virtually every other aspect of our day-to-day interaction, why is this key branding symbol missing in Google Search?
Well, it looks like Google is changing that.
The search engine giant recently announced that it's updating the appearance of Search to now include favicons to put your website branding front and center.
What We Know About The Favicon Search Design
Google shared a look at the favicon-friendly Search appearance in a blog post, with the current search appearance pictured left and the upcoming design on the right: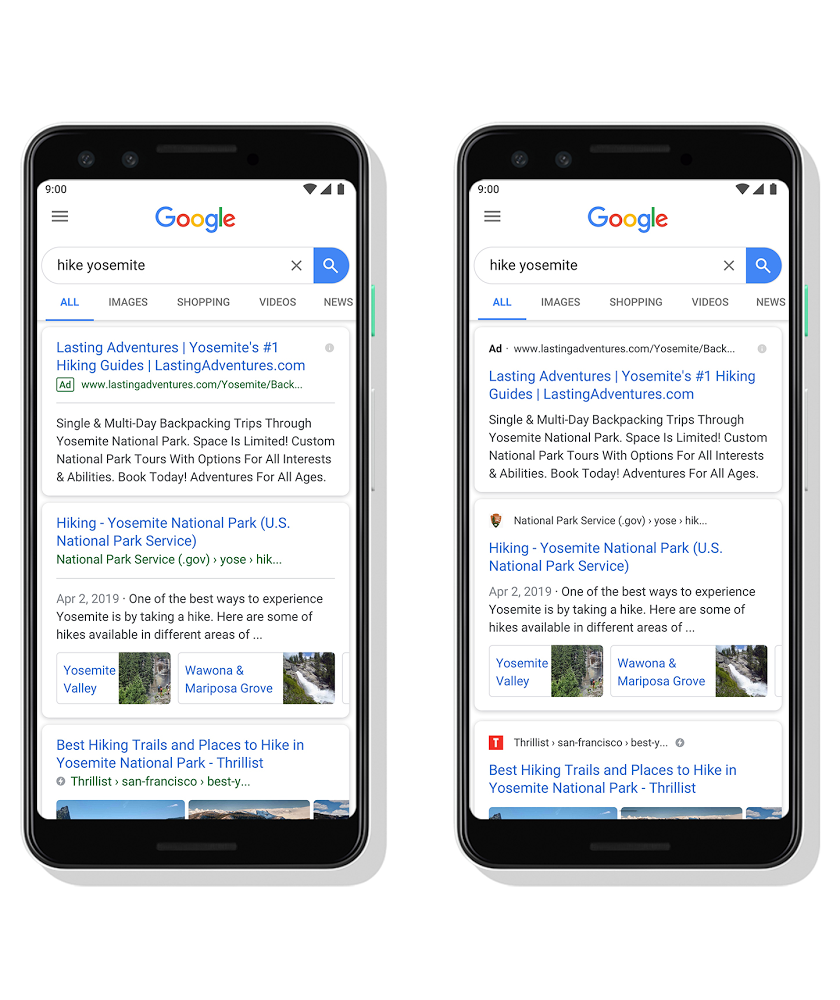 As you can see, there are a few major changes here.
Now, instead of having the source name and URL pictured below the search result listing, they appear above the results card, where the brand's favicon will also live.
Although this will admittedly take some getting used to from a user perspective, it does place the source front and center, so users can make educated decisions on where they're getting their information before clicking.
Beyond emphasizing branding, Google shared additional motivating factors for making this change, stating:
"As we continue to make new content formats and useful actions available — from buying movie tickets to playing podcasts — this new design allows us to add more action buttons and helpful previews to search results cards, all while giving you a better sense of the web page's content with clear attribution back to the source."
In other words, as Google adds more and more features to better cull the information you're searching for, it doesn't want the website's source to get lost in the mix. By placing this information at the top, it provides extra resources within the context of the source.
Something you'll also notice is that these new branding elements don't extend to Search Ads. While you still see URL information moved to the top and bolded, Search Ads don't appear to feature a favicon and brand name the way organic results do. To me, this seems like a loss for advertisers — and will be interesting to see if Google changes this based on feedback after this feature is rolled out.
How to Get Your Favicon in Search
Google stated that these changes are expected to roll out to mobile within the next few days — so you should make sure the right favicon for your brand is being represented in Search.
It's important to note that there are several guidelines to keep in mind for your favicon to be considered.
These include:
Both the favicon and homepage must be crawlable by Google (i.e., your site can't be blocked)
Favicon dimensions must be multiples of 48px square (for example, acceptable sizes include 48x48px, 96x96px, 144x144px, and so on). Any valid favicon formatting is supported, you can check out this page if you're unsure of what to use.
Regardless of the size you submit, Google will rescale your image to 16x16px in search, so make sure your favicon is easily seen in that resolution (Note: Google won't accept submissions of 16x16px).
The favicon URL should be relatively stable, so make sure you're not updating it frequently.
Once you've met all guidelines above, add this code to your site's homepage:



Add a <link> tag to the header of your home page with the following syntax:

<link rel="shortcut icon" href="/path/to/favicon.ico">
rel

Can be any of the following strings:

"shortcut icon"
"icon"
"apple-touch-icon"
"apple-touch-icon-precomposed"

href
The URL of the favicon. Can be a relative path (/smile.ico) or absolute path (https://example.com/smile.ico), but must be in the same domain as the home page.
Moving forward, Google will look for this code (and any changes made to it) whenever it crawls your site. If you want to inform Google right away, you can request a recrawl via Search Console to speed up the process.
However, even if you have all of these guidelines met, Google does not guarantee your favicon will appear right away in search results.
Final Thoughts
Honestly, I'm surprised this feature wasn't a part of the original Google design given the huge role brand logos play in virtually every other space.
This update will help boost brand awareness and recall in Search — and I believe this will have benefits for not only well-known corporations but for smaller brands too.
For example, if you frequently search for blog articles related to your industry, you may consistently find yourself landing on the same brand's content without even realizing. Having a logo in search results boosts this brand recall much faster than a brand name does, increasing the chances of getting return visitors via organic traffic.
Moreover, this is a sign Google has more plans in the future to continue adding rich results directly in search listings for valuable on-site content a user may not have seen otherwise. This can make the difference between generating click-throughs and losing that traffic to a competitor.
So, look out for the new design in mobile search, and start prepping your favicons to be seen within organic results so you're prepared.
Join the IMPACT coaches for a deep dive on a new topic every month in our free virtual event series.
Register Here
Join the IMPACT coaches for a deep dive on a new topic every month in our free virtual event series.
Published on May 24, 2019