How a micro-influencer's 2019 holiday campaigns came to life: An interview with Michelle Zavodny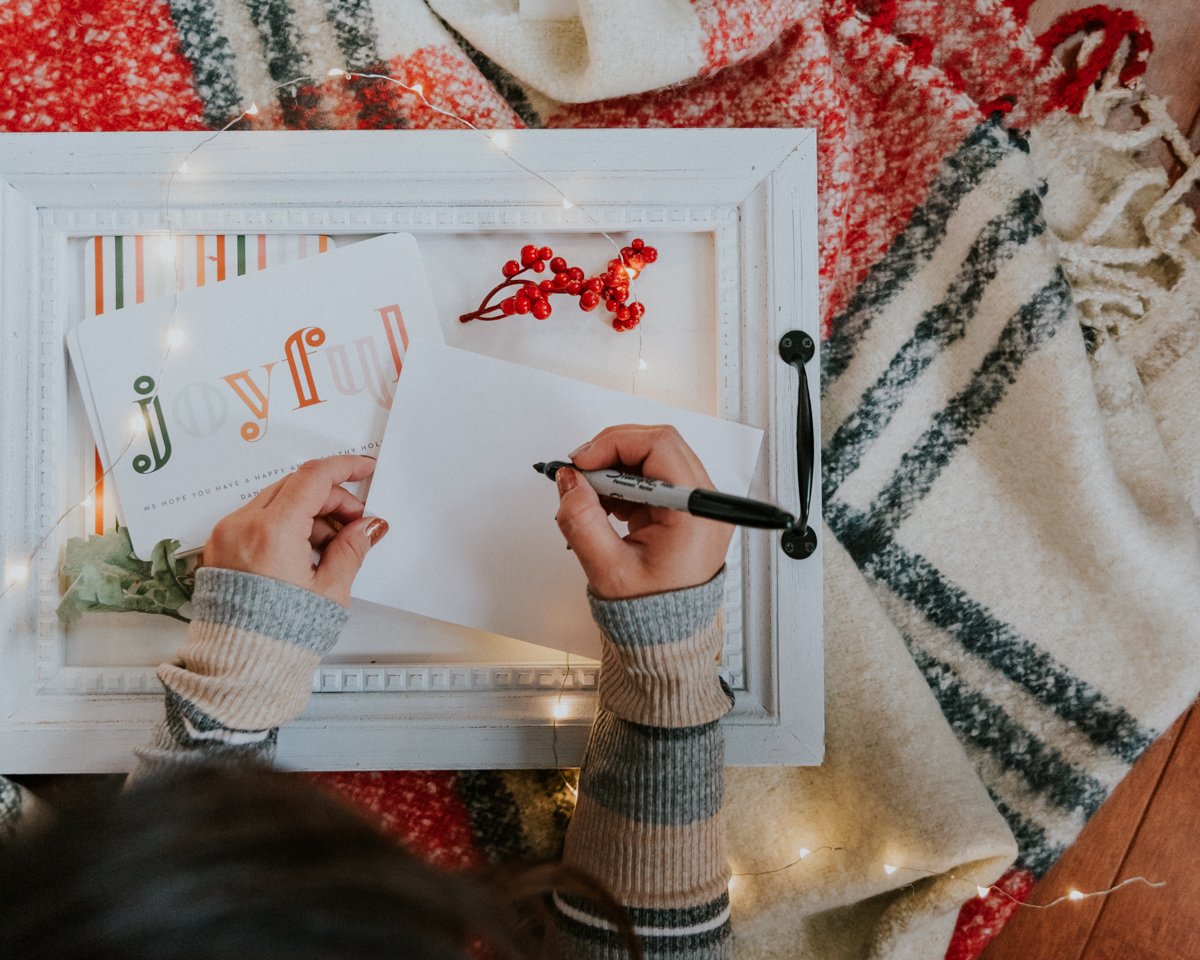 For retailers, the holidays are a mad dash to meet end-of-the-year sales goals and move products off the shelves. From early October through New Year's Day, retailers leverage multifaceted campaigns to incentivize shoppers to fill their carts.
A rapidly growing piece to holiday retail puzzle is the utilization of celebrity brands and social influencers.
The rise of the social influencer gives commercial brands a tool unlike any mass ad campaign or discount promotion. Co-branded or sponsored social influencer campaigns hinge on a network of followers who trust and respect the opinion of said influencer. In turn, the campaigns are seen as more credible and authentic, and the associated products are viewed more favorably.
This industry is bigger than ever. As I mentioned in a previous article on social advertising consumer trends, in 2019, celebrities and social influencers became even more relevant in digital marketing. In fact, 51% of consumers say they'll purchase a product that is promoted by a celebrity or influencer-endorsed brand.
Social influencer campaigns are huge, but I admittedly don't know a lot about them. The extent of my experience is following and interacting with a handful of celebrities and local micro-influencers who I also happen to know personally.
To learn more, I sat down with fellow Clevelander and micro-social influencer, Michelle Zavodny (@itsmemeach) to discuss how her holiday campaigns came to life this year, what works, what doesn't, and what consumers should expect to see more of in 2020.
Some background on Michelle Zavodny and her blog, MORE by Meach
A native Clevelander, Michelle is a graduate of The Ohio State University, from which she received a degree in communication and media production. She initially launched a personal blog in 2009 as a digital resume to showcase her writing skills.
While she didn't start treating this asset like a business until 2017, Michelle said that her first "ah-ha" moment came in 2013 when she thought, "Hey, maybe there's something more here."
Fast forward to 2017.

Michelle decided to take a more intentional approach to her writing and branding, evolving her fashion blog into a business, formally calling it My Versatile Style.
Since then, the blog, her passion for creativity, and the supportive community she's building have grown to be much more. Michelle has amassed more than 12,000 followers on Instagram and MORE by Meach receives approximately 10,000 unique page views each month.
Still working a full-time day job in marketing and demand gen, she commits many hours of her personal time into building a strong presence as a social media influencer:
"The reason I love blogging is because it suits my multi-passionate personality and random skill set. I'm obsessed with the process — writing, interviewing, researching, graphic design, photography — and the results that can be driven by my efforts."
Michelle's brand, style, and approach have evolved over the past few years — expanding from a niche fashion blog and boutique to a broader community featuring lifestyle information, resources, and products. She features a range of topics from self improvement and wellness to home decor and beauty.
This shift is a direct reflection of how she's grown personally and professionally, and it provides Michelle with an outlet that truly brings her (and she hopes others) joy.
And it's working.
Not only in terms of growing her follower-base, but also attracting the attention of brands looking to partner with her. Expanding her content beyond fashion has opened up new possibilities and "a breath of fresh air" for her followers.
When I asked Michelle why she thinks the transition to lifestyle versus strictly fashion is working for her, she shared, "There's a vanity behind fashion and it's only relatable to an extent. Not everyone has the resources to constantly revamp their wardrobe."
She went on to explain her journey and how it took her a long time to arrive at the place she is today.
"I had to dip deep. It's been a journey of trial and error. It took me nearly two years to create a mission and vision that clearly articulated what it is I'm trying to do. Now, these are my compasses. They guide every decision I make, from the content I create to the brands I choose to partner with."
What brands did Michelle partner with for the 2019 holiday season? And, why did she align herself with those particular brands?
I found it interesting to learn that many brands wait until Q4 to coordinate holiday campaigns with social influencers, which could range anywhere from October through December. As a result, this often leaves the influencer with a very short window to create and execute the campaign.
In Michelle's opinion, the lack of pre-planning can cause the quality of the work to suffer, creativity to be stifled, and create additional stress. This is especially true for influencers who commit to too many last-minute partnerships.
So the question that came to mind for me is, "if social media influencers are becoming an integral piece of big brand marketing, then why aren't these campaigns coordinated well in advance of the holiday season?"
Michelle thinks it's due in large part to an end-of-the-year scramble for marketing teams to spend the last of their annual budget, allocating money to a multitude of tactics to see what sticks.
Michelle says that she's fallen into that trap previously, bringing on a lot of stress and last-minute deadlines that ultimately impact the quality and creativity of her work. In preparation for the 2019 holiday season, she was determined to pre-plan when possible and be more intentional with whom she partnered.
So who did she partner up with this year? A shortlist of brands that align with her personal and professional goals. Most notable is Altar'd State, a boho-chic apparel and accessory boutique with a mission to change the world for the better. Michelle was thrilled to partner with this brand for several reasons.
Altar'd State reached out to Michelle and other influencers as part of its 2019 holiday campaign. The offer was to participate in a several-week-long campaign based on in-store prompts and product promotions, with compensation in the form of gift cards.
The logistics of the campaign were simple and easy to execute, but in Michelle's opinion, the most important benefit to this partnership is that Altar'd State offered her the room to do what she does best — create authentic content for her loyal audience.
Altar'd State also fulfills a larger ideal for Michelle — the company aligns with her personal core values. She loves what they stand for — not only in the quality and longevity of their products, but also in the company mission to give back.
In her words, Altar'd State transcends a lot of different age groups, shapes, and sizes. Its clothing is modest and of high quality.
Additionally, the company is extremely transparent about where its dollars go. Profits aren't just going directly into someone's pocket. Altar'd State supports a company-wide mission to "Stand Out. For Good."
"By shopping our collection, you are providing food to the hungry, support to those battling cancer, and giving underprivileged children a bright future." - Altar'd State
Among their giving initiatives, Altar'd State supports impoverished children in Peru, Mission Mondays, and giving back to the communities in which the stores operate. You can learn more about specific giving initiatives by reading its Stand Out. For Good blog articles.
Michelle's other partnerships include Basic Invite, Drugmart, Evereve, Moxie Made, and Old Navy.
The common thread? Michelle is focused on being more sustainable with her own consumer habits and wants to encourage others to do the same. Her selection of partners comes down to the level of creativity and authenticity they allow her to have with her content, as well as her core values and the ethics of the brands with whom she's partnered.
What did her 2019 holiday campaigns involve and how were they run?
As you can imagine, no two programs are ever alike.
Each brand and its campaign requirements is unique. This could include specific products to feature, hashtags and tagging preferences, exclusivity (i.e. not tagging other brands within the same post), brand-approved language, and the placement of language in the post.
In terms of her execution, Michelle leverages a multi-channel and multi-format approach to content. Her combination of blog articles, Instagram posts and stories, and now IGTV videos, offer her the ability to repurpose a single piece of content in multiple ways — and tailor it to the consumer's preferred consumption format.
Because she partners with brands that offer her the freedom she desires to be authentic, Michelle has a lot of autonomy in how she brings those campaigns to life.
For example, one of the holiday campaigns she worked on was a 5-week activation. Michelle was given prompts on what to highlight, hashtags to use, and terminology to avoid. Everything else was up to her — her creative direction, her words, and her final say.
What works, and what doesn't?
Long story short, the highest performing content and best engagement comes from authenticity and being on-brand.
Michelle believes that the smartest brands are the ones that allow the creators to create. "When [businesses] start giving very specific talking points, it's hard to create an organic piece of content."
I asked her why she thinks some brands put tight restrictions on their social influencer partners.
"I think it's their lack of knowledge and/or the brand's concern about pushing their own agenda. They don't realize that the success of a collaboration is truly that — a collaborative process. I want to work long-term with a brand that allows me to inject some creativity into the content and lets me figure out how to work that into a conversation with my audience."
She went on to add, "The worst is when a brand is asking you to put all their talking points at the forefront of your post. It's so obvious that it's not something I would say and people can sniff that out immediately."
But when it comes down to what works, Michelle said she gets more views on stories versus "likes" on individual posts. The overall trend she's seeing indicates that stories are currently more successful with her audience.
In terms of direct interactions, she receives more people commenting on posts and sending her DMs, and she's also found a lot of success using polls and quizzes.
Another thing that could cause a campaign or piece of content to fail? When a brand doesn't keep its end of the bargain in terms of review and approval process. This can cause delays or an entire shift in the influencer's publishing calendar.
Analytics and performance
In terms of analytics and performance, Michelle tracks several key performance indicators, including reach, impressions, and overall engagement rate. To pull this data, she relies on the Instagram Creator Profile, Google Analytics, and Fohr.co, an influencer platform she leverages to see and apply for brand partnerships. Fohr.co's dashboard has advanced reporting features she uses to help make better business decisions.
That said, she noted that it's difficult to filter out what true engagement is. Even if people read the post or see it quickly in their feed, they may not actually engage with it.
For her, it's not about the total number of responses, but what the responses actually are. She's actively taking people's feedback into account as she plans for her content calendar in 2020.
What are 3 key trends that will influence social media and promotional strategy in 2020?
Her first response took me by surprise.
"I honestly try not to pay attention to what other bloggers are doing. They're doing what they know works for their own audience, so I focus on figuring out what works for mine and delivering on that. I pay more attention to what's happening in marketing than anything. I read industry resources and blogs weekly."
She went on to add, "I'd rather have facts and data guide my strategy than assumptions. And when you create content based on what seems to be working for others, you're doing the latter."
Intentionally crafting her own strategy and style is clearly a top priority, which I really respect. Beyond that, Michelle says she'll be concentrating on a few specific tools in 2020:
Credibility: Michelle mentioned Neil Patel and the resources he publishes on how Google is prioritizing SERPs based on a source's thought leadership and credibility in that space. Michelle knows she can't be the expert on all things lifestyle, so she plans to bring subject matter experts onto her blog in 2020. She wants her followers to make decisions based on legitimate facts and expertise, not just someone's opinion.
Video: Michelle is excited about the potential of video and how it is growing into the most consumed format of content, specifically in the form of IGTV. She'll be recording interviews with SMEs across various topics and then breaking those videos into short segments that can be repurposed on multiple channels.
Multi-channel and multi-platform: In 2020, Michelle intends to deploy a more strategic content calendar that will include a mixture of content repurposed to multiple channels, including blog posts, individual social shares, and IGTV video.
More evergreen content. Along those same lines, Michelle is looking forward to creating new efficiencies through the repurposing of content and the creation of truly evergreen content that can be leveraged through out the year (regardless of season or campaign).
Expansion through multiple influencers. Michelle is looking to expand her community and content through other influencers — bringing new subject matter experts (SMEs) and perspectives together for her audience.
As a social influencer, what are you most excited about in the final days of 2019 and the start of 2020?
In true Type-A personality and marketer form, Michelle has already finalized her content calendar for December and is well into January. She's looking ahead to what's next in Q1 2020 and taking a proactive approach to content creation. "My best work will come out of that," she shared.
Thanks to her organization and planning, Michelle has put a halt on any additional content production in 2019 and will focus her attention on friends, family, and the holidays.
But come 2020, she's excited to continue building her community. When I asked her what that looks like, she didn't skip a beat.
Her goal is to create a collaborative community of bloggers, influencers, SMEs, and partnerships that offer a truly supportive space for her followers.
Success to her, ultimately, is to become a go-to, trusted resource on a variety of lifestyle topics. She related it to a talk show where she's at the center of the community, inviting experts in to share their insights, facts, and resources that can bring most value to her followers.
Most importantly, Michelle's community won't be built around the agenda of making a dollar, but rather bringing more joy in people's lives.
"People think that things need to be so complex. I need more clothing, more trips, more, more, more," she said. "When you get rid of the noise, the peace that you feel is incredible."
Michelle's authenticity and passion have enabled her to build a loyal following that continues to grow and yield new professional opportunities and partnerships. I'm beyond excited to see her continue to nurture these relationships and bring value to our community through her creativity and thought leadership.
Here's to 2020 and bringing true joy to those we influence!
Free Assessment:
How does your sales & marketing measure up?
Take this free, 5-minute assessment and learn what you can start doing today to boost traffic, leads, and sales.