How Brand Publishing Translates to Real Business ROI

Moving from a content marketing strategy to brand publishing can dramatically increase your organization's website traffic and the size of your audience. But did you know it can also generate significant, long-term revenue growth?
On the surface, brand publishing can easily be confused with content marketing. Both strategies revolve around the creation of content, and on the surface, it might seem like brand publishing is just a version of content marketing where you publish more content.
While most brand publishers are prolific content creators, there's much more to the shift from content marketing to brand publishing and, when done right, it translates into real business ROI.
Here at IMPACT, we've been building a brand publishing business for the last two years and I've been knee deep in not just developing the strategy, but measuring the outcomes we've achieved, including business ROI.
I'm going to explain what we've done and how we're measuring ROI, but first, I want to share a personal story that helps put the power of brand publishing in context.
It all started with a home improvement project
Fun fact: About 60% of IMPACT's team works from home.
I'm one of the remote workers on our team and, as such, I spend a LOT of time in my house. If you've ever owned a home, you know that the list of projects can seem unending. This is especially true for someone like me, who sits around all day staring at the things that need to be fixed.
Last summer, I became obsessed with replacing our front door. The door we had was old, wooden, ugly and cracked. It needed to go, and fortunately, my husband John is very handy and owns just about every tool ever created. He loves a good home improvement project, so I pitched him the idea of going to Second Chance, a fantastic architectural salvage place in Baltimore, and getting an inexpensive old door that we could refinish and use to replace our existing front door.
I did some quick math and figured we could get a door for around $100. The supplies needed for refinishing it would be $50 or under, the new door hardware would be $250 at most, and voila — the rest would be no cost labor courtesy of John and we'd be done!
What actually happened was this.
The door was indeed under $100, but it took John a month of weekends working in the 90 degree heat to strip the old paint and then stain and varnish it (thanks honey!).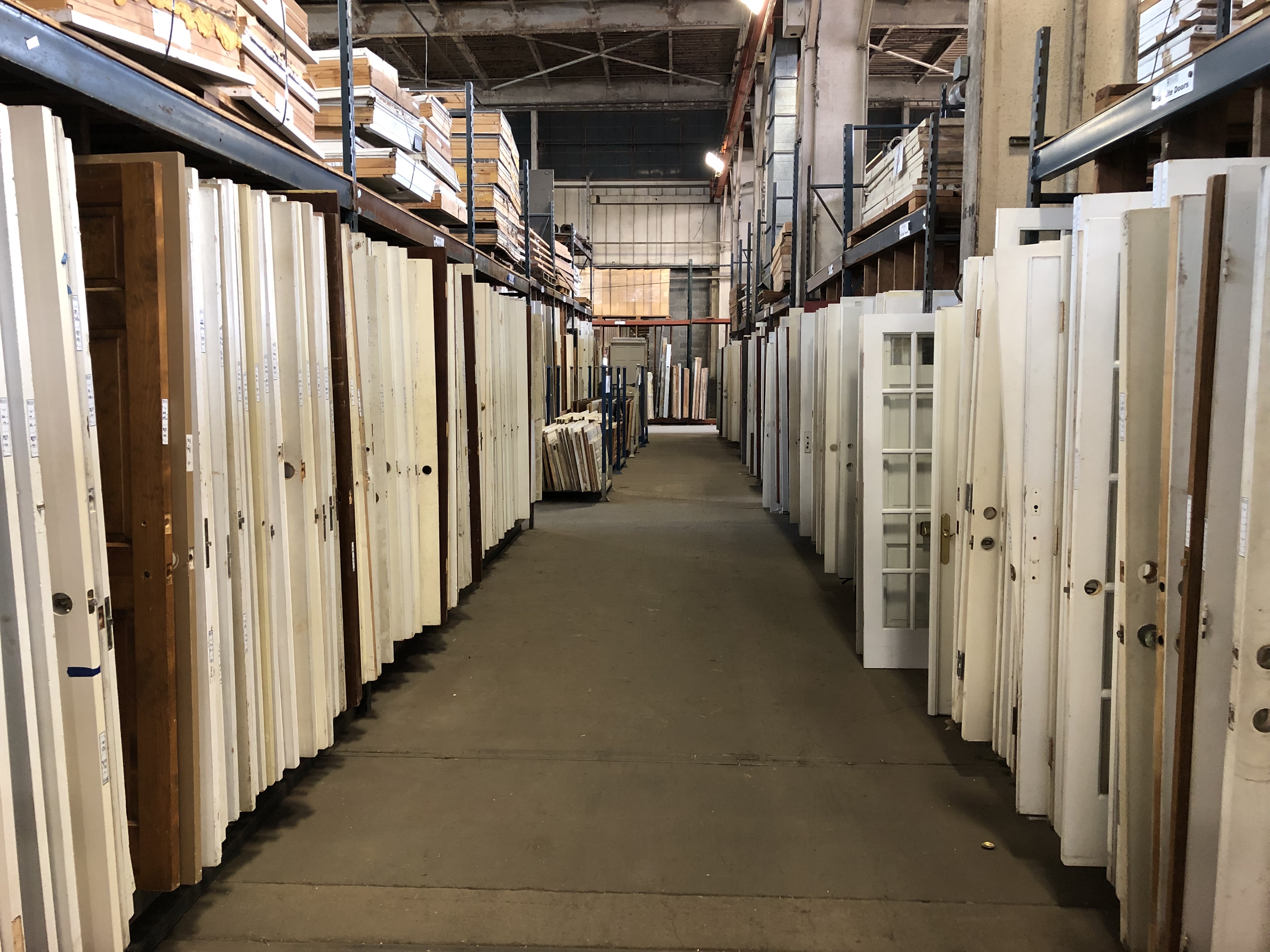 The doors department at Second Chance in Baltimore
I picked out a new handle set that was around $300, but we also needed a mail slot (because our used door came with a cut out for one) and it turns out (to my surprise) that mail slot inserts cost around $100. Who knew, right?
With our new hardware in hand, the day had finally come and we were ready to install our picture-perfect new front door. With the hinges on and the old door removed, we hefted the new one into place only to discover....
It was TOO SMALL.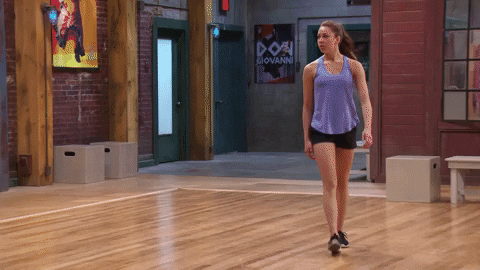 Via giphy
Unfortunately, this was one home improvement snafu that my very capable husband was simply not capable of taking on, so we called a local cabinet maker to come out and measure the door and then add wood to the sides of it so that it would fit perfectly in our opening.
That little blunder cost us an additional $500.
Several hot months, marital spats, and $1,000 later, we eventually got the door installed and I LOVE it, but if I'm being honest with myself (and you), I have to admit we would have been better off just going to Lowes or Home Depot and buying a brand new door along with a professional installation package.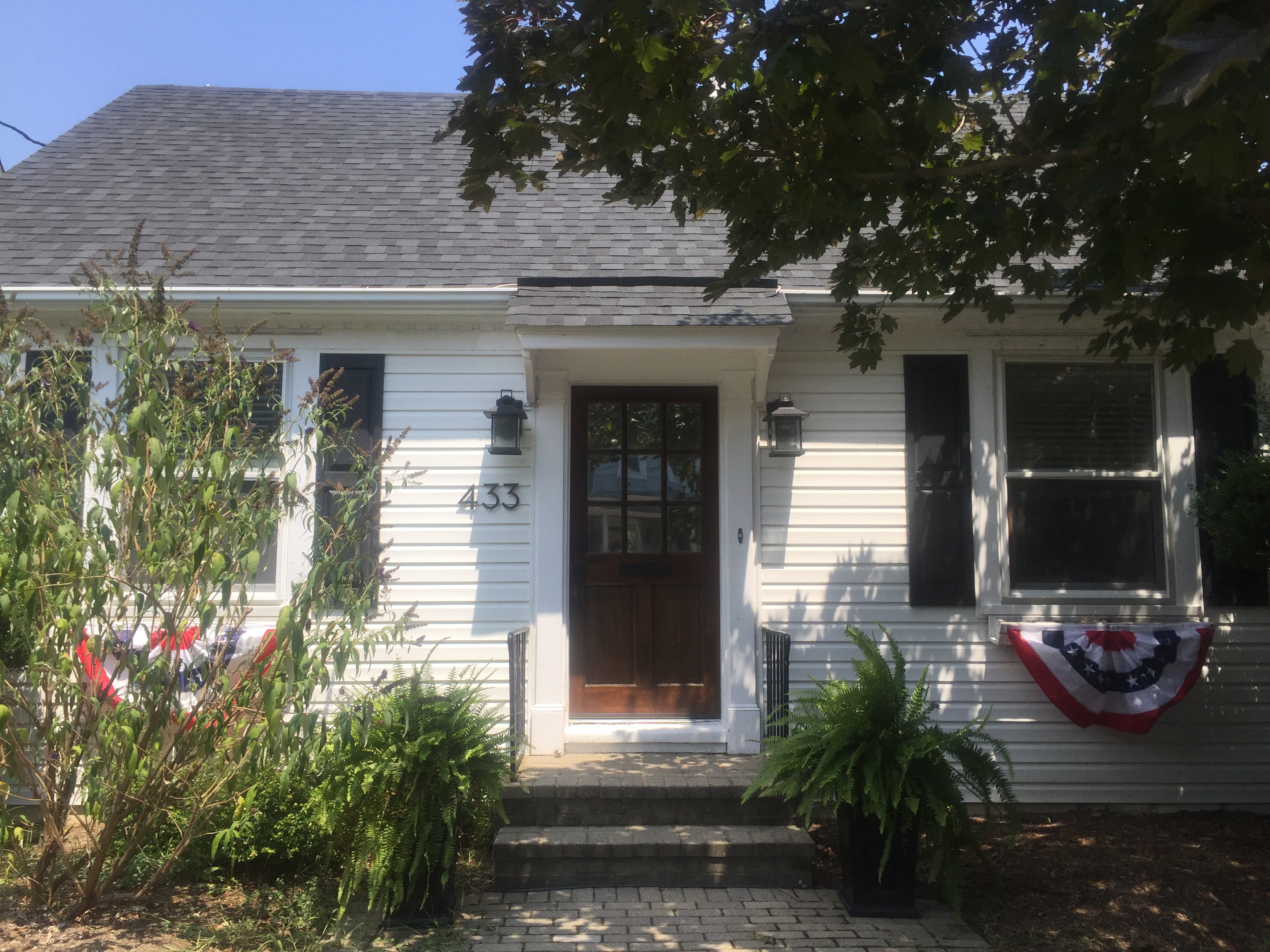 My new front door. Cute, right?
Looking back, I know exactly who's fault all of this is — and that person is most definitely NOT me.
Instead, I lay the blame squarely on Chip and Joanna Gaines.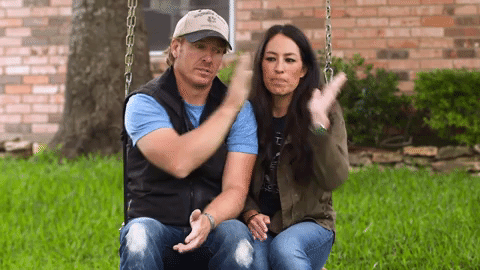 Via giphy
You see, I had become obsessed with watching their HGTV show Fixer Upper. In every episode, they pick an incredibly run down house and take a small budget and what seems like a few days and turn it into a decorator's showplace. And they make it look so easy!
Chip and Joanna Gaines had me hook line and sinker, and not only did they convince me to replace my front door, they also got me to buy Joanna's Magnolia Table cookbook, shop their Hearth & Hand collection at Target, and subscribe to their magazine, Magnolia Journal.
But it doesn't end there.
When I visit their home base of Waco, Texas (which you can bet I will), I will shop at their flagship store Magnolia Market at the Silos and will most likely stay in one of their vacation rentals.
If I like Waco, I just might buy a home through Magnolia Realty — and when I do, I'll repaint the walls with a color from the Magnolia Home paint collection. Once my new house is done, I'll sit on the front porch and relax with Chip's new book Capital Gaines.
Basically, if Chip and Joanna Gaines are selling it, I'll be the first in line to buy.
The power of brand publishing
Chip and Joanna Gaines are not the only people to have figured out how to build incredibly large and insanely loyal audiences. There are plenty of companies from a wide range of industries that have succeeded in leveraging content to drive growth including Red Bull, Goop, Moz, Equinox, Hello Fresh, and FreightWaves, to name a few.
What these brands all have in common is that they've made a serious investment in content creation, built a professional content team to manage it, and have approached audience acquisition as a business in and of itself.
In short, they are brand publishers.
The product of their brand publishing strategies is fast growth, huge audiences, and unbelievably loyal fans and customers.
It's important to note, however, that brand publishing isn't a strategy reserved for big companies with deep pockets. Any business can do it, and I can say that because we here at IMPACT have been doing exactly this for the last two years.
IMPACT's journey to brand publishing
When I joined IMPACT in June of 2017, we were a company of just 30 people. Our business was digital marketing agency services, but our team had always had a deep commitment to content creation, and we were publishing at least two blogs a day on our website. That drove a considerable amount of organic traffic, and at the time, we got about 350,000 visits to our website per month.
In the time since, we've:
Scaled up the volume of content we publish (we're now at about four to six articles a day)
Revamped our website homepage to resemble a publishing site more so than an agency site
Created new types of content, including news reaction articles, to appeal to a wider audience
Built a professional editorial team
Launched THE LATEST, a thrice-weekly email newsletter
Built several communities (including IMPACT Elite, the HubSpot User Slack Group, and Film School for Marketers)
Grown IMPACT Live, which next year will become Digital Sales & Marketing World
Created and published eight different podcasts and shows,
Launched ThePACT, a new membership program for marketing, sales and C-suite professionals interested in growing their business in a digital world.
Our reason for doing all of this is to monetize our marketing department while solving for our very large and diverse audience. This is important because it means that success, for us, is defined as changing our marketing department from a cost center to a profit center.
Yes - our marketing would actually make us money. Think about that for a minute, because it's a major departure from the way just about every other business thinks of marketing.
In short, our brand publishing efforts need to translate into real, measurable ROI for the company.
How to generate ROI from brand publishing
Brand publishing is, first and foremost, a business strategy. As such, it needs to contribute to the business growth and bottom line revenue.
There are a number of ways that brands can generate ROI from their publishing strategy:
Advertising
Plenty of brand publishers accept ads on their websites, but there are also opportunities to advertise in multimedia content such as podcasts.
The amount you can charge for advertisements on your website will be determined largely by your website traffic. This is referred to as CPM — or "cost per mille" (1,000 website impressions). On average in 2018, advertisers paid $2.80 CPM, or $2.80 for every one thousand people that saw their ad.
While advertising can generate substantial revenue for the business, it is important to balance this with protecting the customer experience. It's for this reason that we at IMPACT have chosen — at least for now — not to accept advertisements on our website.
It's also important to be aware that ad blocking technology is making it increasingly difficult to get ads in front of website visitors, and is a factor that is driving CPMs down across the publishing industry.
Sponsored content
Sponsored articles — a form of native advertising — can give the sponsoring brand greater visibility with a brand publisher's audience and, when successful, can lead to ongoing columns and long term sponsor relationships. But articles aren't the only form of sponsored content. Many brands (IMPACT included) generate revenue through sponsored webinars, live broadcasts on Facebook, podcasts, etc.
Depending upon the size of your audience, these sponsored content opportunities can be sold for anywhere from several hundred to several thousand dollars. Price is dependent upon audience size and whether you as the brand publisher have a hand in creating the content.
For example, Buzzfeed charges $100,000 for four or five listicle articles which are created by Buzzfeed's internal content team, and Forbes uses a flat rate model in which advertisers pay $50,000 to $75,000 a month for the ability to post an unlimited amount of content to the company's Brand Voice platform.
Email
If you have a large email database, you can accept advertising and sponsorships for your email newsletter, or offer the opportunity to sponsor a one-off email send to a segment of your audience.
Email newsletter sponsorships can be particularly powerful for advertisers. Because people choose to opt in to newsletters, they are more likely to be engaged with and trust the brand. This can have a halo effect on advertisers.
Most email newsletter sponsorships and ad prices are determined on a CPM basis, with the amount you can charge dependent upon a couple of factors including the size and composition of your subscriber base — as well as your average open and click-through rates and how narrowly targeted your content is. CPMs vary considerably across industries and by type of newsletter, ranging from $3-10 CPM for placement in a generic "thought for the day" newsletter to $100 CPM for a highly targeted, B2B newsletter.
As with website advertisements, it's important to be careful about bombarding your audience with too much information from third parties. Your newsletter subscribers opted in to receiving your emails because they want to hear from you, not because they want to receive email advertisements, but if the ad content solves for your subscribers and is presented in your voice and tone, it will add value and enhance the reader experience.
Events
Many brand publishers venture into the events space as a way of bringing their virtual communities together to deepen their connections and increase their level of engagement with the brand. However, events can bea lucrative business in and of themselves. In fact, in the traditional publishing world, some publishers are seeing 20 to 30 percent of their total revenue coming from events.
Event revenue can come from sponsorship, ticket sales, and merchandise sales — or a combination of all three — and events can be in-person (conferences and meetups) or virtual (virtual summits), and vary from very small to very large.
The price you can charge for event tickets and sponsorship varies considerably, but a good place to start is with a review of your audience size, competition, and what comes included in your sponsorship packages.
Driving leads to your core business
In addition to all of these more traditional forms of publisher revenue, a brand publishing strategy holds the potential to drive a significant number of leads (and by extension customers) to your core business, whatever that may be.
Your ability to calculate this type of ROI will depend entirely on how you track, measure, and monitor the effectiveness of your content, as well as the tech stack you put in place.
The key is to be able to make a connection between the content your audience consumes and whether and how that content drives them deeper into the funnel. Many brand publishers also look at first touch attribution — which is simply the process of identifying the very first touchpoint a new customer had with your brand. If it is your publisher content, then "credit" for that first touch would go to that channel
At IMPACT, we use HubSpot to host our website and for our marketing automation and CRM needs, so attribution — and measuring ROI — is fairly easy.
For example, using HubSpot's campaign feature, we can see that since we began publishing news reaction articles in September of 2018, they have influenced almost 5,000 contacts, 43 closed deals, and more than $425,000 in revenue for the business. Our email newsletter, which we also began publishing in September of 2018, has influenced almost 30,000 contacts, 101 closed deals, and more than $1 million in revenue.
Our content team reports on the ROI of our content ever Tuesday in our company all-hands meetings, and it is a great way to communicate to the rest of the company about the impact (no pun intended) that our brand publishing strategy is having on our core business.
Our results
Brand publishing is a business strategy, and as such, success means it must contribute to the company's growth and revenue.
We're just two years into our publishing strategy at IMPACT, but already it has had a major effect on the business.
Since we began, our staff has grown from 30 to 70 people. At the same time, our website traffic has doubled and our top-line revenue has grown by 243%.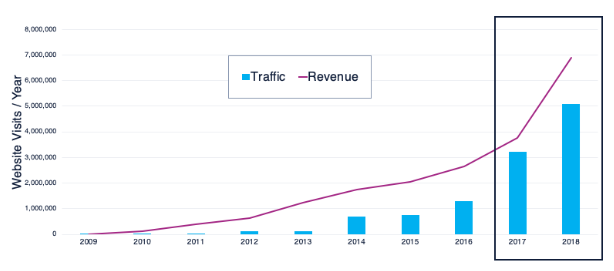 In addition, we've begun to monetize our marketing through more traditional publishing revenue channels such as sponsored content, email newsletters, and events.
We're not quite at the point where our marketing team is a profit center, but we're well on our way.
While not every business can or should commit to a full fledged brand publishing strategy, those that are interested in exploring this can begin by increasing the volume of content they are publishing.
In IMPACT's case, we relied on our full time staff to create articles. It hasn't always been easy and we've been met with resistance from time to time, but by setting clear expectations and communicating regularly about the impact that our content has had on revenue and leads, we've been able to win the support of most of our team and, in doing so, quickly scale content, traffic and revenue.
If you're considering testing the waters of brand publishing, how can you get your team involved in scaling up content?
Free Assessment:
How does your sales & marketing measure up?
Take this free, 5-minute assessment and learn what you can start doing today to boost traffic, leads, and sales.