How to Help Your Community Members Show Their Love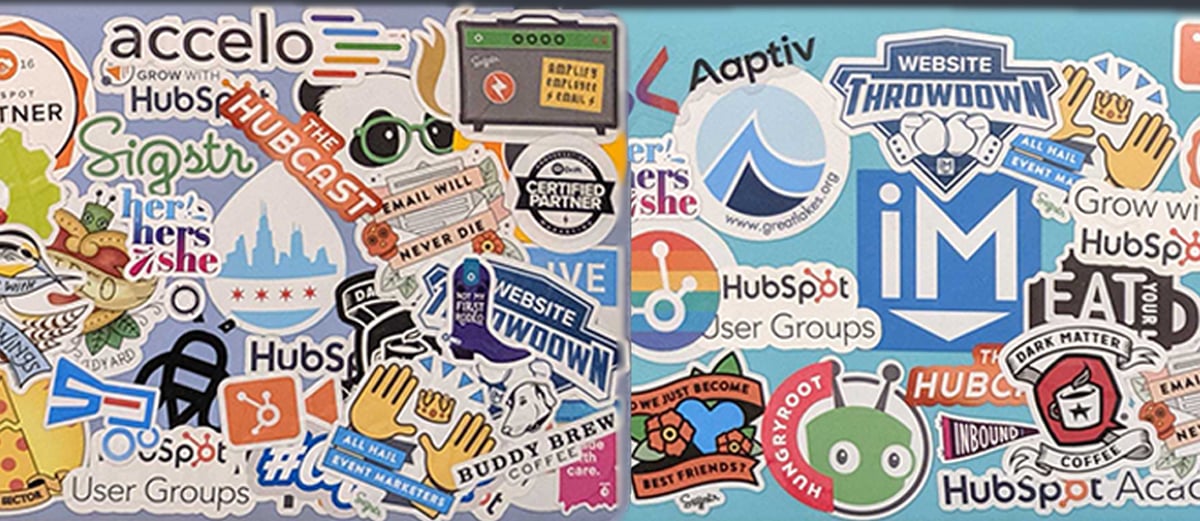 Anyone who knows me knows I have a special love for awesome vinyl stickers.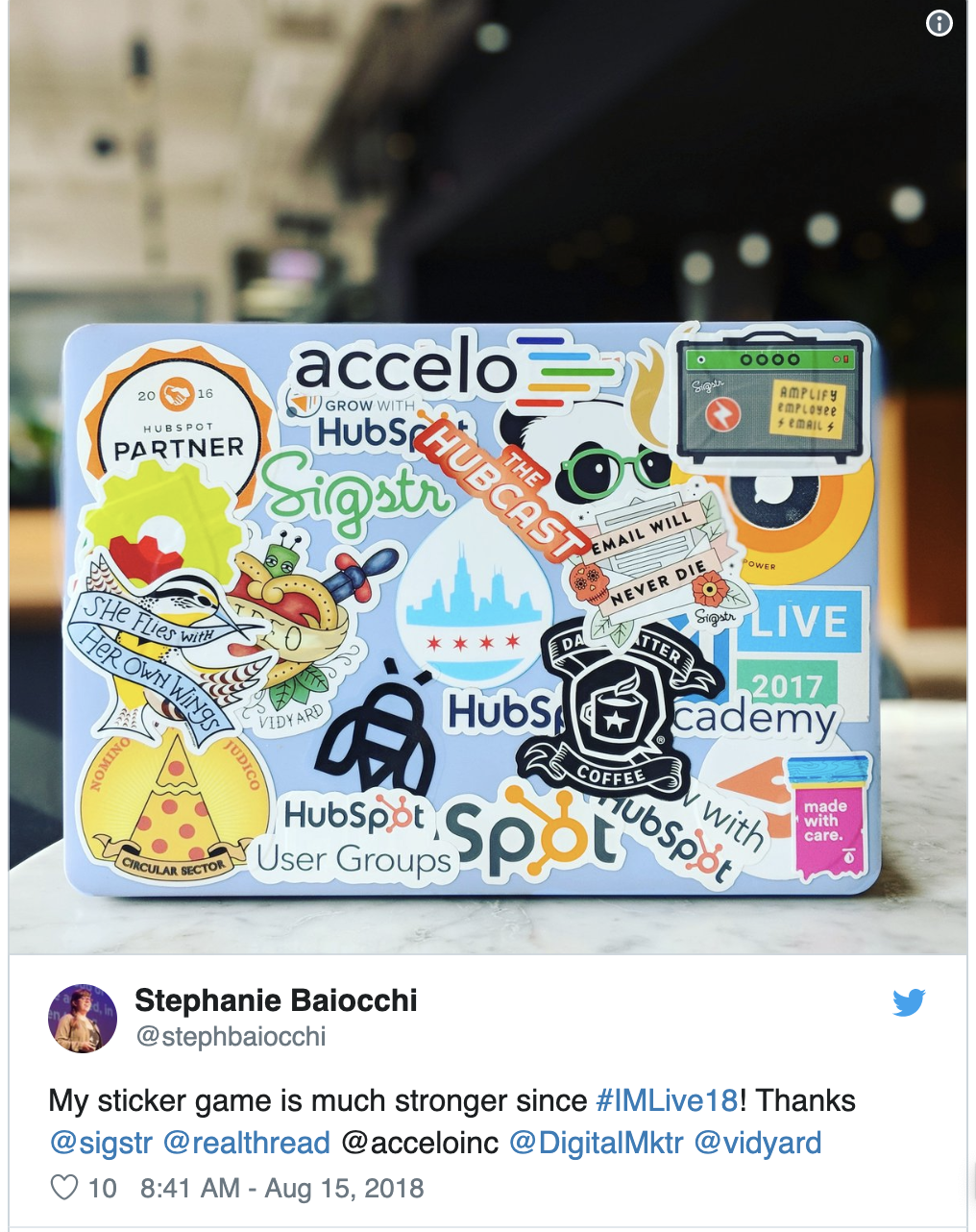 I am constantly adding fun new ones to my laptop case and when it gets too full, I retire it and swap it out for a shiny new one.
I'm actually working on creating a background for my videos out of my old, sticker-covered laptop cases.
There's one catch to what stickers make it onto my case though -- I have to be able to have a conversation about it.
Join the IMPACT coaches for a deep dive on a new topic every month in our free virtual event series.
If I don't know what the brand is all about and can't speak specifically to its pros and cons, the sticker won't make an appearance.
This is because at one time or another I've had someone ask me a question about almost every single sticker on my case.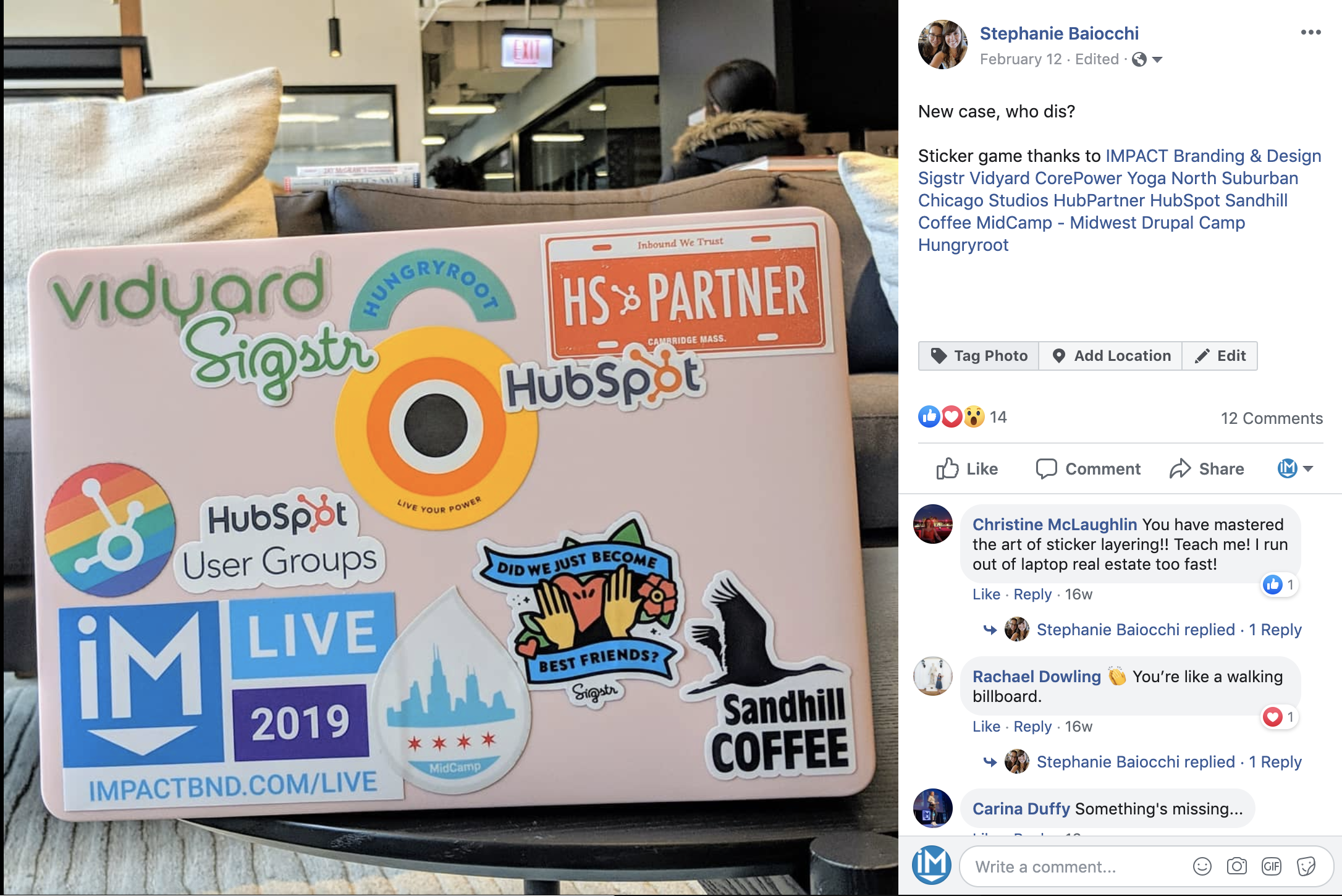 For every brand that has a sticker on my laptop -- I'm basically a walking advertisement for them.
And I'm not the only one! Here are just three examples of people in our Facebook community, IMPACT Elite, who shared their sticker-covered laptops.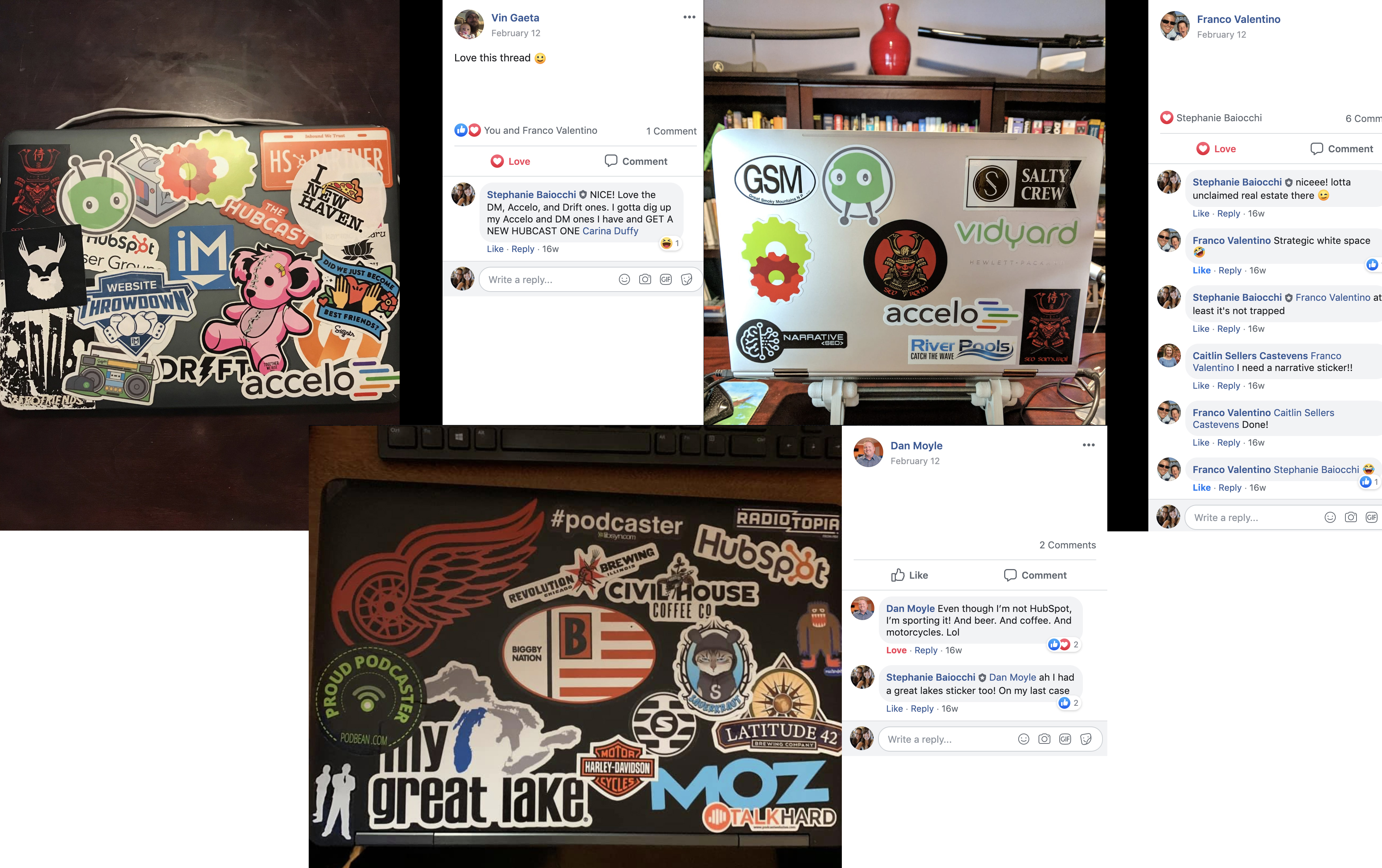 But why am I telling you about laptop stickers?
Because this is just one of the many ways the brands I love have empowered me to share my love and spread their message.
Showing Your Brand Love
Once you create a community of loyal followers and fans of your brand, you'd be doing yourself a disservice if you don't enable them to further spread awareness for you.
Word-of-mouth marketing is especially effective now that brands are inherently less trusted by consumers.
Consumers are looking to their coworkers, family, and friends for recommendations. They're looking online for reviews. They're talking to people at networking events looking for insight.
This is why people who love your brand are your most powerful marketing asset. How can you capitalize on this?
Below are some examples of ways to help your community members show how much they love your brand, along with examples of brands doing this really well.
1. Make Video Testimonials Easy and Fun
Quotes and testimonials are great but just about everyone has them on their site nowadays. With a video testimonial, you're getting someone's face and voice behind the words which add credibility, context, and emotion.
If you want your biggest fans to show their love through a video, you'll need to do the work to make it easy for them.
IMPACT's Director of Video Training & Strategy, Zachary Basner, shared in this article about how to get truly memorable video testimonials, you need to do the heavy lifting. Show them good examples and highlight what makes them great. Give them clear guidelines and potentially even offer to interview them
One great example of this that I experienced personally recently comes from Zest.
I love Zest and I'm pretty vocal about that, but some people may not know exactly how they can or should express their love for a brand.
They need guidance; they need to know exactly what it is that would be valuable to you. (Afterall, if they love you, they want to help you succeed.)
The folks at Zest did a great job with this.The team was launching their new Zest app called Zest Enlight and asked their beta users (I was one of them) to record a short video and share their experience on social media.
Here's what the request from Zest looked like: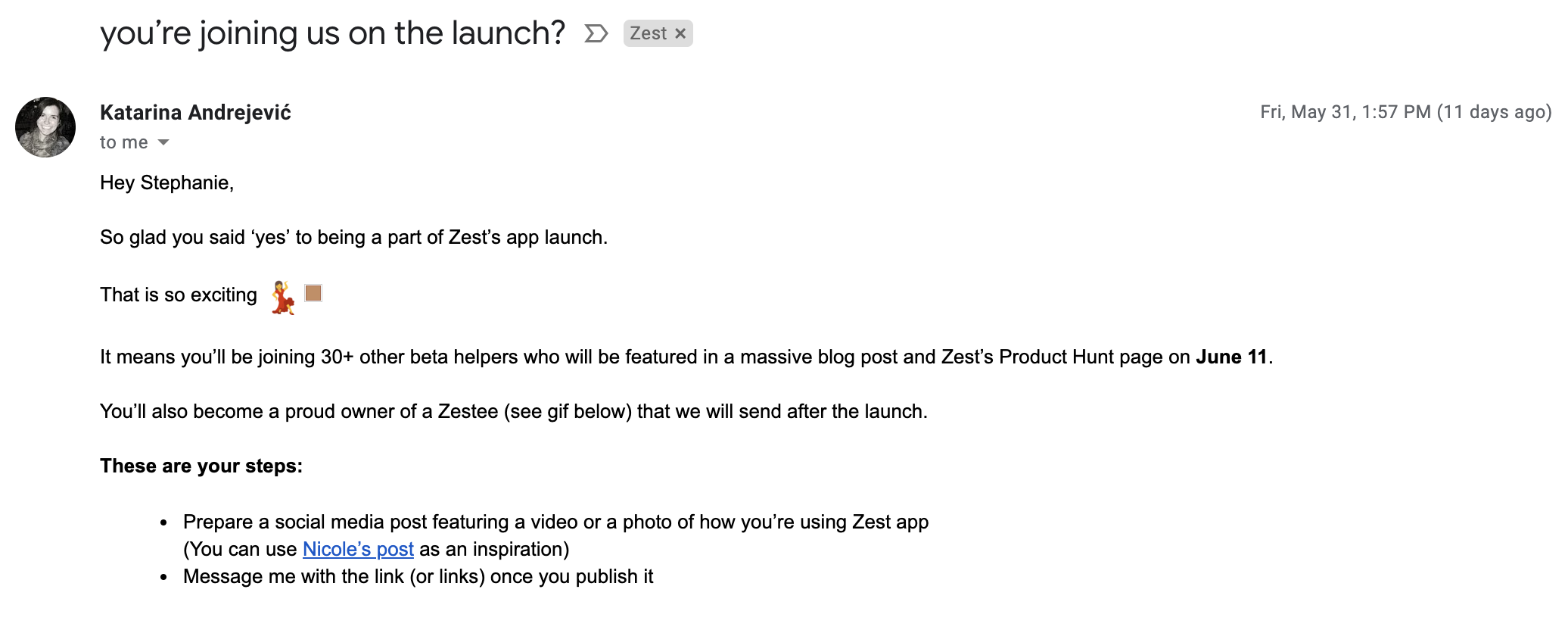 They gave me very clear directions about what to do and even an example post to use as a reference.
Once I posted my video, the Zest team even commented back. This really made me feel like my time and effort was valuable to them.
[my video from facebook]
2. Create Shareable Visual Assets
By creating shareable visual assets, it makes it easy for your community to share something with their own thoughts added while maintaining consistency in the image itself. Plus, you get the added bonus of people seeing your same image around their feeds over and over. Finally, visuals will grab more attention than plain text.
HubSpot created special member badges for their Hubstars advocate community.
Not only did getting this exclusive badge make me feel special, I got to add it to my website and share it on social which, like my stickers, started a conversation with people about what this brand is all about.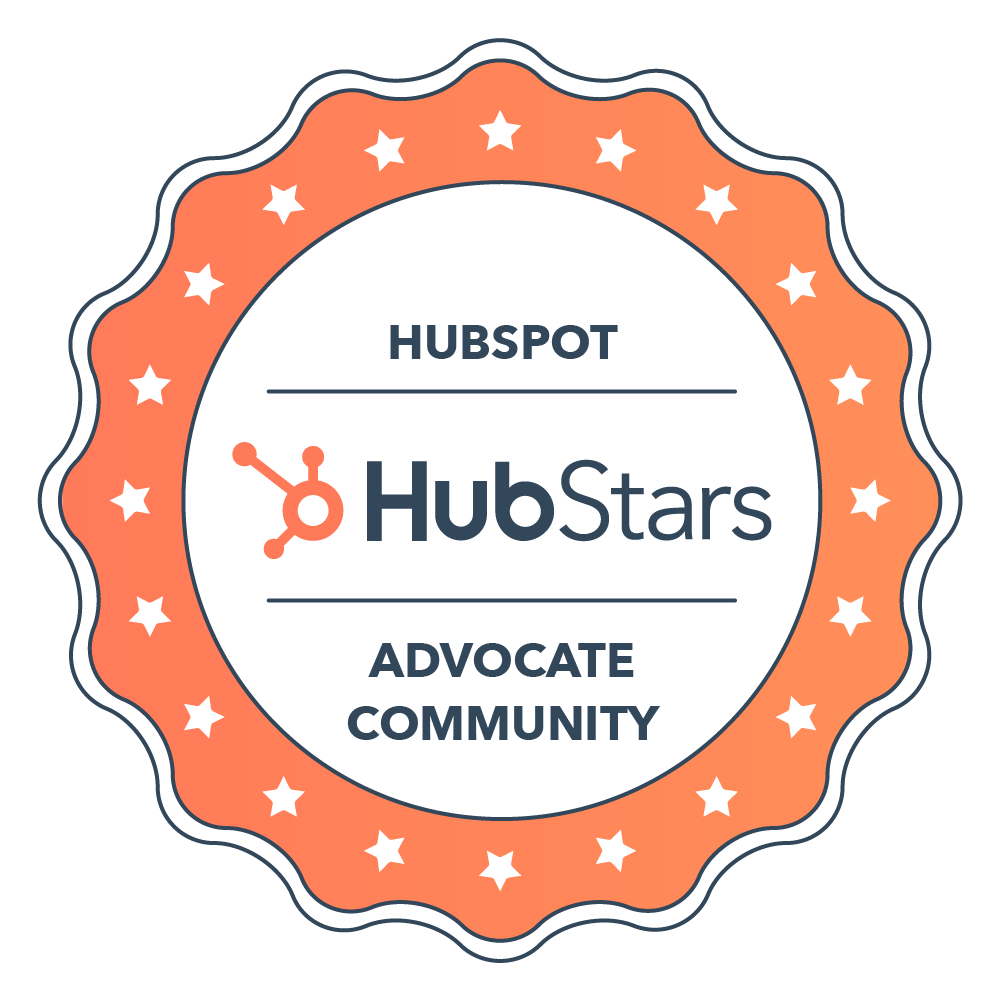 Another great example of this is, you guessed it, from the Zest team (or Zesteam as they call themselves).
They created an entire campaign around their product and gave members of their community a personalized version of the image to share.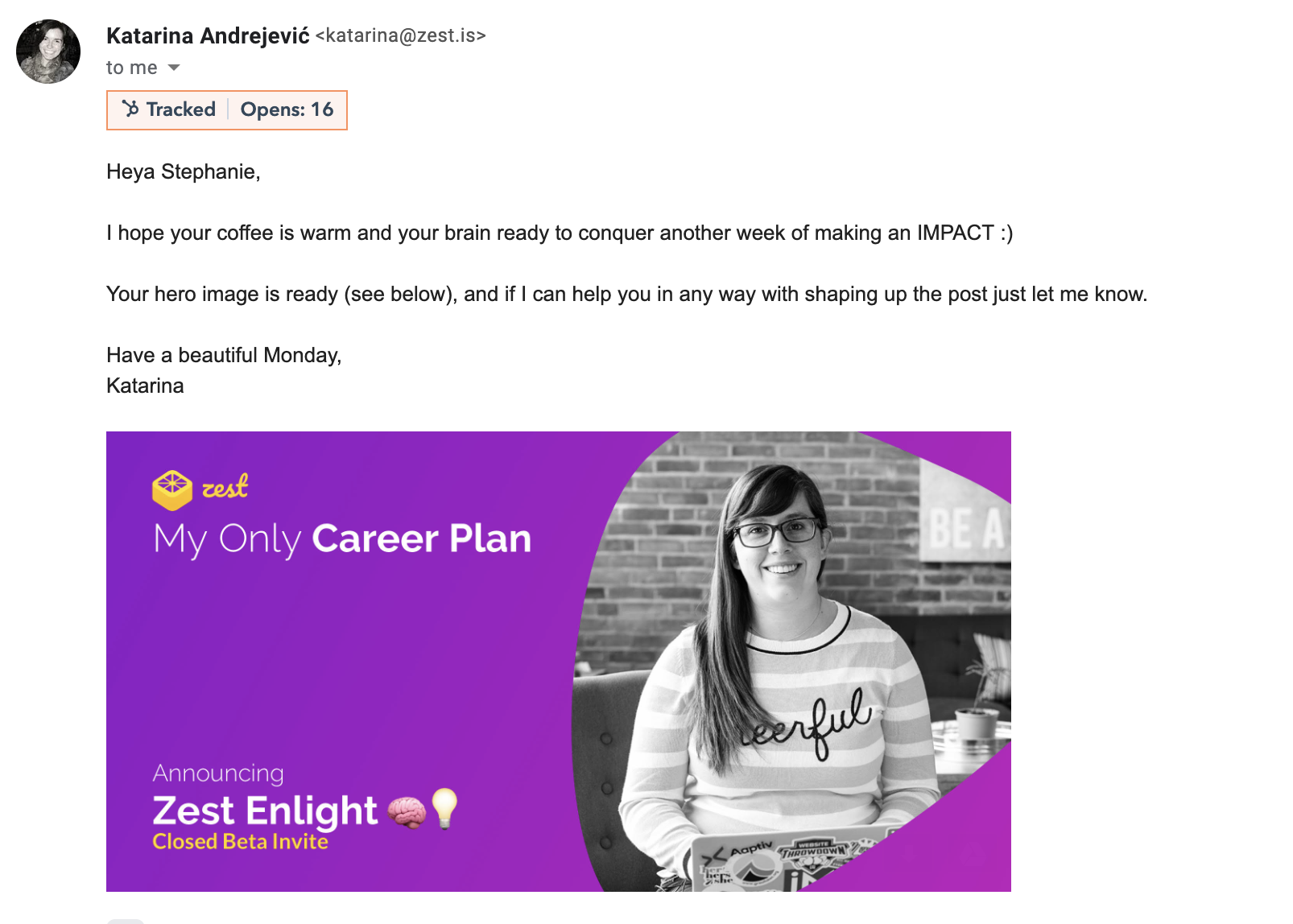 By giving me this graphic they made it exciting and fun for me to share my story. I felt special because I had a graphic with my photo on it designed just for me. I felt even more compelled to post now because they had done this.
---
Editor's Note: Heads up -- IMPACT received compensation from Sticker Mule for including them in this article, but we have used and loved their products even before this. This in no way affects the other examples featured.
---
3. Send Some Stickers
Obviously, stickers were going to be an example!
Not only are stickers a great conversation starter, they're pretty inexpensive to produce. We love using Sticker Mule to get custom, die cut vinyl stickers that are laptop-safe.
They make great conference giveaways and are small, lightweight, and easy to travel with.
I treat our stickers like trading cards. I always have a few with me ready to swap!
My absolute favorite example of a brand killing it at the sticker game is Sigstr.
They create some of the best stickers around! They're beautifully designed and interesting enough to start a conversation, but are still closely related to their brand and message.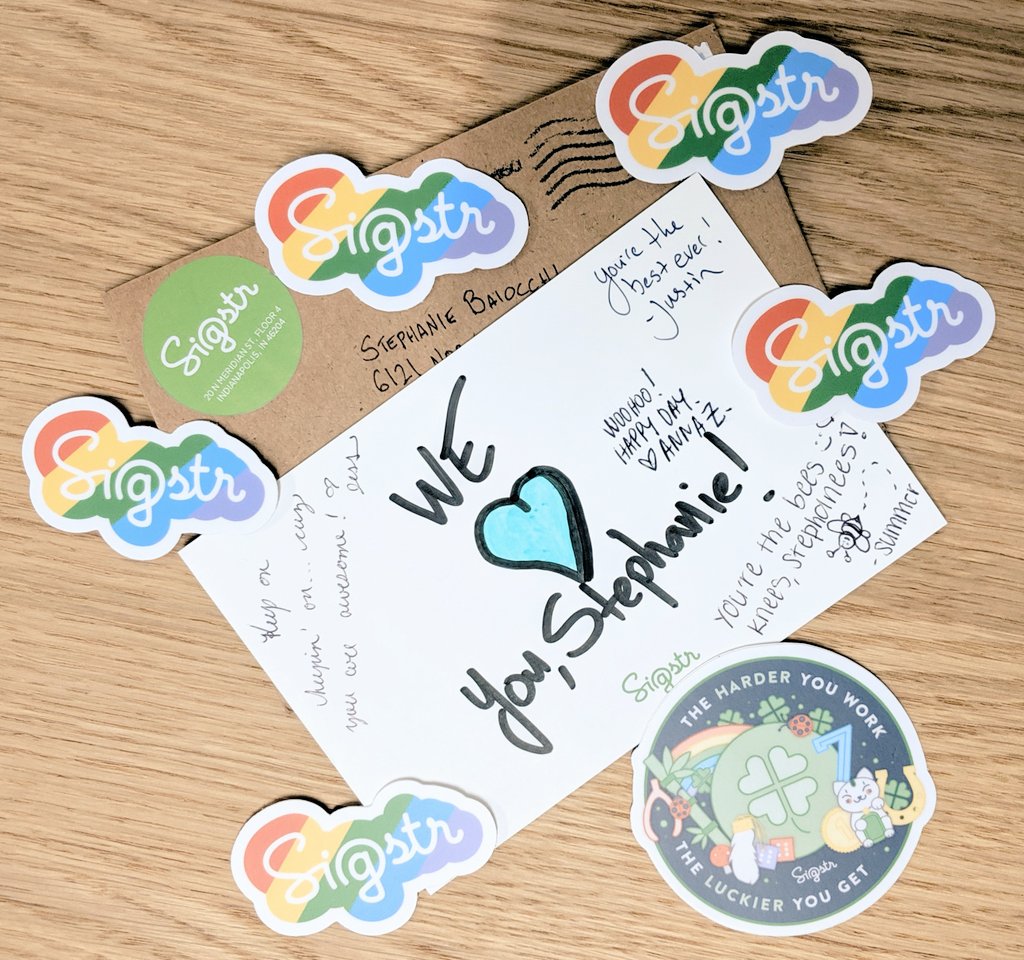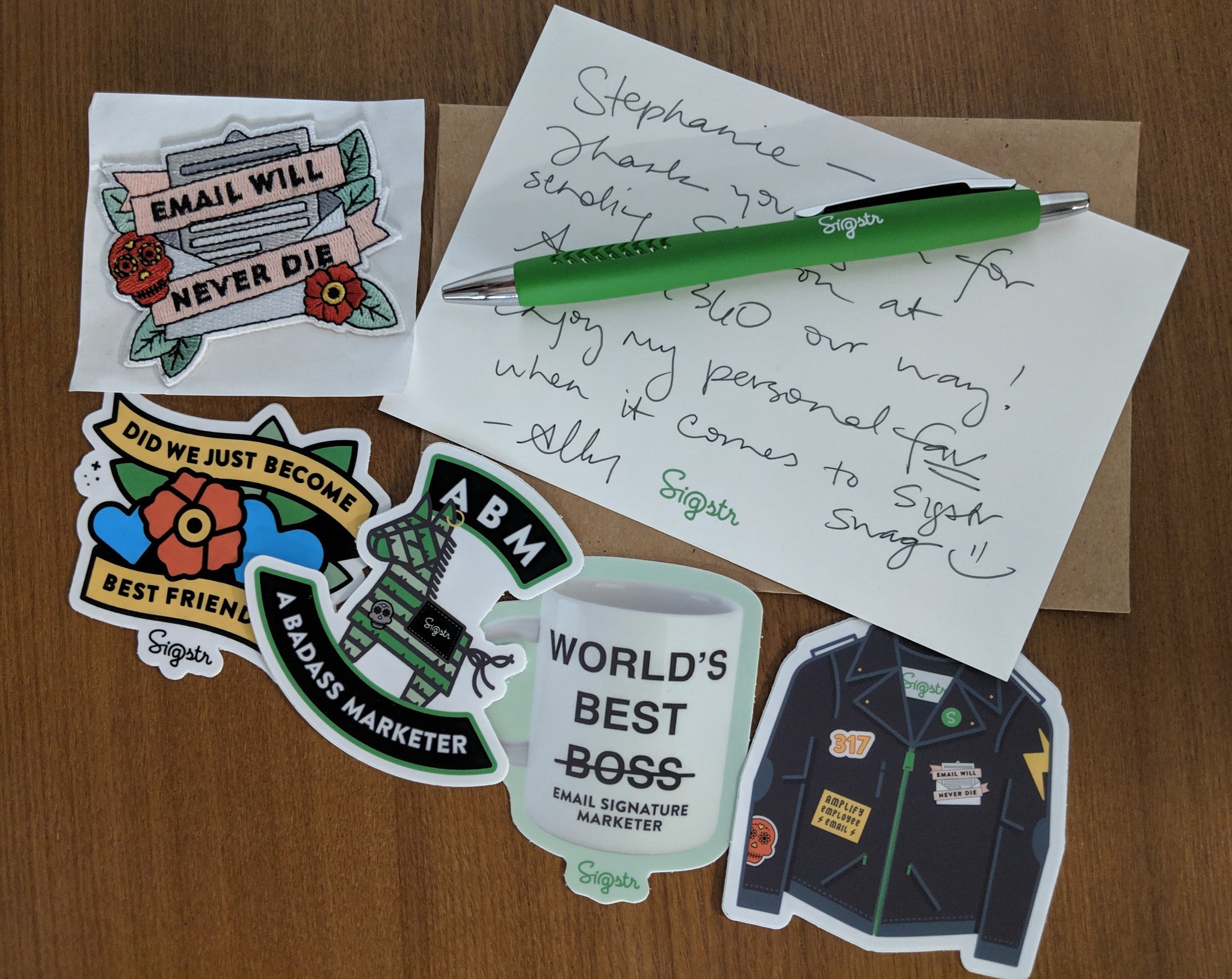 In fact, they're so good at it, people are begging for their stickers!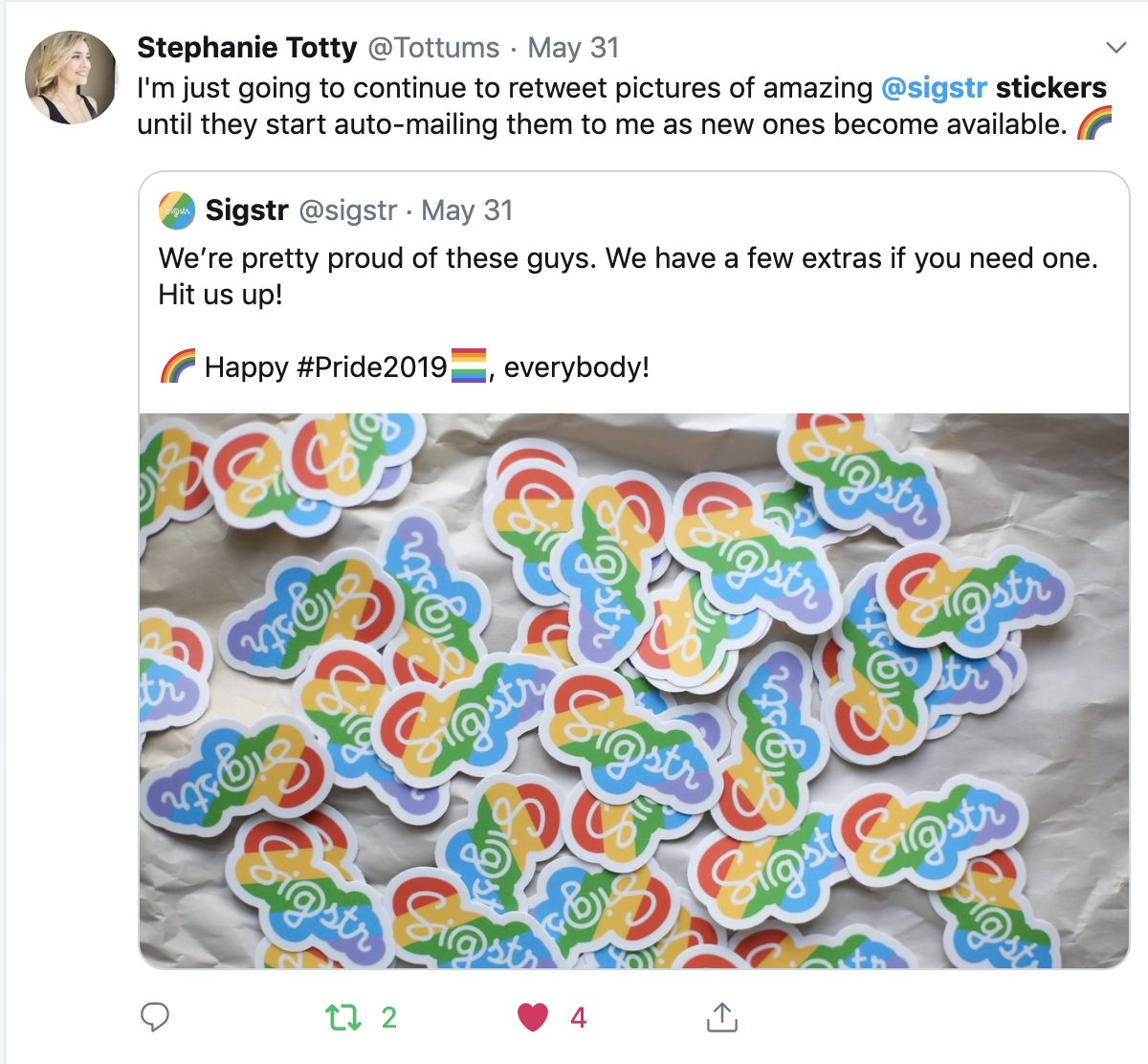 Sigstr and IMPACT both get custom printed vinyl stickers​ ​from our friends at Sticker Mule.
Here are some of IMPACT's newest stickers: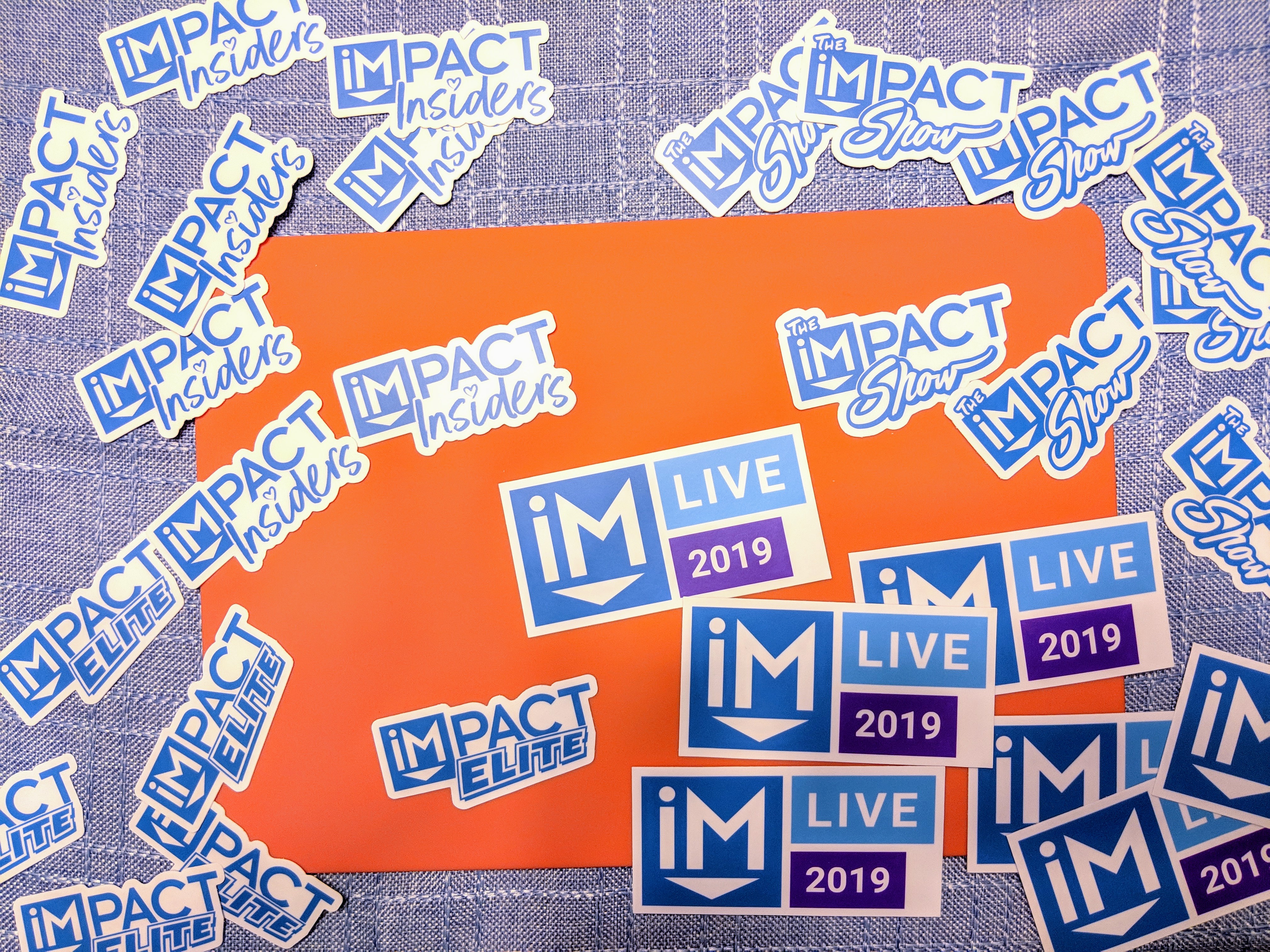 4. Enable Social Sharing
Any marketer can ask their followers to share something on LinkedIn or retweet a tweet.
If you want to step up your social amplification game, look to the folks at Uberflip.
One of the many ways Uberflip encourages their community to talk about their brand on social is by creating unique and fun challenges in their advocate community which is called Uberflip A-List.
This helps me, as a fan of Uberflip, share my love of Uberflip in ways I would have never thought of. In fact, if it weren't for these challenges I wouldn't even think to share things about what I'm doing with Uberflip or how they've helped me in my work.
However, with A-List I log in and see fun, creative ways to share things to social media that I know is a little thing for me but a big deal for them (plus I get rewarded for it).
In these challenges, there is often pre-written or suggested customizable copy I can use which makes it easy for me to share.
Below is an example of how A-Listers can earn points for showing off their Uberflip swag while they're on vacation! I also love how they remind me to do things like bring my Uberflip swag with me so I can take a photo with it in a cool place.
Then, Uberflip will share it on their social channels too (which makes me feel special!).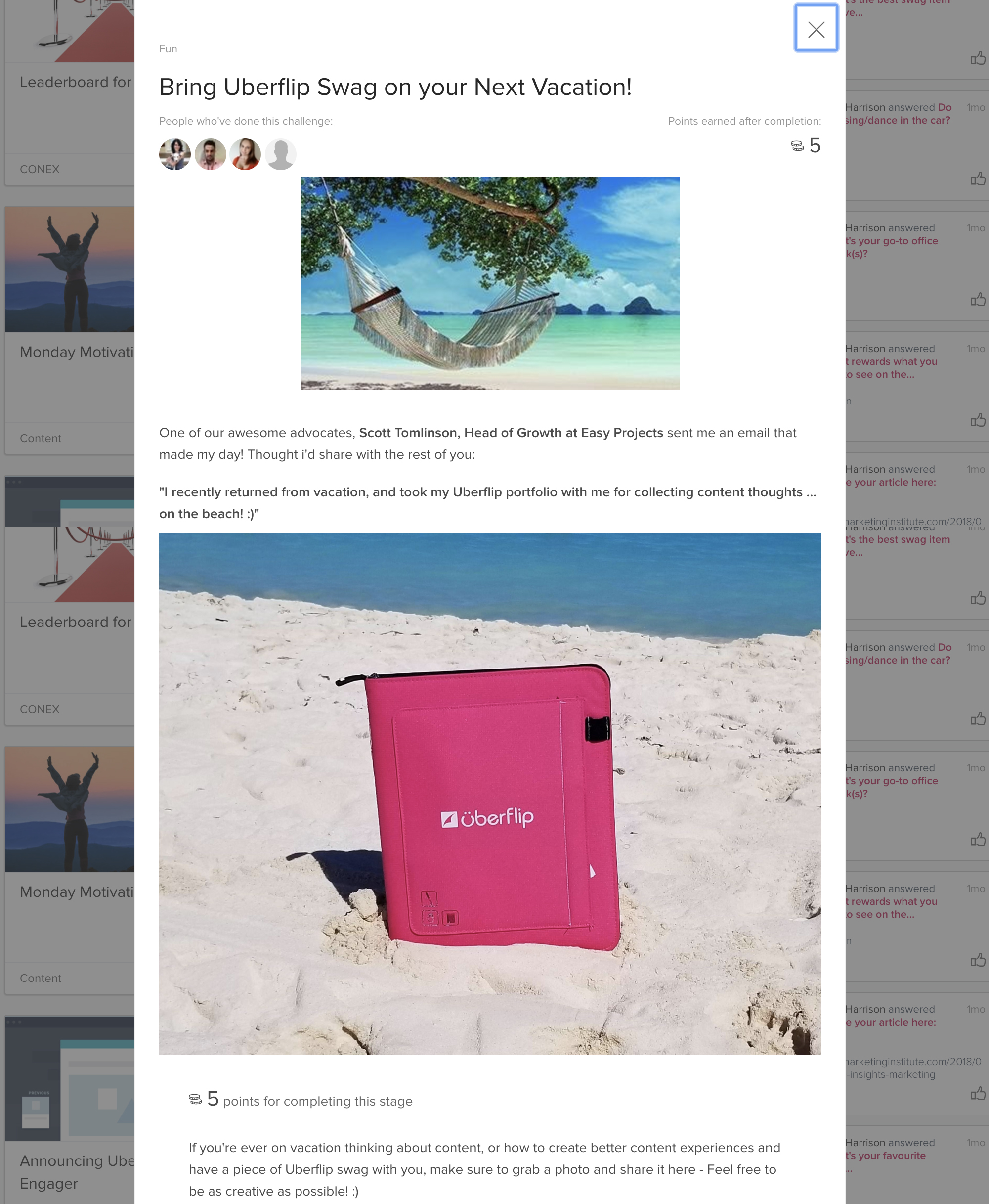 Another brand doing this well is Secrets Resorts.
They have an advocate community called Secrets Society where they have "missions" for members to complete to earn points which can be redeemed for add-ons during a trip to a Secrets Resort.
Here's one I did recently: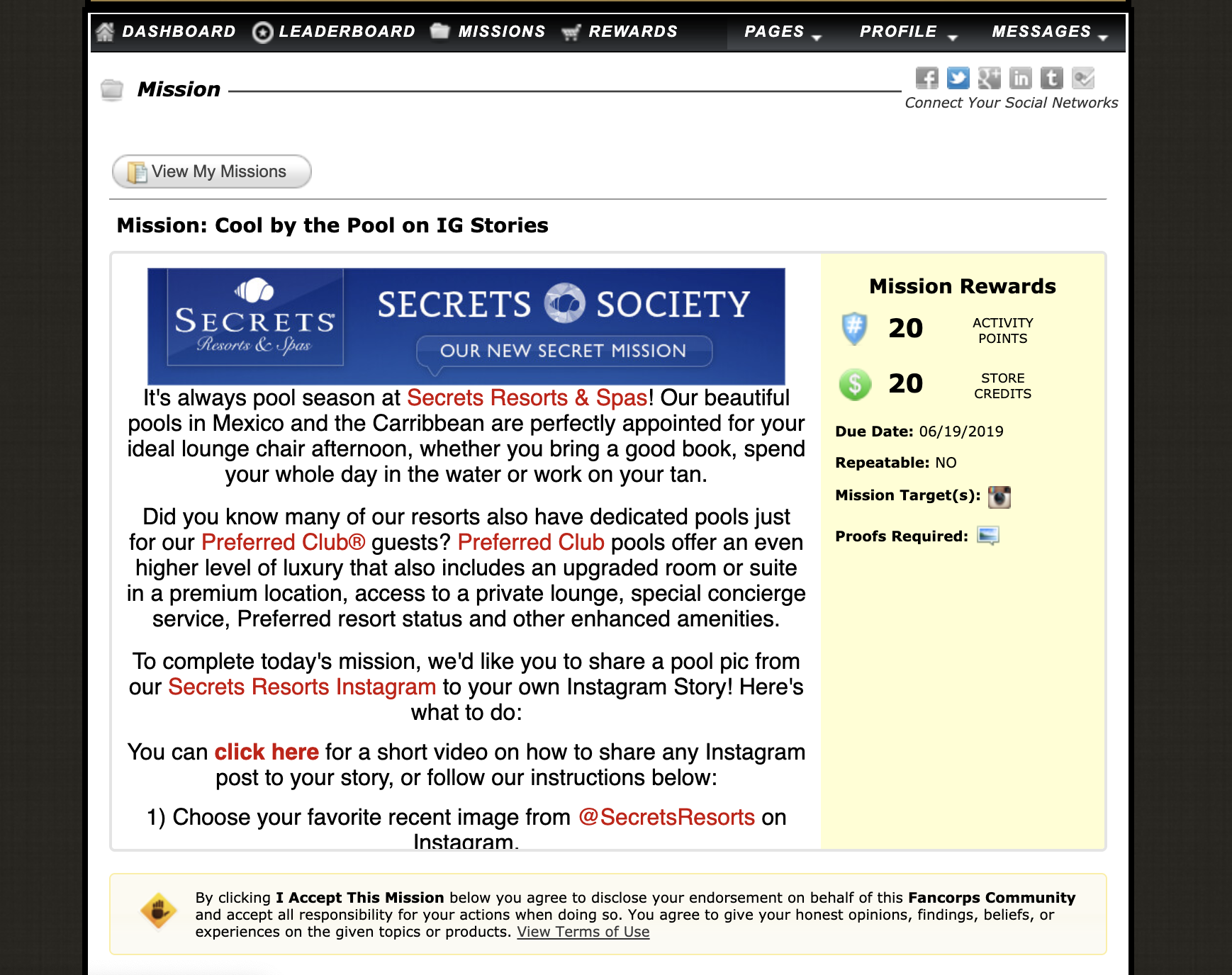 One thing they do really well here that is worth noting is they remind all their members that they are required to disclose their endorsement and the fact that they are rewarded for doing this.
This is legally required by the FTC. In fact, we did it in this article! (Check out the disclosure right at the top of this article.)
5. Make Leaving Reviews a No-Brainer
Leaving a review is one of the most common ways fans of a brand show their love.
However, it's rare that someone will go to leave a positive review of a product, service, or experience without being asked to.
Sometimes the best way to help your community show their love is to just ask them.
At IMPACT we have a banner in our email signature campaigns that allows us to ask for reviews from clients when we email them.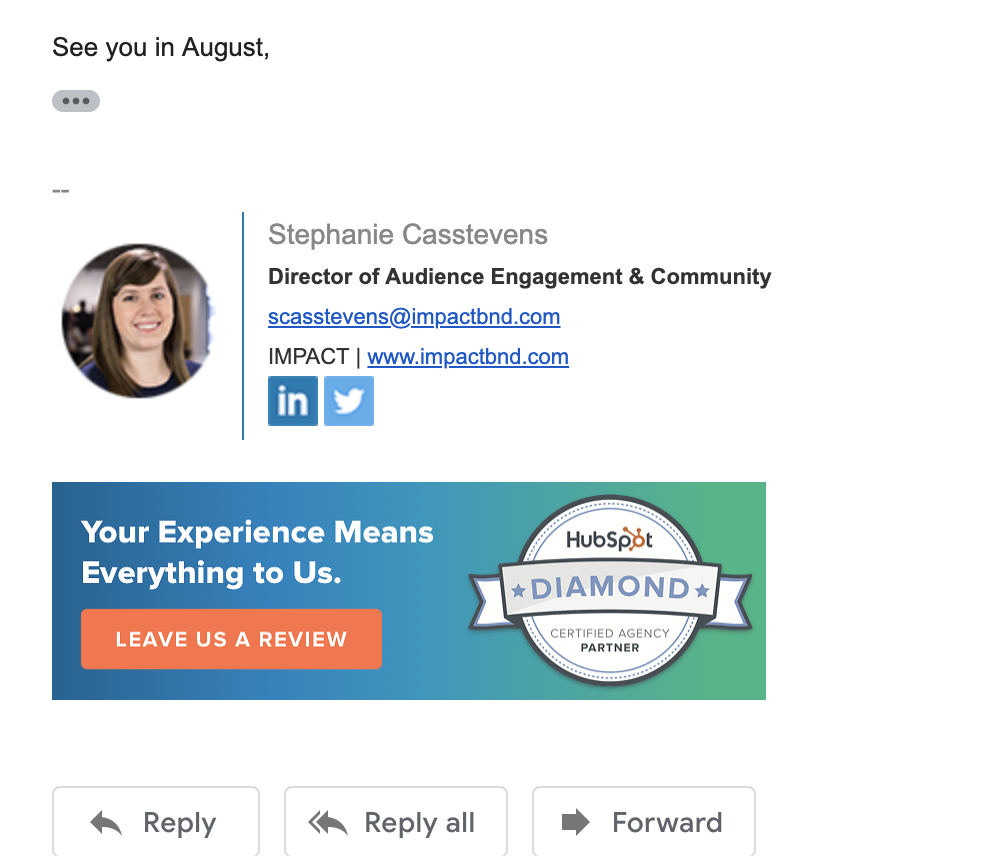 However, timing is everything.
If a customer receives an NPS (net promoter score) email from you and gives you a low score, you may reach out to learn more about the situation.
Now imagine they saw this banner asking them to review you -- awkward.
That's why we only have this banner display to clients who have given us a promoter NPS score.
If they're not there yet we're certainly not going to ask them to take time to review us before we have fully fulfilled their needs and made sure they are having a good experience with us -- nor are we going to display this image in our emails.
However, if they're enjoying working with IMPACT, we reach out personally asking them to leave a review. This happens via a Slack integration that alerts the person who manages that client that they recently submitted an NPS survey and the result shows they are probably a good fit to review us. Here's what that looks like:

As you can see, it also links to a playbook. This is where we give our internal team some reminders about how to reach out asking for these reviews.
To truly help our clients show their love with a review we make sure we're clear about what we're asking for, show them examples of past reviews, and offer to help answer any questions they may have about leaving a review.
We also link directly to where they go to post the review. We make it as easy as possible and the email signature image is just a nice reminder during this communication.
Enable Your Community to Amplify Your Brand
When you've taken the time and invested the resources to create an engaged community, it will be to your benefit to enable them to share their love.
These are just five examples of ways you can start to leverage your biggest fans to grow your brand.
By enabling your community to share their love of your brand in a fun and unique way, they will amplify your brand in a way that is far more effective in today's world than pure advertising dollars.
How are you helping your community show their love? Are you going to try any of these options? Do you have some awesome stickers for your brand? Let me know in IMPACT Elite!
Join the IMPACT coaches for a deep dive on a new topic every month in our free virtual event series.
Register Here
Join the IMPACT coaches for a deep dive on a new topic every month in our free virtual event series.
Published on June 13, 2019