Subscribe
Join 40,000+ sales and marketing pros who receive our weekly newsletter.
Get the most relevant, actionable digital sales and marketing insights you need to make smarter decisions faster... all in under five minutes.
Thanks, stay tuned for our upcoming edition.
What to Do If Your Favicon Is Being Penalized by Google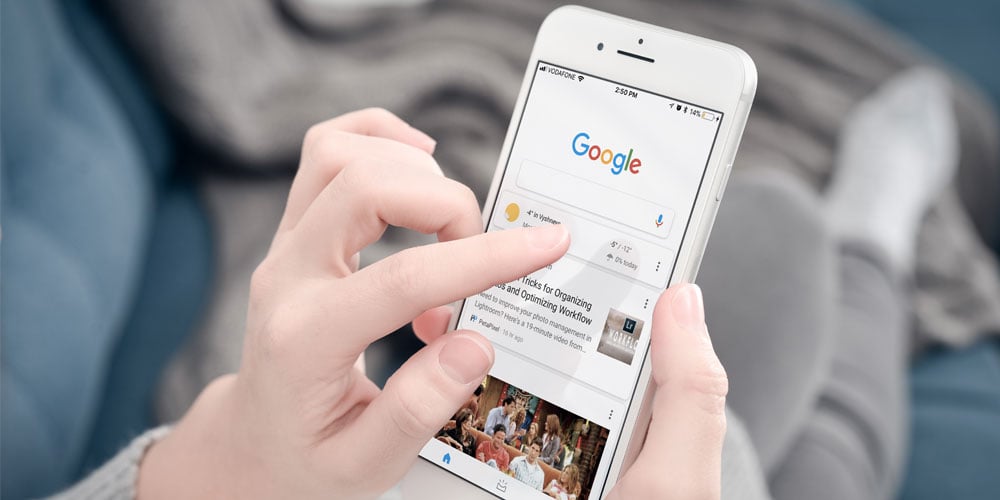 As many of you may have seen, Google recently launched its new mobile search design. In the redesign, Google shows favicons in its search results. Before we begin, check out last week's article by Iris Hearn that explains the design rollout.
With the launch of the new design and the new prominence of favicons comes a growing awareness of the requisite design guidelines. If your site is not aligned with Google's favicon guidelines, you could be punished in search results.
This is already happening to many.
What is Google Doing Exactly?
Long story short, Google is penalizing websites with favicons that do not meet their guidelines by removing them.
If your favicon does not follow Google's guidelines, it can be reset to a default in mobile search snippets.
Right now, it doesn't seem like your site will get knocked in terms of ranking or placement in search results if your favicon does not comply, but you do lose that little bit of extra brand recognition we talked about last week.
As marketers, we know how important our brand logos are. If your favicon gets replaced with a default, you lose the chance to place the most recognizable symbol of your brand front and center — and get lost among competitors who do have it.
SEO expert Bill Hartzer recently played around with one of his listings to demonstrate what can happen.
So, Google (manually) replaced the "Ad" favicon I had as my favicon with the default. But now, the mobile SERPs result for "Bill Hartzer" now looks like this: pic.twitter.com/aRTO01nQII

— Bill Hartzer (@bhartzer) May 28, 2019
With his changes to his favicon, Google decided to reset it and give him the default icon.
Here's the listing before: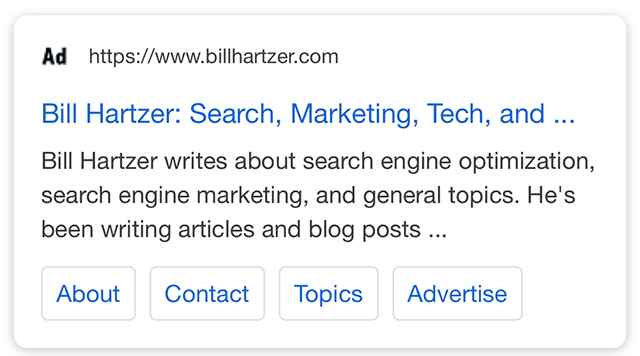 Here is the after, of Google changing the favicon in the search results: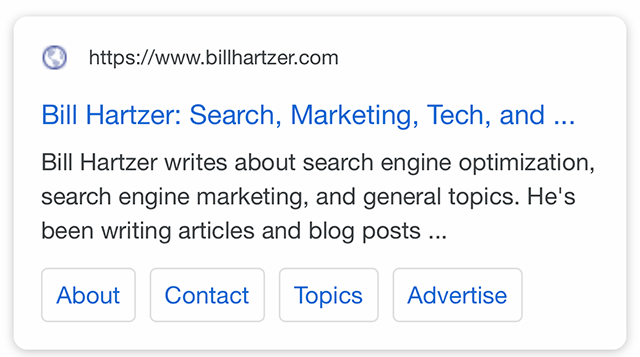 Google's generic blue globe has taken up the real estate reserved for a company brand. With this replacement, any website loses credibility and prestige.
How Do I Know If I've Been Penalized?
If you are unsure if you were affected by this penalization, just Google yourself and see if your branded favicon is there.
At the moment, it doesn't appear that Google is notifying users via Search Console or otherwise. It is possible that Google could start sending notifications to your webmaster, but no such announcement has yet been made.
What Are Google's Favicons Guidelines?
Obviously you want to make sure you follow Google's guidelines.
In case you need a refresher of Google's favicons guidelines, here's a list:
Both the favicon file and the home page must be crawlable by Google (that is, they cannot be blocked to Google).
Your favicon should be a visual representation of your website's brand in order to help users quickly identify your site when they scan through search results.
Your favicon should be a multiple of 48px square: 48x48px, 96x96px, 144x144px and so on. SVG files, of course, do not have a specific size.
Any valid favicon format is supported. Google will rescale your image to 16x16px for use in search results, so make sure that it looks good at that resolution.
Note: do not provide a 16x16px favicon.
The favicon URL should be stable (so don't change the URL frequently).
Google will not show any favicon that it deems inappropriate, including pornography or hate symbols (for example, swastikas). If this type of imagery is discovered within a favicon, Google will replace it with a default icon.
It's important to note that Google also mentioned in its guidelines that a favicon isn't guaranteed in search results even if all guidelines are met.
What Do I Do if My Site Does Get Penalized?
If you are a victim of Google changing your favicon to the default icon, the best thing to do is double check that you've followed the guidelines above.
If you've missed a detail, take another stab at getting your favicon aligned with the requirements.
If you've been penalized with the generic favicon, you will need Google to recrawl your site before you can get your logo into search results.
Of course, you can always request indexing of your site's homepage. It can take a few days or even longer for the update to appear in search results — so make sure to Google yourself to confirm that your favicon is appearing correctly.
Since this is still a brand new search feature that Google has rolled out, we will keep you posted as more information comes to light.
Free: Assessment
Does your website build trust with buyers and bring in revenue?
Take this free 6 question assessment and learn how your website can start living up to its potential.