HubSpot Announcement: Refreshed WordPress Plugin and a WP Engine Partnership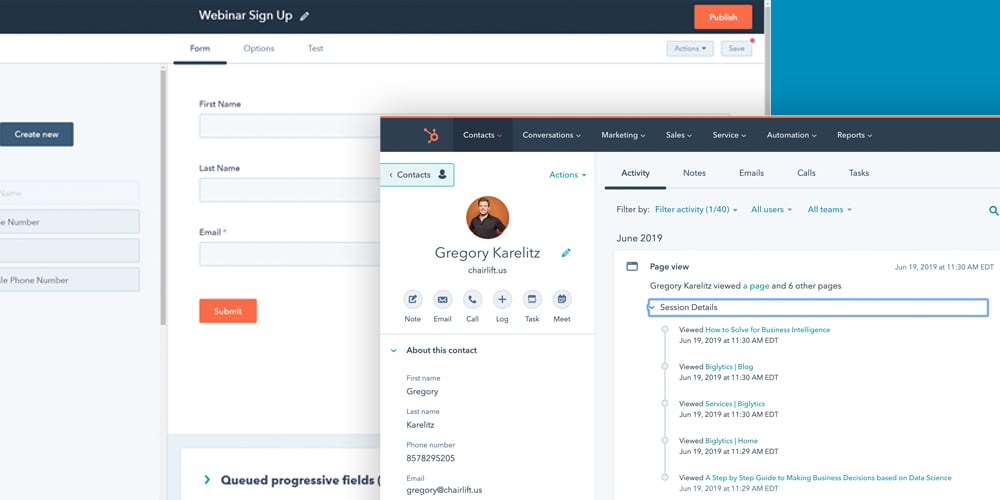 HubSpot's WordPress plugin launched back in 2014 to help businesses on WordPress attract, engage, and delight their prospects and customers. The plugin allowed thousands of WordPress customers to use HubSpot's CRM and other free tools.
This week, HubSpot announced a refresh to the plugin that will allow brands and agencies to easily connect their WP Engine websites to their HubSpot accounts. With this update comes a host of new features that allow WordPress users to improve their marketing and sales.
By the way, did I mention this plugin is FREE? What's more, these features work immediately, with no developer help needed.
HubSpot All-In-One Marketing plugin's new features include:
Forms & Pop-up Forms — including inline forms, overlay modals, top banners, and slide-in boxes
Live Chat — including support, sales, and automated chatbots
Simple Email Automation — allows users to send an automated email when a visitor fills out a form, submits a popup form, or sends a message on live chat
Automatic Synching with HubSpot CRM — allows users to easily organize and segment contact lists
Visitor Tracking and Lead Intelligence — offers insight into page views and sessions
This update will make an immediate difference for marketers. You will now be able to access HubSpot's powerful CRM and marketing software without ever leaving WordPress, making it easier to quickly generate demand and connect with prospects in real-time.
One-third of the internet uses WordPress. We've found that users who use our plugin activate and retain at a higher rate than the average marketing free signup. This means better retention for your WordPress clients.
With HubSpot's move toward a platform, we want to empower customers to use the tools they want to use while using HubSpot as the central hub to grow their business. This gives your clients more flexibility and choice, without jeopardizing a holistic customer experience.
For clients who are using WordPress, but have yet to try HubSpot — this offers an opportunity to introduce the power of a central hub to grow and manage their customers.
Clients using WordPress can reduce the number of plugins, which reduces security vulnerabilities and the likelihood of plugins conflicting with each other.
In addition to announcing its update to the plugin, HubSpot also announced a partnership with WP Engine.
Why WP Engine?
HubSpot decided to partner with WP Engine because it is one of the leaders in SMB WordPress hosting. Additionally, WP Engine has exhibited impressive growth and is known for its top-notch customer service and company culture.
According to HubSpot CEO and co-founder Brian Halligan,
"Pairing a powerful CMS with an equally powerful CRM is an essential catalyst for a growing business. We think these two platforms can make 1+1=3. With integrated data and the right tools, you can do more than just store information — you can start more personalized conversations with prospects, understand and then tailor your site to be what visitors are looking for, and create an overall improved customer experience. WordPress powers 34% of all websites. By leveraging WP Engine and HubSpot together, those site owners can turn their websites into growth engines for their businesses."
Along with this partnership, comes another new feature: HubSpot Wordpress Plugin (its all-in-one marketing plugin) will be integrated with all of WP Engine's StudioPress pro themes.
What's different between now and then?
Before, if you had WP Engine's premium StudioPress themes and the HubSpot WordPress plugin installed, you had to manually create forms, pop ups, and set up your own live chat.
Now, when you install the HubSpot WordPress plugin with an active premium StudioPress theme, the plugin will automatically create those assets for you and apply the modules to your site.
As a marketer, this helps you get set up with HubSpot's tools immediately and gives you boilerplate content — as well as the ability to edit those assets as needed. Again, no need for a developer.
Here is a quick rundown from HubSpot describing the value WP Engine and HubSpot users will get from this new partnership:
HubSpot's tools are intuitive and quick to set up so WP Engine customers can collect email subscribers, generate leads on their website, and have real-time conversations with your website visitors
All the features of the plugin are built on top of the free, fully-integrated HubSpot CRM where customers can manage all your email contacts
Customers only need to use one plugin instead of five different plugins so you spend less time managing tools and more time building meaningful relationships
Fewer plugins also reduces security vulnerabilities and the likelihood of plugins conflicting with each other
Combined with using WP Engine as your hosting service, customers can feel comfortable knowing that their website is secure from the numerous WordPress hacks
Excited to see where this HubSpot and WP Engine partnership leads to in the future? Let us know your thoughts in Elite!
Free: Assessment
Does your website build trust with buyers and bring in revenue?
Take this free 6 question assessment and learn how your website can start living up to its potential.