8 benefits of a HubSpot partner agency vs. a digital marketing freelancer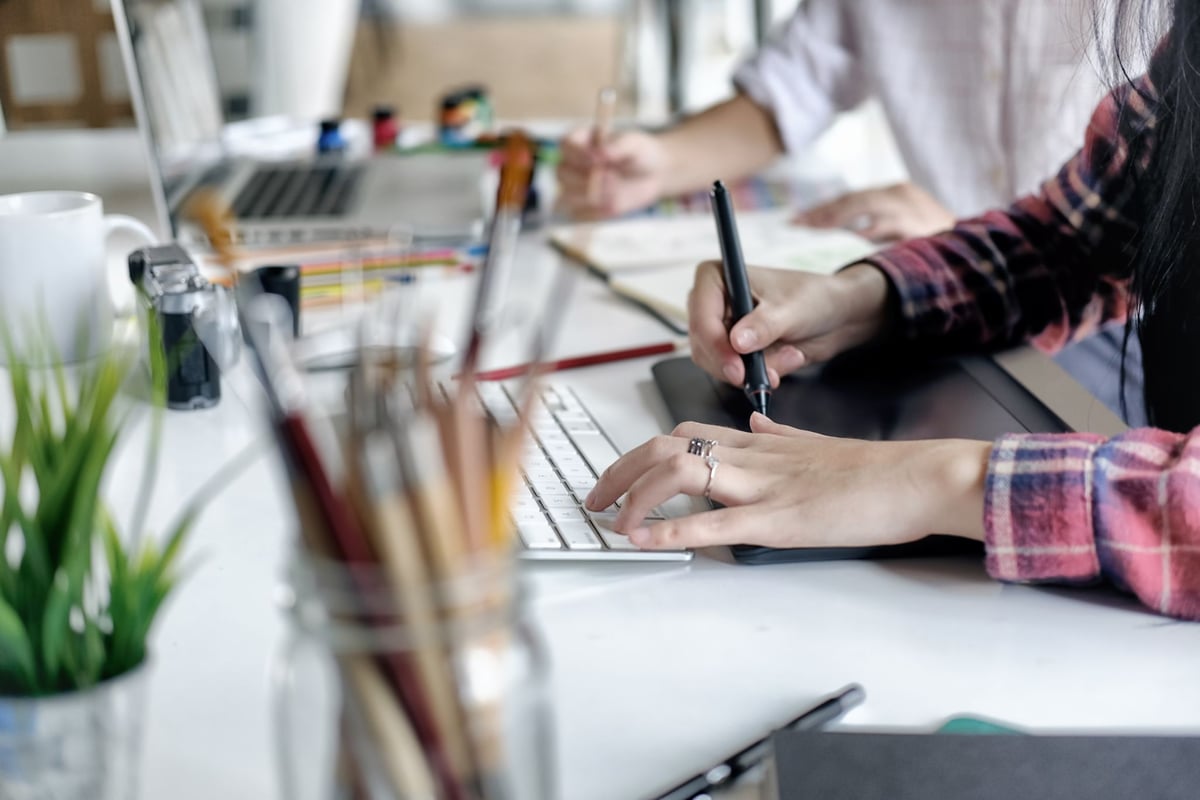 HubSpot Partner Agency benefits
HubSpot Partners will have a greater investment in your success
HubSpot Partners provide more team members and more coverage
HubSpot Partners provide a larger range of services than one individual freelancer
HubSpot Partners can scale with your business
HubSpot Partners are extensively vetted by HubSpot
HubSpot Partner Specialists have more resources in terms of education
HubSpot Partners can enjoy a special working relationship with HubSpot HQ
You'll maximize the ROI of your investment in HubSpot
Top benefits of HubSpot partner agency
Let's dive into the details of this topic
The Beatles said it best: We get by with a little help from our friends.
But if you're a marketing director looking for a little "help" generating traffic, leads, and sales for your business, who can you turn to?
Do you focus on hiring new in-house talent? Cost-effective outsourcing? Building a relationship with a marketing agency? Or working with freelancers?
The options may seem to endlessly pile up (and your pro/con list may be equally as long) as you try to make the best decision for your business.
What is a HubSpot partner agency?
If you're a HubSpot user, or a fan of the inbound marketing methodology, a HubSpot Partner Agency may seem like a natural fit.
Hubspot created its Agency Partner Program in 2010 to help marketing departments across the world adopt their inbound methodology. While it originally started as an agency reseller program, HubSpot's Solutions Directory has evolved over the last decade to include thousands of service providers that offer marketing, sales, web design, and CRM implementation services.
HubSpot Certified Partners can be a great solution if you're looking to go all-in on inbound, but agency services can also be expensive…marketers often face "sticker shock" when they realize that the average spend for Elite-tier agency marketing support can range from $5,000 to $7,500 per month.
Which makes you wonder: Is there a more cost-effective alternative?
Why are freelancers such an attractive alternative to a HubSpot partner agency?
In the last two decades, there's been a massive shift towards the "gig economy."
If companies lack the in-house talent to get the job done, they can turn to a freelancer or independent contractor with the exact skillset that they need. These contracts are short-term, low-cost, and offer immediate solutions to tactical problems.
Freelancer profiles on sites like Upwork, FlexJobs, or Fiverr include full resumes, examples of past work, and public reviews so that you can carefully evaluate your options side-by-side before making a final decision.
But there are some potential drawbacks to this approach. From questionable work quality to limited skill sets, freelancers may seem like an attractive alternative…until you realize just how much work can go into vetting and managing an army of freelancers.
Plus if your freelancer gets sick mid-project, or overextends their bandwidth by signing up for too many gigs, you could be left holding the bag — deadlines will go out the window and launch dates will be stuck in limbo.
So if you're debating whether or not to hire a freelancer or invest in an agency, here are a few factors to consider.
What are the benefits of a HubSpot partner agency over a freelancer?
Navigating the debate between freelance work vs. HubSpot Partner Agencies may seem daunting. Although freelancers and agencies both have their benefits, at the end of the day it's about deciding what's right for your business. If you're still feeling overwhelmed by the many, many factors to consider, don't worry, we've got you covered.
Here are eight reasons you should consider investing in a HubSpot Partner relationship:
1. HubSpot Partners will have a greater investment in your success
HubSpot Partner Agencies know that they charge a premium rate -- which is why they are willing to go above and beyond to provide premium quality services.
Tom DiScipio, VP of Client Success and Managing Partner at IMPACT, shared a few words on IMPACT's approach to helping our clients reach big goals:
"It really begins with our core purpose - Creating heroes. Growing businesses. Changing Lives. The people that we work with on a day-to-day basis are the heroes driving the digital growth of their companies. For them, it's a rewarding, but challenging journey to achieve high levels of success.

We consider it our responsibility to continually provide the education and support they need in order to remove any roadblocks or impediments that might slow them down. When our clients succeed, their businesses succeed, ultimately impacting the lives and world around them."
It's also in the agency's interest to serve you well. HubSpot Partners rely on building positive working relationships, generating measurable results, and ultimately delighting the customer base to maintain their positive reputation in the HubSpot Partner directory.
2. HubSpot Partners provide more team members and more coverage
We all know that panicked feeling when we're up against a deadline and something goes wrong — maybe a product launch needs to be pushed back, or maybe a team member gets sick and can't meet their deadlines.
Working with a large HubSpot Partner includes the added benefits of built-in redundancies and guaranteed coverage. If your main point of contact gets sick or leaves for summer vacation, there are several other team members ready and willing to step in and provide support — you'll never be left high and dry.
3. HubSpot Partners provide a larger range of services than one individual freelancer
Speaking of more coverage, HubSpot Partner Agencies have an extended team with the right experience to meet your ever-changing challenges. When comparing the two side-by-side, think of the letter "T" vs. the letter "I."
HubSpot Agencies tend to have "T-shaped" skill sets (i.e., large teams with diversified skills in a broad range of areas) while freelancers tend to have "I-shaped" skill sets (a deep base of knowledge that's limited to one area of expertise).
While a strong freelancer with a particular set of skills may get you through the day-to-day challenges of your current project, you also need to plan ahead for the next project you'll want to tackle in the future. You need a strong strategic partner who can recommend the best services and support based on your growth strategy.
4. HubSpot Partners can scale with your business
You may not think you need to hire an agency right now, but as your business evolves, so will the complexity of your marketing initiatives.
An ongoing relationship with a HubSpot Partner is built for the long haul. As your team grows and changes over time, so can your agency services to meet your new demands.
If you have a very specific task to get done, then a freelancer might be the right short-term fix. But if you're going to focus on long-term growth, you need to plan for the current needs of your marketing department while also keeping an eye on possibilities for future growth.
5. HubSpot Partners are extensively vetted by HubSpot
In order to maintain the quality of the program, potential partners are extensively vetted by the HubSpot team. According to Jordan Benjamin, Principal Partner Sales Manager at HubSpot:
"In order to become a HubSpot Certified Partner you will have to have your own instance of HubSpot and go through an extensive agency onboarding. As you grow within the partnership, you need to complete additional certifications and maintain a standard of performance for your clients in order to be recognized."
It's still important that you do your homework and conduct your own side-by-side evaluation of potential agencies. But know that HubSpot's vetting process helps take some of the guesswork out of the buying process.
6. HubSpot Partner Specialists have more resources in terms of education
As a HubSpot user, you know that it's difficult to stay up to speed on new product updates — but if you want to maximize your investment, you need to ensure that you're taking advantage of each and every new feature.
Partners are required to stay up to date on all the latest and greatest from HubSpot. For example, IMPACT's specialists attend regular training sessions with HubSpot Product Owners to make sure we know our stuff in the Marketing, Sales and Service Hubs.
We also dive into extensive HubSpot certification courses to maintain our mastery of the tool, and use this knowledge to empower our customers to become HubSpot experts in their own organizations.
7. HubSpot Partners can enjoy a special working relationship with HubSpot HQ
HubSpot Partners also enjoy a direct line of communication to HubSpot HQ — and (when the need arises) we use that relationship to connect our clients to HubSpot Product Owners for advanced support.
By bringing in additional resources from HubSpot HQ, we can ensure that you're getting the most out of your marketing automation investment. If we come across a problem that we just can't seem to solve, our relationship with HubSpot allows us to go above and beyond to find a workable fix for your unique challenges.
8. Maximizing ROI of HubSpot Platform
HubSpot marketing automation software is a serious investment for any organization. But just like buying an expensive sports car, you want to make sure you have the best people taking care of this powerful machine.
You wouldn't buy a Ferrari and then take it to a local mechanic for routine maintenance — supercars need a special kind of care, and so do super-powerful marketing automation platforms.
If you're spending $10,000 per year (or more) on your marketing automation platform, you need to be able to prove to your team that this software is worth the cost. Are you confident in your database structure and segmentation? Can you accurately use lead scoring to predict the best-fit leads? Are you taking advantage of features like custom reporting to forecast future revenue?
If you're unsure of these answers, it may be time to call in the calvary. Working with a HubSpot Partner ensures that the right people, with the right skill sets, are optimizing your HubSpot platform for maximum return on investment.
The bottom line
As you can see from the eight benefits listed above, there are plenty of reasons to reconsider whether or not a HubSpot Partner Agency is worth the investment.
Are there situations where a freelancer makes sense? Sure! But if your primary driving factor is simply to cut costs and stay under budget, you'll ultimately get what you pay for.
When you're weighing your decision, ask yourself: What's the best long-term decision for the growth of my business? Do I need a strategic partner? Or will a tactical task manager fit my needs?
By taking this long-term mindset, you can ensure that your marketing investments pay dividends in the long-run.
Free Assessment:
How does your inbound marketing measure up?
Take this free, 5-minute assessment and learn what you can start doing today to boost traffic, leads, and sales.
Get Started
Free Assessment:
How does your inbound marketing measure up?
Take this free, 5-minute assessment and learn what you can start doing today to boost traffic, leads, and sales.
Published on June 24, 2020